PFF analysts Seth Galina and Anthony Treash poured their heart and soul into the company's first-ever college football preview magazine. The 2020 College Football Preview Magazine is a PDF download made available to CFB Grades+ and CFB Premium Stats+ subscribers that includes more than 400 pages and 120,000 words of analysis, player grades, advanced stats, etc.
Treash prioritized breaking down the best returning players, biggest strengths/weaknesses and overall talent level of every FBS team. Galina took on the challenge of analyzing every quarterback in-depth and pulling out key scheme advantages for every team in the Power 5.
An introduction from Treash and Galina:
The 2020 College football season will look different. In fact, the college sports landscape as we know it might be changing forever. Expedited by a sinister virus, the sport we've devoted our undivided attention to every Saturday in the fall, will be broadcast with muted tones. Without fans in the stands, the experience of watching college football will change. The boisterous student sections – vacant. The marching bands, striking up familiar tunes to energize the crowd, will feel their notes drift out of the open stadium. Yet, there will be football. And we will watch. In our homes. From our favorite seats. With our favorite people. At the end of the day, watching college football is about
enjoying the people you watch it with. We'll get back to being loud and obnoxious and yelling indiscriminately at the opposing team's quarterback but for this season, we will yell and throw our remote controls safely from our own abodes.

In this 2020 College football preview, you will find everything you need to know about the season that will be. From the table of contents you can click on your favorite team and peruse the important information we've gathered for you and then click back to the table of contents, in the lower left hand corner to whisk you back there. In our team previews, you'll find an overall season outlook as well as our predictions for breakout players, an analysis of the team's starting quarterback, a macro level idea of an offensive or defensive scheme employed by the team, a roster breakdown among many other statistics that can only be found using the might of PFF's deep charting and analytical insights.

As of publication we still don't know the full extent of how the virus will affect how each team's schedule will look throughout the fall. We have kept the original schedules for now and each team's strength of schedule but all major schedule changes will be updated when they happen.

We hope these pages help present this beautiful sport in a way that, frankly, hasn't been done before. From our hearts to yours, stay safe and enjoy what will surely be the wildest college football season to date.
Here's an in-depth breakdown of every page type for the team profile in PFF's 2020 College Football Preview Magazine.
Overview/Biggest Strength & Weakness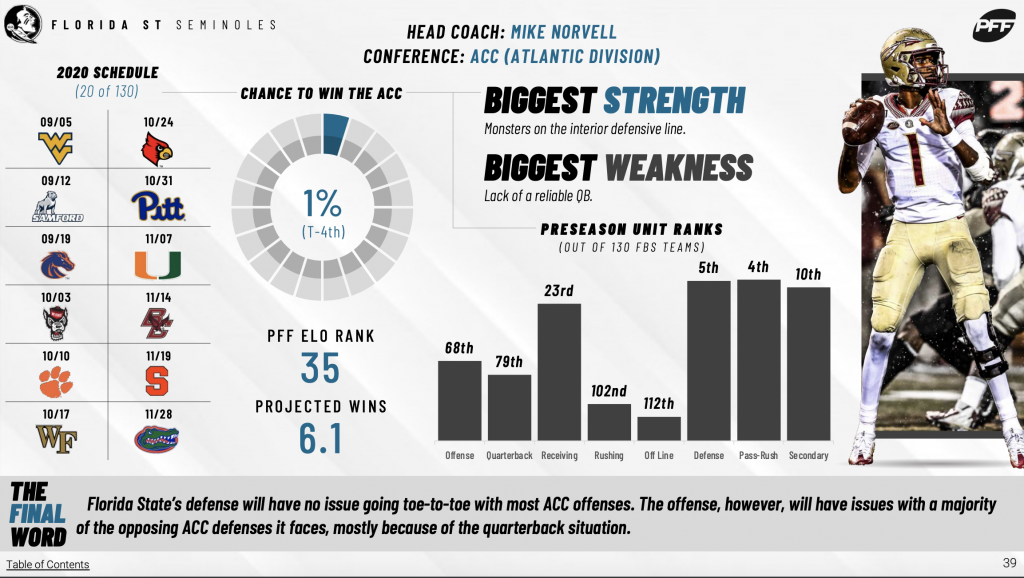 All 130 FBS programs will have an overview page with PFF team facet grades and their respective ranks, their biggest strengths and weaknesses and a final word on the team. Considering every team's original schedule, PFF projected 2020 win totals and the percentage chance to win their respective conferences, as well.
Departed Players & Potential Replacements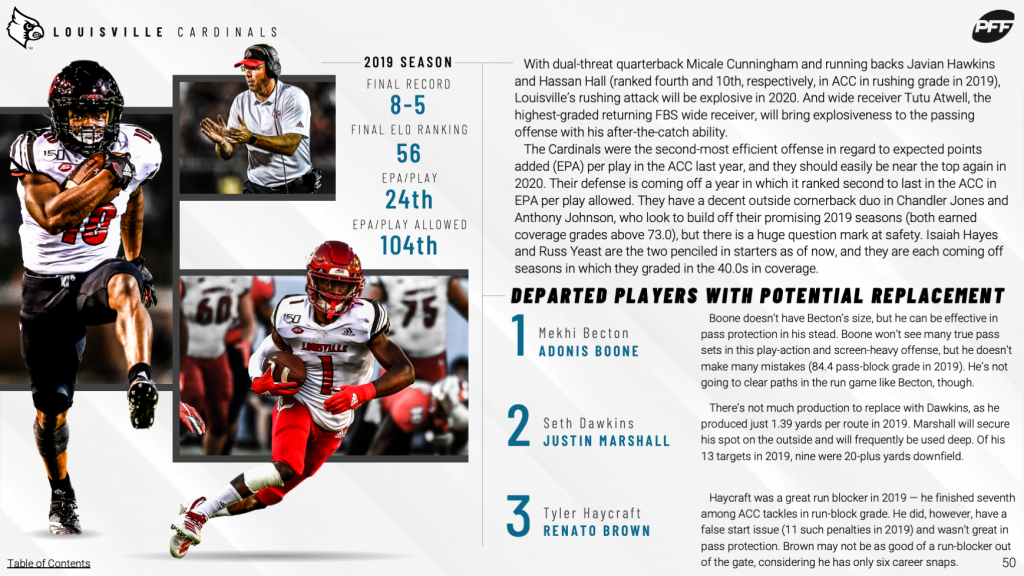 Treash focused on highlighting every team's top departing players and those expected to replace said players entering the 2020 college football season.
Most Important Returners & Superlatives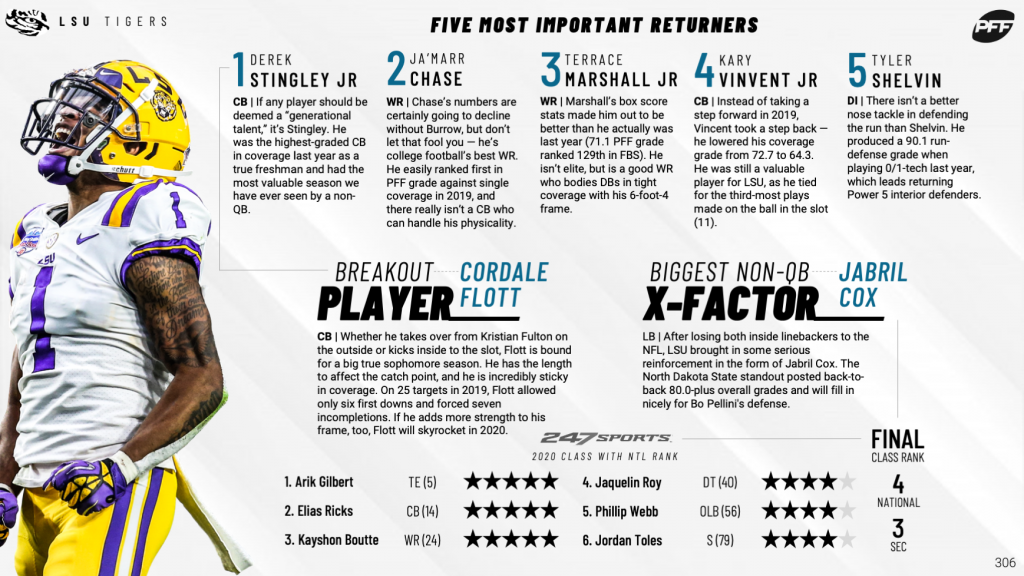 Treash also analyzes the top-five returning players for every Power 5 entering the 2020 season. He also picked a breakout player and x-factor.
QB Breakdown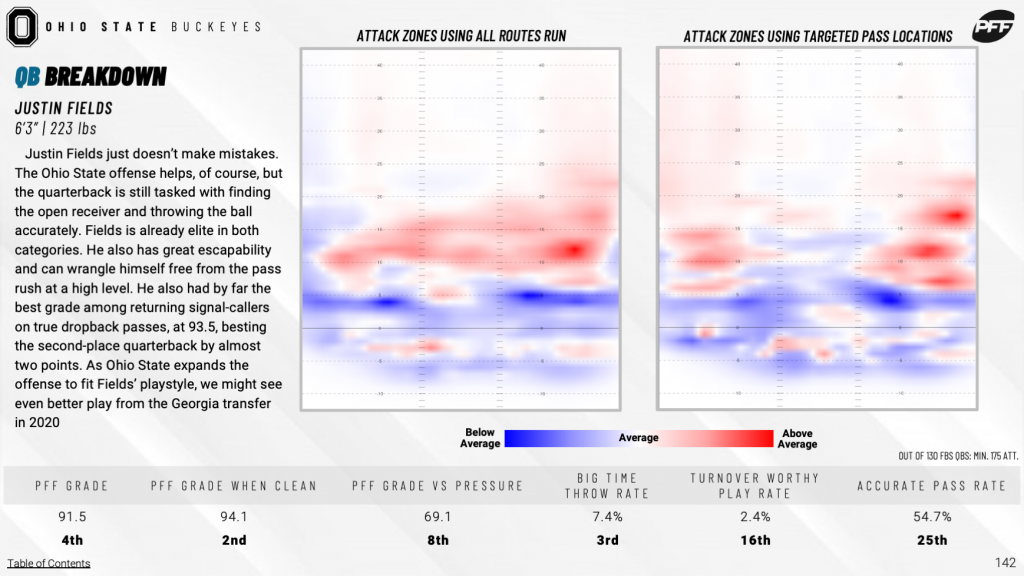 Galina watched every quarterback in the Power 5 so you didn't have to. In addition to his written QB analysis, the QB Breakdown pages in the 2020 College Football Preview Magazine include PFF-exclusive advanced stats, grades and passing maps.
Scheme Analysis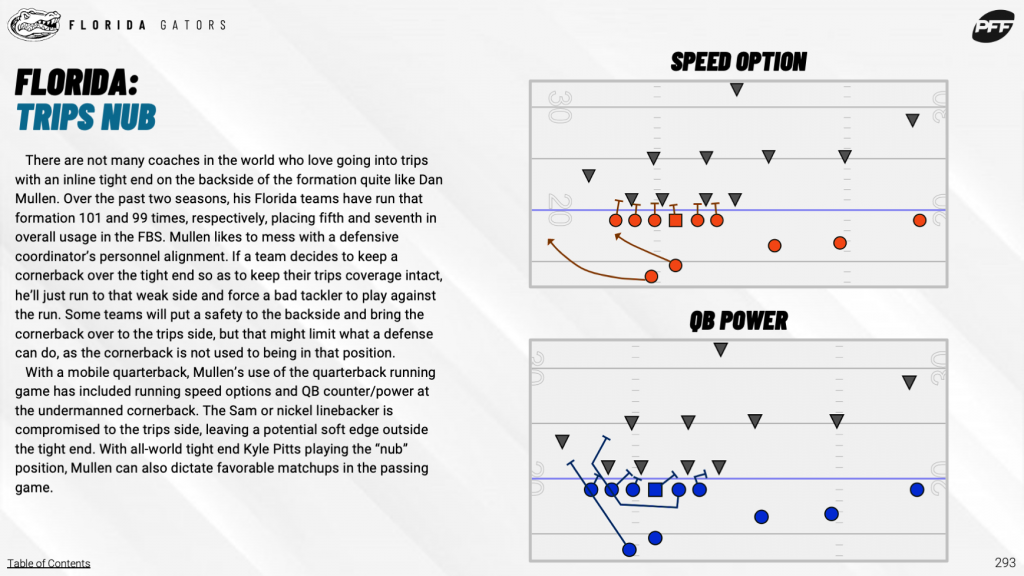 Galina also highlighted a specific scheme oddity or decided scheme advantage for every Power 5 team in an effort to draw a magnifying glass to the nuances of some of the best schematic concepts in college football.
Use promo code CFB25 to save 25% off and subscribe to either of PFF's new CFB subscription options today to gain access ahead of the 2020 college football season!