In honor of the first ever PFF QB Annual, we're diving into some of the best situational performances by quarterbacks in 2017. Which signal-callers excelled throwing down the field? On third down? Which quarterbacks had the best interception luck and who will come away with the award for the best throw of the year? It's all here in PFF's 2017 QB superlatives.
*Editor's Note: All of the stats found inside these superlatives, and much more, can be found inside the first ever PFF QB Annual. Go beyond the box score with PFF's advanced analysis on 46 quarterbacks, with PFF grades, passing charts, exclusive stats and much more. Get PFF Edge.
Best Overall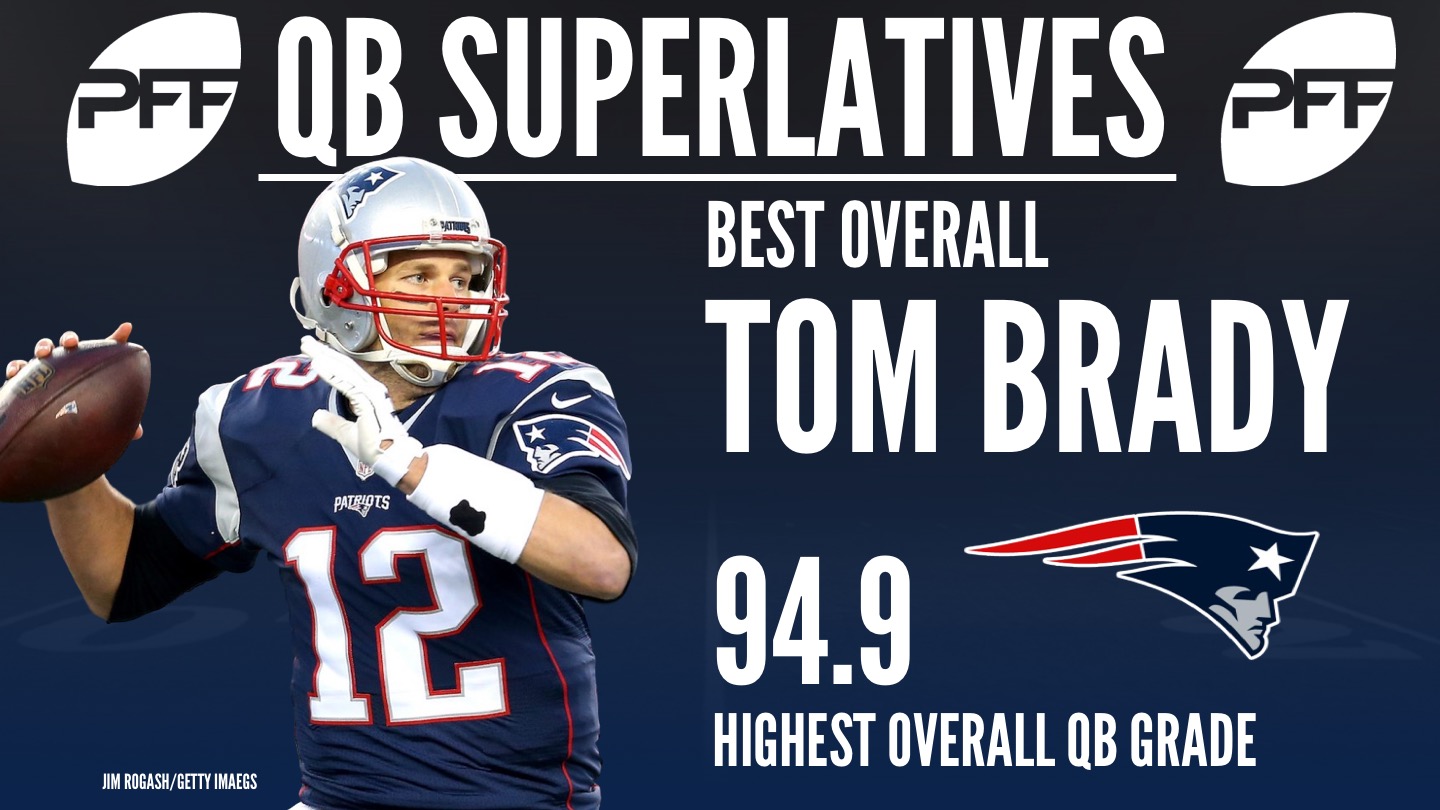 For the second straight year, New England Patriots quarterback Tom Brady sits atop the PFF grades, as he finished the regular season at 94.9 overall. The Patriots' offense had a different look this year, going to more of a vertical passing attack, but Brady executed it well, putting on display just how much he's improved his downfield passing over the last two seasons. He had the league's highest grade when playing from a clean pocket and the third-highest grade when pressured. He also led the league in total big-time throws while still taking care of the ball with the fifth-lowest percentage of turnover-worthy plays.
Best On Deep Passes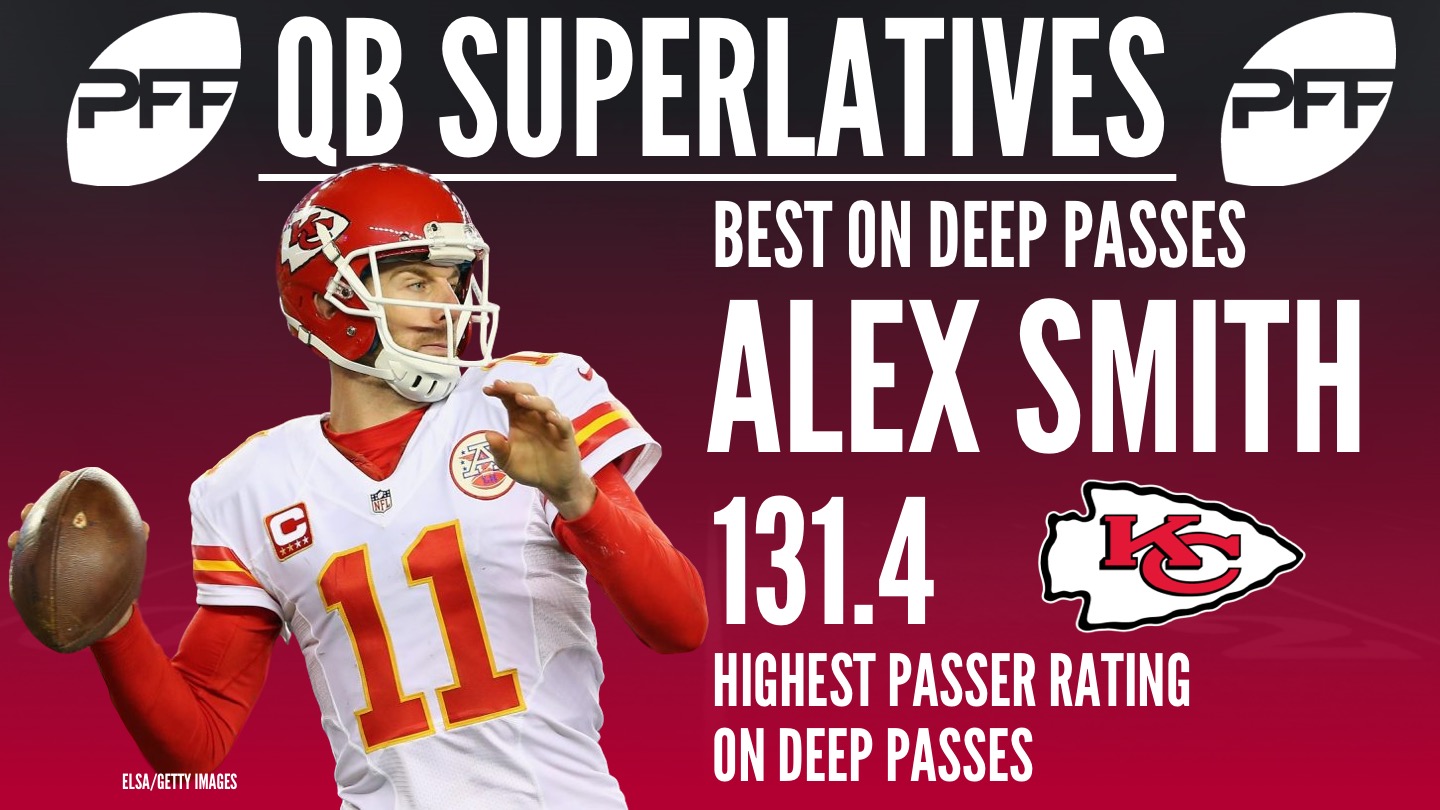 A more aggressive approach paid off for Kansas City Chiefs quarterback Alex Smith, who posted the top PFF grade on deep (20-plus yard) throws. His timing and accuracy also showed up statistically, as he led in adjusted completion percentage at 56.5, passer rating at 131.4 and tied for the league lead with 12 touchdowns. Smith's downfield efficiency carried him to the best PFF grade of his career at 85.9 overall.
Best On Intermediate Passes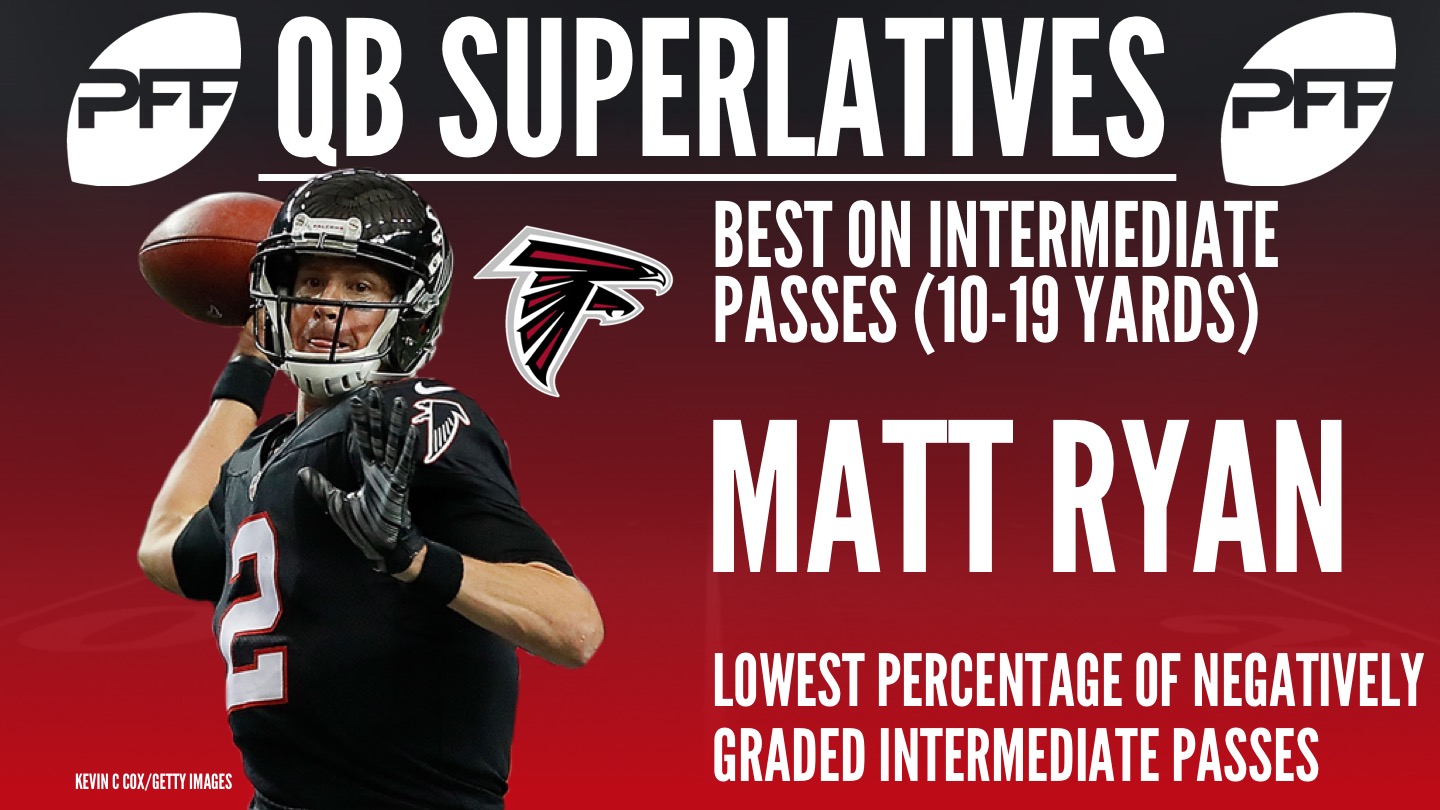 AFrom a grading standpoint, no one was better than Atlanta Falcons quarterback Matt Ryan, who had the highest percentage of positive grades and the lowest percentage of negatively graded throws at the intermediate (10-19-yard) level. It didn't show up in the stats, as Ryan had a notoriously unlucky season with regard to interceptions and many of them came at the intermediate level. From a statistical standpoint, Green Bay Packers quarterback Aaron Rodgers had the top passer rating at 139.0 with Philadelphia Eagles quarterback Carson Wentz right behind him at 133.2.
Best On Short Passes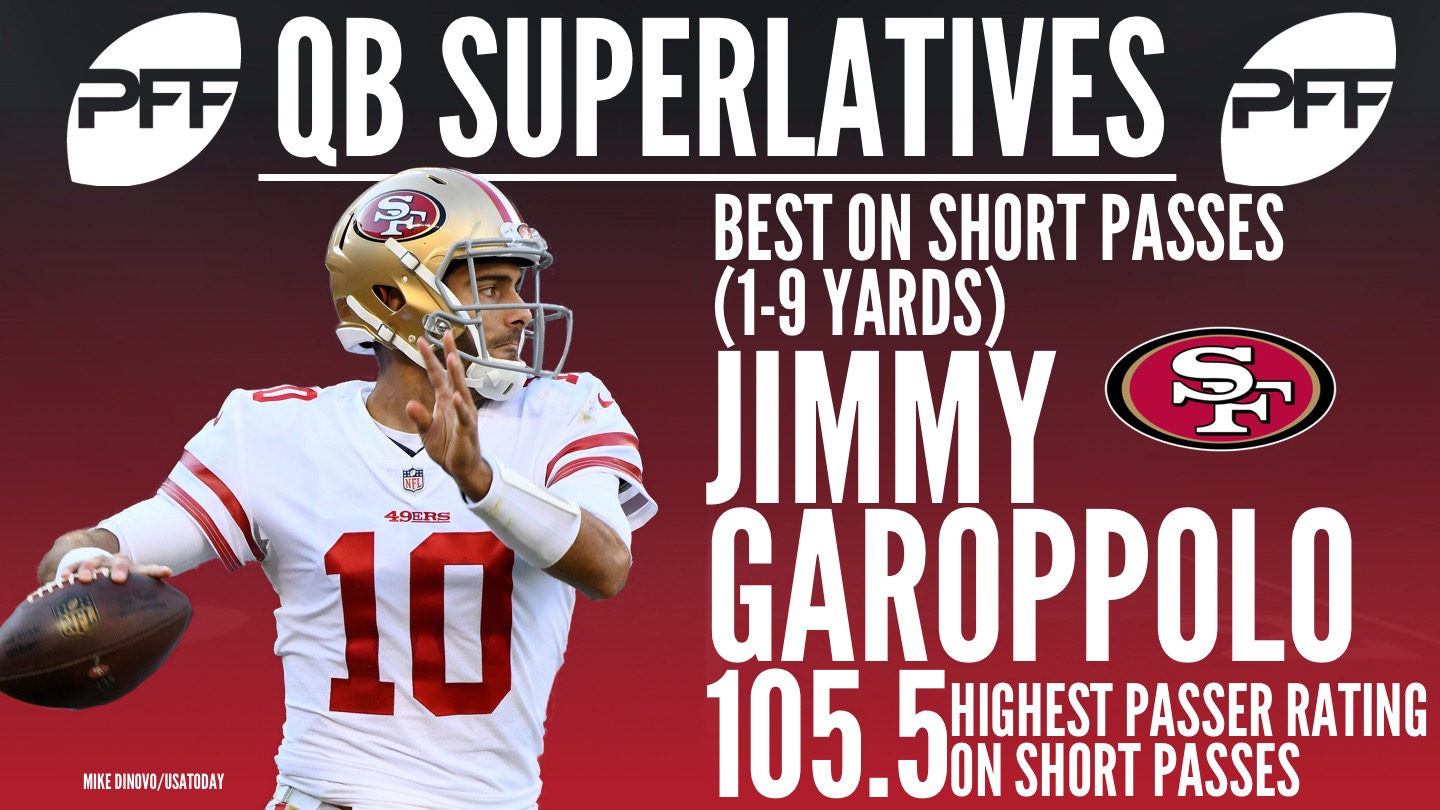 During his five games as a starter, San Francisco 49ers QB Jimmy Garoppolo was the league's most successful passer in the short game (1-9-yard throws), both in PFF grading and in passer rating (105.5). His quick release and accuracy make him efficient on short passes, and it's part Garoppolo's skillset that the 49ers will be able to build around.
Best Under Pressure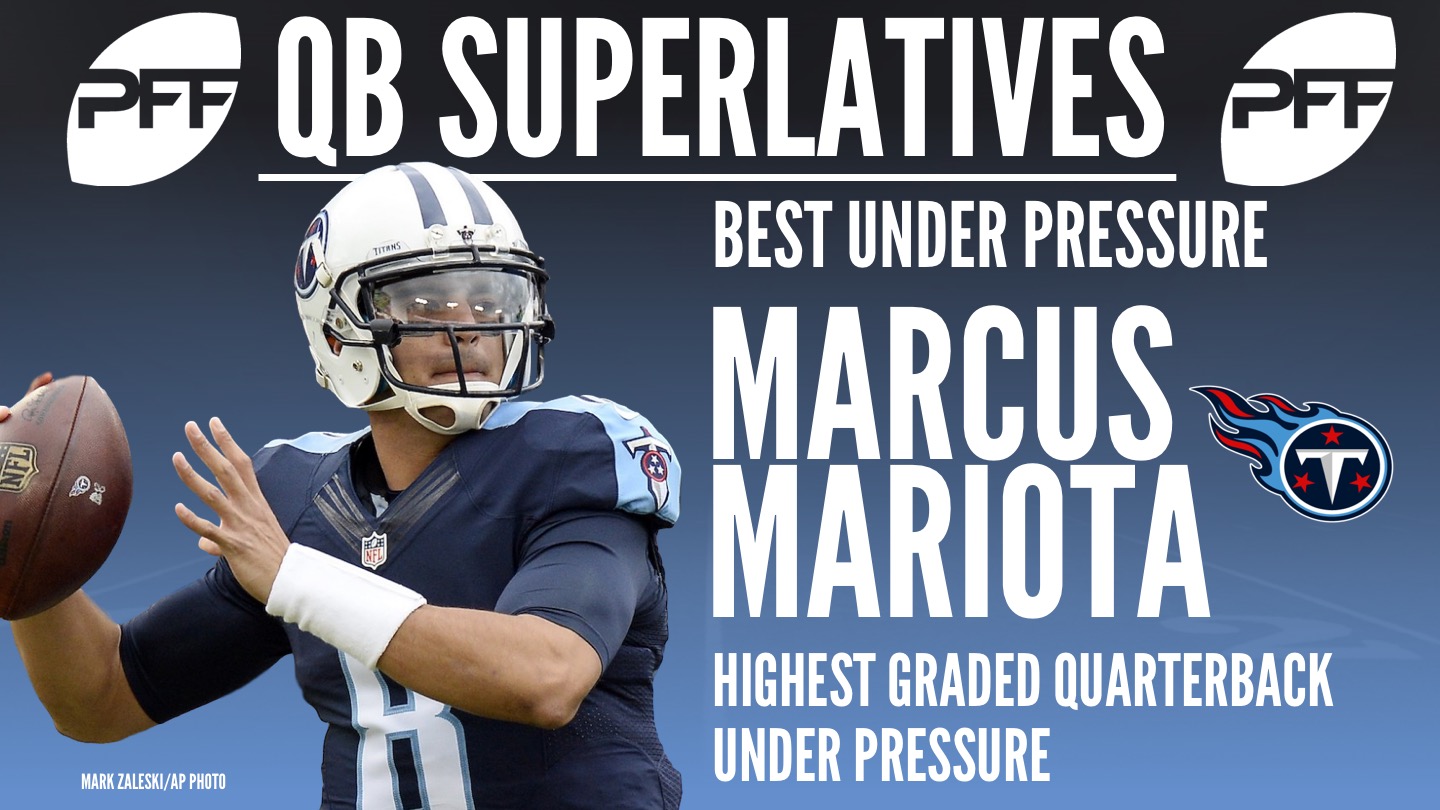 While the rest of the NFL averages a 30-point drop from a clean pocket to a pressured one, Tennessee Titans QB Marcus Mariota pulled off the rare feat of posting a higher passer rating under pressure than he did when clean. He had the top PFF grade when pressured as well as the third-highest adjusted completion percentage at 69.7 percent.
Best Against The Blitz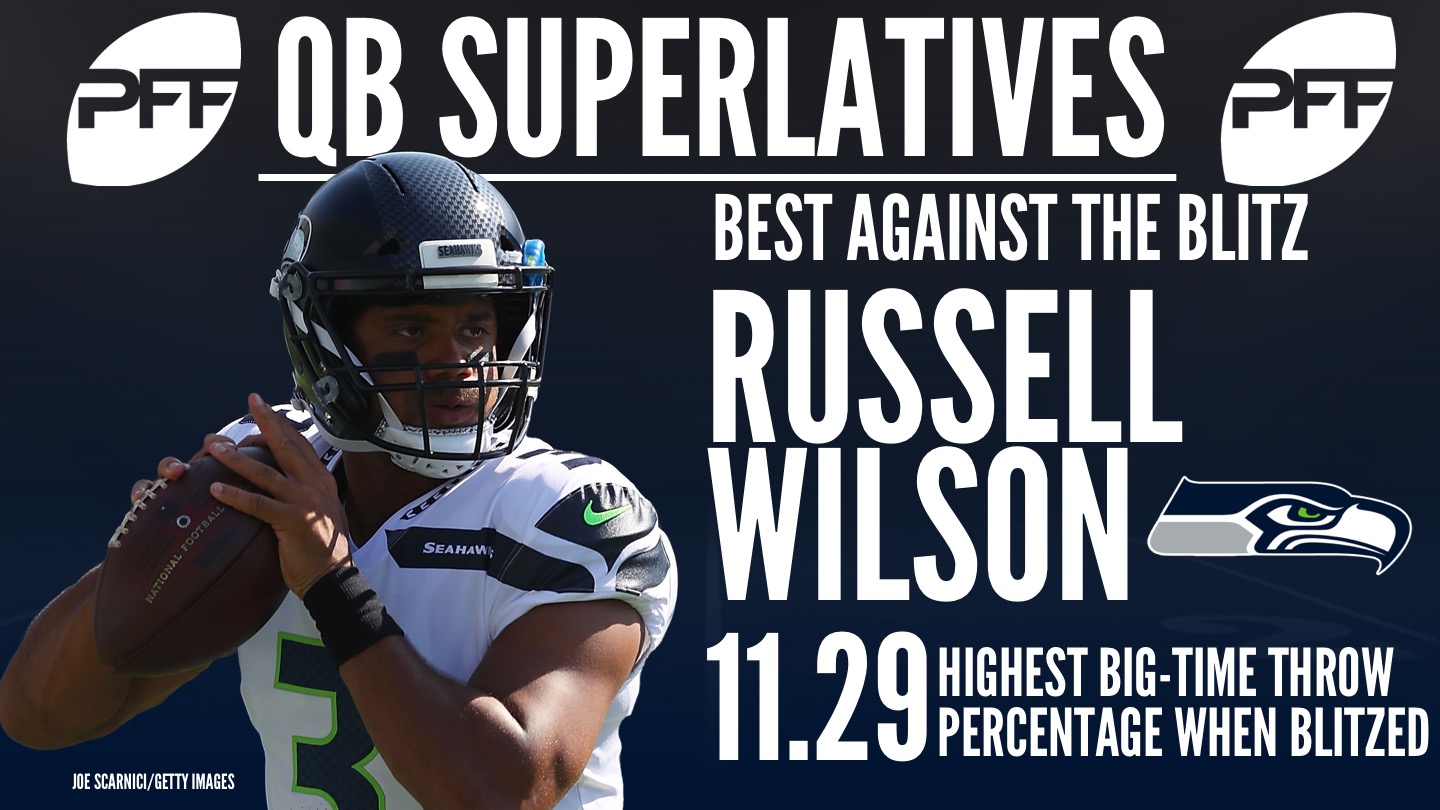 The highest-graded quarterback against the blitz was Russell Wilson of the Seattle Seahawks who posted a passer rating of 108.5 while tying for first in big-time throw percentage. He has a knack for creating space against extra rushers, but he can also anticipate the blitz and get the ball out of his hand quickly and accurately. From a statistical standpoint, Houston Texans QB Deshaun Watson had the highest passer rating against the blitz at 135.8, including eight touchdowns and no interceptions before his season-ending injury.
Best Big-Time Thrower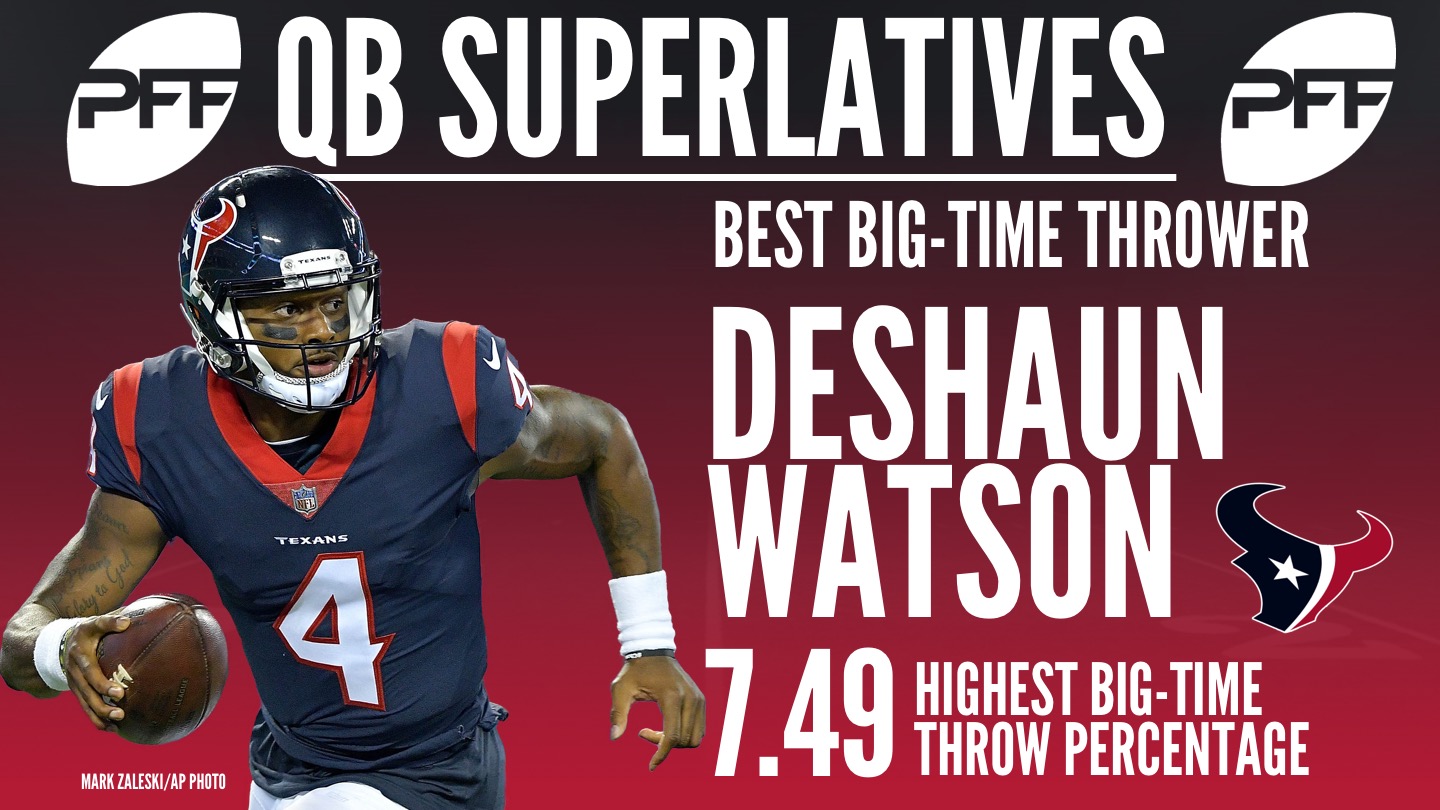 Watson takes the award for highest percentage of big-time throws, as he led the league at 7.49 percent. He was one of the league's best downfield throwers and was deadly accurate in the red zone, tying for the league lead in big-time red-zone throws despite no playing a game in the last two months of the season.
Best At Avoiding Turnover-Worthy Throws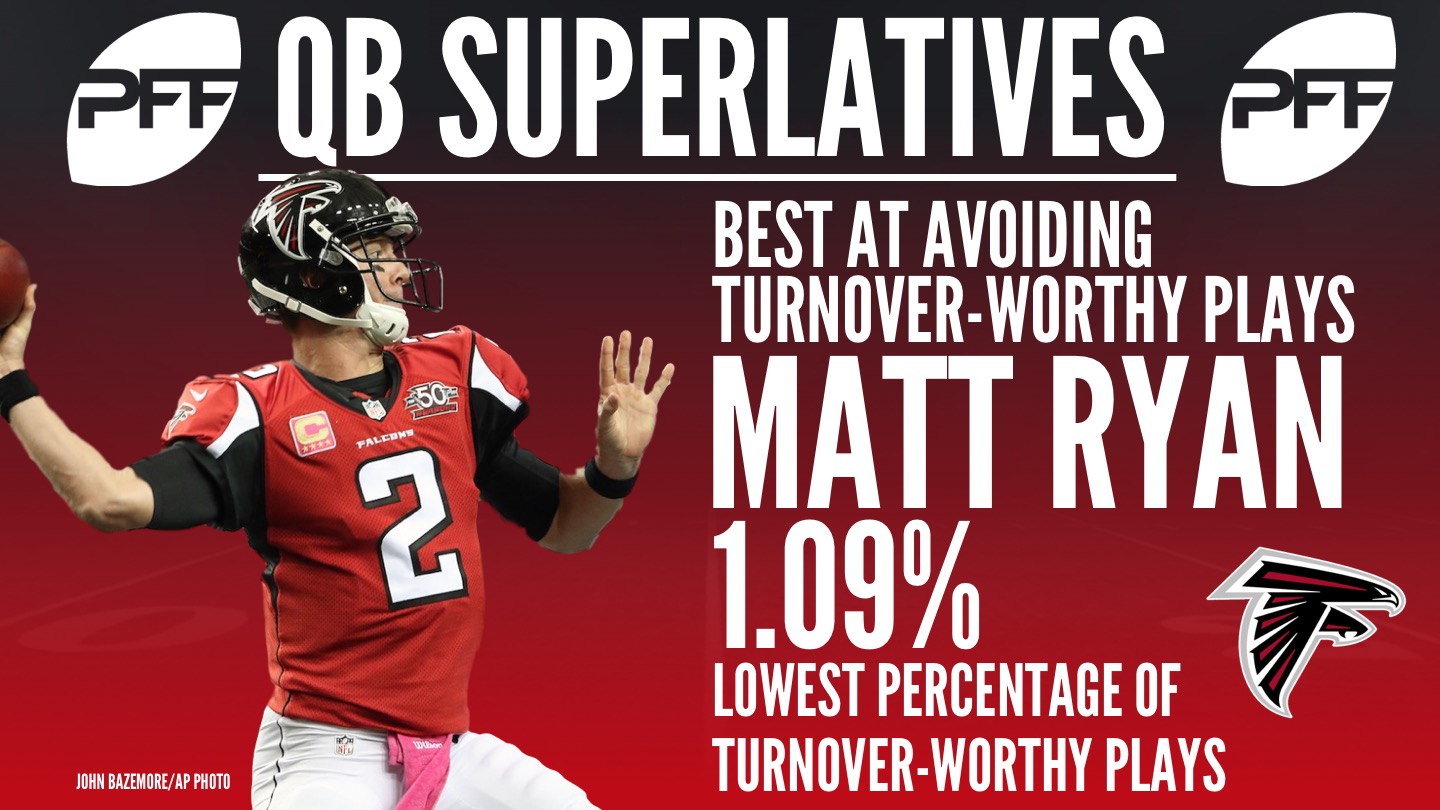 Don't look at Ryan's interception totals, as he did a fantastic job of taking care of the ball but somehow managed to throw 12 picks on the season while only having six turnover-worthy plays. He suffered from drops, tips, miscommunications and passes getting caught by cornerbacks who are laying on the ground (hello, butt pick), all adding up to an unlucky season that didn't capture how well Ryan kept the ball out of harm's way.
Best On 3rd Down
Before his season-ending injury, Wentz was incredibly efficient on third down, leading the league in both passer rating (123.7) and PFF grade. When the situation became more difficult, Wentz was just as good, as he dominated third-and-longs and led the league with a passer rating of 122.2. Wentz's knack for moving the chains on key downs had the Eagles looking like the Super Bowl favorites prior to his injury.
Best Interception Luck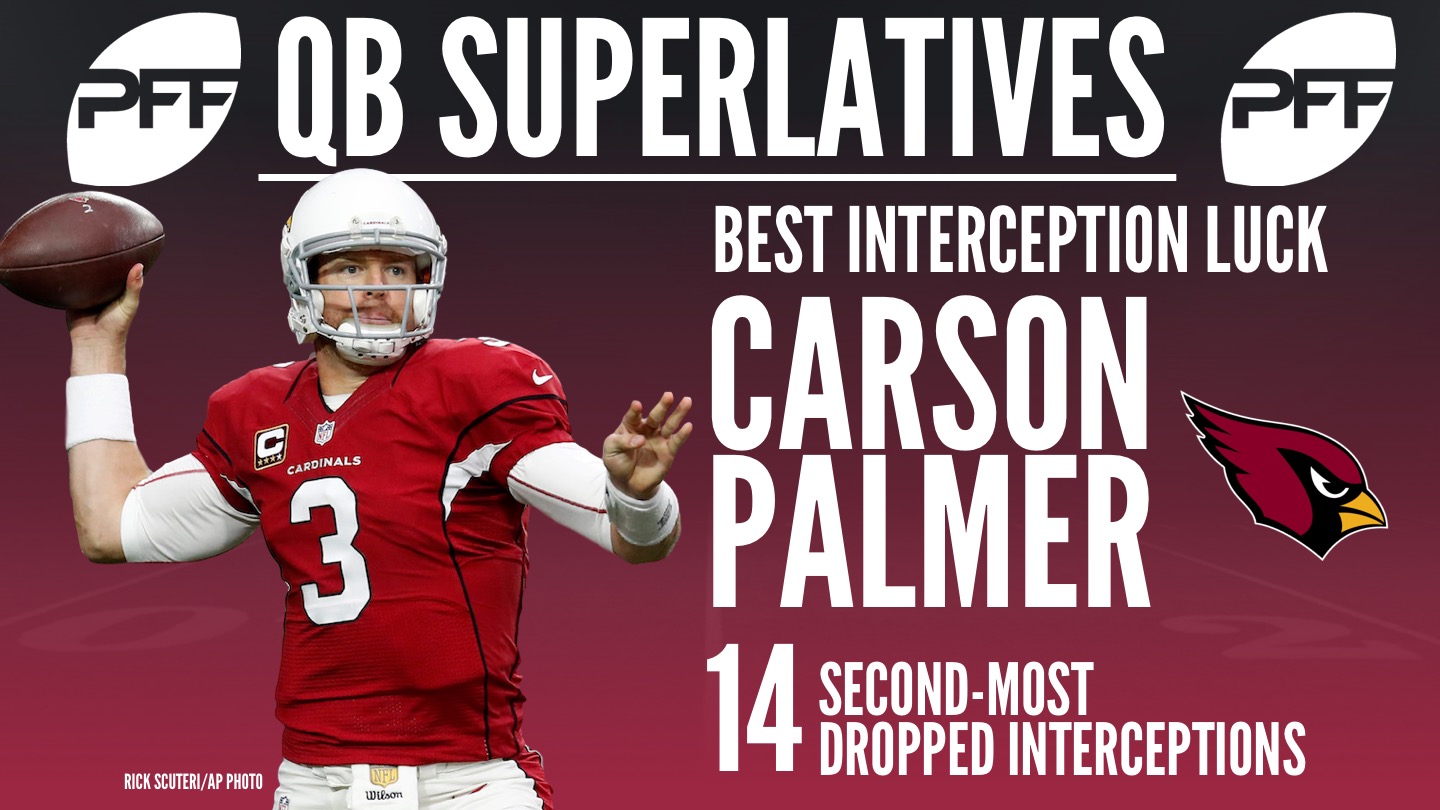 On the opposite end of the luck spectrum from Ryan resides Arizona Cardinals QB Carson Palmer, who finished with 17 turnover-worthy throws but only seven interceptions. He also ranked second in the league with 14 dropped interceptions (non-turnover-worthy throws can be classified as dropped interceptions) despite not taking a snap since Week 7. Palmer's final season had his usual boom-or-bust play, and he got away with a number of throws that fell incomplete rather than becoming turnovers.
Best Throws Of The Year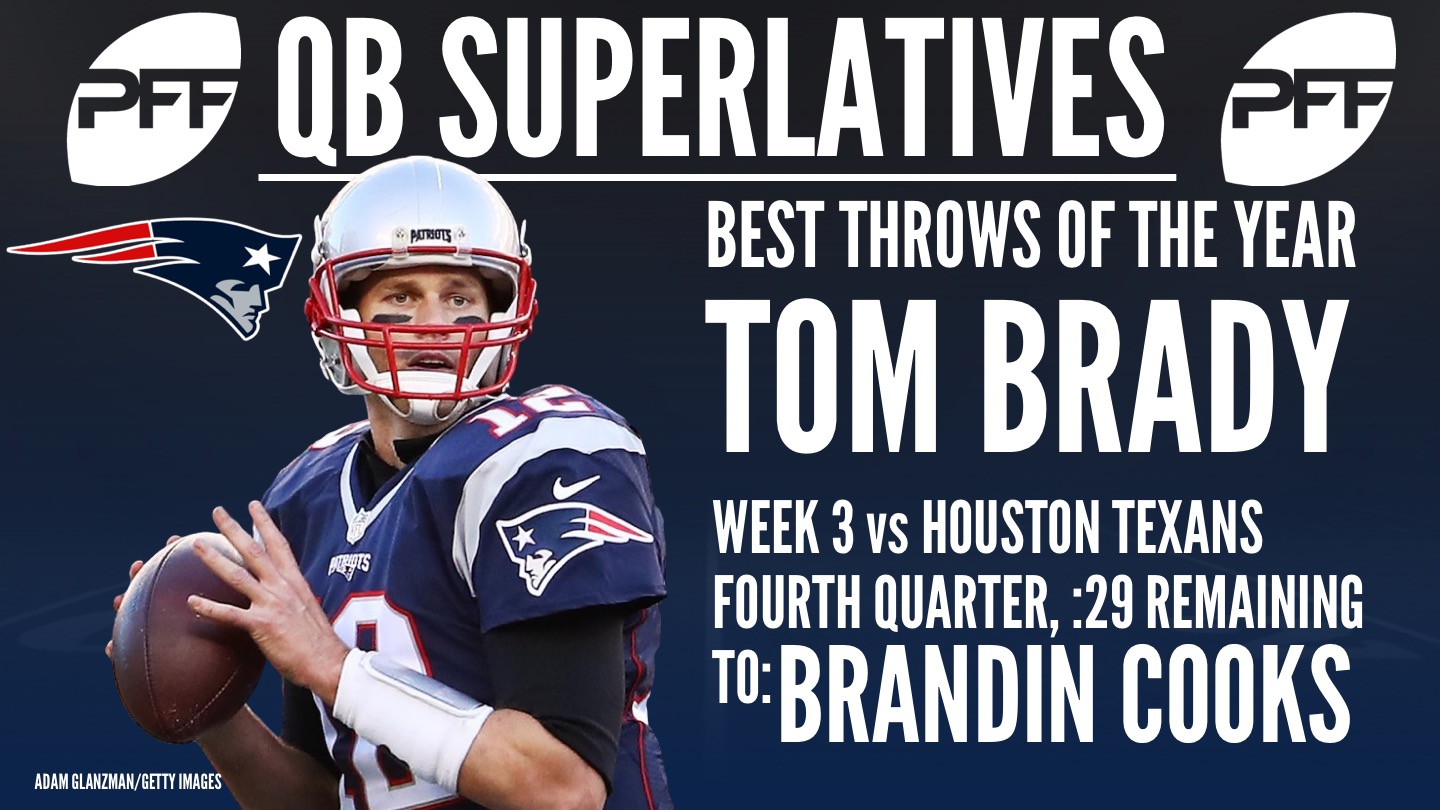 When surfing through the PFF database, there are two throws that stand out above the rest. First, Brady's game-winning strike against the Texans in Week 3: He sealed the win for the Patriots with a well-placed back-shoulder throw to WR Brandin Cooks while getting hit during his throwing motion. With 29 seconds remaining and a five-point deficit, the 25-yard pass under pressure, thrown to the front corner of the end zone, with two defenders closing and perfect ball location certainly qualifies to land on the top end of the big-time throw spectrum.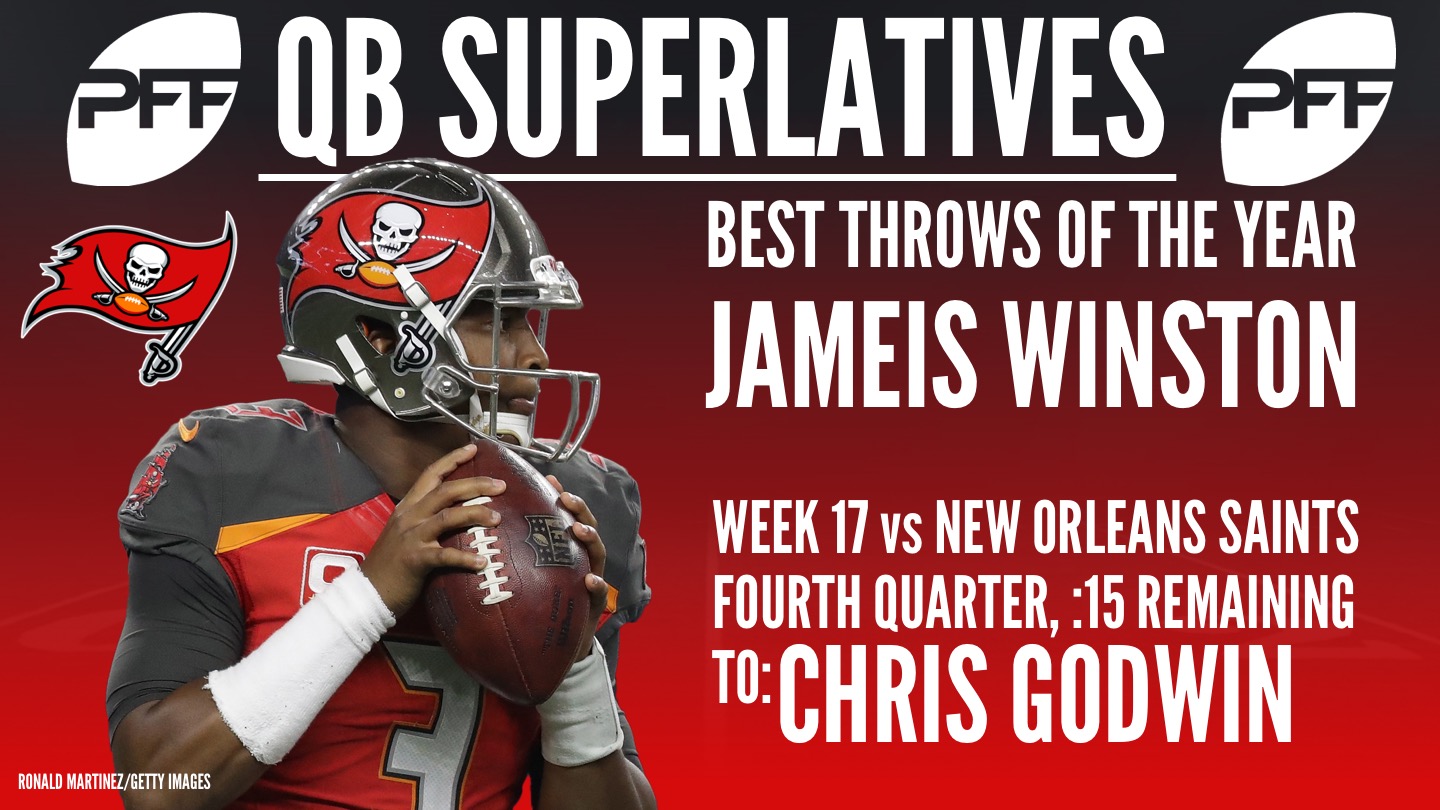 One throw that is right there with Brady's is Tampa Bay Buccaneers QB Jameis Winston's game-winner against the New Orleans Saints in Week 17. With a two-point deficit and 15 seconds to go, Winston fired a strike to WR Chris Godwin, hitting him perfectly in stride over tight man coverage, setting up at least a game-winning field goal attempt. However, the precise ball location kept Godwin running and carried Saints CB Ken Crawley into the end zone to win the game.