We all want to be the person who picks a game correctly. Normally, when we make decisions about who we think will win and lose, we consider what we've seen with our eyes, how well each team and each player performed. What keeps this amazing strategy from beating Vegas is that we are not very good at evaluating every player on every play in every game with our two eyes.

That is why PFF exists, and now we are able to leverage that data to make us better predictors of future outcomes. As covered in our previous PFF Greenline introduction, today marks the day that it is officially live for PFF Elite subscribers.
Last season, the PFF Forecast Team of George Chahrouri and Eric Eager distributed a weekly column with five picks, either against the spread or on over/unders using mathematical models based off of PFF grades and other data. These picks were accompanied by a point/counterpoint analysis (as well as some humor), and finished the season 49-37-5 (57.0 percent). Among those picks, we chose one each week to present on the PFF NFL Show (affectionately called the "Lock of the Week"), and gave out Thursday Night Football picks as well. These picks went 14-6-1 (70 percent) and 9-2 (81.8 percent), respectively.
With PFF Greenline's launch, you will now be granted access to game-by-game spreads, moneylines, over/unders and much more based upon the same models from these aforementioned picks. PFF Greenline also has a bevy of other features at your fingertips:
Predictions Against the Spread, Moneyline and Total for every game every week

View key power ranking metrics for each matchup

See all the most important injuries that are taken into account in our predictions

Compare quarterbacks using PFF data that goes beyond the box score

Access weekly columns and videos by @PFF_George and @PFF_EricEager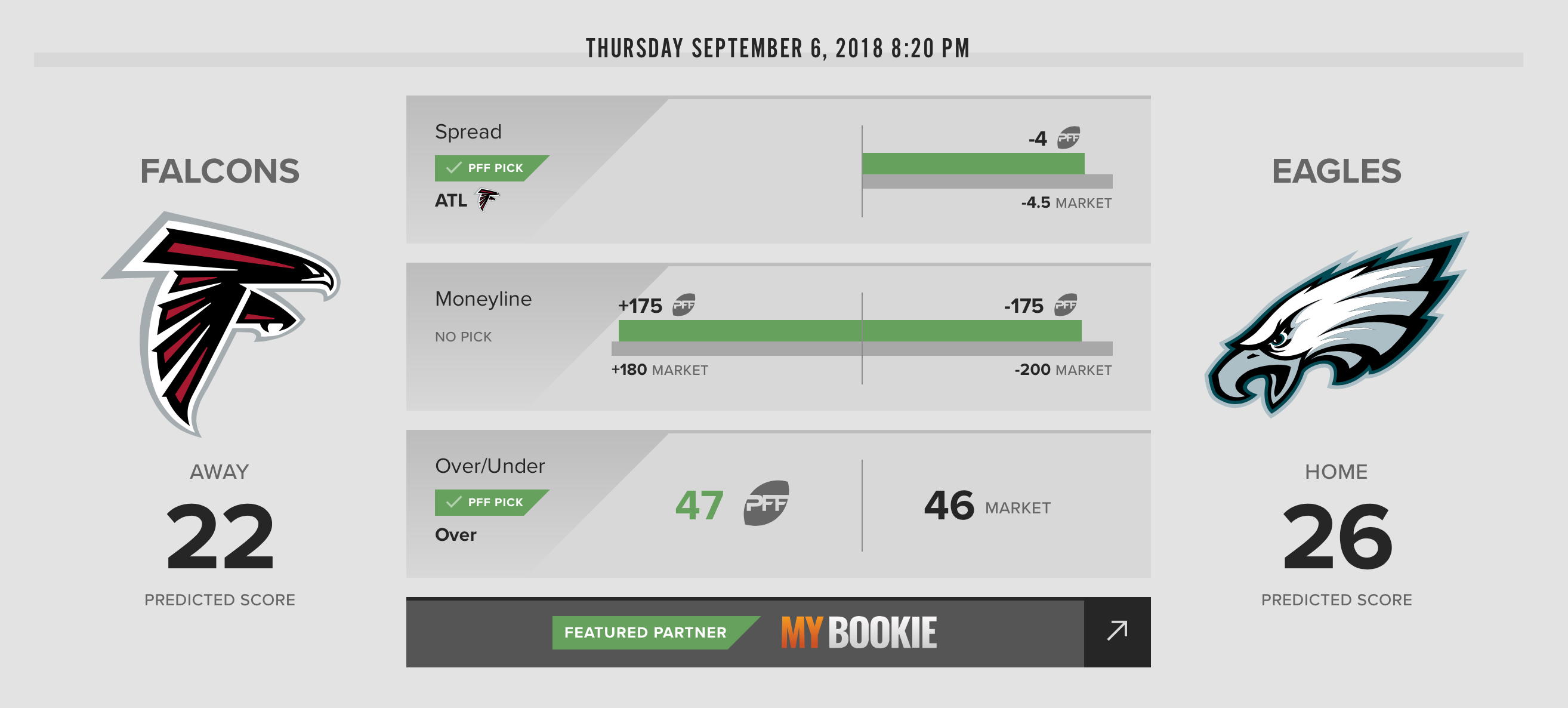 In addition to PFF Greenline, which is available with a PFF Elite subscription, you will also be granted all of the tools that make PFF Elite the most comprehensive and unique way to study the game of football at the NFL level.
Sign up for PFF Elite to access PFF Greenline now! Be sure to subscribe to the PFF YouTube channel for more exclusive content and check out the PFF Forecast every week!