True freshman quarterback JT Daniels fared well in his collegiate debut, helping lead the USC Trojans to a 43-21 victory over UNLV while recording a 69.2 overall PFF grade, seventh among Pac-12 quarterbacks and fourth among FBS freshman quarterbacks in Week 1.
PFF's feature on USC is brought to you by Eckrich, the Official Smoked Sausage and Deli Meat of the USC Trojans.
As we discussed last week, USC represents an ideal environment for Daniels to flourish as he can rely on a veteran wide receiver corps that features proven standouts Tyler Vaughns and Michael Pittman Jr. Surprisingly, Daniels seemed to show a greater rapport with a different receiver, fellow true freshman Amon-Ra St. Brown.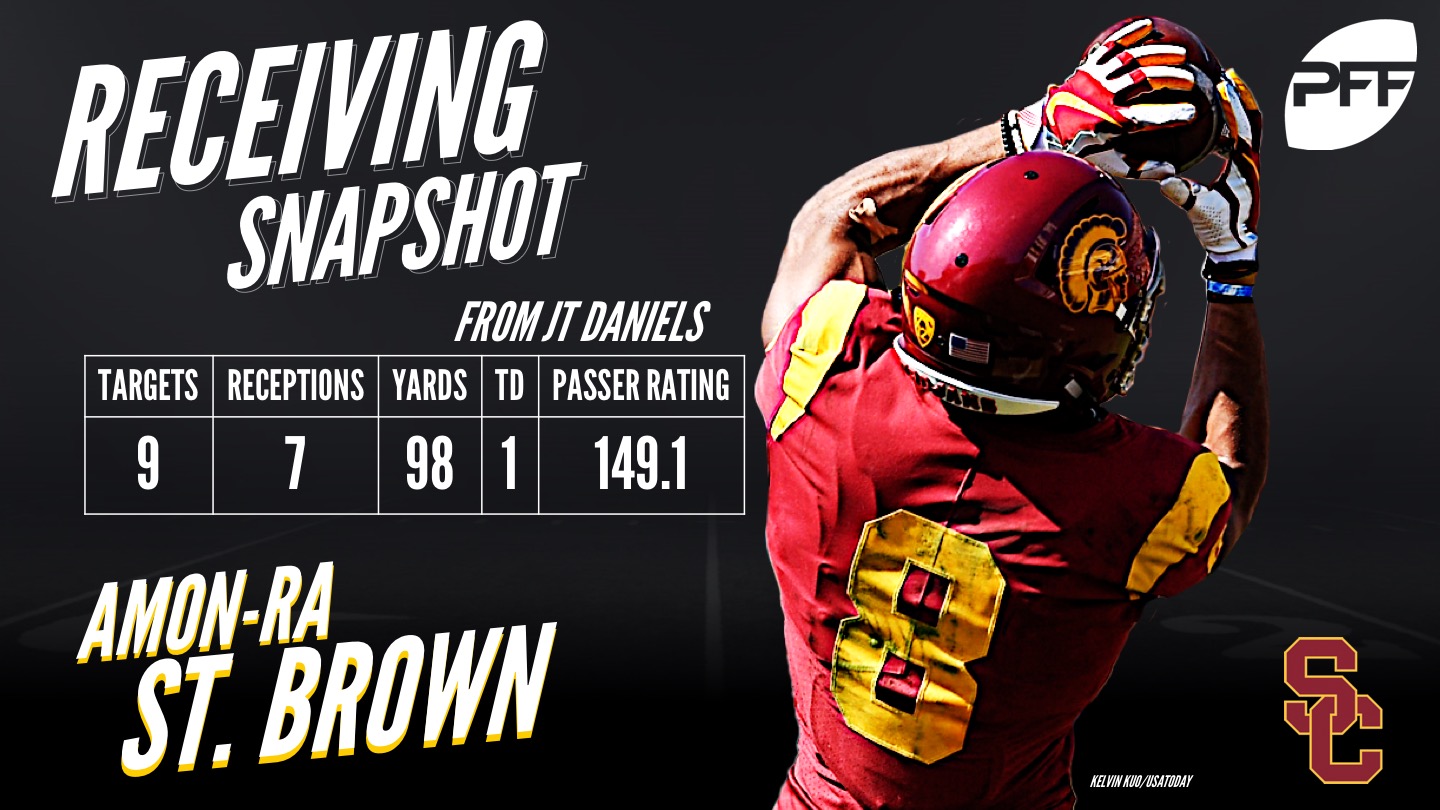 The freshmen connection between Daniels and St. Brown is simply an extension of last season, where the two were teammates at Mater Dei High School in Anaheim, California. The shared comfort level led to Daniels looking St. Brown's way whenever he was on the field.
Though St. Brown only ran 18 routes against UNLV, Daniels targeted him a staggering nine times, the highest rate among all Pac-12 wide receivers. St. Brown averaged a gaudy 5.44 yards per route run, ranking fifth among Pac-12 and second among all FBS freshmen wide receivers. Daniels looked to St. Brown both out wide (seven targets, 13 routes run) and in the slot (two targets, five routes run). The pair generated an astounding 149.1 passer rating on their targets, ranking fifth among Pac-12 and second among all FBS freshmen wide receivers.
Delving even further, Daniels was kept clean on 84.6 percent of dropbacks (second best among Pac-12 quarterbacks) and he targeted St. Brown strictly out of a clean pocket, failing to look St. Brown's way during any of his six dropbacks under pressure. Quick passes were their bread and butter as St. Brown caught 5-of-6 targets for 50 yards on passes thrown within 2.5 seconds of the snap.
St. Brown caught passes on out routes (3 receptions, 19 yards), slants (2; 15), in routes (1; 21) and post routes (1; 43, 1 TD).
Daniels was not just throwing dink-and-dunk passes to St. Brown either. Their average depth of target was a respectable 14.3 yards, significantly greater than Daniels' 11.1 average depth of target for the entire game.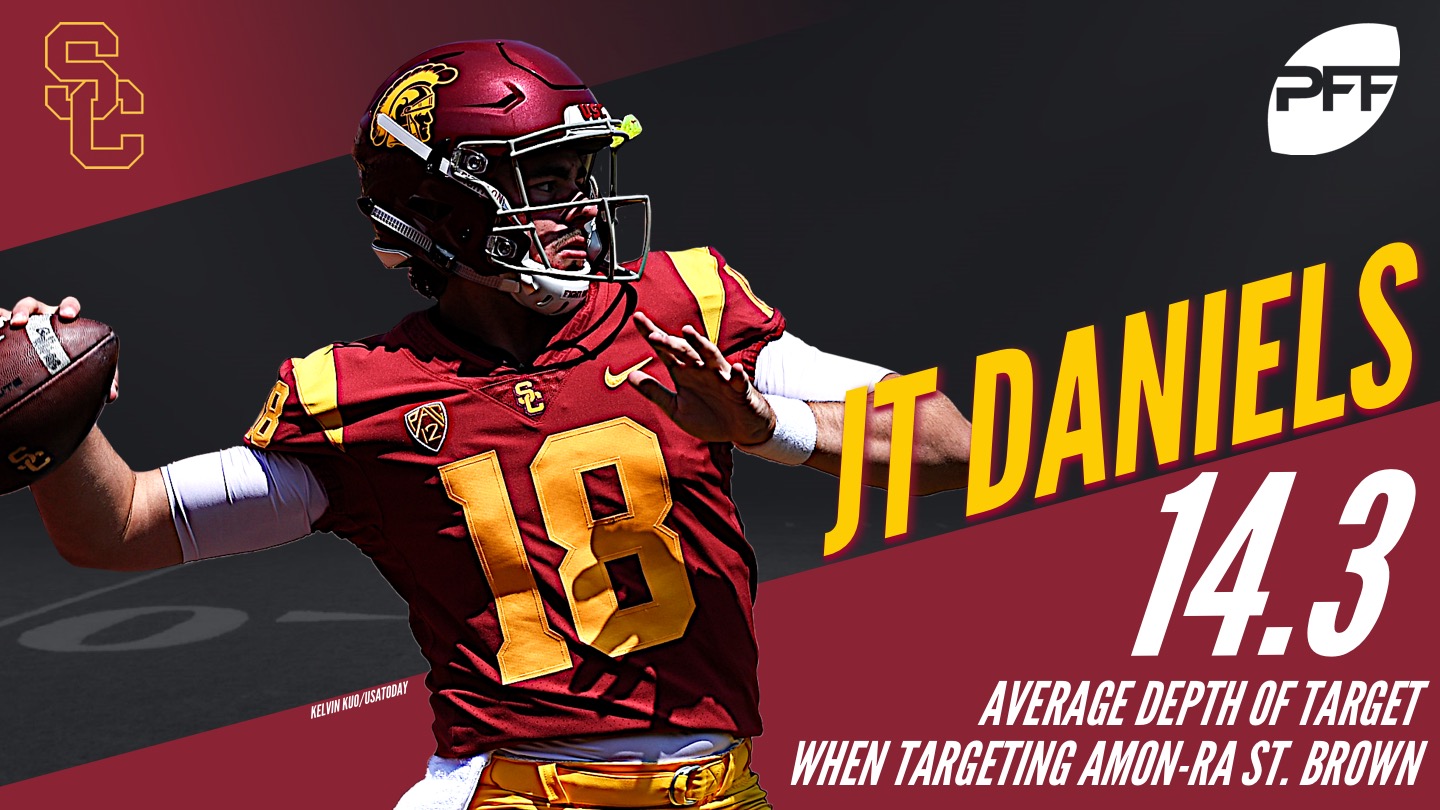 With his success on passes to St. Brown, Daniels had minimal success when throwing to Vaughns and Pittman Jr. Vaughns had a team-high 11 targets, but only managed to grab three balls for a pedestrian 1.09 yards per route run (24th among Pac-12 receivers) and a 41.1 passer rating. Pittman Jr. did not fare much better, catching just 1-of-4 passes for 1.38 yards per route run (21st) and a 64.6 passer rating.
While St. Brown may be the apple of Daniels' eye right now, Daniels will surely build chemistry with Vaughns, Pittman Jr. and the remainder of the entire Trojans' receiving corps as the year progresses. Daniels will need to boost this growth into hyperdrive in advance of USC's rivalry game on Saturday against Stanford.
Until he develops that rapport with the rest of the receiving corps, expect Daniels to look St. Brown's way early and often.