Normally, on a Monday morning we bring you the offensive and defensive Sunday Standouts, highlighting the top performers on both sides of the ball from the previous day's action. With just four games over wild-card weekend, we've combined the two and focused on the top 10 performances from the opening weekend of the NFL Playoffs.
DI Aaron Donald, Los Angeles Rams, 98.6 overall grade
The Los Angeles Rams season came to an end on Saturday night, but there was still room for one more dominant performance from interior defender Aaron Donald. Unblockable for much of the game, Donald finished the game with a sack and 10 hurries on 34 pass-rushing snaps, good for a ridiculous pass-rushing productivity rating of 25.0.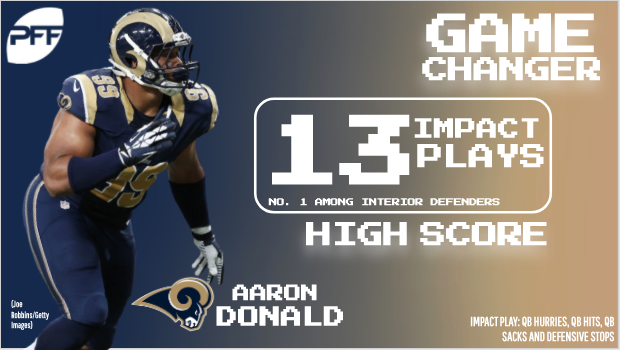 CB Troy Hill, Los Angeles Rams, 93.0 overall grade
After an up-and-down season, Rams cornerback Troy Hill ended his season with a big time performance, despite the Rams falling out of the playoffs in the loss to the Falcons. Targeted five times in coverage, Hill didn't allow a single reception, resulting in an NFL passer rating allowed of 39.6 on throws into his coverage.
WR Michael Thomas, New Orleans Saints, 90.8 overall grade
In a season where he has emerged as one of the top pass-catchers in the NFL, New Orleans Saints wide receiver Michael Thomas once again showcased what makes him such a tough receiver to cover. Picking up 131 yards from 31 snaps in route, Thomas averaged 4.23 yards per route run, the most of any wide receiver this weekend.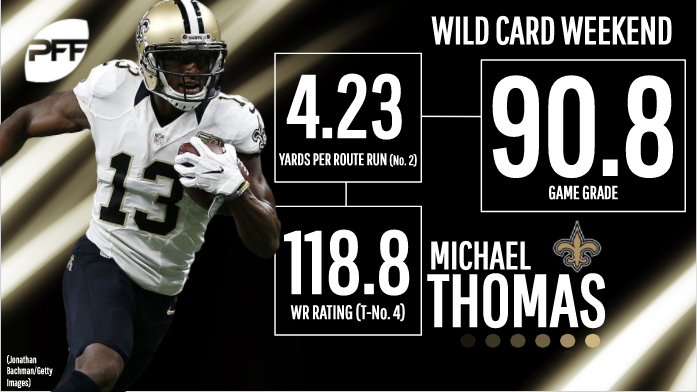 Edge Calais Campbell, Jacksonville Jaguars, 90.7 overall grade
It was fitting that one of the key players for the Jacksonville Jaguars in their playoff victory was edge defender Calais Campbell, who has delivered huge performance after huge performance since joining the Jaguars in the offseason. Campbell didn't register a sack, but did rack up three hits and four hurries from 42 pass-rushing snaps, resulting in a pass-rushing productivity rating of 12.5.
CB Jalen Ramsey, Jacksonville Jaguars, 89.6 overall grade
Continuing a huge second season in north Florida, Jaguars cornerback Jalen Ramsey was one of the key reasons for the team's victory over the Buffalo Bills. Targeted five times in coverage, he allowed just 29 yards on three receptions, and came away with the game-sealing interception. He ended the game having allowed an NFL passer rating of just 36.7 on throws into his coverage.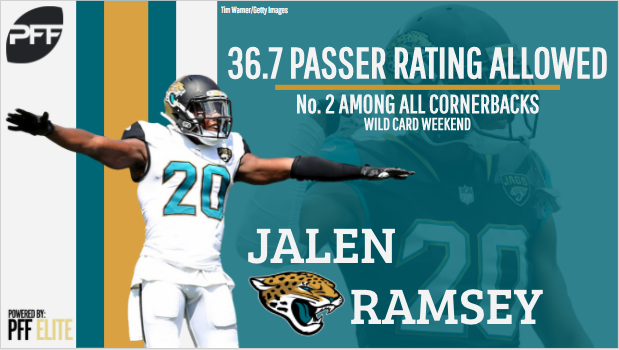 Edge Cameron Jordan, New Orleans Saints, 89.3 overall grade
The Saints held on to defeat the Carolina Panthers, and once again edge defender Cameron Jordan made life difficult for opposing offensive linemen. Producing two sacks, a hit and two hurries, good for a pass-rushing productivity rating of 10.4, Jordan also ended the game with two batted passes.
CB Robert Alford, Atlanta Falcons, 88.8 overall grade
The Atlanta Falcons picked up a win on the road to set up a trip to Philadelphia in the divisional-round, and cornerback Robert Alford played a big role in the win. Targeted eight times in coverage, he allowed just two receptions for 17 yards, good for an NFL passer rating of 39.6 when targeted.
RB Derrick Henry, Tennessee Titans, 88.6 overall grade
With the Tennessee Titans completing a stunning comeback over the Kansas City Chiefs on the road on Saturday afternoon, running back Derrick Henry was the focal point of the offense in the second half. The former Heisman Trophy winner forced six missed tackles on 23 carries, and averaged 3.61 yards after contact per carry, good for an 86.6 elusive rating.
G Quinton Spain, Tennessee Titans, 87.6 overall grade
While Henry was a nightmare for the Chiefs defense to bring down, his offensive line also helped clear lanes for him, as guard Quinton Spain impressed both as a run-blocker and in pass protection. From  37 pass-blocking snaps he didn't allow a single sack, hit or hurry, good for a pass blocking efficiency rating of 100.0, while his 88.3 run blocking grade was the highest of any guard this weekend.
QB Alex Smith, Kansas City Chiefs, 87.3 overall grade
The loss to the Titans might very well wind up being the last time we see Alex Smith as the starting quarterback of the Kansas City Chiefs, but if that was the case, Smith put forth a good advert for what he can offer another team with a big performance. Smith had nine incompletions against the Titans, but four of those came from dropped passes, giving him an 84.8 adjusted completion percentage that was the best among quarterbacks this weekend.