All the focus may be on rookies as we head into the 2021 NFL season, but some of the most important players to watch are those who have just graduated from their rookie seasons and are now established veterans.
The fortunes of teams are tied to their franchise quarterbacks, and we got to see significant snaps from four rookies last season. Those four had varying degrees of success, but now all four enter the 2021 season as starters who need to continue improving at the NFL level to be the answer going forward.
So let's take a look at where each needs to improve this year.
Subscribe to
In many respects, Burrow was exactly as advertised in his rookie season. That season sadly came to a premature conclusion when he suffered a knee injury that put him out for the year, but Burrow looked poised and in control of an offense that put an awful lot on his shoulders.
Burrow's overall PFF grade ranked 19th in the league, and the worst two games of his season by far came against the Baltimore Ravens and Pittsburgh Steelers — two of the best and most aggressive defenses in the NFL.
He showed plenty of his trademark accuracy, even if it was less impressive than it was during his phenomenal college season at LSU that propelled him all the way to the No. 1 overall pick. Burrow had the highest rate of perfect ball-placement accurate passes (19.6%) among rookie passers. Only Tua Tagovailoa had a lower rate of uncatchable passes thrown, and Tua had a significantly lower average depth of target.
Burrow's biggest struggle was the deep ball. He had the No. 6 PFF passing grade in the league on everything up to 20 air yards, ranking just behind Tom Brady, but on those deeper shots, that drops all the way to 38th out of 46 quarterbacks. His 20.8% adjusted completion rate ranked 38th in the league, completing just nine of 48 attempts. Burrow can point to a Bengals receiver group that wasn't built to win deep down the field, particularly given the struggles A.J. Green was working through after injury, but Burrow's accuracy was also to blame. If he can move the needle in a big way on the deep pass this season, his overall performance will take a huge leap immediately. Those jumps have happened before — the deep ball is very volatile at times — and Burrow has his favorite college receiver in Ja'Marr Chase to throw to now, so it's not an unreasonable ask. 
Herbert's success during his rookie season was undeniable. He broke the rookie touchdown pass record set a couple of years before by Baker Mayfield. And, like Mayfield, Herbert didn't start the season before taking over from Tyrod Taylor, albeit under different circumstances this time.
Herbert validated his supporters and shocked his detractors by just how good he was in his first season. He was a big play waiting to happen and phenomenal in the most difficult of situations.
Herbert ended the year as the No. 1-ranked quarterback in the league when under pressure, something almost unfathomable for a rookie. Few quarterbacks were under pressure more than Herbert (36.6% of his dropbacks), so that performance under duress was particularly important. But play under pressure is unstable year to year. The chances are Herbert won't be as good when the heat comes on as he was as a rookie, so he needs to improve in other areas. The Chargers recognized that and set to improve their offensive line to ensure that Herbert is under less pressure, but he now needs to improve when he is kept clean.
As good as Herbert was under pressure, his PFF grade when kept clean ranked just 26th out of 39 qualifiers. The big plays that highlighted his season typically didn't come when he was kept clean, as he posted a big-time throw rate of 3.6%, less than half his rate when he was pressured.
Herbert's season was essentially backward in terms of what you expect to see from a rookie, but that means there is plenty of room for him to improve despite the incredibly high bar he set as a rookie.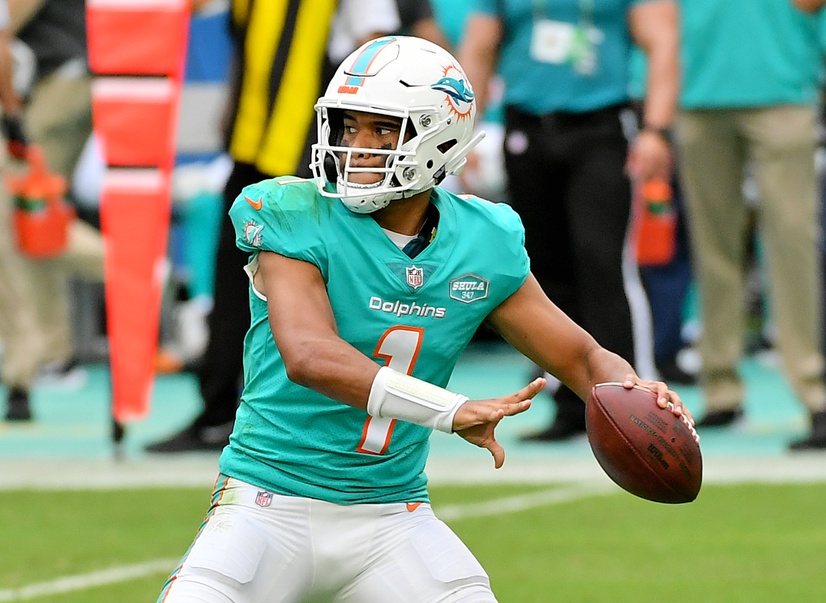 Burrow's and Herbert's performance certainly colored the narrative surrounding Tagovailoa in his rookie season. Tua's play in a vacuum wasn't terrible, but he was clearly lagging behind those two by comparison, and with the Dolphins benching him on multiple occasions for Ryan Fitzpatrick to try and rescue games, opinions soured quickly.
There were certainly other flaws to Tua's game, but when you drill down into the details of his rookie performance, by far the biggest issue was the lack of big plays, something that had been a big part of his college game at Alabama. For the season, Tua's big-time throw rate (2.3%) was tied for the worst mark in the entire league. He wasn't just failing to make the big plays when they presented themselves, but he wasn't looking hard enough for the opportunities. His average depth of target (8.0) was average at best, but his deep shot (20-plus air-yards) rate was just 10%, 29th out of 39 quarterbacks.
Deep shots and big plays downfield are game-changing, and they can paint over a lot of cracks and inefficiencies on the shorter stuff. With Tua's game lacking many of them last year, all of the flaws in the rest of his game were only magnified and highlighted. If he maintains his level everywhere else but rediscovers his aggressive streak from college, his game would be instantly transformed, particularly with the receiving corps Miami now has to support him.
There is no shortage of areas that Hurts needs to improve on based on what we saw from him in his rookie season. He provided an instant spark to the offense with his rushing threat, but the biggest thing he brought to the table was just not being Carson Wentz, and the gloss quickly wore off what he was doing the longer he played.
His biggest issue is how long the ball is in his hands. Hurts averaged 3.37 seconds per dropback with the ball in his hands. The only 'quarterback' with a higher average last season was Kendall Hinton, the wideout forced to start a game at quarterback for the Denver Broncos due to COVID-19, who spent the entire game just running for his life and trying to make something happen. Even on plays where Hurts wasn't under pressure, he averaged over 3.0 seconds per dropback, and the length of time he holds the ball caused him to be under pressure at one of the highest rates in the league.
Hurts had a high turnover-worthy play rate, wasn't hugely accurate with the ball and didn't make enough big plays to offset those errors, so he may simply not have a high enough ceiling for any of it to matter, but the majority of his woes center around holding onto the football too long. He needs to process the play faster than he has been and take the things that are schemed open early in the play. A player like Devonta Smith, who excels in route running, can only help that.