Thursday night was everything you'd expect from a 2020 NFC East game. Daniel Jones busted out the fastest quarterback sprint speed since 2018 on an 80-yard run before tripping over his own feet. The Eagles went for it on a crucial fourth-and-goal from the 3-yard line only to throw a fade to Hakeem Butler, a wide receiver-turned-tight end signed mere weeks ago who has yet to catch a regular-season NFL pass.
There were some bloopers.
Yet, the game was a competitive affair with real stakes. The Philadelphia Eagles ultimately pulled off a 22-21 home win over the New York Giants, improving to 2-4-1 and tying the Dallas Cowboys in the win column. That sets up a matchup between Philadelphia and Dallas on Sunday Night Football next week that will have significant NFC East implications.
Editor's note: All of PFF's grades and advanced stats from this game will be finalized and made available to ELITE subscribers within 24 hours of the final whistle.
STORY OF THE GAME
These offenses aren't all that dissimilar in their current states. Injuries and struggles up front have created a situation where both quarterbacks have been under heavy pressure. Carson Wentz and Jones are both athletic guys who will make some impressive throws and plays despite less-than-ideal situations, but they'll also put their teams in bad situations by being careless with the football and trying to play hero ball. 
We saw that with Wentz on Thursday. There are simply times — like the interception to James Bradberry — where Wentz needs to realize that no play is better than a forced play. We also saw the other side of the spectrum with Wentz — he had quite a few passes that will end up being labeled as big-time throws, and he gave himself some opportunities with his legs, leading the Eagles on two touchdown drives late to regain the lead.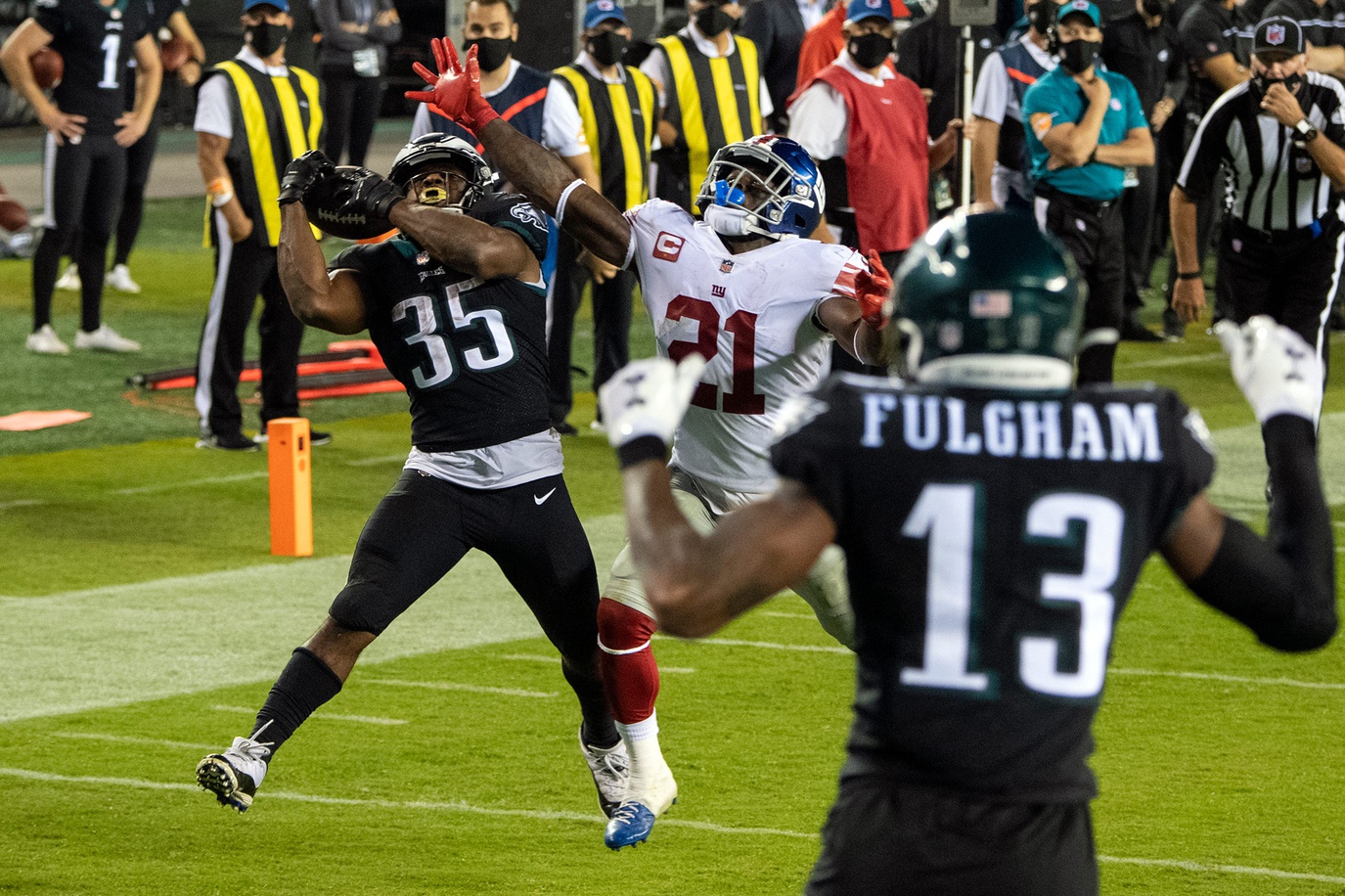 The second of those drives was capped off by a pinpoint throw to Boston Scott down the sideline for the go-ahead touchdown. 
Had Jones' own dime down the sideline to Evan Engram been caught a few minutes earlier on third down, Wentz may have never had an opportunity to take the lead. Jones' pass fell incomplete, and Wentz's didn't. That turn of events went a long way toward deciding the outcome of the game. 
ROOKIE WATCH
The magnifying glass was already on Andrew Thomas after the first five weeks of the 2020 season. His benching in Week 6 didn't make things any better, and the criticism isn't going to go away after another shaky showing in pass protection in his return to the starting left tackle job.
Thomas was at least partially responsible for multiple sacks tonight — one on another inside move and one where he was slow to pick up a blitzing Nathan Gerry. It takes some time for most offensive linemen to adjust to the NFL game, and Giants' fans have to be hoping that is the case with Thomas. Things haven't been pretty through seven games.
For the Eagles' offense, John Hightower saw his lowest snap count (30 snaps) since Week 2 with the (brief) return of Desean Jackson at wide receiver. Hightower has a very defined job to this point — win deep. His average depth of target of 21.8 yards led all wide receivers coming into Week 7, and he brought down another Wentz bomb in the fourth quarter. 
Jalen Hurts continues to serve as primarily a decoy or a read-option quarterback when in the game. He had attempted just one pass coming into the week on 21 offensive snaps, and that total didn't move up after four more official snaps tonight, though he did attempt a pass that was nullified on a two-point conversion attempt.
Running back Jason Huntley (eight snaps) ranked third among the team's RBs in snaps behind Boston Scott (53 snaps) and Corey Clement (17 snaps) in the absence of Miles Sanders. Huntley ran for 17 yards on three attempts.
Tackle Matt Peart (six snaps), wide receiver Austin Mack (12 snaps), safety Madre Harper (23 snaps) and edge defender Cam Brown (12 snaps) all saw limited playing time for the Giants. Harper was involved in several plays — mostly negative — including several receptions allowed, an unnecessary roughness penalty and a hit on Jackson that took him out of the game.
ELITE subscribers can view player grades, advanced statistics, positional snap counts and more in Premium Stats 2.0.