The Baltimore Ravens thwarted a furious comeback attempt, stuffing Carson Wentz's two-point attempt to tie the game late in the fourth quarter. 
The Ravens were ahead 24-6 to start the final stanza before the Eagles ripped off three touchdowns and a two-point conversion. Two Justin Tucker fourth-quarter field goals and the aforementioned two-point snuff saved the day for the Ravens.
Editor's note: All of PFF's grades and advanced stats from this game will be finalized and made available to ELITE subscribers within 24 hours of the final whistle.
Story of the Game
For the first three quarters, Wentz looked like the shell of himself that had started this season for the Eagles. He completed 11 of 20 balls for 120 yards but was sacked four times. He found some success late during the fourth-quarterback comeback, going nine of 18 for 77 yards with two touchdown passes including a huge 40-yard scramble.
Overall, this will end up being just another loss in a terrible start to the season for the Eagles. The offensive line continued to give up pressures to the nasty Ravens defense. Wentz was pressured 14 times and took six total sacks. The Zach Ertz-Wentz connection was out of sorts again, as the tight end was targeted 10 times — only five of which were catchable. He ended up with four catches.
On the other side of the ball, Lamar Jackson had a nondescript 186 yards passing on 27 attempts, was sacked three times and scrambled three times. He did add 108 yards on the ground on only nine total rushing attempts, creating two forced missed tackles along the way. This accounted for 60% of the team's rushes and 66% of the team's missed tackles.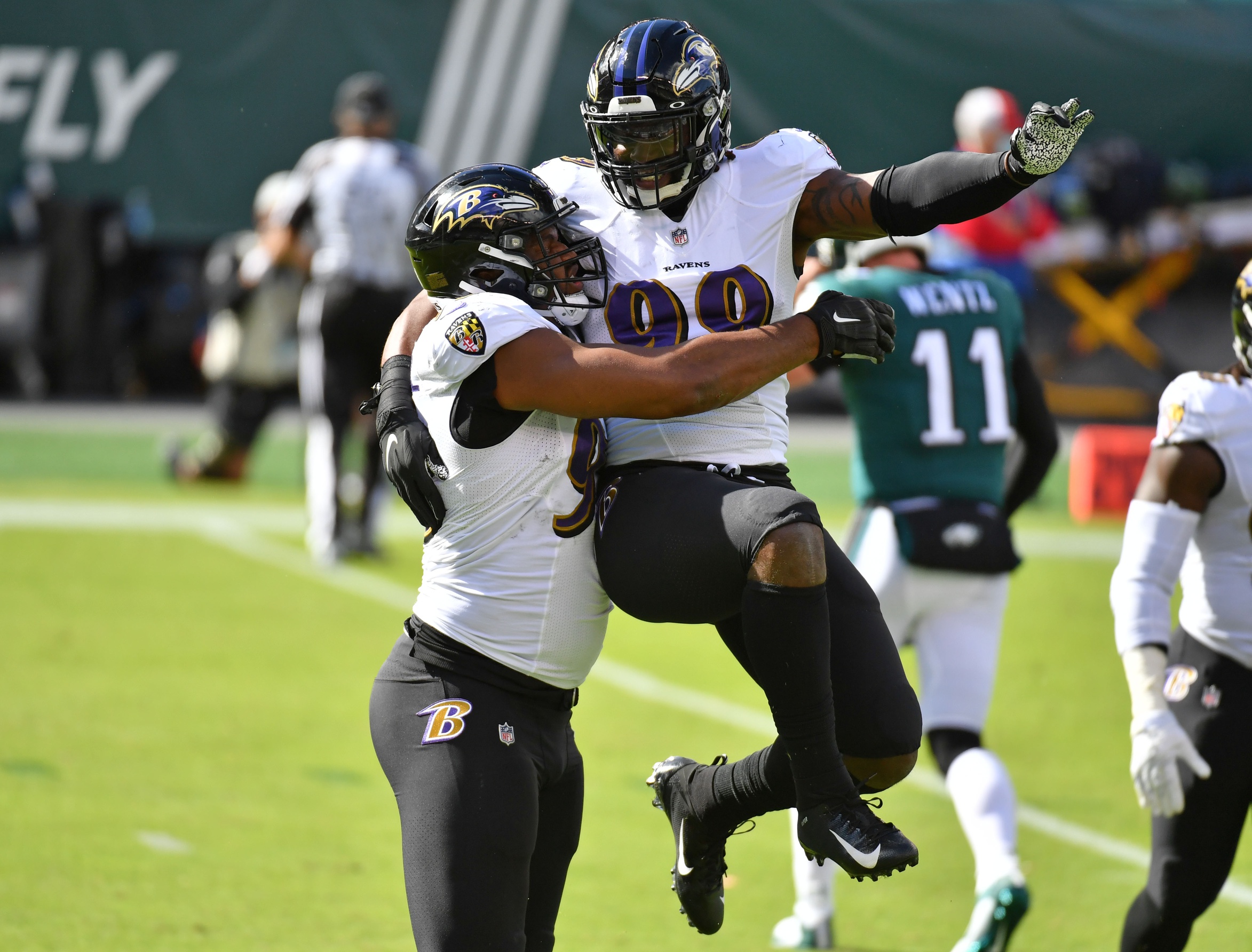 It was the defense that really won this game for the Ravens as they built the big lead. Eight different Ravens had at least two pressures on Wentz, with Calais Campbell's five leading to three sacks.  
Rookie Report
Jalen Hurts saw some action for the Birds and even caught a 3-yard completion. He played five total snaps and had that catch to go along with 23 yards rushing on two carries. Tackle Jack Driscoll played 51 snaps, while receivers Quez Watkins played 11 snaps and John Hightower played 34. Hightower caught one of his four targets for a 50-yard gain but did drop one pass. Linebackers Shaun Bradley (25 snaps) and Davion Taylor (seven snaps) saw time on the Eagles defense. Each had a tackle.
For the Ravens, Devin Duvernay caught all three of his targets for 31 yards, playing 17 receiving snaps. Running back J.K. Dobbins had 28 yards on nine attempts and forced one missed tackle.  Linebacker Patrick Queen played 50 snaps but only had two tackles and missed two himself. He also had two pressures. Broderick Washington and Justin Madubuike each played 19 snaps, with Madubuike registering a tackle. Backup linebacker Malik Harrison played eight snaps. 
ELITE subscribers can view player grades, advanced statistics, positional snap counts and more in Premium Stats 2.0.