• Bet Chiefs -2.5 vs. Bills: Buffalo is the best team in football. Patrick Mahomes is getting points at home for the first time and quite possibly last for some time. Don't miss this chance.
• Bet Jaguars +2 at Colts: Unlike Indy, Jags move the ball consistently on offense. They're a good bet to cover if not win outright.
• New users from Illinois, Louisiana or Kansas who bet $10 or more at BetMGM will receive $200 in free bets — regardless of the result of your wager. Click here to sign up!
Last updated: Wed. Oct. 12, 5:15 p.m.
Estimated reading time: 8 mins
---
In my debut column in Week 5 picking my favorite underdogs, the Detroit Lions were beaten badly by the New England Patriots, but our four other underdogs played close games — and the Cleveland Browns, Arizona Cardinals and Cincinnati Bengals covered the spread. Overall, we were pretty unlucky, as the Browns and Cardinals both lost on missed field goals, and the Bengals lost on Justin Tucker's game-winning FG.
Additionally, the Seattle Seahawks only failed to cover a game in which they weren't the worse team (8.1 to 5.9 yards per play), because the New Orleans Saints converted a two-point attempt after their game-winning touchdown. Overall we went 3-2 against the spread, but 0-5 on moneylines. This happens when betting on underdogs, as there is much more noise involved in whether an underdog finally ends up winning a close game, but more process involved in finding out which underdogs are fundamentally good enough to play close games to begin with and thus cover the spread.
For this week's games, we will work with the following money lines and spreads as of Wednesday. The column "win percentage" is the implied (vig-removed) win percentage deduced from the moneylines.

These lines lead to the following expected distribution of the number of underdog wins this week: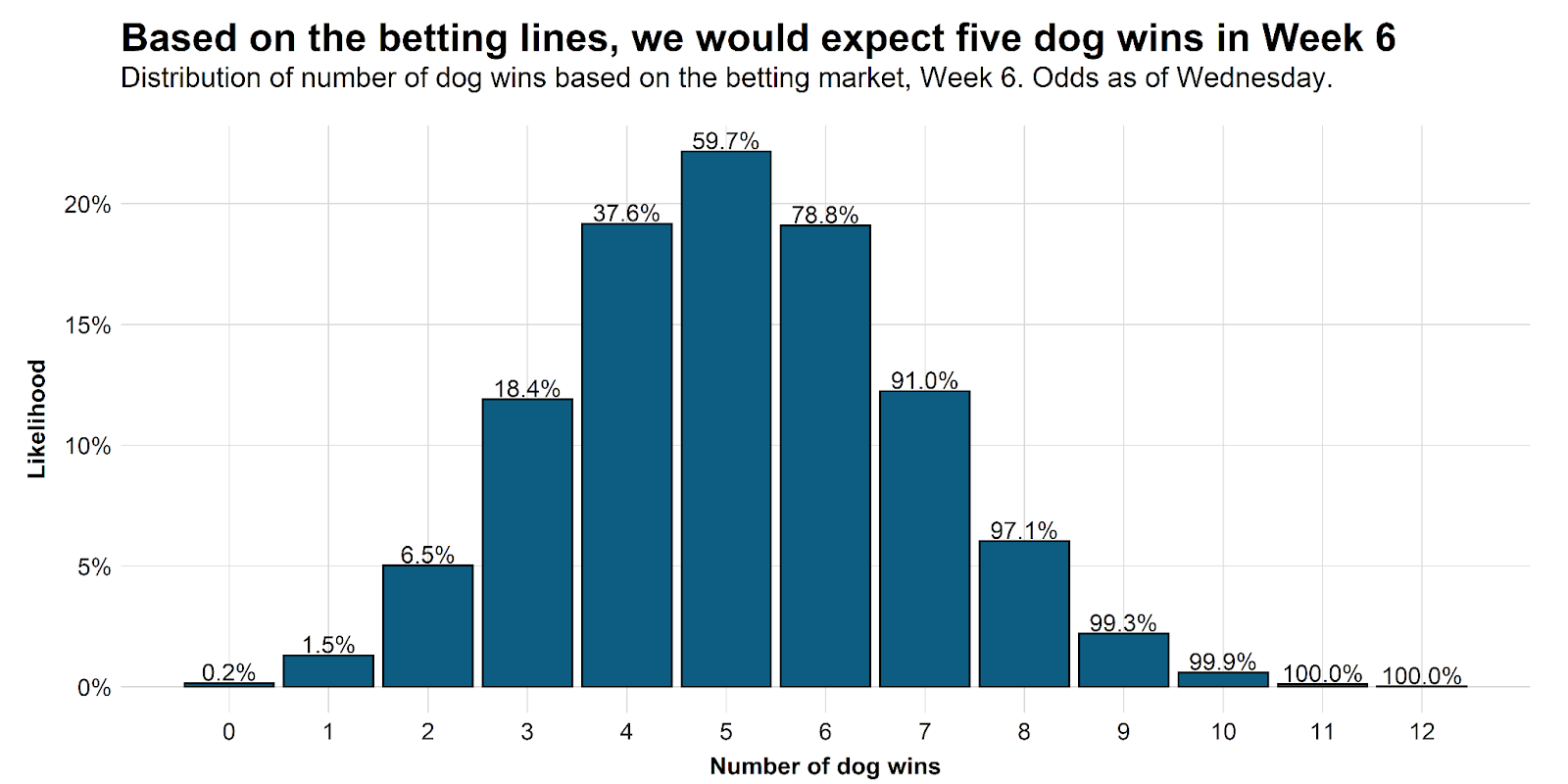 The labels above the bars is the cumulative probability, i.e there is a 60% chance that we will see five or fewer underdog wins. The median number of underdog wins this week is five (the first number with a cumulative probability over 50%), and here are my favorite underdogs this week:
Here are some team rankings for the Jacksonville Jaguars and Indianapolis Colts after five weeks of play:
Offense rank
Stat
Jaguars
Colts

EPA/play

15

31

Success rate

16

24

Series conversion rate

14

26

Net yards per play

17

29

EPA per pass play

9

27

Pass success rate

6

19
• The Jaguars offense is probably not as good as it looked the first few weeks: But it seems to be at least average, and they can definitely move the ball. The Colts can't do that on a consistent basis.
• Although the Jaguars have struggled with turnovers in the past two games, this tends to regress to the mean from game to game: This line is either an overreaction to the Jaguars' bad outing against the Texans, or carries too much weight from preseason priors when we thought the Colts would be a better team. We found that Week 6 starts the phase of the season in which we slowly can forget about our priors from before the season. The Jaguars shape up to be a good bet to either cover or win outright here.
• Patrick Mahomes is getting points. At home. For the first time ever and probably for the last time in a long time: The Bills are the best team in football right now, but this is the chance I wouldn't want to let pass away. The Chiefs rarely get blown out, so it's very likely that this game comes down to who possesses the football last, just like in their memorable shootout in last season's divisional round. The chances that this would be Mahomes are roughly 50:50 and even if the Bills have the laugh last, the result might only be by a field goal or less, allowing the Chiefs to cover the spread of three points.

• Denver's defense has been good enough to keep games close — and the Chargers struggle to put teams away: Los Angeles has been the better team so far, but I like the Broncos here as an underdog.
• The Broncos offense has struggled in scoring range so far (-0.54 EPA per play in the red zone), but they've been just good enough at moving the ball in the open field: With a mini-bye to figure things out, I trust an offense which still consists of talented players to surprise us in a positive way after a horrendous output last week.
• The Browns season hasn't started as we expected, as their offense is a positive surprise, but their defense is a disappointment: They rank fourth in EPA per play on offense, but 29th in EPA per play allowed on defense. They've been especially bad against the run — where the Patriots will most likely attack Sunday.
• On the other side of the ball, Bill Belichick seems to have done it again and built a pretty good defense in New England (8th in EPA/play allowed): The Browns are built through the run game and are fairly limited in the passing game, where they try to set up easy completions for Jacoby Brissett. This has worked fairly well for them so far, as they rank fourth in EPA per pass play on play action passes, but they rank only 18th on all other dropbacks. Belichick has proven over and over again through his career that he knows how to stop these kinds of offenses, like last week in shutting out Detroit. The Browns have better offensive personnel than the Lions, but I still like the Patriots as an underdog in this game.