PFF prides itself on grading every single player on every single play at the NFL and collegiate levels on a scale of -2.0 to +2.0.
At one end of the scale, you have a catastrophic game-ending interception or pick-six from a quarterback, and at the other a perfect deep bomb into a tight window in a critical game situation, with the middle of that scale being 0-graded or "expected" plays that are neither positive nor negative. Each game is also graded by a second PFF analyst independent of the first, and those grades are compared by a Senior Analyst, who rules on any differences between the two.
[Editor's Note: Check out this article to read more about PFF's current grading process.]
Highlighted below is a collection of five plays from Week 5 in the NFL where a player earned a high grade on the positive end of the scale.

Justin Houston sack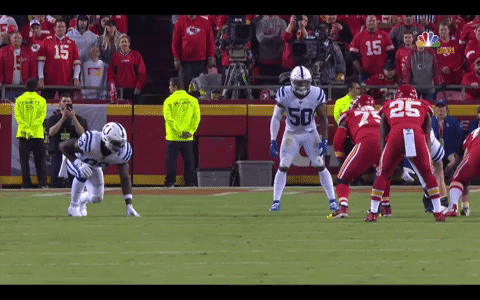 Veteran pass-rusher Justin Houston came up big against his former team with four pressures and this sack against left tackle Cam Erving. The backup tackle for Kansas City actually gets a good jump off the snap and beats Houston to the edge, but he then stops his feet. Stopping momentum at the point of contact is a huge mistake, and Houston makes him pay for it on the way to quarterback Patrick Mahomes. Houston was key in the Colts' upset defeat on Sunday Night Football with a 71.9 pass-rushing grade.
Marlon Humphrey forced fumble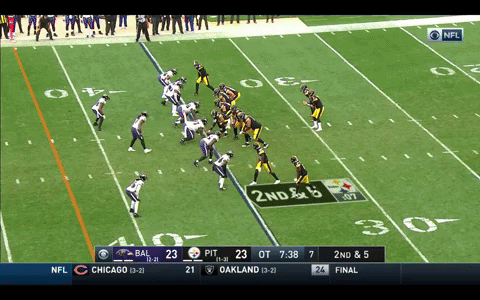 It was a battle between Marlon Humphrey and JuJu Smith-Schuster all day. The latter scored a touchdown against Humphrey in the first quarter on a 35-yard strike. Humphrey would have the last laugh, though, with this Charles "Peanut" Tillman punch on the ball in overtime. Humphrey finishes the play himself by recovering the fumble and putting the Ravens in position to kick a game-winning field goal. His coverage grade of 85.4 was the highest of any Raven on Sunday.
Orland Scandrick strip-six

Orlando Scandrick really punched above his weight on this strip-sack and touchdown. The corner shows his hand early while blitzing from the slot, but he still beats tight end Ryan Griffin to get to Jets quarterback Luke Falk. To add insult to injury, Scandrick breaks a tackle attempt by Griffin and races into the end zone. It was a day to remember for Scandrick, who tallied two sacks and three pressures in the contest.
Amari Cooper 53-yard touchdown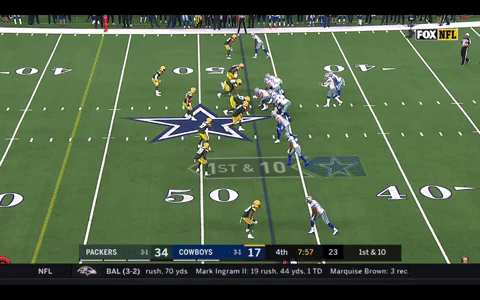 Amari Cooper reminds us once again why he's one of the most dangerous receivers in the NFL. Only a few players with his size can create separation on routes with this level of agility and acceleration. His cut out of the double move leaves Packers' corner Jaire Alexander grabbing at air while Cooper is downfield on his way to securing this 53-yard touchdown. Alexander is no slouch, either, as he entered the game with an 88.3 coverage grade. Cooper gets the best of him on this play and puts Dallas back within striking distance of the Packers in one play. Cooper earned an elite grade of 91.2 on Sunday, albeit in defeat.
Russell Wilson and Tyler Lockett connect for 13-yard TD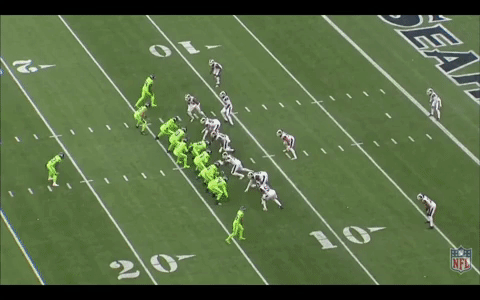 Everything about this play is magical. Tyler Lockett doesn't get open, and Russell Wilson throws the ball off platform into a window that shouldn't exist. And it works. Why? Because it's Russell Wilson and Tyler Lockett. By now you've seen the highlight dozens of times on social media or on television. The All-22 view is even more impressive because you can see how good the coverage was and how crazy of a play it took to beat it. Wilson earned an elite grade of 94.9 in this game and a 96.4 passing grade while Lockett secured his best grade of the season at 79.6 overall.