The Chargers defense slowed down Patrick Mahomes about as well as anyone ever has in his young career. In the end, it still wasn't enough as Harrison Butker hit a game-tying field goal as time expired and then a game-winning 58-yard field goal with under two minutes left in overtime.
Editor's note: All of PFF's grades and advanced stats from this game will be finalized and made available to ELITE subscribers within 24 hours of the final whistle.
The loss wasn't without a silver lining for the Chargers, however, as Justin Herbert had multiple impressive throws and looked like he belonged as the starter.
Story of the Game
The story of the game was quite easily how flustered Mahomes was throughout the game. He was uncomfortable in a lot of pockets that weren't too tight and drifted out of the back, making his tackles' blocks look worse on a number of occasions. You can only keep him down for so long, though, as Mahomes' grade in the first half compared to the second was night and day. His rollout bomb to Tyreek Hill was about as impressive a throw on the move as we've seen all year.
One of the other biggest surprises of the game was the play of All-Pro right tackle Mitchell Schwartz. He allowed seven pressures against the Chargers' talented edge group. If that holds up upon final review, it will be the most pressures he's allowed in a game since 2013. Not to be outdone, left tackle Eric Fisher allowed eight on the other side.
While the Chargers obviously put some training wheels on Herbert out of the gate, it almost worked because of the performance from Austin Ekeler. He broke seven tackles on 16 carries  for 93 yards with six of those carries going for first downs. He also hauled in all four targets for 47 yards with three more broken tackles.
Rookie Watch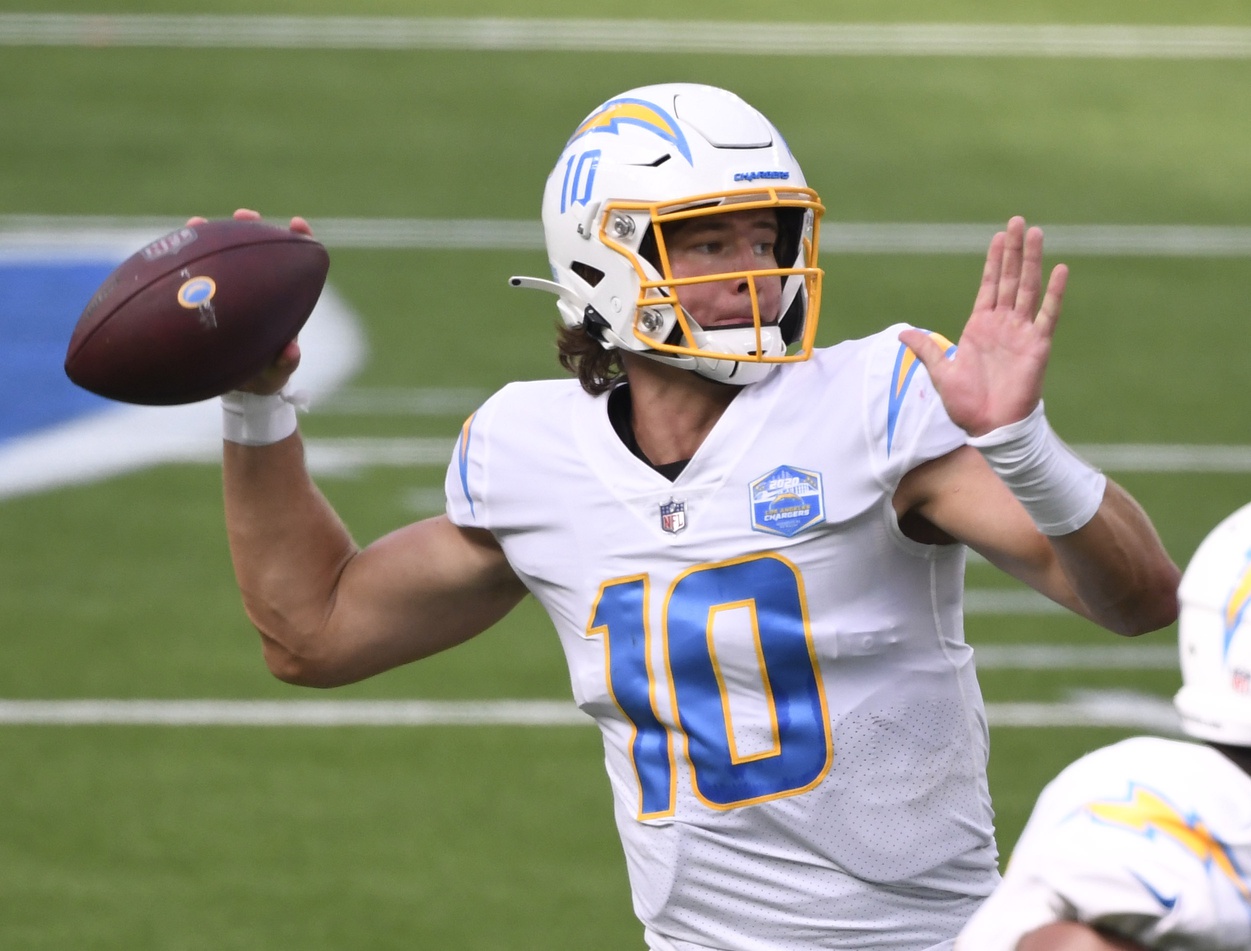 The most important rookie performance was quite easily Justin Herbert. His touchdown throw in the back left corner of the end zone to Jalen Guyton was a seed, and his seam throw to Keenan Allen was arguably the most impressive throw of the week. Without taking first-team snaps all week it was impressive that the speed of the game didn't look like overwhelming for Herbert whatsoever. It wasn't all sunshine and rainbows, however, as his across body interception was a disastrous decision that he'll soon learn he won't get away with in the NFL.
Speaking of that interception, it was fellow rookie L'Jarius Sneed's second of the season already.  He allowed four catches on six targets for 37 yards with only two going for first downs. It was no easy matchup for him in press coverage on 50% against the likes of Mike Williams and Keenan Allen.
ELITE subscribers can view player grades, advanced statistics, positional snap counts and more in Premium Stats 2.0.