PFF Senior Analysts Sam Monson and Steve Palazzolo reviewed the film, advanced stats and grades to offer their key takeaways from Week 15 of the 2019 NFL season.
[Editor's Note: All ELITE subscribers have access to PFF's advanced statistics and grades referenced below. Subscribe today to gain access!]
Sam Monson
Bills lost because they can't tackle
For the second week in a row, the Buffalo Bills were well into double-digits for missed tackles, this time against the New England Patriots, which let the Tom Brady-led offense grind out the clock and play ball control offense late in the game. The Bills actually have a capable run defense, but it is let down by missed tackles, taking their overall performance from one of the best units in the game in average yards before contact to one of the worst in average yards after contact. They have now missed 141 tackles for the season with a game still to play, and it has become a significant hurdle to this team being a truly elite defense — not to mention finally stealing the AFC East crown away from the Patriots.
The Bills D is 6th in yards per rush BEFORE contact allowed
They're 30th in yards per rush AFTER contact allowed.

Why? 141 missed tackles is 2nd most in the NFL as a unit.

— Sam Monson (@PFF_Sam) December 23, 2019
Credit where credit is due, Jones had an excellent performance against the Washington Redskins this week, leading his team to an overtime victory on the road. From a clean pocket Jones was near flawless, scoring four of his five touchdowns that way and passing for almost 300 yards. In total, it marked a rare game for Jones in which there was very little to complain about, in particular bad decisions or ball security. Obviously, the caveat of competition must be at least tacitly present, as Washington is far from the best secondary in the world fully healthy, and they were far from fully healthy. But this is a Jones to get New York Giants fans excited.
You can't guard Mike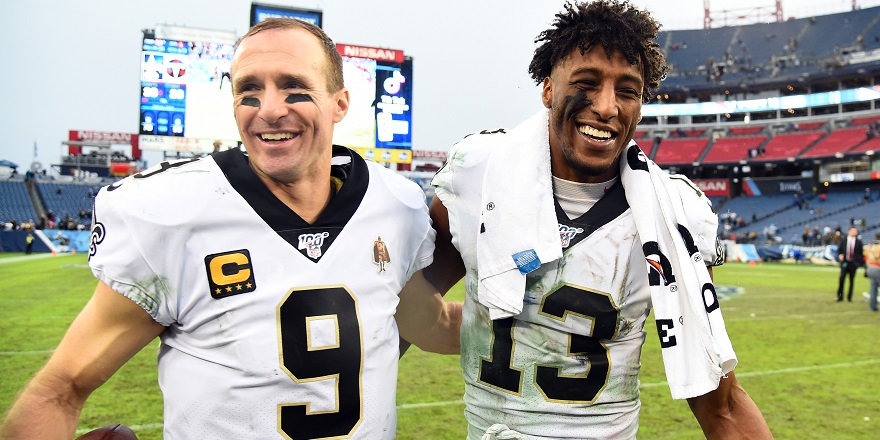 © Christopher Hanewinckel-USA TODAY Sports
Michael Thomas broke the all-time single-season receptions record this week, and now has a whole other game remaining to push it ahead of the rest of the field. Thomas saw 17 targets against the Titans, catching 12 of them for 136 yards and a touchdown. The reception he ended up breaking the record on showed exactly why he is the favorite target Drew Brees has ever had in terms of target share — shaking his man during the route and giving Brees an outstanding picture to throw toward. Thomas may not be the biggest, fastest, or most explosive receiver in the NFL, but he is damn near impossible to guard, and may be the best receiver in the game.
PFF may have been the last people on the Russell Wilson MVP bandwagon anyway, but it's tough to argue that wagon isn't lying in a burnt-out heap at the side of the road after Week 16. It's not that Wilson was particularly bad against the Cardinals, it's more that he just wasn't able to elevate the play of everybody around him this week the way he has been able to most weeks, and when he can't do that, the team doesn't have enough juice to win anyway. Injuries have started to bite deep for the Seattle Seahawks and Wilson has even less help than he had for most of the season. Lamar Jackson is a very fine MVP candidate, but Wilson's case has been torpedoed by a lack of help that isn't a factor for Lamar.
Steve Palazzolo
Patriots stitch together an efficient offense
For the first time in weeks, the New England Patriots put together a solid all-around offensive effort, and it came at a great time as they secured the AFC East against the Buffalo Bills. QB Tom Brady played a clean game, posting his top grade since Week 3, while the run game came to life with its third-highest percentage of positive EPA plays of the season (Week 2 vs. Dolphins, Week 9 vs. Ravens). New England worked extremely hard to outnumber the Bills up front, using jet motion and other post-motion adjustments as Brady orchestrated it all at the line of scrimmage. The defense made a key stop in the end, and this is the kind of performance that is encouraging for Patriots fans with the playoffs looming.
Ryan Fitzpatrick having a fantastic season given the circumstances in Miami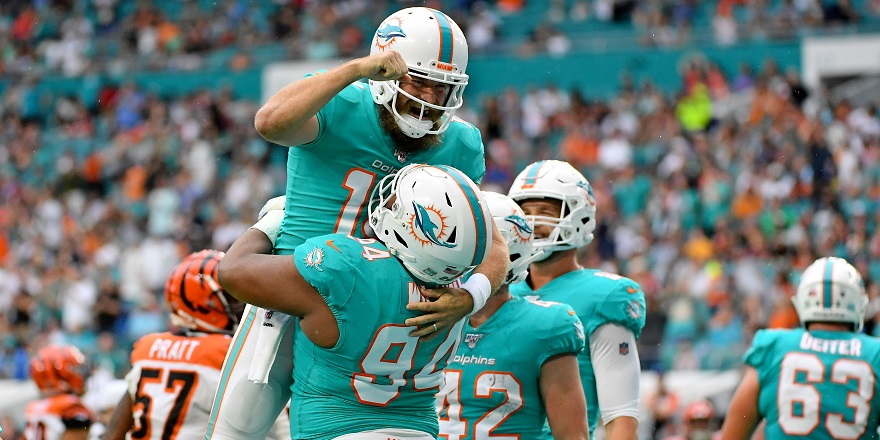 © Jasen Vinlove-USA TODAY Sports
The Miami Dolphins were supposed to be locking up the No. 1 overall pick by this point as they came into the year with the worst on-paper roster in the league and expectations that they'd be the worst team in the NFL. Instead, they earned their fourth win, defeating the Cincinnati Bengals (who locked up the No. 1 pick) and Fitzpatrick deserves much of the credit for Miami's rise to competitiveness after a rough start. Playing behind the worst pass-blocking in the league, and a defense that usually has the Dolphins in a shootout, and no complementary rushing attack, Fitzpatrick has extracted a career year out of WR DeVante Parker while keeping the Dolphins in every game they play. Last season, Fitzpatrick posted a career-high 84.3 grade, which looked like an anomaly in an otherwise mediocre, YOLO-balling career, but this season's 75.3 grade now ranks second-best, making this Fitzpatrick's best two-year stretch of play since entering the league. It's even more impressive that he's been elevate the subpar talent around him into a competitive group.
© Brian Spurlock-USA TODAY Sports
Grier looks uncomfortable in first start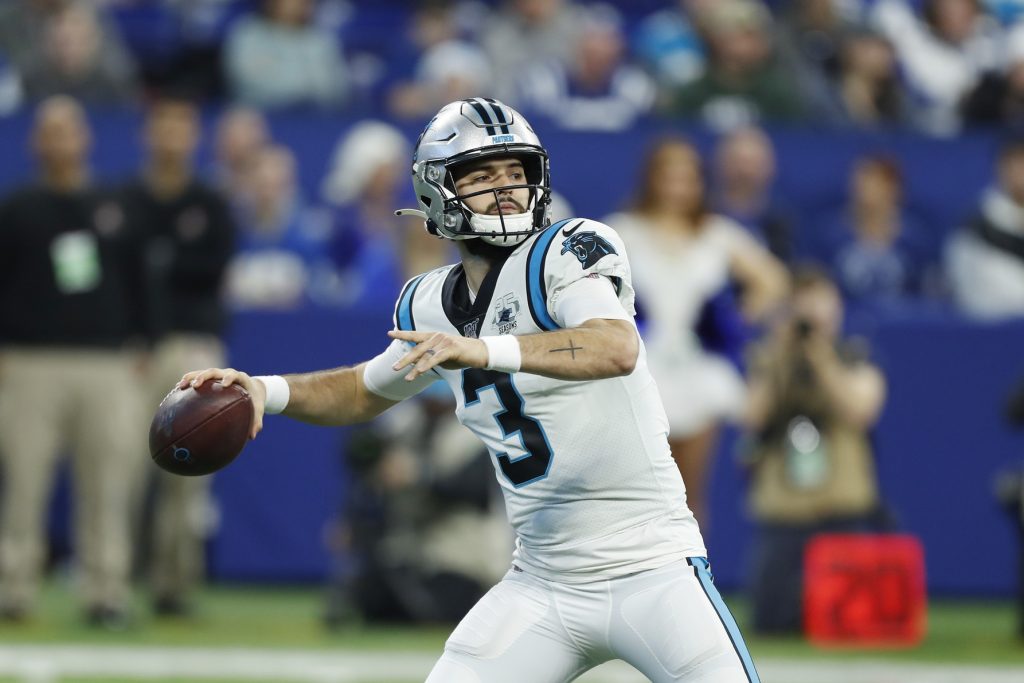 © Brian Spurlock-USA TODAY Sports
Carolina Panthers QB Will Grier looked like a rookie in his first start, as he finished 27-for-44 for 224 yards and three interceptions. The stats matched up with Grier's performance, as he missed on some easy throws while putting the ball in harm's way with four turnover-worthy plays. Grier never looked comfortable in the pocket, often throwing off platform and, perhaps even more noteworthy, struggling with his footwork when getting to his second read. He missed a stick route on the backside early in the game before sailing another one late in the third quarter that should have led to another interception. It's just one start, but Grier looked like a rookie in his debut.
Chiefs defense is capable
Coming into the season, the Kansas City Chiefs defense set out to at least complement their explosive offense, especially after it was the defensive side of the ball that let Kansas City down in every loss a year ago. In recent weeks, we've seen that the Chiefs are at least capable of putting together strong defensive games as they have given up just 45 points over the last four games (11.3 per game). While the talent isn't much better on paper than it was last season, Kansas City has crept back toward average in the secondary, led by safeties Tyrann Mathieu and Juan Thornhill. The duo leads the team in coverage grade, and both players have been well-utilized in defensive coordinator Steve Spagnuolo's scheme. Mathieu and Thornhill both have impressive hybrid skills, as they're capable of playing man-to-man, short or deep zone, or lurking in the middle of the field to thwart high-percentage passes while adding an extra run defender in the box. The Chiefs' playoff hopes might hinge upon one of the best safety duos in the league adding versatility to a defense that needed to take a step forward this season.