PFF Senior Analysts Sam Monson and Steve Palazzolo reviewed the film, advanced stats and grades to offer their key takeaways from Week 12 of the 2019 NFL season.
[Editor's Note: All ELITE subscribers have access to PFF's advanced statistics and grades referenced below. Subscribe today to gain access!]

Terry McLaurin could be special…if his QB can get him the ball
Lions cornerback Darius Slay is one of the best in the game. A week ago against Amari Cooper—who is one of the best route runners in the game—Slay allowed just three catches for 38 yards while breaking up two of the incompletions. This week, Terry McLaurin got behind him multiple times, but almost every time he did so, his quarterback was unable to hit him. Slay's stats will look good — just three catches for 42 yards despite 10 targets to McLaurin, but the PFF grades will speak more to the number of times he was beaten by a rookie receiver who already looks polished enough to be a dominant force. McLaurin could have put up some huge numbers in this game if Dwayne Haskins had just been more accurate with the football. This is both very encouraging and concerning at the same time. 
Ryan Tannehill is starting to make the Titans QB decision in 2020 interesting
Early in his career, it looked like Ryan Tannehill could become Miami's quarterback of the future. In 2013, he had the second-best overall PFF grade of any of the 2012 draft class, trailing only Russell Wilson. Given how young he was to the position (having played receiver for some of his college career), the upward trajectory was encouraging. Things didn't ultimately pan out, but his play right now for Tennessee is the best he has played since that season, and he is starting to make a strong case that he can be a viable starter for this team next season, with all of the associated contract complexities that it creates. He currently has the fifth-best overall grade among all QBs, and he has only six turnover-worthy plays.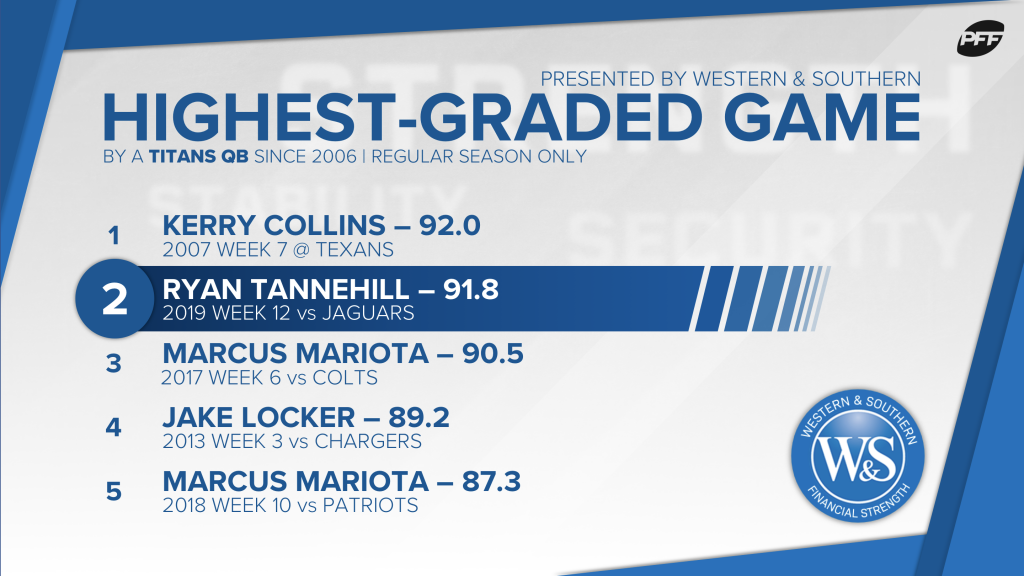 Chris Godwin is a monster, and he is bailing out Jameis Winston
This week was peak Jameis Winston, with the high and low end of his capabilities on full display throughout the game. With receiving weaponry like Mike Evans and Chris Godwin in the team, though, he will always end up with some plays he didn't fully earn. Godwin has developed into one of the best receivers in the game and racked up almost 200 receiving yards this week, 65 of which came after the catch, scoring twice along the way. One of his touchdown receptions was a remarkable play, snagging a badly located pass from Winston with one hand before holding on through a big hit just across the goal line. This was a poor and dangerous throw that was turned into a scoring play by Godwin, who continues to put up huge numbers this season.
If the Dallas offense needs to run through Ezekiel Elliott, they won't be as successful
One thing that has characterized the Dallas offense this season is that it has run through Dak Prescott and not Ezekiel Elliott, despite the $90m contract handed to the latter player after his holdout. This week, weather conditions meant that it reverted back to the old method of leaning on their star running back, and the team ended up with just nine points. The fact that they were playing an excellent New England defense in a downpour doubtlessly contributed, but despite Elliott grading well, notching 64 yards after contact and racking up 126 yards from scrimmage, this was as toothless as the Dallas offense has looked, because it was the worst the passing game and Dak Prescott has looked this season.
The Raiders can't live up to the hype
We are one week away from a showdown in the AFC West between the Raiders and the Chiefs, but Oakland's cross-country trip to New York ended in a 34-3 loss to the Jets. Oakland's improving pass-rush was stymied, as they only managed to pressure Sam Darnold on nine of his 32 dropbacks, and the back-seven got torched. Offensively, Derek Carr's best two throws fell incomplete, and there wasn't enough aggressiveness from a team that was losing the entire game. The entire season, Oakland has made do with an overachieving group of playmakers and questionable pass coverage/rush units, and they all came back to bite in this loss.
The Packers can't get anything going offensively
This always slices both ways, so plenty of credit is deserved for the 49ers and their pass defense once again, but this was a disastrous outing by Aaron Rodgers and the Packers' offense. Rodgers averaged just -0.1 air yards on his 20 completions, and he was consistently either throwing off-target or inviting pressure that led to sacks or throwaways. Rodgers' early fumble led to an easy 49ers touchdown, and his accuracy was off on the odd plays in which the 49ers coverage unit gave him a chance to make a play. Rodgers' grade of 37.9 is the worst we've ever seen from him as a starter.
Carson Wentz is struggling in the biggest games
It was another rough offensive outing in Philadelphia, and Carson Wentz has now posted sub-50.0 overall grades in three of his last five games. Those games came against the Cowboys, Patriots and now the Seahawks, all-important games with regard to NFC standings or simply matching up against the league's best. Wentz finished with four turnover-worthy plays while missing on a number of throws against the Seahawks, and in recent weeks, he's started to fall into the danger of holding the ball and inviting pressure. Like other boom-or-bust quarterbacks, we've seen Wentz make spectacular plays under pressure (see 2017), but that is almost impossible to sustain, and we're seeing the other side of it here with Wentz's 36.1 passing grade under pressure since Week 7.

Don't let a stat line diminish your view of Russell Wilson as MVP
Wentz dealt with difficult passing conditions in Philadelphia, as did Wilson, who threw the ball well (outside of a wide-open missed TD). Wilson had his usual array of big-time throws, but two fell incomplete, and he lost at least 97 passing yards from three dropped passes. MVP voters generally look at context-free final stats, so in that context, this was not good for Wilson's candidacy, but his 83.6 overall grade is his fifth-best of his already excellent season, so it should be a feather in his cap rather than a step back with regard to the MVP discussion.