The Kansas City Chiefs extended their winning streak to five games with a 26-10 victory over the Los Angeles Rams. The victory moves Kansas City to 9-2, currently the best record in the AFC.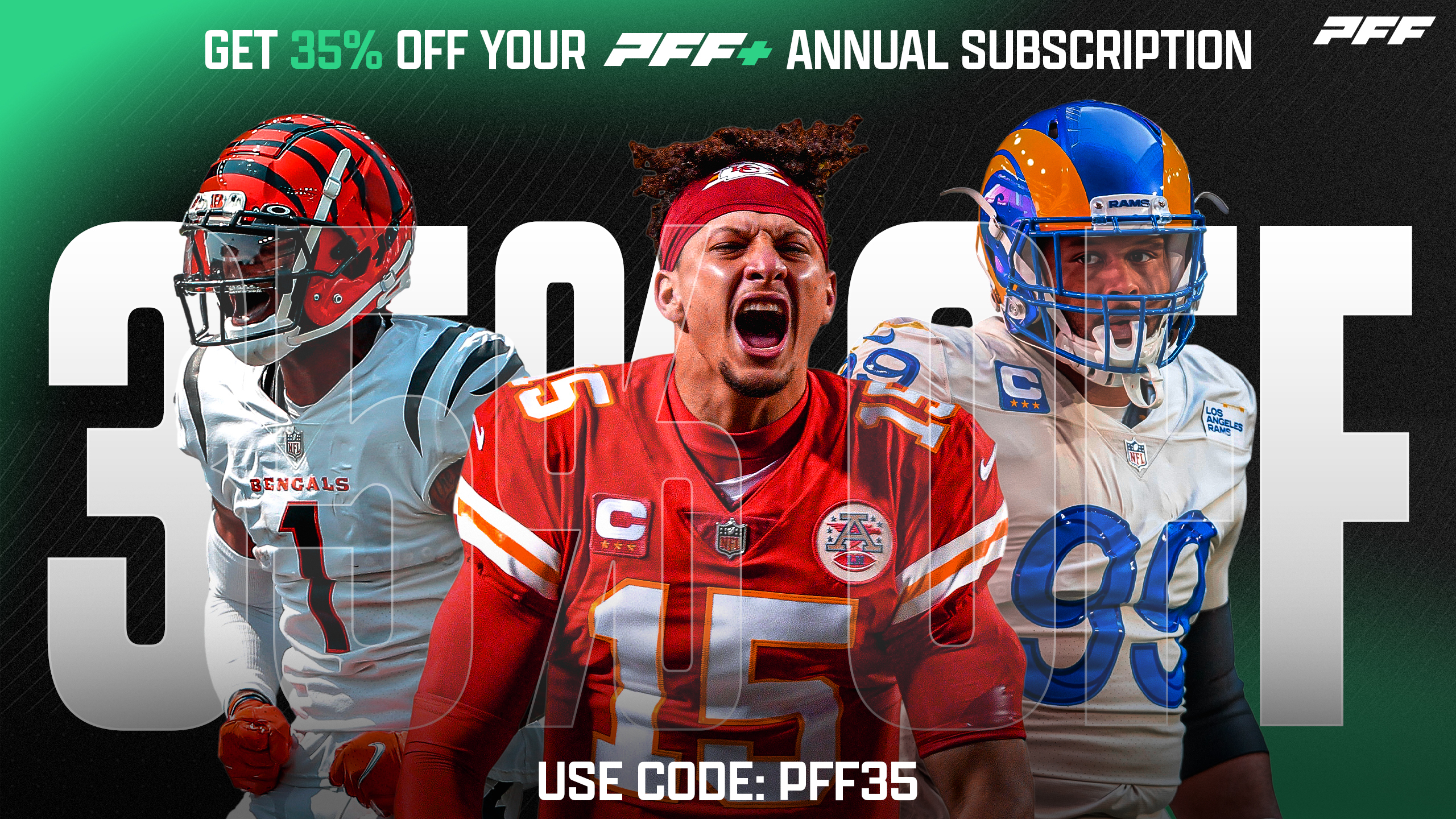 Offensive spotlight: He wasn't his regular virtuoso, but Patrick Mahomes was again effective against a quality NFL defense. The Chiefs QB made three big-time throws against one turnover-worthy play while finishing with a 74.8 adjusted completion percentage.
Defensive spotlight: It was another effective day of coverage by Chiefs' third-year cornerback L'Jarius Sneed. The former Louisiana Tech Bulldog allowed just three catches for nine total yards while intercepting the other target to finish with a 92.4 coverage grade on first review.
Rookie spotlight: Rookie RB Isiah Pacheco rushed for two first downs, forced four missed tackles and ran for his first rushing touchdown since Week 1. He finished the game with 69 rushing yards. 
Offensive line spotlight: Creed Humphery secured his highest pass-blocking grade of the season across 50 pass-blocking snaps. He gave up zero total pressures on first review.
Box Score
Passing
Player
Fantasy
Comp/Att
Yds
YPA
TD
Int
Sacks
Rtg
Bryce Perkins
10.4
13 / 23
100
4.3
1
2
3
45.6
Riley Dixon
0.2
1 / 1
6
6.0
0
0
0
91.7
Player
Fantasy
Comp/Att
Yds
YPA
TD
Int
Sacks
Rtg
Patrick Mahomes
22.4
27 / 42
320
7.6
1
1
0
85.4
Rushing
Player
Fantasy
Car
Yds
YPC
TD
Long
Fum Lost
Bryce Perkins
10.4
9
44
4.9
0
13
0
Kyren Williams
9.0
11
35
3.2
0
9
0
Cam Akers
3.7
8
37
4.6
0
15
0
Player
Fantasy
Car
Yds
YPC
TD
Long
Fum Lost
Patrick Mahomes
22.4
4
36
9.0
0
13
0
Isiah Pacheco
15.6
22
69
3.1
1
9
0
Ronald Jones
4.4
4
12
3.0
0
5
0
Receiving
Player
Fantasy
Tgt
Rec
Yds
YPT
TD
Long
Van Jefferson
11.9
7
3
29
4.1
1
16
Kyren Williams
9.0
3
3
25
8.3
0
15
Tutu Atwell
4.3
2
2
23
11.5
0
15
Brandon Powell
2.6
2
2
6
3.0
0
5
Ben Skowronek
2.5
4
2
5
1.2
0
5
Brycen Hopkins
2.2
2
1
12
6.0
0
12
Jacob Harris
1.6
1
1
6
6.0
0
6
Lance McCutcheon
0.0
3
0
0
0.0
0
0
Player
Fantasy
Tgt
Rec
Yds
YPT
TD
Long
Travis Kelce
15.7
8
4
57
7.1
1
39
Isiah Pacheco
15.6
1
1
17
17.0
0
17
Marquez Valdes-Scantling
9.6
5
4
56
11.2
0
23
Skyy Moore
7.6
6
5
36
6.0
0
18
JuJu Smith-Schuster
6.8
3
3
38
12.7
0
15
Jerick McKinnon
5.6
6
3
26
4.3
0
11
Justin Watson
4.6
2
2
26
13.0
0
14
Jody Fortson
4.6
3
2
26
8.7
0
21
Ronald Jones
4.4
1
1
22
22.0
0
22
Noah Gray
3.6
2
2
16
8.0
0
9