In his appearance on the Cris Collinsworth Podcast last month, Chicago Bears head coach Matt Nagy gave a fairly straightforward answer when asked who the team's starting quarterback would be when Chicago opens the season on Sunday Night Football against the Los Angeles Rams.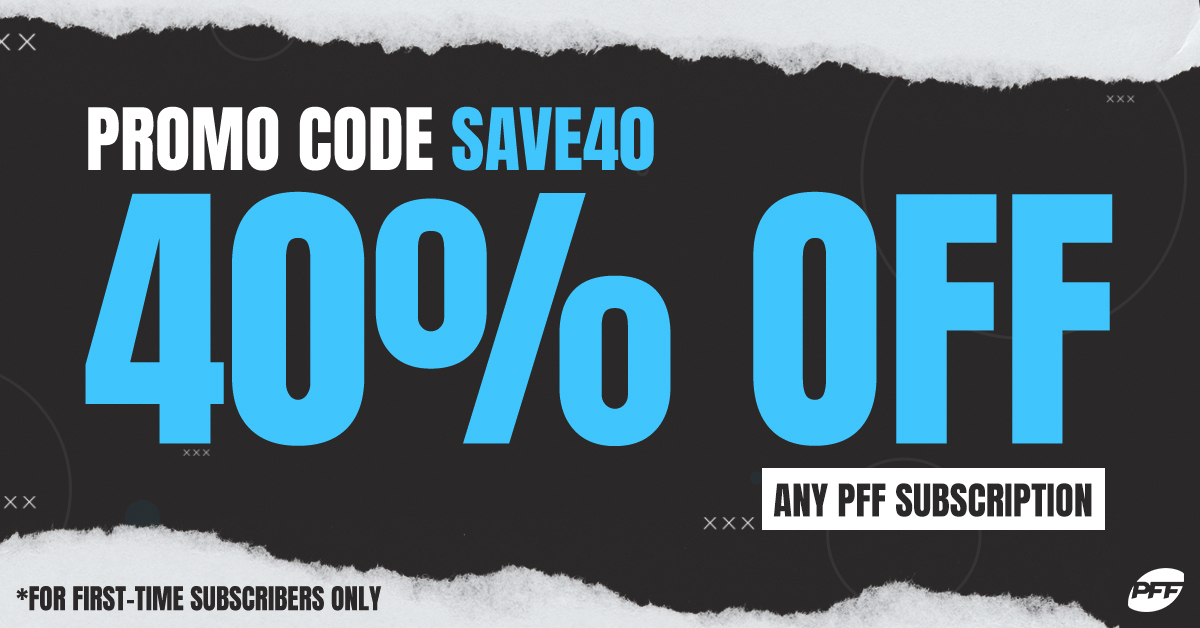 His response on whether there was "a possible scenario" where rookie quarterback Justin Fields plays on opening night wasn't what most Bears fans wanted to hear: 
"No, I mean, Andy [Dalton] is our starter. Again, I can't predict anything. You know how it goes. There are so many things that can happen between today and Week 1, but Andy is our starter and Justin is our No. 2. We are going to stick to this plan. You always hope that nothing happens to Andy as far as injuries or anything like that, and that's why I can't say 100% because we don't know what's going to happen. Hopefully everything is good there, but Andy is where we want him to be. He's had a great OTAs, and we're just going to continue to build with that and stick with where we're at."
Nagy went on to add: 
"In a perfect world, we're continuing to win games with Andy, and Justin is developing. He's getting better and better. Then, it just goes to … we'll know when the time is right, and when it's ready for the team and for us to put him in. It will all just naturally happen."
Every situation involving a rookie quarterback is different. Still, it's difficult not to draw comparisons between the Bears' situation in 2021 and the Kansas City Chiefs' decision in 2017. Nagy was the offensive coordinator in Kansas City that season when the team decided to ride with returning starter Alex Smith, giving first-round rookie Patrick Mahomes the year to develop behind Smith on the bench.
One can make the argument that sitting Mahomes cost the Chiefs an opportunity at pushing further into the postseason that year, but the handling of the transition at quarterback went just about as well as they could have hoped for. 
Smith enjoyed the best season of his career in 2017, leading the Chiefs' offense to a third-place finish in EPA per play behind only the New England Patriots and New Orleans Saints. Mahomes, of course, took the group to even higher levels in his inaugural season as the starter in 2018. The Chiefs were far and away the league's most efficient offense, and Mahomes earned a 92.9 PFF grade en route to an MVP Award.
It's only natural for Nagy to look at that success and want to replicate it. Let a talented quarterback develop on the bench to start his career, and he's guaranteed to turn into the next All-Pro quarterback in the mold of Mahomes or Aaron Rodgers, right? Not exactly. 
First-round rookie quarterbacks (2005-2020) to play fewer than 200 snaps during their rookie season
The list of first-round quarterbacks to play fewer than 200 offensive snaps since 2005 is filled with more misses than hits. Rodgers and Mahomes are two of the best quarterbacks of the 21st century, Campbell had a solid NFL career and Love is an unknown at this point. The easiest way to describe the other five 一 Russell, Quinn, Locker, Manziel and Lynch 一 is with the term "bust." 
The expectation, particularly in today's NFL, is that a first-round rookie quarterback will be starting sooner rather than later. It's advantageous to take full advantage of the massive gap in rookie salary at the position as early as possible, and quarterback is one of the most difficult positions for backups to gain meaningful experience with the lack of reps to go around. Those factors would make it concerning if Fields did end up following the Mahomes blueprint in Kansas City, especially without an incumbent starter to beat out in Chicago. 
Certain similarities can be drawn between Dalton and Smith. Both brought 10-plus years of NFL experience to the table in the competition with their rookie counterparts, and both were fairly reliant on their supporting cast, peaking in strong offensive environments. 
Smith's highest career grade (78.6) before 2017 came with the San Francisco 49ers in 2011 with a supporting cast that featured Michael Crabtree, Vernon Davis, Delanie Walker, Ted Ginn Jr. and Frank Gore with Greg Roman as offensive coordinator. Dalton's best PFF passing grade came in 2015 with prime A.J. Green, Mohamed Sanu, (a largely healthy) Tyler Eifert and Marvin Jones Jr. at his disposal. 
The difference is that Smith entered his competition with Mahomes coming off a strong 2016 season in Kansas City. Dalton enters his battle with Fields off a mediocre 2020 campaign as the backup to an injured Dak Prescott in Dallas. 
Nagy alluded to that aspect in his interview with Collinsworth when he said, "You know, Andy is a rookie here too in a sense. He's learning this offense, too." 
Dalton finished the 2020 season with a higher PFF grade than both Mitchell Trubisky and Nick Foles, but he was still one of only 11 qualifying quarterbacks to end the year with an overall grade below 70.0. It would be concerning if a prospect of Fields' pedigree wasn't able to beat out a middle-of-the-road veteran newcomer relatively early in his rookie season. 
Highest PFF grade by an FBS quarterback since 2019 | Min. 500 snaps
Fields is coming off back-to-back PFF grades of at least 90.0 as the starter at Ohio State. He pairs high-end athletic tools with elite accuracy. PFF's Tej Seth dove into Fields' accuracy earlier this offseason, noting that he was the most accurate quarterback that PFF has charted since 2015. The completion percentage over expected (CPOE) chart below comes from that piece.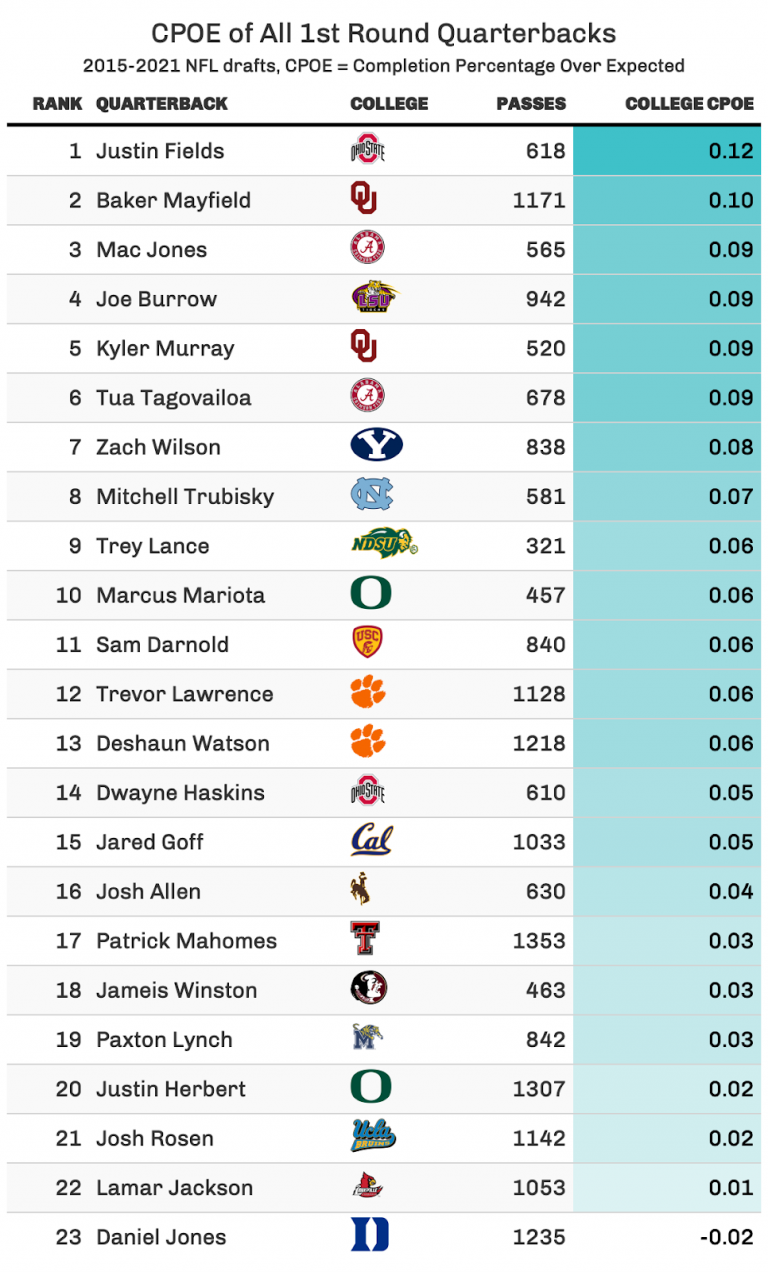 Fields is the kind of prospect who could have been the first overall pick in a draft that didn't also feature Trevor Lawrence 一 a player many touted as the best quarterback prospect to enter the NFL since Andrew Luck. 
It's why Fields' fall outside of the top 10 is so baffling on the surface, and it's why Bears fans are so optimistic following the team's decision to trade up in the 2021 NFL Draft and target him. Dalton stands as less of a roadblock to early playing time than Smith did in Kansas City. And he's certainly less of an obstacle than either Favre or Rodgers were in Green Bay. 
Despite some similarities, this isn't the same decision that Kansas City faced with Mahomes. Fields should be able to win the starting job, and every week that he remains behind Dalton on the depth chart is likely a missed opportunity for the Bears.