As proven by the excellent work done by PFF's Research and Development team, the most valuable position on the field is far and away quarterback, with wide receivers, defensive backs and tight ends following behind.
Based on that, who exactly are the best players available this offseason via free agency and the draft who a team should want to start a franchise with? We can answer that. Taking into account positional value as well as age, we present the top 10 free agents and draft prospects available who are the best choices to start a franchise with:
It shouldn't be a surprise that Joe Burrow is the highest draft prospect on this list, but it might surprise you to see he's number one including the entire free agent pool that is loaded with starting quarterbacks. What Burrow did at LSU in 2019 was unlike anything we have ever seen since PFF College's inception in 2014. He broke the record for the highest overall grade from a quarterback in a single season by owning a 94.9 mark (Baker Mayfield in 2017 and Kyler Murray in 2018 at 94.6 was the previous record). That grade was also significantly higher than what we have ever seen from an SEC quarterback (Tua Tagovailoa's 90.8 grade in 2018 was previous high).
"But what about in 2018? Where was Joe Burrow then?"
People act like Joe Burrow was awfully bad in 2018, but in reality, he was still an above-average quarterback in the toughest conference in college football. He was 31st in PFF grade among FBS signal-callers and displayed some of the best accuracy in the country, as he did in 2019. On throws of 10 or more yards downfield in 2018, Burrow produced one of the five highest accurate pass rates. He still needed to improve his decision-making and pocket presence, and he did just that in 2019. No one expected him to make the jump in these two areas that would lead to his eventual jump to consensus first overall pick, but here we are. After ranking 79th of 109 quarterbacks in 2018 in turnover-worthy play rate, Burrow improved to fifth of 106 quarterbacks in 2019.
While he took some sacks every now and again in 2019, it was nothing like it was in 2018, as he was charged with inviting in 10 sacks that season on 443 dropbacks and was just charged with seven in 2019 on 610 dropbacks. Not to mention, the poise was on another level — Burrow made throws with bodies flying at him constantly en route to the highest grade under pressure as well as when creating outside the structure. I'd be remiss if I didn't mention the scheme change by Joe Brady, too. You can read more about the positive impact it had on Joe Burrow here. Regardless, he's the number one player available this offseason who we would want to start a franchise with. Cincinnati, you're getting a good one.
Dak Prescott had a career year in 2019 — so good, in fact, that he was the third most valuable player in the entire NFL. The reason why he isn't above Burrow is because it's looking like Prescott is going to be a mid-tier quarterback with the chance of being a top-five one in any season given the right supporting cast, scheme, play-calling, etc. over the duration of his career, whereas Burrow still has a ceiling of being among the league's elite. Dallas is almost certainly either tagging Prescott or locking him up long-term, but he'd easily be the top player a team would want to start a franchise with in free agency despite the down years in 2017 and 2018 in which he was right around the NFL average in PFF grade.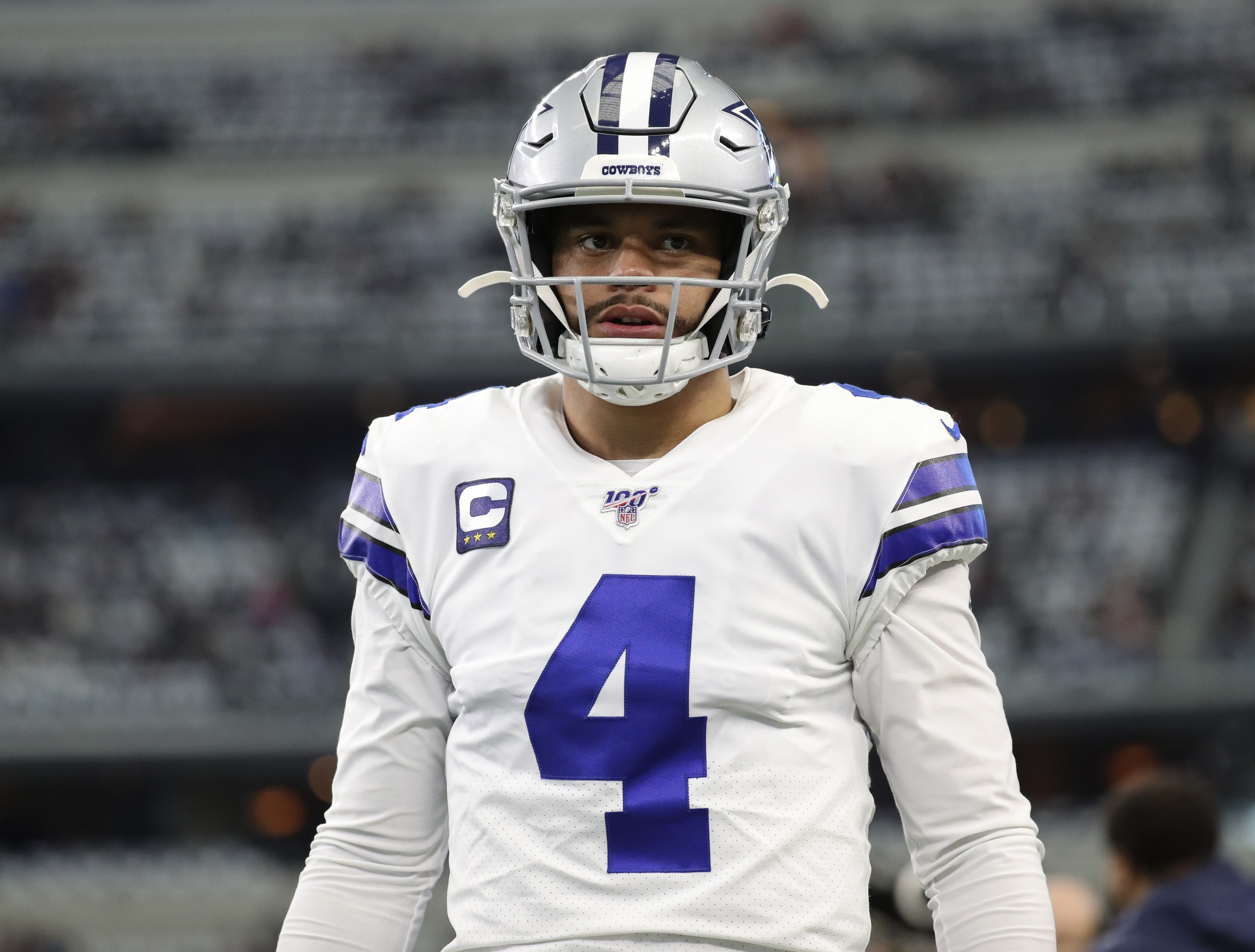 In 2019, though, he was one of the best deep passers in the league, ranking fourth in PFF passing grade on throws of 20-plus yards. On non-play action deep passes, Prescott was behind only Russell Wilson in grade and had a crisp big-time throw to turnover-worthy play ration of 20 to zero. Clean pocket play is predictive of future performance over any other area, and in Prescott's case, there are promising signs as he was fifth in negatively graded play rate and ninth in positively grade play rate when free of pressure.
If it weren't for the gruesome injury he suffered in Week 12 of this past season, Tagovailoa would be a convincing argument to be either first or second on this list. Even with the injury history, he's still one of the top three players available to start a franchise with this offseason.
Over the past two years, Tagovailoa trails only Burrow in PFF passing grade and has been one of the most accurate passers during that stretch. Looking at just throws of 10 or more yards, Tagovailoa ranks behind only Burrow in accurate pass rate. Not to mention, he posted negatively and positively graded play rates among the 15 best in college football both years, joining Burrow as the only ones in this draft class to do that — that's pretty good decision-making. None of us here at PFF are medical doctors, nor do we know any more than the public when it comes to Tua's medicals. We are operating under the assumption that he'll be close to normal past the 2020 season, and if that holds to be true, a team in the top five — whether it be the Washington Redskins or Miami Dolphins — will be getting themselves a franchise quarterback.
There's a massive divide between the football world over whether Jameis Winston can be an effective quarterback in the NFL after his 30-for-30 touchdown/interception year. As I said in the predicting landing spots article, the Buccaneers have been playing Russian Roulette with Jameis at quarterback, but they should keep playing that game given that his high-end is better than anyone in the NFL. No quarterback has generated more positively graded throws since 2015 than Winston, which has helped lead him to being one of the 10 most valuable players in the NFL in that stretch. Most of the quarterbacks available in free agency are over 30 years old, and Winston just turned 26. The gap between him and Burrow, Prescott and Tua in the top three is pretty significant, but there's still clearly value in giving Winston another shot.
We've said it before, but I'm going to say it again — PFF has never seen a year-over-year improvement like what Ryan Tannehill did from 2018 to 2019, when he went from producing one of the lowest passing grades we have ever seen in a single season to become the NFL's highest-graded quarterback. That in itself proved that the soon-to-be 32-year-old can be a viable quarterback with the right team.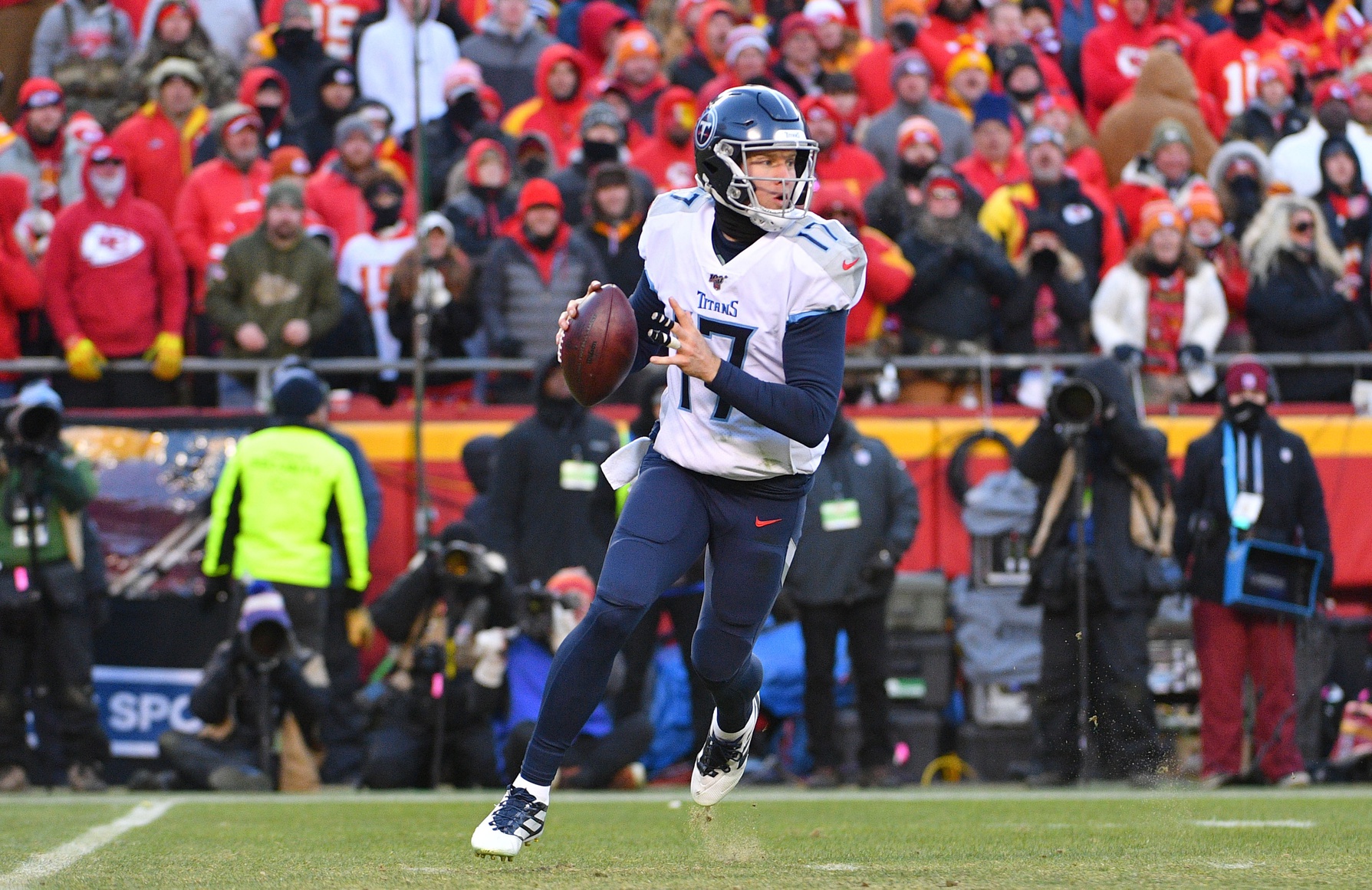 The Titans used play-action significantly to open up Tannehill's game, and it led to an NFL-leading 12.7 yards per attempt and 140.6 passer rating on those plays. Though it's not like he wasn't good on non-play-action passes — he was still among the NFL's five highest-graded quarterbacks when not using play-action. The pocket presence is an issue considering he converted pressure to sacks 28.6% of the time (third highest rate), but the fact he was the only quarterback to rank in the top five in negatively and positively graded play rate when kept clean makes it easy to look past that.
Yes, Tom Brady wasn't the same top-three quarterback in 2019 we were accustomed to seeing. However, he was still the 12th highest-graded quarterback in the league and one of the most accurate on a throw-for-throw basis. On throws of 10 yards or more, Brady was among the top 10 quarterbacks in accurate pass rate. On tight-window throws overall, Brady was third in accurate pass rate. He might be 42 going on 43 years old, but two years of a player like Brady, who is capable of being one of the league's best quarterbacks and can make a Super Bowl run with a solid supporting cast, make him worthy of earning the sixth spot on this list.
Amari Cooper has been a game-changer for the Dallas Cowboys' offense. Since taking the field for the first time with the infamous Cowboy star on his helmet back in Week 9 of 2018, Cooper has produced a receiving grade among the 10 best at his position and also has since gathered 2.25 yards per route run, ranking seventh. As said in PFF's free agency rankings page, when Cooper has been on the field for Dallas, they've totaled up 122.0 expected points added (907 plays) while without him on the field have produced only 2.95 (425 plays). He can cook defensive backs on vertical routes and get open for a deep target and explosive play. In fact, since coming to Dallas, Cooper has seen 58% of his 20-plus targets with a step or more of separation, which leads the NFL and is nearly 20% above the average.
The fact that Prescott, Cooper and now Byron Jones are all on this list and weren't paid before Ezekiel Elliott, Jaylon Smith and Demarcus Lawrence is almost hard to believe. Yet, here we are. Jones was once an average safety before he was moved to outside corner in 2018 and has since made his name known as one of the best at the position at this very moment. His two-year coverage grade at the alignment is the fourth best behind only Stephon Gilmore, Richard Sherman and Adoree' Jackson. He's a press-man corner by nature — only Gilmore and J.C. Jackson have been better on such reps in grade, and his forced incompletion rate as well as catch rate allowed in press coverage are among the 10 best outside cornerbacks. Prescott, Cooper and Jones were the Cowboys' three most valuable players of the 2019 season, and it's looking like Jones will be the one to hit the open market. He'll be a hot commodity — and rightfully so.
Teddy Bridgewater certainly exceeded expectations when filling in for Drew Brees as starter for five weeks. Many thought the Saints' season could potentially be over with Bridgewater leading the charge, but instead, he led New Orleans to wins in every single one of his starts. He didn't win them with explosive plays deep downfield, though. Rather, he executed the conservative scheme to perfection. Bridgewater's average depth of target was by far the lowest in the NFL as the Saints' starter (6.1), and his rate of passes to travel at least 10 or more yards downfield was four percentage points lower than any other quarterback (21%). Clearly, this worked for himself and the Saints.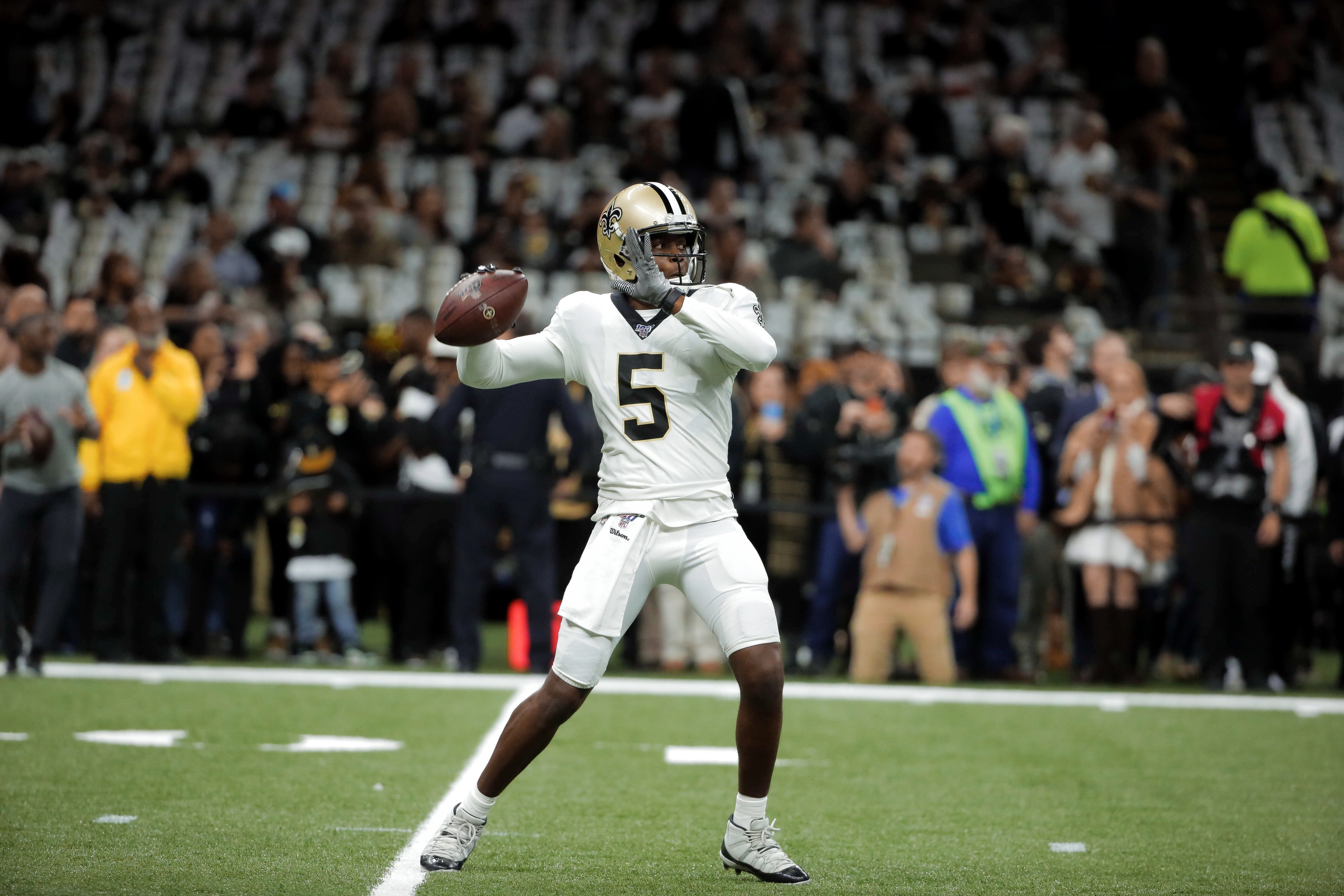 Bridgewater was one of the five highest-graded quarterbacks from Weeks 3 through 7 and he owned one of the 10 lowest negatively graded play rates. The reason for him being only ninth is due to a few different things: (1) this is a smaller sample size, (2) he had one of the best combinations of supporting cast and scheme in the NFL and (3) this only proves he can be an effective game-manager. If you're a team with a good scheme and supporting cast with a chance to contend for a Super Bowl and have no quarterback, à la the Chicago Bears, Bridgewater is someone to consider.
What is there not to like about PFF's WR1 and fifth-best prospect overall Jerry Jeudy? He's been one of the most productive wide receivers in college football over the past couple of seasons by gathering 3.31 yards per route run (tied for fifth) and one of the best wideouts overall by owning a two-year receiving grade that is the sixth best. Words cannot describe how explosive Jeudy can be when the opposition isn't step for step with him, forcing tight coverage. Jeudy has seen 209 targets the past two years, and 30.6% of those have ended with him picking up an explosive play of 15-plus yards, the fourth-highest rate in the FBS. The only real concern with Jeudy when projecting him to the NFL was how much he rarely saw press-man coverage, as he was mostly inside, but unlike most, there isn't a whole lot of pause there given his athleticism.