It took a while, but the Tony Pollard breakout season is finally upon us.
Following Pollard's productive 2021 campaign, the Dallas Cowboys have leaned into the idea of using him in a more prominent role and not just as a change-of-pace back to Ezekiel Elliott. That has suddenly turned Dallas into one of the NFL's most dangerous offenses, one feeding off a player who is arguably the league's best running back right now.
Truthfully, it's been as simple as just getting Pollard the ball more often. He has averaged nearly 18 touches per game in the team's past five games. And in two games without Elliott on the field, Pollard tallied 51 touches. That is a massive change from the first three years of his career, when he had just two games with 18 more touches. Here is his breakdown of touches per game since entering the NFL in 2019:
2019 – 6.73
2020 – 8.06
2021 – 11.27
2022 – 13.90
That increased workload has unlocked the Cowboys' offense in a major way. In its past four games (75 touches for Pollard), the team is averaging over 35 points per game. Obviously, quarterback Dak Prescott's return has helped, but Pollard is responsible for six touchdowns and 6.49 yards per carry during that stretch. Dallas looks like the best offense in the NFL after scoring on seven straight possessions against the Minnesota Vikings in Week 11.
What makes Pollard such a dynamic player and an offensive weapon? The answer is speed. According to the NFL's Next Gen Stats, Pollard had two of the fastest plays in Week 11. On his 30-yard touchdown reception, he hit 20.35 mph. And on his 68-yard touchdown reception, he hit 20.39 mph. 
His top speed of the year was 21.11 mph, which came on a 46-yard reception against the Cincinnati Bengals. Despite weighing 210 pounds, he is able to outrun just about any defensive player in space, as we saw in Week 11. Defenders often misjudge his speed due to that deceptive size. Look at him sprint past former All-Pro cornerback Patrick Peterson, who couldn't even get a hand on Pollard.
Tony Pollard's speed is incredible.

Patrick Peterson can't even get a hand on him. pic.twitter.com/glJ49c48W6

— Marcus Mosher (@Marcus_Mosher) November 21, 2022
You can also make a case that he is among the most efficient runners in league history. Here is a list of the highest yards per carry among all running backs in their NFL careers with at least 400 rushing attempts (since the NFL merger). As you can see, the list of running backs who have averaged more yards per carry than Pollard is awfully small:
Highest rushing yards per attempt in NFL career (min 400 carries): pic.twitter.com/SH3wPm8IQg

— Marcus Mosher (@Marcus_Mosher) November 21, 2022
Pollard's efficiency isn't just based on pure speed, either. He's not a 185-pound track star who goes down on initial contract. At 210 pounds, he pairs legitimate home-run speed with tackle-shedding prowess. As he's grown in the NFL, he's done a better job of breaking tackles and turning short runs into big gains. Since the start of the 2021 season, Pollard ranks third in the NFL among all running backs (minimum 125 carries) in yards after contact per rush:
| | |
| --- | --- |
| Name | YCO/ATT |
| Rashaad Penny | 4.34 |
| Nick Chubb | 4.07 |
| Tony Pollard | 4.03 |
| Elijah Mitchell | 3.62 |
| Jonathan Taylor | 3.59 |
| Rhamondre Stevenson | 3.53 |
| Derrick Henry | 3.52 |
| Khalil Herbert | 3.47 |
| Dameon Pierce | 3.45 |
| Javonte Williams | 3.42 |
| Kareem Hunt | 3.25 |
| Travis Etienne | 3.25 |
| Aaron Jones | 3.24 |
| Michael Carter | 3.24 |
| Josh Jacobs | 3.2 |
| Christian McCaffrey | 3.19 |
| Kenneth Walker III | 3.18 |
| Dalvin Cook | 3.16 |
| Cordarrelle Patterson | 3.08 |
| A.J. Dillon | 3.07 |
Just how often does Pollard hit a big play? That number is higher than you may think. With big plays generally defined as a rush of 10 or more yards or a reception of 20 or more yards, here is where Pollard's big-play rate ranks among qualifying running backs this season: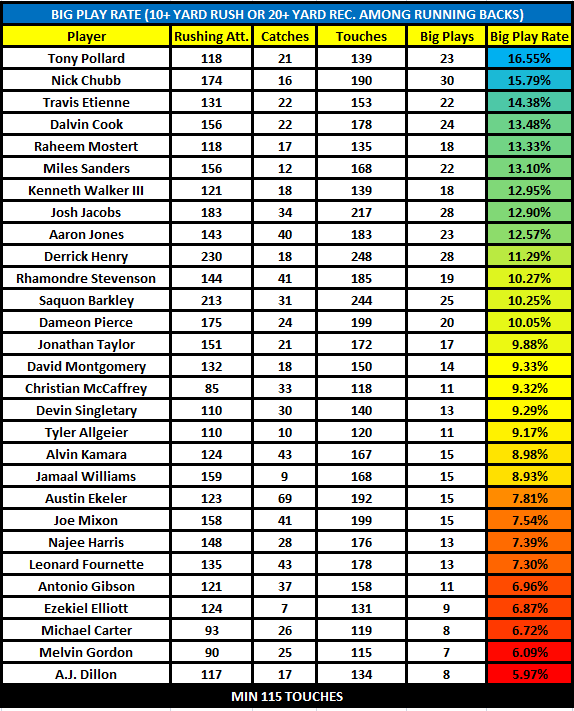 Home-run-hitting running backs tend to have a high percentage of negative runs due to a hunger to create big plays, but not Pollard. Since 2021, he has the sixth-lowest negative run percentage, also known as stuff rate, among qualifying running backs. Only 6.1% of his runs since 2021 have lost or gained no yardage (Ezekiel Elliott is at 6.0% during that same time). 
And the idea that Pollard is just now turning into a good player is far from the truth. Since the start of the 2021 season, he is the NFL's highest-graded running back (91.4). Josh Jacobs (92.4) is the only player with a better rushing grade (92.0) than Pollard, but the Dallas back has been a significantly better receiving weapon during that time. There isn't a running back in the NFL who has been a consistently better runner and receiving weapon than Pollard over the past two years.
So if Pollard is one of the NFL's most explosive backs, one who can also make plays after contact and doesn't lose yards very often, what does that make him? It makes him arguably the best running back in the NFL. Of course, you can make a strong (and maybe a right) argument that Nick Chubb is still the league's best running back, but Pollard isn't all that far off. 
And with Pollard now starting to be used more in the passing game, he is among the most dangerous offensive weapons in the league. A team like Dallas that already has a bruising, between-the-tackles runner thrives even more with a rusher of Pollard's caliber.
Cowboys fans are already debating whether the team should sign him to a contract extension after the season, as he is set to hit the open market. There will be plenty of time for that discussion down the road. But in the meantime, what should the Cowboys do with Pollard and Elliott moving forward as they look to make a push in the division? Does it make sense to increase Pollard's workload? 
These are questions that the Cowboys will need to figure out over the final two months of the season and into the playoffs. Dallas is starting to find the right balance, nonetheless. In Week 11, both Pollard and Elliott received 15 carries. Five of those 15 carries for Elliott came on third-and-1 or in goal-to-go situations. Elliott is one of the league's best short-yardage running backs, and the Cowboys seem to like the idea of limiting Pollard's touches in those situations. 
Dallas has begun to give Pollard more of the neutral game script and non-short-yardage touches, and it's allowed him to continue to be one of the league's top running backs. It's taken a few years, but the Cowboys have finally reached the conclusion that Pollard is arguably their most dangerous offensive weapon.
That is a terrifying development for the rest of the NFC this season.