Tom Brady has commanded the NFL spotlight for the best part of 22 NFL seasons. He is a seven-time Super Bowl champion and three-time NFL MVP, and he will likely own every single major NFL passing record by the time he decides to call it a career. His relentless and seemingly unending success is as much a part of the NFL these days as tackling or blocking or passing.
Yet, despite all of Brady's accomplishments, detractors will always find ways to attach a caveat. First, there was Tuck Rule. Then there was Spygate. The list goes on because some fans will always try to rationalize the extraordinary, especially when the extraordinary has become so meticulously routine that it becomes, well, ordinary.
Click here for more PFF tools:
Rankings & Projections | WR/CB Matchup Chart | NFL & NCAA Betting Dashboards | NFL Player Props Tool | NFL & NCAA Power Rankings
Best Bets Tool
---
This week, the Tampa Bay Buccaneers quarterback brought up the latest caveat on his Let's Go! Podcast with Jim Gray and Larry Fitzgerald, discussing the perception that he draws more roughing the passer penalties than other quarterbacks around the NFL.
We got you, @TomBrady

Most roughing the passer calls since 2010:

1 Matt Ryan
2 Ryan Fitzpatrick
3 Matt Stafford
.
.
.
10 Tom Brady ???? https://t.co/mjXvldDyZs

— PFF (@PFF) January 19, 2022
Never ones to shy away from a challenge, we here at PFF have already answered Brady's initial question, and it confirms the seven-time super bowl champion's speculations. He does not get as many roughing the passer calls as his peers, and this remains the case even when we consider the rate at which quarterbacks get hit.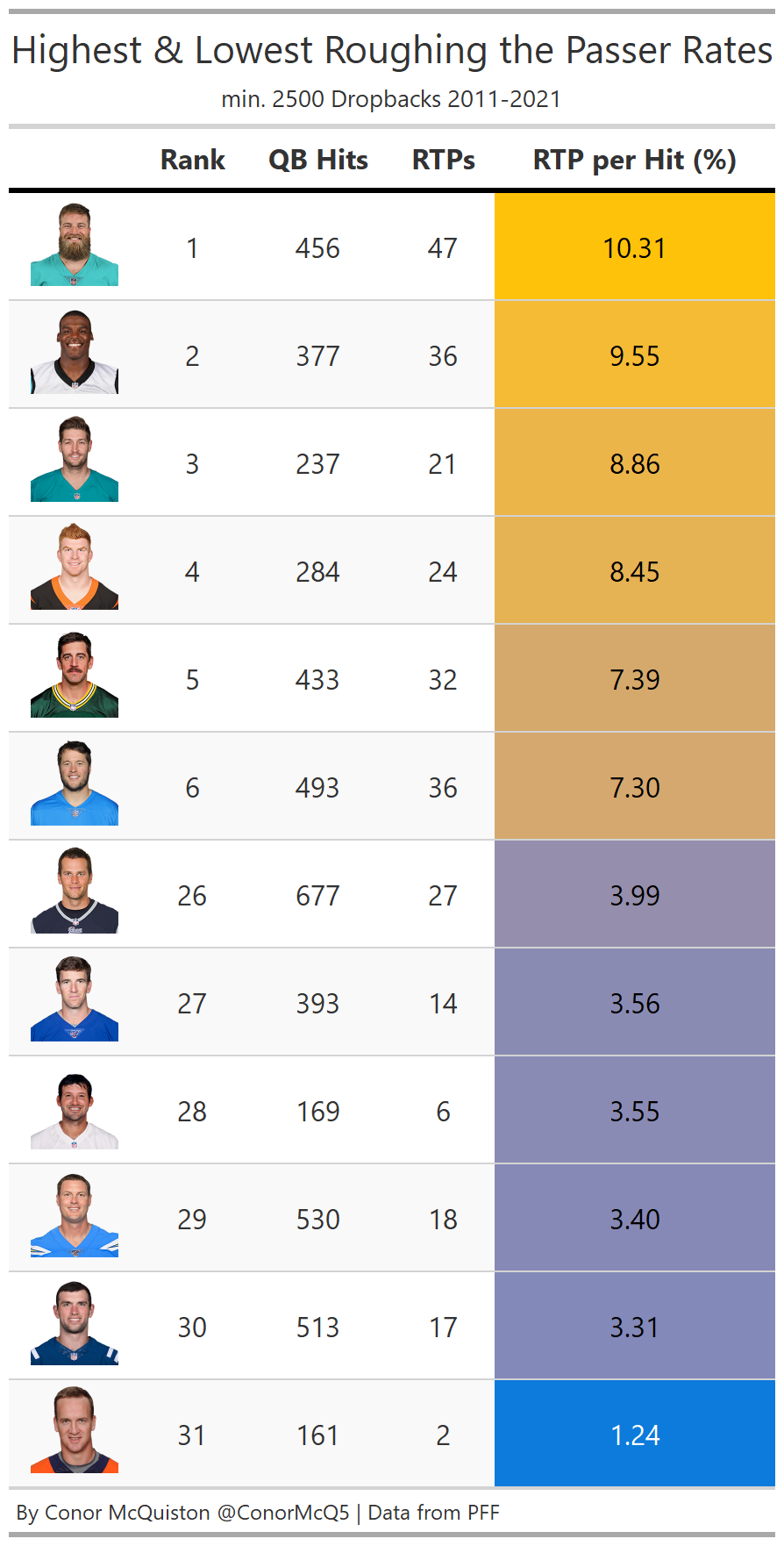 So, on the face of it, Brady is correct and those who bought into a national media narrative are wrong — the veteran quarterback doesn't receive more roughing the passer penalties than other quarterbacks.
However, there is a bigger question at hand that remains unanswered: When he is hit, is Tom Brady more likely than other quarterbacks to draw a roughing the passer penalty?
To answer this question, we need to make a multilevel model where the random effect is the quarterback, and the target is whether they will get a roughing the passer call on that play. This will allow us to see how likely a roughing the passer call is on any hit in general and thus estimate how much more or less likely a call is based on the quarterback.
Subscribe to PFF Edge to continue reading
Already have a subscription? Sign In