As a part of our partnership with ESPN, this story was originally published on ESPN+ and can be viewed in its entirety here with your ESPN+ subscription – The one 2020 free agent each NFL team must sign: 32 perfect matches
There were a few weeks of downtime after the Kansas City Chiefs took home the Lombardi trophy — unless, of course, you've joined the XFL wave — but the football schedule is set to ramp up again in the coming weeks. The NFL combine is followed two weeks later by the opening of free agency, allowing teams to go after proven commodities with their available cap space. That's an opportunity the NFL draft doesn't necessarily provide.
However, with that opportunity comes risk, as making the wrong or right moves in free agency can push a franchise to sink or swim. That's where PFF comes in, and we're here to help.
Keeping cap situations in mind, this list gives all 32 teams one free agent not already on the roster whom they should pursue this offseason. Franchise tags and in-house extensions will take some of them off the market, but if each of these players does become available, there should be at least one interested suitor.
AFC EAST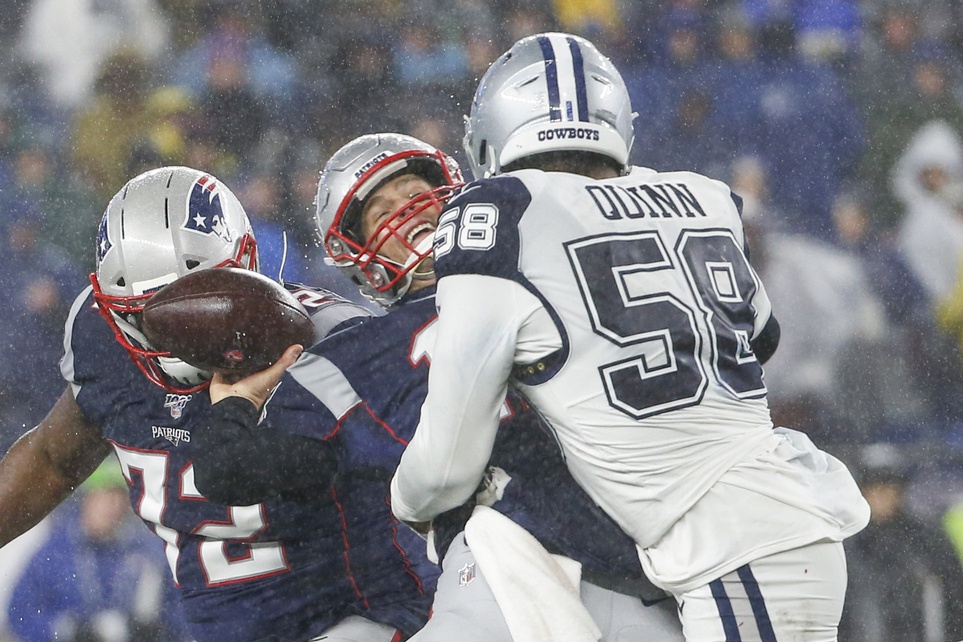 2019 team: Cowboys | Age: 30
While the top of the edge market is filled with talent and potential, all of those options come with some risk at their projected price range. It might be tough to get value on those high-end contracts. Quinn is an option in the next tier that will leave the Bills some more money to attack other holes on their roster. After leading the NFL with a 93.6 overall grade on defense in 2013, Quinn had a few more strong seasons before his career hit a lull. He has had a rejuvenation of sorts in recent years, though, and his 78.3 pass-rushing grade in 2019 ranked 17th among qualifying edge defenders. (Note: We originally had Jaguars edge rusher Yannick Ngakoue matched with the Bills here, but Jacksonville is planning to franchise tag him.)
---
2019 team: Buccaneers | Age: 27
There aren't many players who improved their stock more than Barrett did during the 2019 season. It wasn't necessarily because he played a whole lot better than he had in previous years; he just had more opportunity to show what he could do in a full-time role with the Buccaneers. He used that opportunity to end the season as the league leader in sacks. When it comes to resources, the Dolphins have more than any other team in the NFL, and their top edge rusher (Vince Biegel) had just 33 pressures last season — 48 fewer than Barrett had. Needless to say, they could use someone with his talents.
---
2019 team: Chargers | Age: 25
The Patriots going after Henry this offseason just makes too much sense. The hole in their offense after the retirement of Rob Gronkowski was glaring, as the team's tight ends combined for just 37 receptions during the 2019 regular season, the lowest mark in the NFL. Henry, when healthy, and particularly in his first two seasons of action, has shown that he can be a top-of-the-line option. His overall grades of 83.0 (2016) and 87.2 (2017) ranked sixth and second at the position, respectively. At just 25 years old, he can step in and provide the receiving threat that Patriots fans have grown accustomed to at the position.
(Note: After this article was published, it was reported that L.A. is planning to franchise tag Hunter Henry)
---
2019 team: Cowboys | Age: 25
The Jets certainly have a need on the offensive line, but the same can be said about wide receiver, especially with Robby Anderson's future with the team up in the air. The Cowboys shouldn't let Cooper hit the open market, but if he does, the Jets should be one of the first teams to line up for his services. Between his elite route running and his ability to get over the top of the defense — Cooper's 503 receiving yards on passes 20 or more yards downfield was the third most in the NFL last season — he would give Sam Darnold a No. 1 option unlike anything he has had through the first two seasons of his career.
---
AFC NORTH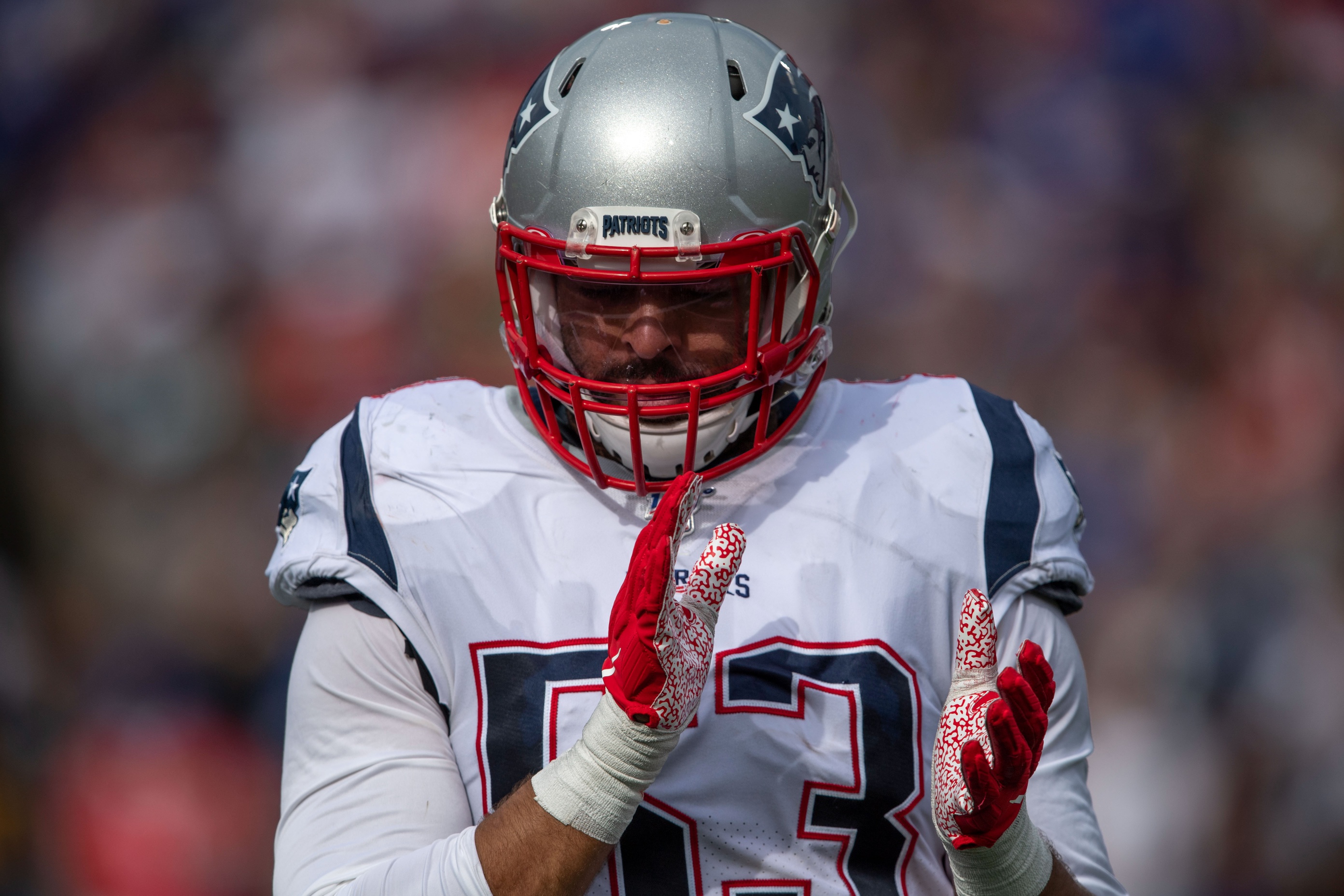 2019 team: Patriots | Age: 28
Two of the Ravens' biggest needs this offseason are at edge defender and off-ball linebacker. As an off-ball linebacker/edge defender hybrid who transitioned to a primary edge role with the Patriots last season, Van Noy looks to be a perfect fit on the Baltimore defense, and he will come at a price well below the Jadeveon Clowneys and Yannick Ngakoues of the world. There is a bit of risk involved with Van Noy, given that his 84.2 overall grade in 2019 was easily a career high, but if he can turn in a similar performance in 2020, he'd add a much-needed spark off the edge for a Ravens team that relied heavily on the blitz to generate pressure last season.
---
2019 team: Packers | Age: 30
A season ago, the Bengals extended Bobby Hart to man the right tackle position for 2019. One 57.7 overall grade later — a result not uncommon, given his career results — and it should be clear that he is not the solution. Jonah Williams is expected to step in as the team's starting left tackle after his medical redshirt, but that still leaves a need at right tackle with Joe Burrow ready to begin his career in Cincinnati, barring anything unforeseen. Bulaga is coming off six straight seasons with the Packers with pass-blocking grades of 70.0 or higher, and he would bring a much-needed reliable veteran presence to the offensive line.
---
2019 team: Panthers | Age: 27
The fact Boston hasn't been able to secure a long-term contract the past several years is baffling. Over the past three seasons, he ranks second in coverage grade among qualifying safeties while playing the fifth-most snaps of any safety in the NFL, and his 27 combined pass breakups and interceptions over those three seasons is fewer than only Kevin Byard. He's a playmaker on the back end, and that's something the Browns could use with Damarious Randall up for free agency. Boston would be an upgrade at the position and help in the effort to realize the unfulfilled expectations from the 2019 season in Cleveland.
---
2019 team: Redskins | Age: 25
Flowers was the butt of his fair share of jokes as the Giants' left tackle, leading to a situation in which the Redskins signed him to a one-year, $3.2 million deal to be their starting left guard. In his first year at the position, Flowers ranked 19th out of 39 qualifying left guards in PFF overall grade. For a Pittsburgh team that is strapped for cap space and possibly moving on from 34-year-old Ramon Foster at left guard, getting a 25-year-old, league-average starter for well under the price of top options such as Joe Thuney and Brandon Scherff would be a win. The Steelers would just have to hope that guard is, in fact, Flowers' best position and that he can at least maintain the level of play he showed in 2019.
---
AFC SOUTH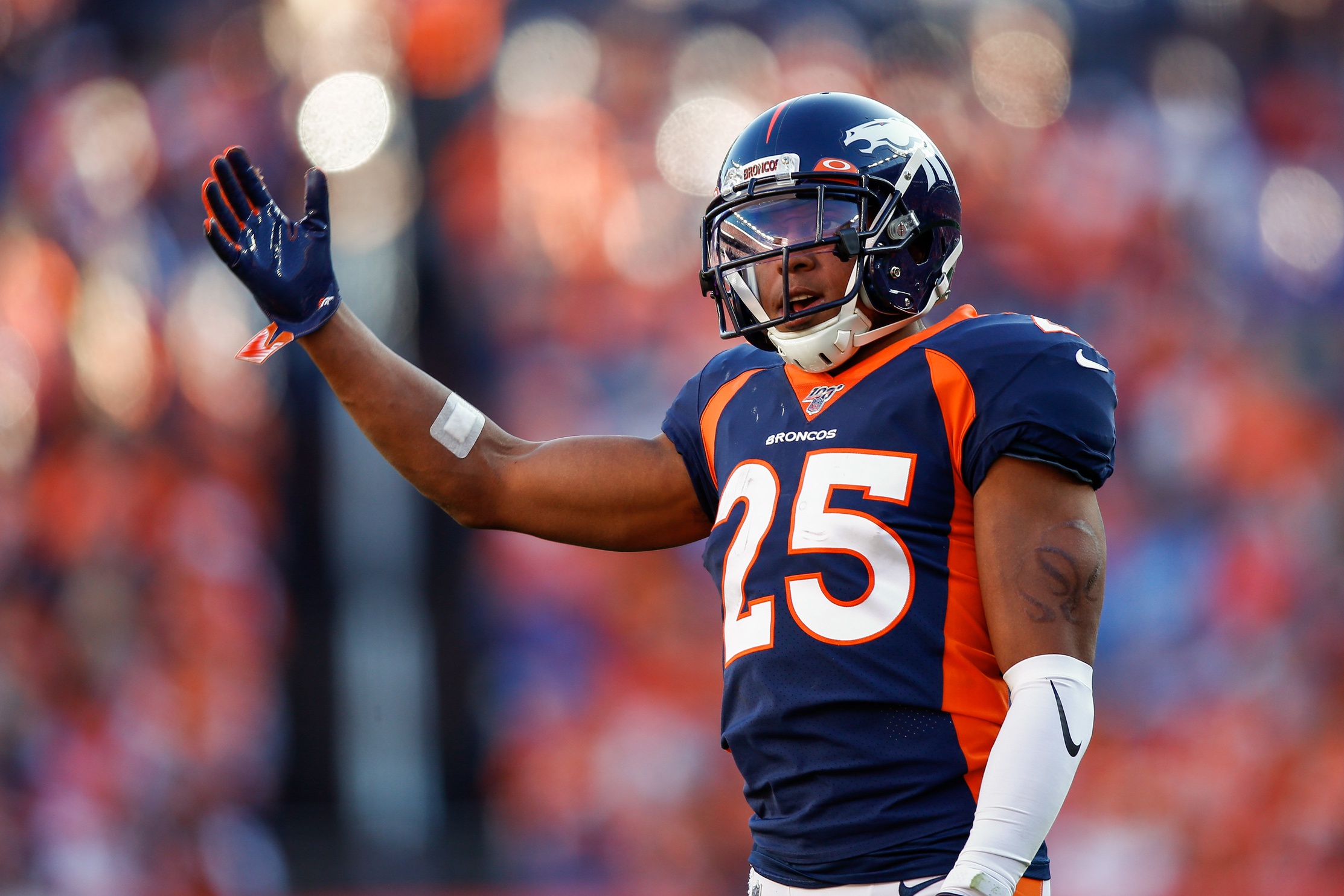 2019 team: Broncos | Age: 30
Over the past decade, Harris has been one of the best cornerbacks in the NFL, and he simply has been the gold standard in the slot. It seems as if his time in Denver is likely over after a season in which he played primarily out wide for the first time in his career, and the Texans would welcome him to Houston. The Texans' recent moves have made it clear that they're hunting a championship. The biggest roadblock to making a championship a reality has been the play of their secondary, and no team had a lower slot coverage grade than the Texans in 2019 (36.8). Harris is looking to move elsewhere, and Houston is a win-now team that has a definite need in his preferred role.
---
2019 team: Saints | Age: 27
Nobody knows exactly what Bridgewater's going rate is going to be in free agency, but it does seem as if plenty of teams are seriously interested in his talents. The Colts should be one of those teams after Jacoby Brissett recorded an overall grade of 59.3 that ranked 29th out of 32 qualifying quarterbacks during the 2019 season. Bridgewater, meanwhile, didn't quite play enough snaps to qualify, but his 73.0 grade would have ranked 19th. Bridgewater probably won't be as expensive as options such as Tom Brady, Philip Rivers or Jameis Winston, and his style of play provides a nice floor to a team that remains stuck between winning now and looking toward the future after Andrew Luck's retirement.
---
2019 team: Saints | Age: 27
Now that edge defender Everson Griffen has voided his contract with the Vikings, the Jaguars officially have the worst cap situation in the NFL, per Over the Cap. They don't have a whole lot of surplus money to play around with, meaning they'll have to take chances on players such as Onyemata. After a 2018 season in which Onyemata recorded grades of 75.0 against the run and as a pass-rusher, it looked as if he was on his way to breaking out. That progression came to a screeching halt last season, though, as Onyemata's overall grade fell all the way to 55.3. However, the ability is still there, and a change of scenery in Jacksonville could spark it again.
---
2019 team: Eagles | Age: 31
With Ryan Tannehill, Derrick Henry and Jack Conklin, the Titans have a whole lot of in-house money to worry about this offseason. That means any moves they look to make elsewhere probably will have to come on the value side of things, especially if they're trying to retain all three of those players. Curry's production flew under the radar with the Eagles this past season due to his rotational role, but on a per-snap basis, few edge defenders were better at pressuring the quarterback. Curry's pressure rate of 16.8% was tied for fifth among all qualifying edge rushers, and he would bring some much-needed juice to the Titans' pass rush.
---
AFC WEST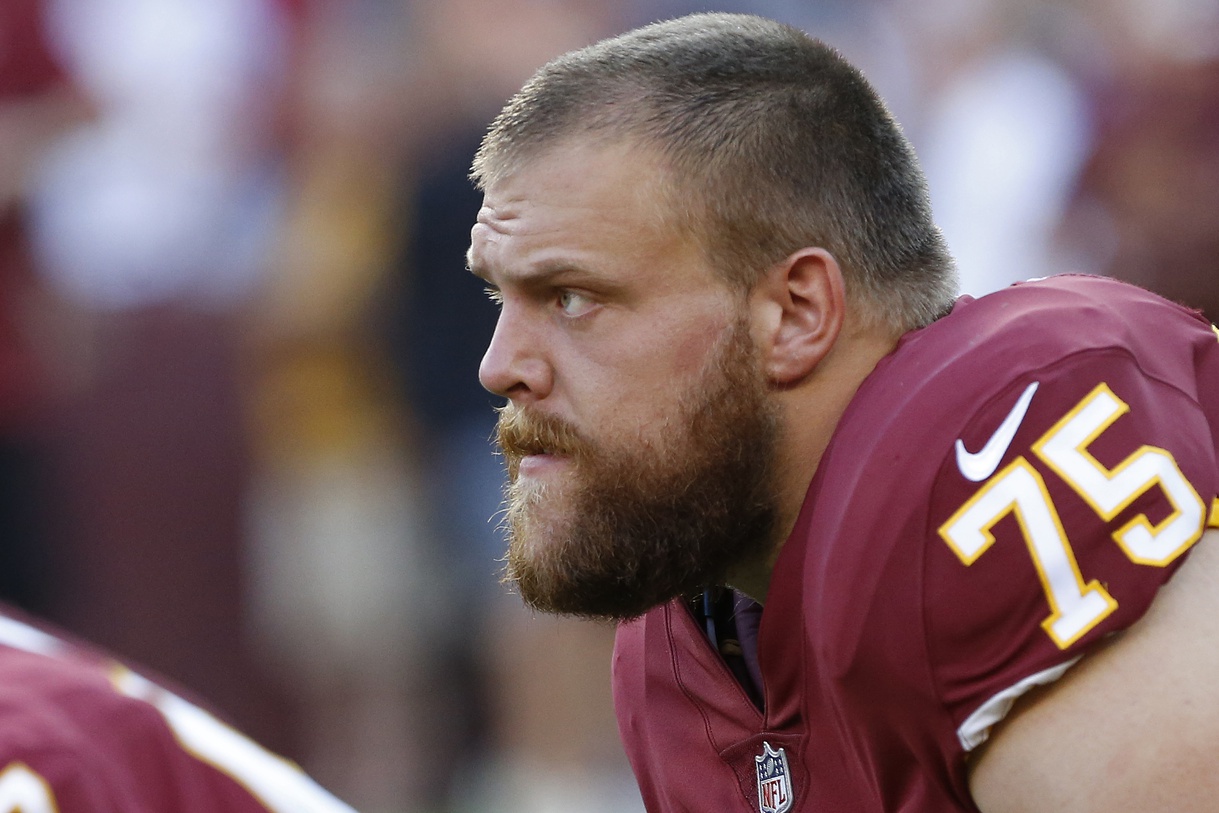 2019 team: Redskins | Age: 28
The Broncos could use a secondary option at wide receiver to pair with second-year breakout star Courtland Sutton, but they could also go after some security on the offensive line. Ron Leary has seen his play decline in recent years, earning a career-worst 58.4 overall grade in 2019, and Scherff would project as a clear upgrade at right guard. Scherff has seen overall grades of 70.0 or higher in each of his five seasons with the Redskins, with four of those seasons coming in at 75.0 or higher. Those are impressive marks for a guard. Phillip Lindsay and Royce Freeman would surely appreciate the addition of Scherff, seeing that he is one of the top run-blocking interior offensive linemen in the league.
(Note: After this article was published, it was reported that Washington is planning to franchise tag Brandon Scherff)
---
2019 team: Bills | Age: 27
For as well as the Kansas City defense played during the Chiefs' Super Bowl run given the expectations for the unit, it played much better than the sum of its parts. The cornerback position is something the Chiefs should look to address again this offseason, and without excess cap space, they won't be in the market for Byron Jones or Chris Harris Jr. They'll have to go after the Johnsons of the world — a first-round talent who has struggled with injuries and poor play in his career but is coming off a relatively good season. Johnson was able to play the entire season for the Bills in a part-time capacity, recording a grade of 71.9 in 402 snaps. There's no guarantee he'll pan out as a starter in Kansas City, but it could be worth a chance on a small deal.
---
2019 team: Broncos | Age: 26
Simmons picked a really good time to have a career year, and he should cash in this offseason because of it. Simmons was the most valuable safety in the NFL during the 2019 season per PFF WAR, earning an overall grade of 90.8 across 1,053 defensive snaps. It came from a well-rounded effort as well, with Simmons earning grades of 85.0 or higher in run defense, as a tackler and in coverage. The Raiders need all the help they can get in their secondary, and Simmons would be a strong step in the right direction, even if he isn't able to fully live up to the heights of his 2019 season. He is likely to be franchise tagged by the Broncos, but the Raiders should pounce if he hits the market.
---
2019 team: Titans | Age: 25
Surprise, surprise — the offensive line is an issue for the Chargers again. The right tackle spot, especially, struggled last season as Sam Tevi and Trent Scott split time, with each player serving more as a negative than a positive. Los Angeles should be looking to add someone like Conklin, the premier right tackle option on the market. He has had a solid four years with the Titans to start his career, and he was dominant in helping to clear room for Derrick Henry in the running game in 2019 with an 84.0 run-blocking grade. A young, above-average tackle such as Conklin isn't going to come cheap, but the Chargers need to find solutions on the offensive line. The solutions are long overdue.
---
NFC EAST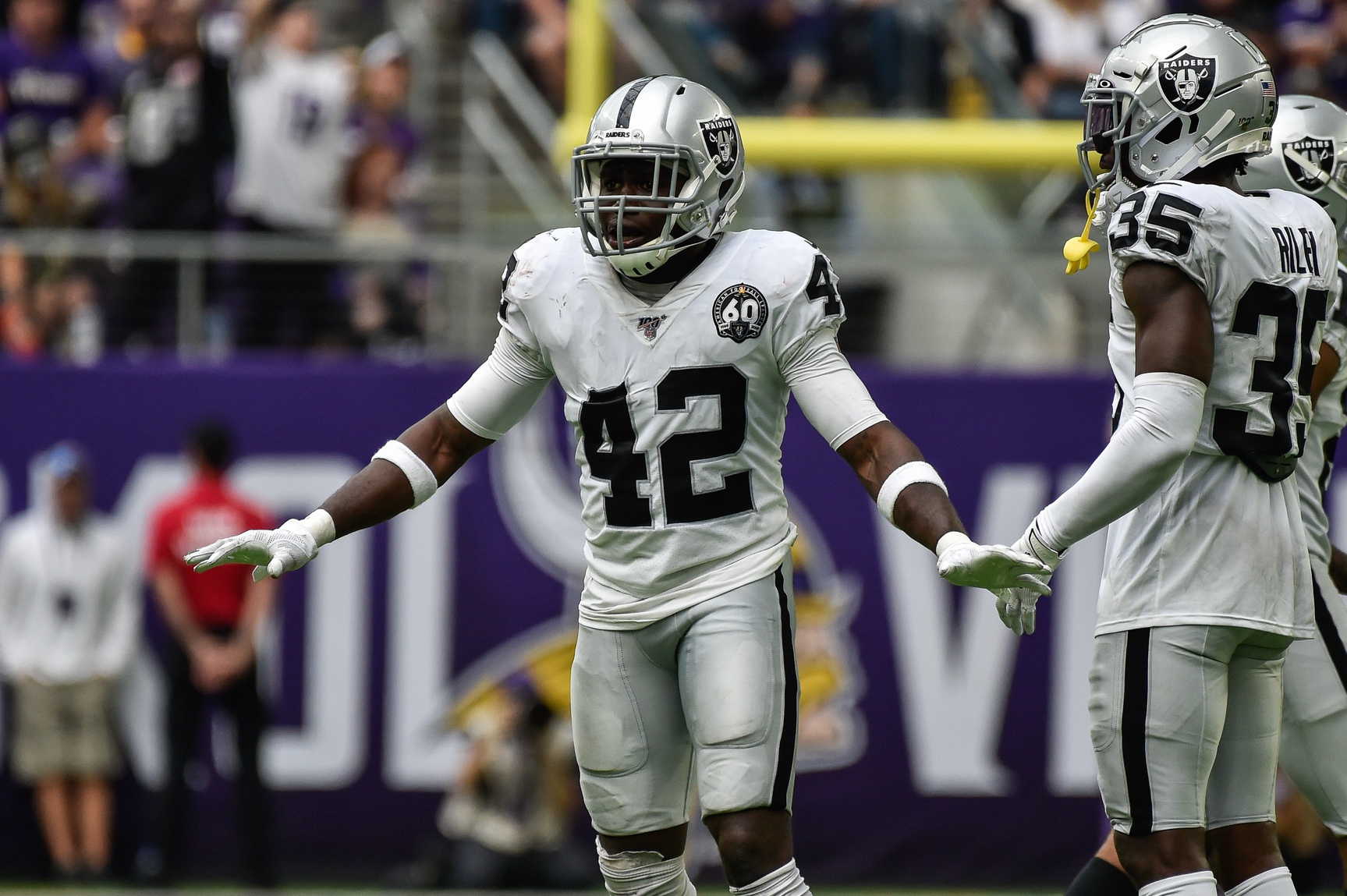 2019 team: Raiders | Age: 26
There were rumors surrounding the Cowboys wanting to add Joseph at the trade deadline last season. That move never materialized, but now they can add him without having to send any compensation to the Raiders. Xavier Woods has played well at free safety for the Cowboys, but they could use someone like Joseph at the team's other safety position. Joseph is a player whose best role is in the box; he has picked up PFF grades between 67.6 and 74.5 in each of his four seasons with the Raiders, but he has earned a grade of 82.2 for his career when lined up in the box. They might not have pushed the button on the trade for Joseph, but it makes sense for Dallas to go after him in free agency.
---
2019 team: 49ers | Age: 26
The Giants' only reliable edge rusher last season (Markus Golden) is set to be a free agent, and he didn't have anything close to the success rushing the passer in 2019 as his double-digit sacks would suggest. Instead of dumping resources into re-signing Golden, New York could move up a level to target a player such as Armstead, who has seen his career progress tremendously over the past three seasons to the point that he was a top-10 player at the position by PFF grade and wins above replacement during the 2019 season. There's always a risk when going after a player coming off a career year in a contract season, but the upside with getting a 26-year-old who is growing as a pass-rusher and already dominant against the run helps offset that.
(Note: After this article was published, it was reported that San Francisco is working on a deal that will bring back Arik Armstead)
---
2019 team: Buccaneers | Age: 26
By the end of the season, the Eagles were running out wide receivers anyone recognized. Injuries did a number to the group, and one such injury to DeSean Jackson made it apparent that the Eagles were missing a downfield threat. No player had a higher average depth of target in 2019 than Perriman's mark of 18.8 yards downfield, and he dropped just one of his 65 targets. By the end of the season, he was a legitimate No. 1 option in the Tampa Bay offense due to injuries. He seems to have put his career struggles behind him, and that should be enough to interest the Eagles.
---
2019 team: Vikings | Age: 28
Harris is one of the most valuable potential free agents in the league this offseason, and given the Vikings' shaky cap situation, he could easily become available to teams willing to pay enough. Harris has been outstanding on the back end of the Vikings' defense over the past two years, grading out as a top-three safety each year. It doesn't look as if Montae Nicholson is going to be in the Redskins' long-term plans between his poor play on the field (51.6 overall grade in 2019) and his off-the-field issues. The addition of Harris would be a big step toward replacing Nicholson and improving a secondary that needs some attention.
---
NFC NORTH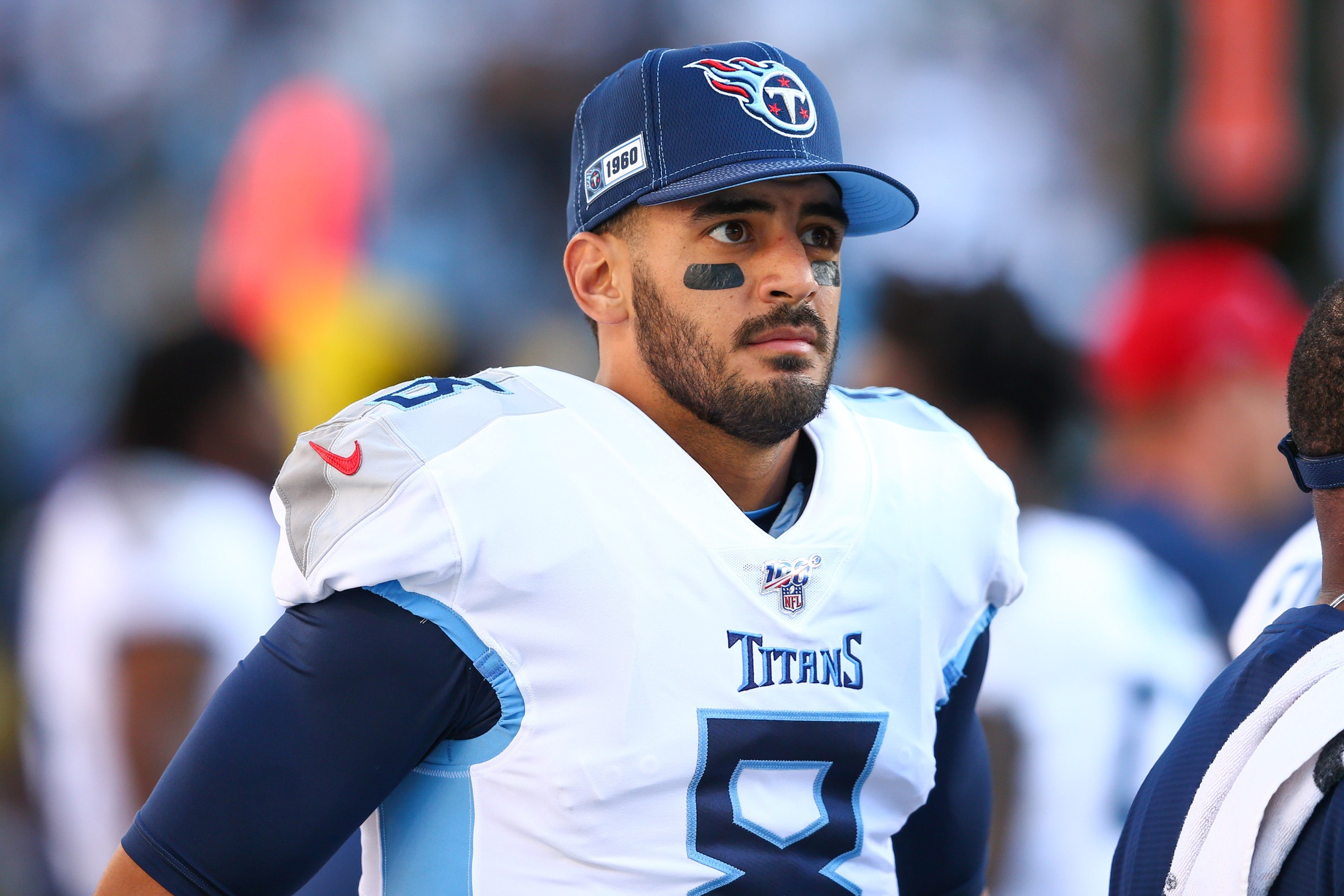 2019 team: Titans | Age: 26
The Bears are in a tough spot. Despite their effort to make Mitchell Trubisky "the guy," he has been a below-average quarterback in all three of his seasons as a starter in the NFL. They need to find a replacement, but they have one of the worst cap situations in the league and no draft picks in Rounds 1, 3 or 4 of the upcoming NFL draft. Mariota is one free-agent option at quarterback who could be in their price range after being benched through six weeks of the 2019 season. Before this season, however, he was coming off two strong showings, ranking 12th among quarterbacks in grade in 2017 and 17th during the 2018 season. As with Ryan Tannehill, Mariota belongs to the middle tier of quarterbacks who can move up or down in a season based on their environment. The hope for Chicago would be to draw out a ceiling performance in Matt Nagy's system.
---
2019 team: Rams | Age: 26
There might not be a team worse off at off-ball linebacker than the Lions. Jarrad Davis — their first-round selection three seasons ago — has not panned out, with overall grades of 52.8, 51.0 and 40.4 in his three NFL seasons. Christian Jones also sported an overall grade in the 40s during the 2019 season. Littleton would step in and elevate the group, particularly in coverage. His 90.6 coverage grade over the past two seasons ranks third in the NFL behind only Lavonte David and Luke Kuechly. The days of run-stuffing specialists at linebacker are over, and players like Littleton who are versatile in coverage add the most value to NFL teams.
---
2019 team: 49ers | Age: 32
Wide receiver is the position that comes up time and time again with the Packers, and though the draft class at receiver is talented and deep, adding a proven veteran wide receiver such as Sanders to pair with Davante Adams would be the best course of action, as their window with Aaron Rodgers at quarterback isn't getting any bigger. Sanders is one of the league's better route runners, and he adds a sure pair of hands as well. He dropped just one of his 104 targets this past season between his time with the Broncos and 49ers. A pairing of Adams and Sanders would immediately become one of the best in the NFL.
---
2019 team: Chiefs | Age: 30
The Vikings have a lot of difficult decisions to make this offseason. They're right up against the cap, and there are players from their 2019 team — namely Anthony Harris — whom they would like to re-sign. There are also positions such as left guard that need an upgrade. Pat Elflein was one of the worst guards in the NFL in pass protection last season, picking up a pass-blocking grade of just 46.8. That was a similar story to his performance in 2018. Wisniewski could be a value option for the Vikings, as he has picked up pass-blocking grades of 70.0 or higher in seven of his nine NFL seasons.
---
NFC SOUTH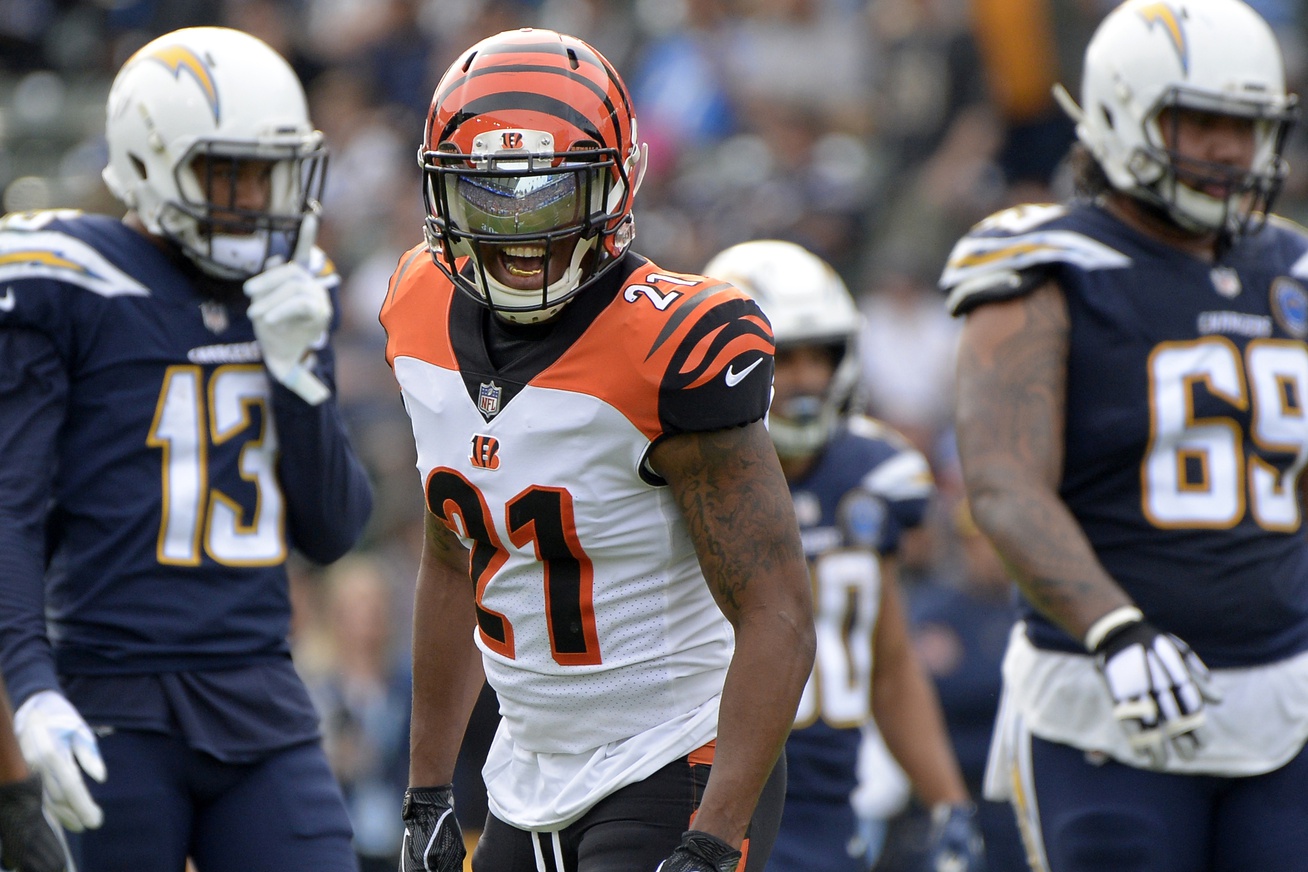 2019 team: Bengals | Age: 28
The Falcons played around with a couple of different players in the slot last season, primarily using Kendall Sheffield and Damontae Kazee in those situations, but nothing really worked. As a team, players who lined up in the slot combined to allow a passer rating of 111.0 for Atlanta during the 2019 season (fifth worst in the NFL). The Falcons don't have the cap space to attack someone like Chris Harris Jr., but Dennard is a solid and cheaper alternative. He is coming off three straight seasons with the Bengals with overall grades of 68.0 or higher, and his 76.2 grade in the slot last season was a top-10 mark across the league.
---
2019 team: Browns | Age: 26
An era is over in Carolina with Luke Kuechly's retirement. Kuechly had five straight seasons of elite 90.0-plus overall grades before recording an 87.6 overall grade in 2019. That's not a caliber of player that can just be replaced, but the Panthers do have a need now at linebacker. Schobert is one of the best options on the market to fill that need, given his ability in coverage. Over the past two seasons, Schobert's 83.6 grade in coverage ranks ninth among qualifying off-ball linebackers. He isn't nearly the player Kuechly was in run defense, but his instincts in coverage could help fill part of the void left by Kuechly's departure.
---
2019 team: Cowboys | Age: 29
Drew Brees is returning for the Saints in 2020, and that means their passing offense should once again be expected to be among the best in the league, headlined by Brees' connection with the reigning receptions-in-a-season king Michael Thomas. The Saints need another reliable wide receiver option outside of Thomas, however. Cobb is coming off his best season since 2016 with the Cowboys this past season. His profile meshes with the quick passing game Brees and the Saints favor, and he'll come cheap — something that is necessary given the cap situation in New Orleans.
2019 team: Patriots | Age: 42
Brady wasn't the same Brady last season as the one we have all grown used to seeing, but his 79.0 overall grade still ranked 12th at quarterback. The big problem was the Patriots' lack of playmakers on offense. A one-two punch of Chris Godwin and Mike Evans has to sound pretty intriguing to Brady as he considers where his career will end, as both guys were top-10 wide receivers by PFF grade during the 2019 season. The Buccaneers have the cap space to make it work, and a much-improved defense with Brady orchestrating a talented offense could have the Bucs as legitimate contenders in 2020.
---
NFC WEST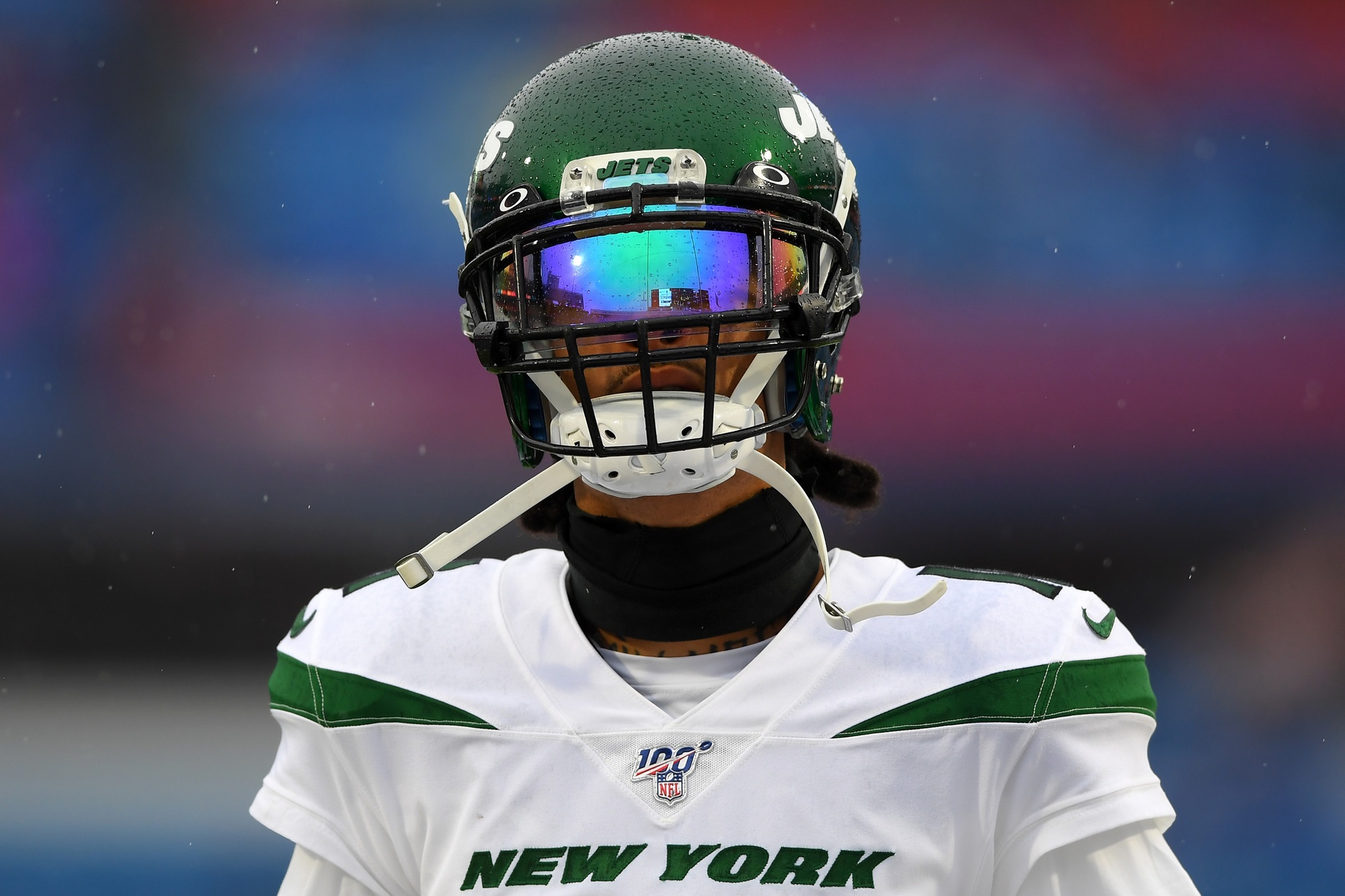 2019 team: Jets | Age: 26
The Cardinals aren't the first team that comes to mind for Anderson, but it's a fit that makes a lot of sense for the Cards and for the 26-year-old wide receiver. The Cardinals need a reliable field-stretcher and top option, with Larry Fitzgerald set to enter next season at 37 years old. Anderson fits the bill, having hauled in 37 passes thrown 20 or more yards downfield since 2016 (11th at position) despite shaky quarterback play in New York. The bonus for Anderson is that he gets to play with Kyler Murray, last season's No. 1 pick, who ranked seventh in the NFL in passing grade on throws of 20 or more yards downfield as a rookie.
---
2019 team: Broncos | Age: 26
If you had to sum up the disappointment of the Rams' 2019 season in two words, those words would likely be "offensive line." The performance of certain players fell off a cliff, and injuries kept the Rams from being able to have any sort of continuity on the line. The center position was an almost even split between Austin Blythe and Brian Allen, but neither player was able to crack an overall grade of 60.0. The first three seasons of McGovern's career certainly weren't anything to write home about, as he picked up overall grades of 49.2 in 2017 and 58.3 in 2018 after missing his rookie season, but the full season at center last year under Mike Munchak brought positive results and an overall grade of 71.9. He could be one solution to getting that group back on track in 2020.
---
2019 team: Eagles | Age: 26
The 49ers are another team that is tight on cap space and still has players to worry about re-signing, such as Emmanuel Sanders, Jimmie Ward and Arik Armstead. That means any outside additions will have to come in the value market, and Darby's 2019 season should depreciate his value to the point that cap-strapped teams could take a chance on him. The Florida State product was one of the worst cornerbacks in the league last season, earning a coverage grade of 41.0 with the Eagles, but his history suggests that to be an outlier rather than the norm. In his four earlier seasons, Darby had never graded below 68.3. The 49ers could take a shot on him as their outside cornerback opposite Richard Sherman and hope that prior form returns.
---
2019 team: Cowboys | Age: 27
Jones is part of the "big three" free agents people are keeping their eye on in Dallas, but if he slips through the cracks, he would be the top cornerback on the market. He is coming off consecutive seasons with overall grades of 75.0 or higher with the Cowboys, and Dallas fields a defense that, like Seattle's, uses a lot of Cover 3. Shaquill Griffin had a career year in 2019 in which he earned an overall grade of 78.0, but the Seahawks' other starting cornerback, Tre Flowers, did not fare nearly as well and earned a coverage grade of 47.7. Jones would help in their effort to rebuild the secondary after the losses they've seen there in recent seasons.
[Editor's note: Available to all of PFF's EDGE and ELITE subscribers, PFF's Free Agent Rankings Page consists of three-year grades, PFF WAR and in-depth analysis for all of the top NFL free agents. Contract information from our friends at Over The Cap is also available.]