In an alternate universe, the Kansas City Chiefs are the Super Bowl champions once again. Tight end Travis Kelce has just been crowned the Super Bowl MVP after owning the Tampa Bay Buccaneers over the middle of the field as they sat in their two-high shell.
In this universe, the Chiefs ultimately lost and Kelce finished with the quietest 10-catch, 133-yard performance you'll ever see. After the first three quarters, Kelce had totaled only six catches and 55 yards before topping three figures with a nice fourth quarter with the game comfortably out of hand.
Kelce has destroyed the two-high coverages designed to contain Tyreek Hill over the last two seasons. The space created underneath from having two deep safeties allows Kelce to find pockets of space and use his telekinetic bond with quarterback Patrick Mahomes to kill defenses.
Among tight ends and wide receivers over the past two seasons, Kelce has earned the second-highest receiving grade against "middle of the field open" coverages; only fellow tight end George Kittle has graded higher, and only slightly at that.
We can see from his 2020 route heat map that he loves to attack the underneath zones.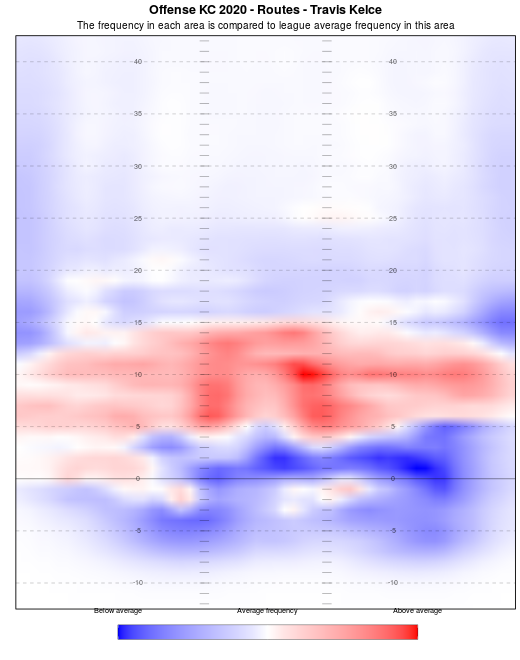 And those same two-high coverages are exactly what Bucs defensive coordinator Todd Bowles gave the Chiefs on Sunday night.