Just a short year ago, T.J. Watt was probably known best as the "other Watt brother." While he was an up-and-coming pass-rusher who seemed to get better as time went on, his production still didn't come close to matching that of his elite edge-rusher of a sibling, J.J. Watt. In his prime, the older Watt brother anchored defenses for the Houston Texans, and he almost single-handedly made up for the shortcomings of the team's offenses.

In his third year with the Pittsburgh Steelers, T.J. is now showcasing that same ability to headline an elite defense that carries its offense from obscurity. 
The Steelers have won four out of their last five games after starting the year 1-4 thanks in large part to their elite defense, and specifically their pass-rush unit, which ranks first in the league with a team pass-rush grade of 90.8. Leading that unit in total pressures, sacks, hits and hurries would be none other than T.J. Watt, whose 91.6 pass-rush grade currently leads all NFL edge defenders.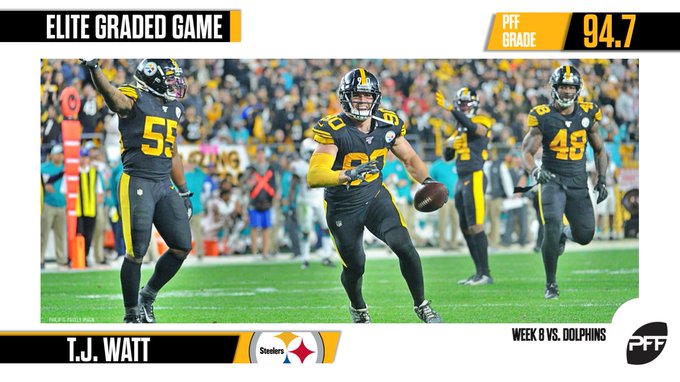 Watt displayed his talent at an above-average-to-good level for the past two seasons, grading at 71.1 in the pass-rush department as a rookie and 78.7 last season, but he has taken it up a few notches this year. 
At this point last season, Watt's pass-rush grade was at 63.7, and he had won just 13.7% of his pass-rush snaps, the latter of which ranked 35th among defenders with 100 or more snaps. Then he started to ramp up the production towards the end of the year, earning a pass-rush win rate of 21.5% from Week 10 on, which ranked fourth among qualified edge defenders. He also ranked second in the league in pass-rush grade in that span with an elite grade of 90.0, behind only Von Miller.
That quality of production is insanely hard to carry over through two seasons, but Watt has done exactly that and more. He's matched most of his season totals from last season in six fewer games this year.
In 2018, Watt racked up 51 pressures (T-34th among all defenders), 12 sacks (T-15th), 11 QB hits (T-23rd) and 28 hurries (T-47th). Through 10 games this season, and with 112 fewer pass-rush snaps, he is already at 53 pressures (4th), 12 sacks (T-1st), 12 QB hits (T-3rd) and 29 hurries (T-17th).
He also has continued to beat blockers at a consistently elite rate through Week 11, with a pass-rush win rate of 21.1% that ranks seventh in the league among edge defenders who have played at least 100 pass-rush snaps.
Not only has his statistical output been impressive to watch from week to week, but the way in which he's racking up these numbers is even more eye-opening with context included.
In the first 10 weeks of last season, a much higher percentage of his pressures came from cleanup/pursuit of quarterbacks outside of the pocket or holding the ball too long, as well as pass-rush snaps where he was just plain unblocked. 
In Weeks 1-10 of 2018, half of his 30 pressures were cleanup/pursuit or unblocked pressures. Whereas this year, he's just making a fool out of right tackles on his way to the quarterback. Working almost exclusively from the left side of the line, only 12 of Watt's 53 pressures have been charted as either cleanup/pursuit or unblocked reps.
The pass-rush process Watt has utilized to reach this elite level of play reinforces the pre-draft PFF scouting report on him, which highlighted his finesse style. Still not the heaviest edge defender you'll find in the league at about 250 pounds, Watt wins with a heavy dose of outside moves while countering those with inside moves at a slightly lower rate.
So far, 37.7% of Watt's pressures have come with the outside move, as displayed in one of his better games of the year, against the Cincinnati Bengals in Week 4. In the play below, Watt rips around the outside arm of right tackle Bobby Hart, gaining outside leverage, and he uses his agility to bend around him and explode into poor Andy Dalton.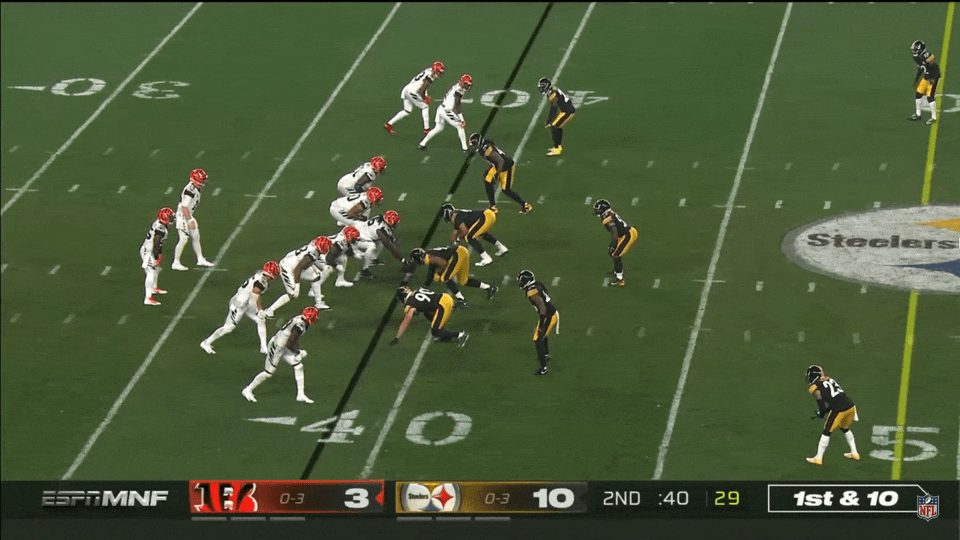 On the play below, the Bengals are attempting to set up a simple slip screen pass to the left side, and Watt almost gets to Dalton anyways. First, he gets a masterful jump on the ball. As he approaches Hart, it looks like the outside rip move is coming, then at the last second, he dips under his right arm, while not straying too far outside and gets a QB hit.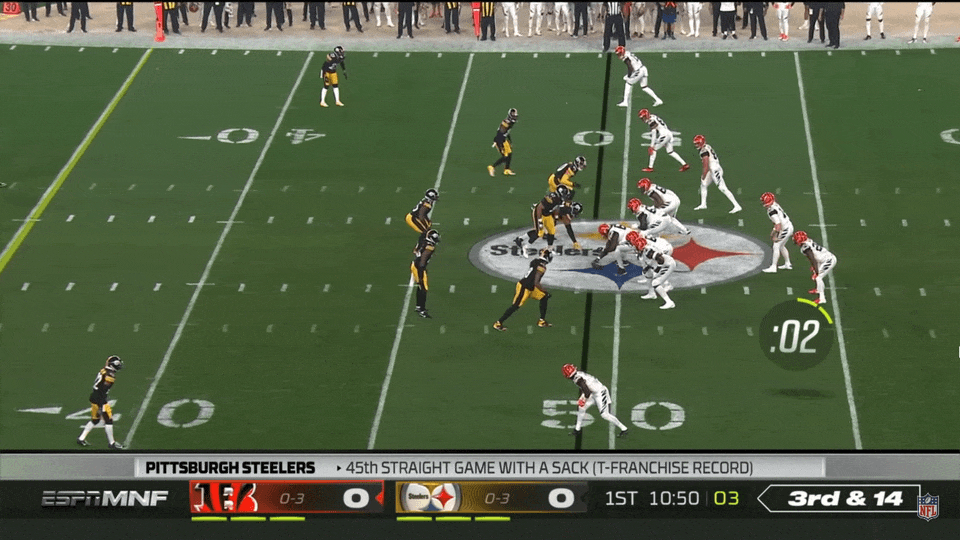 While Watt does love a good outside move, as that is his bread and butter, he will also get tackles thinking they've got his outside moves figured and counter it with a euro step-esque inside swim move. Inside moves have accounted for 30.2% of his pressures this year.
Here is an example against the Miami Dolphins in what was his best game of the season so far, where he accumulated 10 total pressures, seven hurries and two sacks.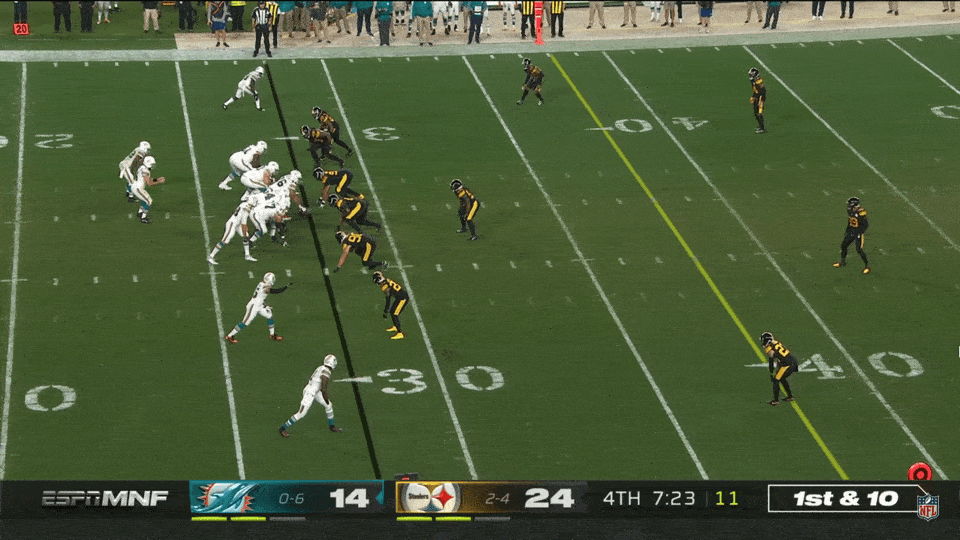 While he may not quite be his big brother, the tape T.J. Watt is putting on display is nothing but top-tier stuff. By earning a positive grade on 17.6%  of his overall snaps—tied for ninth among qualifying edge defenders—he has separated himself from the pack. If he keeps up this level of play in the years to come, we may well end up speaking about the Watt brothers in the same breath, and T.J. will deservedly outgrow J.J.'s enormous shadow.