The San Francisco 49ers have rightfully made the NFL's best young linebacker the highest-paid player at the position. 
Fred Warner agreed to a five-year, $95 million contract extension with the 49ers on Wednesday, per NFL Network's Mike Garofalo, with $40.5 million virtually guaranteed at signing. The deal includes $45 million in total guarantees.
The 2018 third-round pick is now the highest-paid defensive player in San Francisco, surpassing interior defender Arik Armstead's five-year, $85 million pact.
Subscribe to
Seattle Seahawks LB Bobby Wagner held the title of highest-paid linebacker since negotiating his own three-year, $54 million extension in July of 2019. Wagner's extension, which kicked in for his age-30 season, included $24.5 million fully guaranteed and a total guarantee of $40.25 million.
Warner has finally surpassed the $18 million average per year mark and revived a dormant position market, and that's great news for a host of young linebackers across the NFL. The player that stands to immediately benefit is Indianapolis Colts linebacker Darius Leonard, who now has a chance to become the NFL's first $20 million per year man at off-ball linebacker.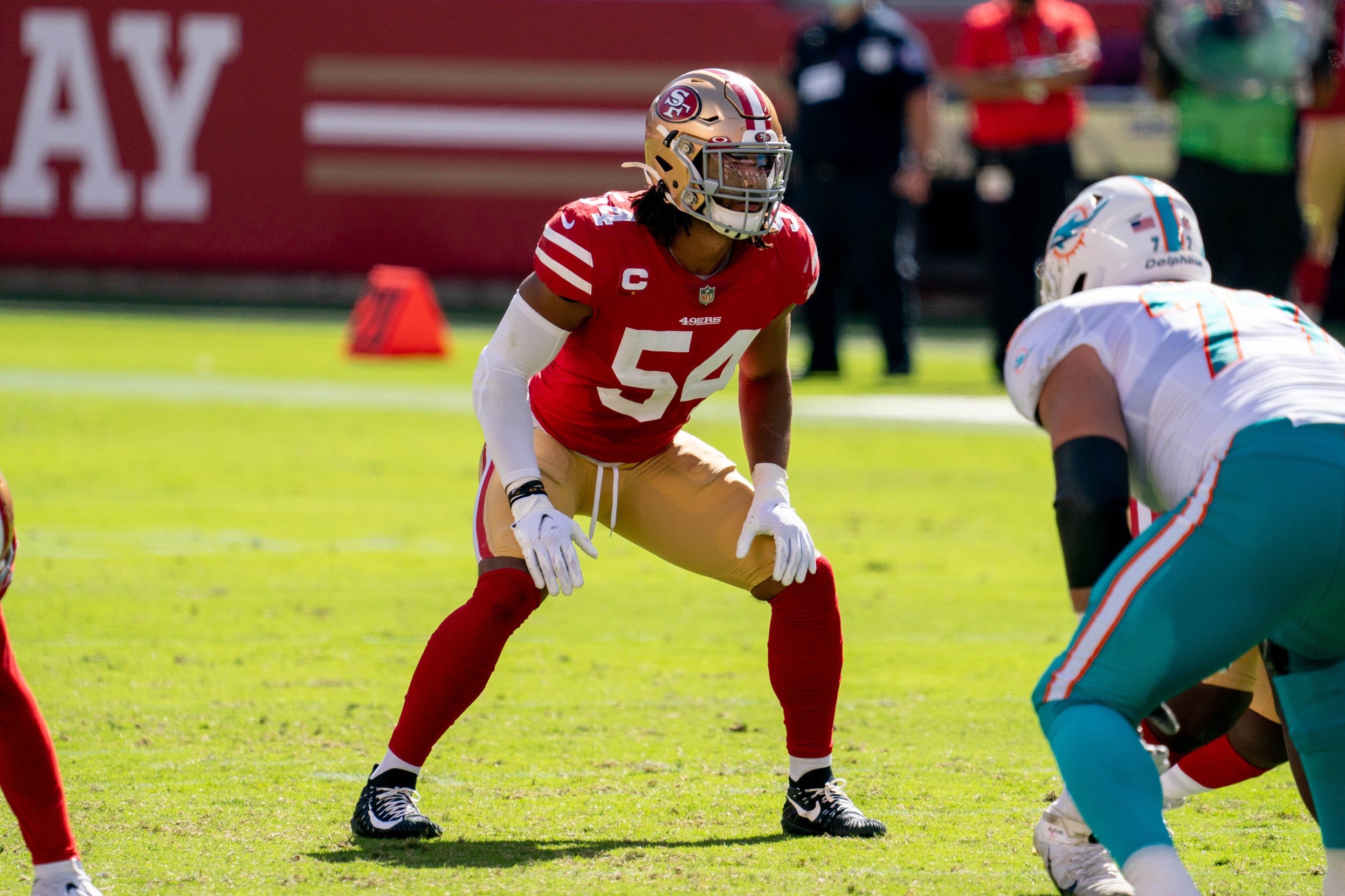 Looking down the road a bit, Chicago Bears linebacker Roquan Smith and Buffalo Bills linebacker Tremaine Edmunds certainly welcome the news as they head into the fourth year of their respective rookie contracts. Both players had their fifth-year options for 2022 exercised, meaning they will most likely play another season and then head to the negotiating table in hopes of topping whatever Leonard ultimately receives. 
Warner is the future of the off-ball linebacker position in the NFL. The 24-year-old BYU product is a complete linebacker with sideline-to-sideline range that shows up against the run and in coverage. He was PFF's No. 1-graded linebacker in 2020 and has earned PFF coverage grades above 90.0 in each of the past two seasons. He also allowed just an 81.9 passer rating when targeted last year, roughly 25 points lower than the league average among qualifying off-ball linebackers.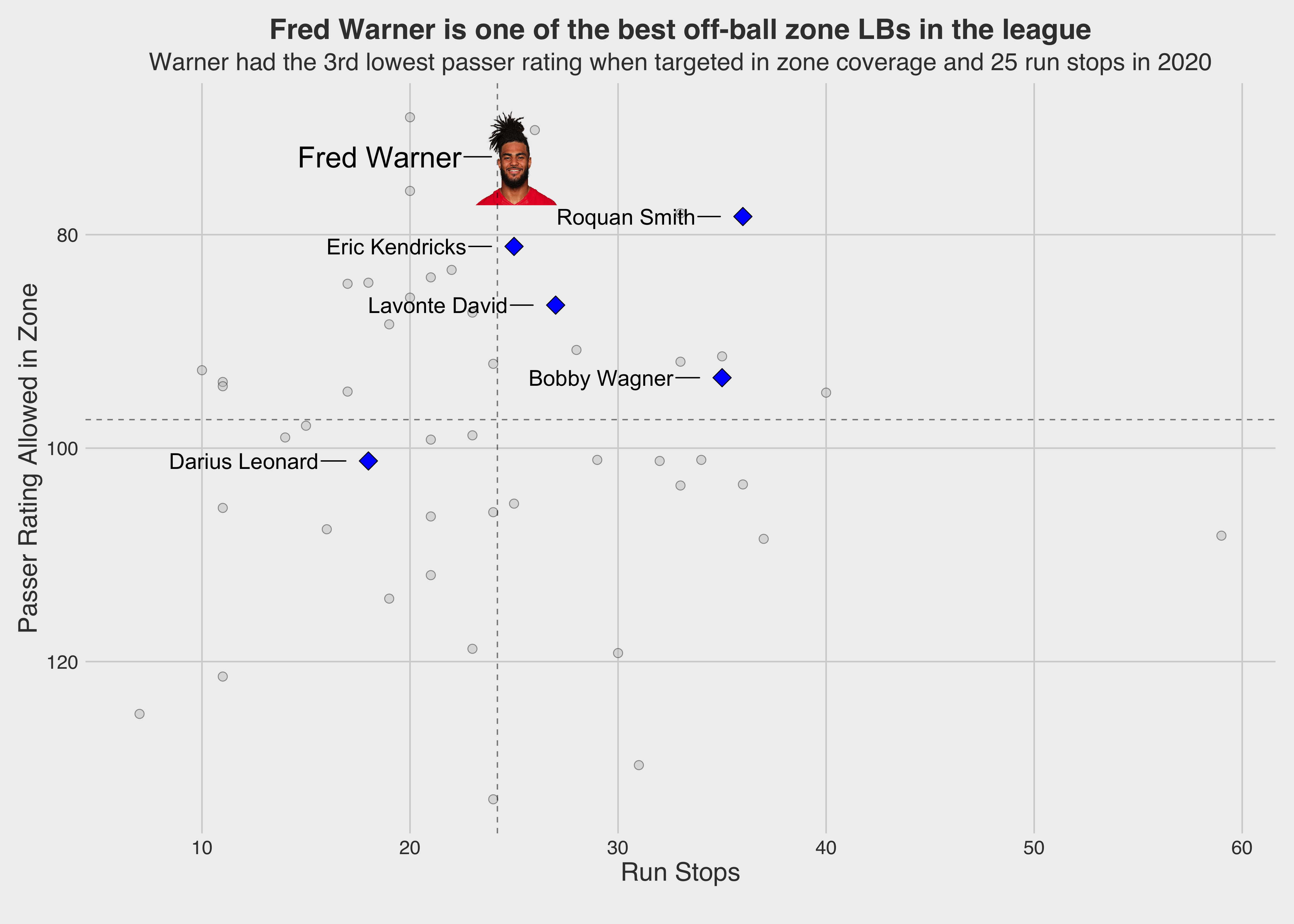 49ers head coach Kyle Shanahan was always confident a deal would get done with Warner. 
"I want to get it done personally," Shanahan said at a press conference during OTAs. "I kind of feel like I'd say the same about him as I did about [George] Kittle when we were talking about it. I just see that kind of as a matter of time. I know he's not going into his free agent year or anything like that, so that's why it's not always on my mind. But Fred's a guy that I plan on being here forever and who has earned that. I'd be surprised if that doesn't start sooner than later."
Shanahan is right to want Warner in a 49ers uniform forever. He anchors a top-flight defense that ranked third in Expected Points Added (EPA) per play allowed over the past two seasons (2019-20). 
Warner's extension further accentuates a growing divide between the linebacker market and safety market — which for a time used to grow in tandem. Each offseason may feature a star player pushing their position market to new heights, but linebacker and safety always seemed to level out. Both experienced a quiet period after the 2016 offseason, yet the linebacker market has now broken out of that funk while the safety market continues to inch along. 
| | | | |
| --- | --- | --- | --- |
| Year | Top Linebacker Average Annual Value  | Top Safety Average Annual Value | Difference as % |
| 2016 | $12,359,059 | $12,500,081 | 1.1% |
| 2017 | $12,500,000 | $13,000,000 | 3.8% |
| 2018 | $12,500,000 | $13,000,000 | 3.8% |
| 2019 | $18,000,000 | $14,100,000 | 27.7% |
| 2020 | $18,000,000 | $14,750,000 | 22% |
| 2021 | $19,000,000 | $15,250,000 | 24.6% |
Leonard may soon push this $19 million number even higher, and it's now up to Seattle Seahawks safety Jamal Adams to respond. This development is seemingly in contrast with what we might expect in a league that has turned to more and more passing and with linebackers finding themselves replaced on an increasing number of snaps by defensive backs. However, the Warner and Wagner contracts illustrate the importance of having an off-ball linebacker who can cover running backs and tight ends, as both rank inside the top seven in coverage grade since 2018 (min. 500 snaps). Warner is second to only Tampa Bay Buccaneers linebacker Lavonte David.
One final contract-related note that may be impacted by Warner's extension as well as the anticipated extension of Leonard has to do with franchise tags. The "linebacker" position receives one franchise tag amount each offseason, and 3-4 outside linebackers like Chicago Bears edge defender Khalil Mack and Denver Broncos edge defender Von Miller would be subject to the same franchise tag as linebackers who play off the line of scrimmage like Warner and Leonard. Historically, the edge defender market has been substantially higher than that of off-ball linebackers, but that gap will shrink considerably with these latest extensions. 
Over The Cap currently projects the 2022 franchise tag for linebackers to be $17.871 million, which would still be a top-five value among all off-ball linebackers. However, a team may be more inclined to use a franchise tag on an off-ball linebacker with the market at a current peak. The Washington Football Team used the "offensive line" franchise tag in 2020 on guard Brandon Scherff, and his $15.03 million franchise tag value was larger than the average annual value of any guard contract, so there is some precedent in a similar situation.