Kyle Shanahan built a reputation as one of the elite offensive minds in the NFL well before he got his first head coaching opportunity with the San Francisco 49ers. And if you listen to him discuss offensive strategy and why his offenses are running the plays they do in certain situations, it is not hard to see why.
In his first offseason with the 49ers, Shanahan was asked why a deep pass to Marquise Goodwin was successful in practice. This was his response:
"We hit one on a seam. It was a zone coverage. We motioned to it. You have a safety as a curl/flat player, and you have a linebacker as a hook player. When you motion empty, they have to switch, and so they change two quick responsibilities, and we snap it, and they communicate. If you talk to someone for half a second and you have a 4.3 guy in the slot, and he's gone, you can't hesitate. He's wide open."
That, in a nutshell, is the beauty of pre-snap motion and shifts. You cause the defense to show part of their hand as they move to counter the change by the offense. You cause defenders to communicate about complex coverage changes in the span of a second, and you create space and moments to capitalize on for your playmakers. An offense that uses pre-snap movement well continues to build small edges and force mistakes that amount to big edges over the course of the season.
Just ask the two Super Bowl participants, the 49ers and the Kansas City Chiefs.
The 49ers and Chiefs often run motion and shifts, and they run them well
Kansas City and San Francisco were both top-five offenses in terms of how often they ran motion and shifts this season. Including the postseason, the 49ers utilized pre-snap movement on a staggering 75% of their offensive plays — nearly 10% higher than any other team in the NFL — while the Chiefs finished fifth at 57%.
They weren't just using it frequently, though. Both teams were among the best in the league from an efficiency standpoint when they ran pre-snap motion or shifts, as well.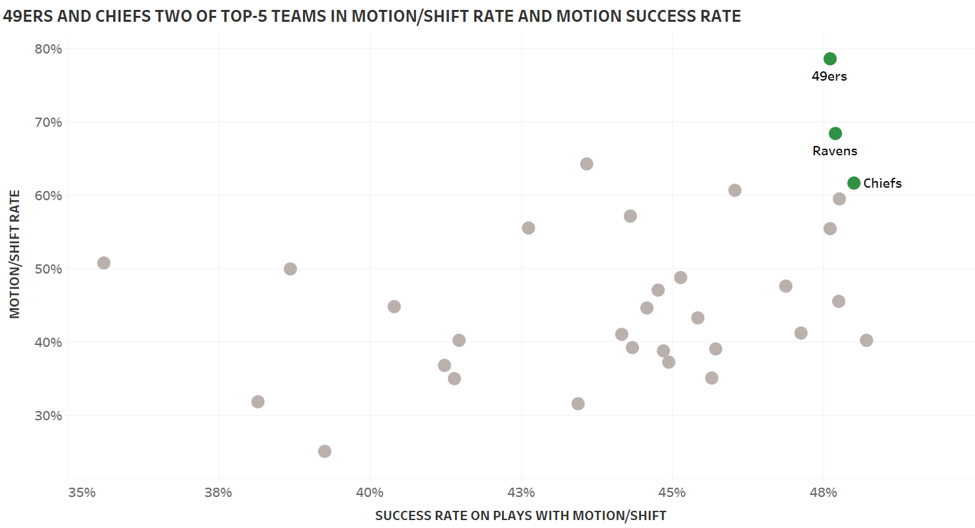 As the plot above shows, the Chiefs and 49ers both pop up in the upper right corner along with the most efficient offense in the NFL this season, the Baltimore Ravens. Success rate is determined by the percentage of plays that generate a positive EPA, and both the Chiefs and 49ers were able to rank highly in success rate despite the high volume.
The other three dots in the same general vicinity as the 49ers, Chiefs and Ravens belong to the Dallas Cowboys, Tennessee Titans and Los Angeles Chargers, all of whom had above-average offenses this season in terms of expected points added per play. 
Subscribe to PFF Edge to continue reading
Already have a subscription? Sign In