The run-pass option (RPO) craze that started with high school and college football in the early 2010s has exploded at an alarming rate. In fact, you can no longer watch a football game without seeing at least one of the offenses base its attack on these plays.
The infiltration of these concepts is almost complete at those levels of football, but the NFL still lags behind in some ways. RPO usage has still not come close to hitting critical mass at the professional level, though there are encouraging signs — if you are into that sort of gimmick.
The run-pass option is simply a way for an offense to call a run play while keeping a passing option open if the defense — whether it be before the snap or after it — shows a pass look beneficial to the offense.
This could be a pre-snap idea where the quarterback sees that there are not enough defenders near a receiver and opts to throw a screen pass, or it could be a post-snap decision where the quarterback is reading the movement of a defender.
Subscribe to
RPO rates in the NFL have climbed ever so slightly upward over the last four seasons. In 2016, NFL teams attached an RPO on 6.1% of their offensive snaps. The numbers have risen in each season since, reaching 8.6% in 2020.
Last season, the average was 21.3% among college football's Power Five schools, with Minnesota calling an RPO on 48% of their snaps to lead the country. The Kansas City Chiefs led the NFL at 21.2%. Needless to say, there is a massive gap between the two levels of football.
NFL coaches, sometimes slow to adapt ideas from lower levels of football, could make their lives a lot easier by bumping up their usage of RPOs, as these schemed plays set a higher floor for a play, increasing the chance of it achieving the desired result.
For example, the design of a solo running play might not have enough answers to create the required yardage, but there are built-in answers whenever RPO is attached. Over the last three NFL seasons, the average run play gained -0.108 expected points added (EPA) per play, while runs without an RPO attached gained a lowly -0.117 EPA per play. When teams attached an RPO, that figure rose to 0.070.
We can see two different examples of how this works. In the clip below, you can see both linebackers pause as they wait for the ball to declare itself, not knowing whether it's a run or pass. This is an example of a post-snap RPO with Patrick Mahomes reading a defender to decide whether to throw it or not after the snap.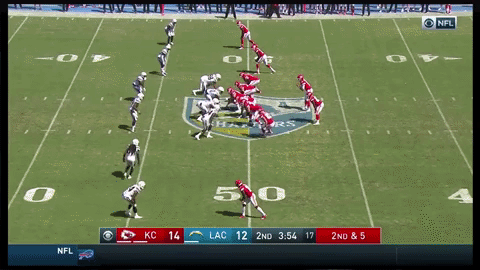 The clip below of the Green Bay Packers shows the effect of attaching a screen pass. Four Minnesota Vikings defenders converge on the screen (three on-screen and one deep half-field safety off-screen), creating a lighter box to run into.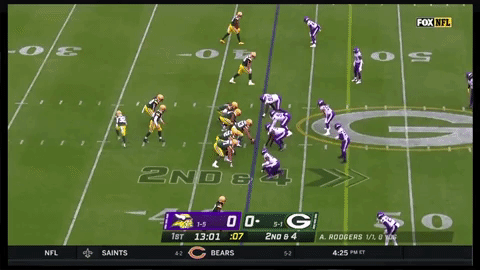 So, even if the ball is not thrown, the addition of routes to a called run play can help rushing efficiency. But we can also see efficiency rise when the ball is thrown, as non-RPO pass plays average 0.064 EPA per play, while passes thrown off RPOs average 0.110 EPA per play.
We can screw down further and look at screens as a proxy for pre- and post-snap RPOs: Screen passes off RPOs averaged -0.081 EPA per play while non-screen RPOs averaged 0.201 EPA per play. And this presents one of the next steps NFL offenses need to take to build more efficient offenses.
Enough with the screen passes. Screen-pass RPOs have made up 47% of all RPO throws over the last three seasons, although thankfully that number is going down. Last year, it was only at 32%.
These screen passes aren't just not going anywhere. NFL defenses are too fast, sideline to sideline, for them to work consistently. What the NFL needs to do is add post-snap downfield shots to its RPO packages.
Teams get a little nervous with downfield RPOs because of the different rules surrounding illegal men downfield compared to their college compatriots. In the NFL, a non-eligible player can only move one yard downfield before the ball is thrown past the line of scrimmage, while it's three yards in college. By definition, post-snap RPOs are longer-developing plays compared to screens, and with the offensive line run blocking, there is a thought that teams will get called for that penalty with the stricter rules about it. But while longer-developing plays may have more of a chance of getting called, there is no evidence of that so far.
We can look at the Texans' offense from last year as an excellent example of that.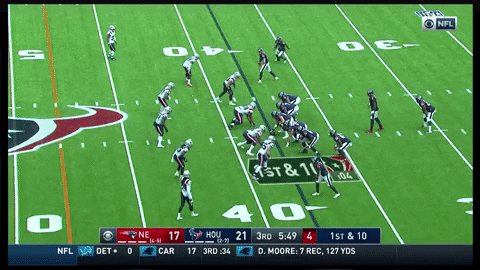 The clip above shows what was a commonly used play for the Texans. And on this particular throw down the seam, there are three offensive linemen at least two yards down the field. No call. So, NFL offenses should probably flaunt their disobedience to the rules for as long as they don't get caught.
The Chiefs also had a reliable downfield shot off one of their common RPO concepts.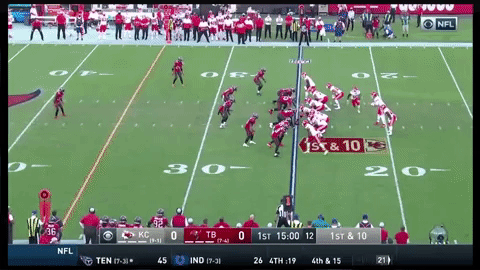 Andy Reid & Co. usually run a stick-route and a flat-route combination as an RPO so that the cornerback sees Tyreek Hill running to the flat and thinks the ball is coming out quickly. The corner looks back to the quarterback while Hill wheels up the field for a completion.
Again, there are a lot of illegal men downfield, but it isn't called. These plays need to become the norm until the NFL cracks down on them because they are putting the offense in more efficient positions to move the ball.
Even just the classic slant-RPO needs to be reinstalled in every NFL offense. This was the Baltimore Ravens' preferred choice for an RPO last season.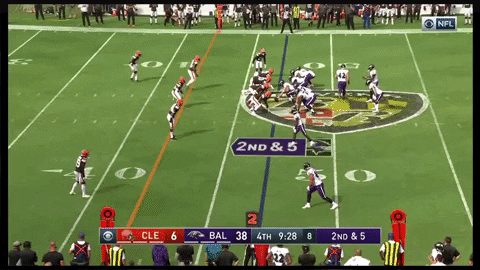 The data suggests that RPOs make life easier on quarterbacks and offenses, and the issues that NFL teams might incur from officials by running them are only imaginary at this point.
RPOs are relatively inexpensive to install and make defenses defend the entire field. And with quarterbacks coming into the league with experience playing in full RPO systems, there is almost no reason not to take them to the next level.