• After not allowing a touchdown into his coverage in college, Ahmad Gardner didn't face a single target across 35 snaps this preseason. The first-rounder is poised to be an impact cornerback for the Jets in 2022.
• Tyler Smith will slot into the left tackle spot on the Cowboys' offensive line while Tyron Smith recovers from a serious knee injury. The rookie's success, or lack thereof, will heavily influence Dallas' offense.
• Preseason darling Dameon Pierce is the clear-cut RB1 for the Texans and projects for a heavy workload early on.
Estimated Reading Time: 8 mins
---
The 2022 NFL season is here, and several rookies are set to have prominent roles with their respective teams. Here are 10 who could make the biggest impact this year.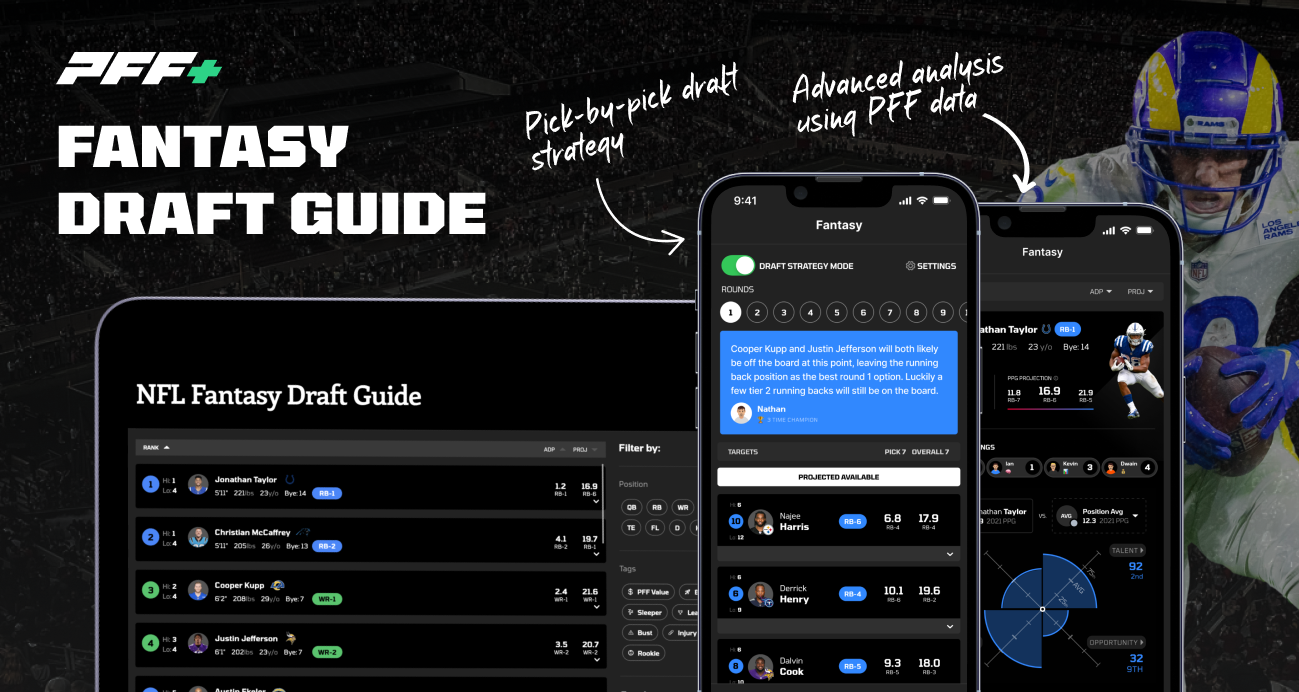 ---
The Detroit Lions recorded the third-fewest sacks in the NFL last season (30), and they had just two players record five or more sacks (Charles Harris, Julian Okwara). This team desperately needed a dominant edge rusher, and it got one with the No. 2 overall pick in Aidan Hutchinson. 
Hutchinson will be a Week 1 starter for the Lions and is expected to play around 75% of the defensive snaps. He's one of the more polished pass-rushers to enter the NFL in a while, as he posted a 25.4% pass-rush win rate during his final year at Michigan. In addition, he is an above-average run defender, which should allow him to stay on the field a ton as a rookie. 
If the Lions want to compete for a playoff spot this year, they'll need to improve their pass rush drastically. Look for Hutchinson to buoy them in that area this season.
---
"Sauce" Gardner never allowed a touchdown in coverage during his college football career. And he didn't allow a single reception during his first NFL preseason, either — albeit on a small sample (35 snaps). It's clear that Gardner's skill set is NFL-ready, but just how good he can be as a rookie remains to be seen. 
Gardner is firmly entrenched as the Jets' No. 1 cornerback, and they need him to play like a superstar early in his career. The hope is that he can have a Patrick Surtain II-esque start to his career, solidifying the cornerback position for the Jets. If that happens, look for New York to immediately improve on defense.
---
The price the Saints paid to acquire Chris Olave is usually reserved for securing a franchise quarterback. It's one of the biggest trade-ups for a wide receiver in NFL history, but let's not forget that Olave is still an outstanding prospect and a fantastic fit in the team's offense. 
The Saints desperately needed to add speed on offense, and Olave has that. He ran a blazing 4.39-second 40-yard dash at the NFL combine and racked up 66 receptions of 15-plus yards during his Ohio State career. 
Olave slides right into the No. 2 receiver role in New Orleans, and he should be a frequent target for Jameis Winston. Given his experience, play style and role in the offense, he is a great bet to lead all rookie receivers in yards and touchdowns this season.
---
The first-round pick acquired in the Tyreek Hill trade allowed the Chiefs to move up and select cornerback Trent McDuffie at No. 21, with the team opting to redistribute assets from offense to try to improve their defense. McDuffie was one of the highest-graded cornerbacks in the class. He allowed fewer than 200 total receiving yards in his last two seasons at Washington. 
He is a perfect fit in Kansas City's defense, as he can play on the outside and the slot. In addition, he is a fantastic tackler, which is an area the Chiefs needed to improve in this offseason. McDuffie had a solid preseason outing, allowing just six receiving yards on three targets. 
He is expected to be a Week 1 starter on a defense that should be much improved in 2022.
---
With Tyron Smith out while rehabbing from an avulsion fracture in his knee, the Cowboys will lean on their first-round pick to play left tackle. Tyler Smith was a college left tackle at Tulsa, finishing the 2021 season with a 92.1 overall grade. However, he was also called for 13 holding penalties last season, which could be an issue in the NFL. 
It's also a bit concerning that Smith struggled in the preseason at left guard, finishing with a 55.4 grade. While his power and athleticism were evident, the penalties continued to be an issue for him — he totaled three on just 66 snaps.
The Cowboys did sign Jason Peters as an insurance plan, but the plan is for Smith to start at left tackle in Week 1. If he can play well there, Dallas should be viewed as one of the top contenders in the NFC. But if he struggles, the entire offense might take a big step backward this year. The Cowboys desperately need their top draft pick to perform well early in his NFL career.
---
The Bills traded up for Kaiir Elam in the first round of the 2022 NFL Draft, and he will be one of their starting outside cornerbacks in Week 1. This comes after Levi Wallace departed in free agency and the team placed Tre'Davious White on the PUP list, sidelining him for at least the first four games of the season.
Elam had an up-and-down preseason, allowing 30 yards on three catches — all of which came in one game — and six targets. While it certainly wasn't perfect, it's clear he has the physical ability and talent to be a lockdown cornerback in the NFL. However, he needs to become more consistent and cut back on the penalties (seven penalties in 10 games during his final season at Florida). 
Elam will have some tough assignments early in the season, including matchups against Allen Robinson II, Robert Woods and Tyreek Hill. Buffalo needs Elam to play well early in the season until White returns from his ACL injury.
---
Wan'Dale Robinson's selection in the second round of the 2022 NFL Draft was a bit surprising, but it has made more sense with each passing day in New York. Kenny Golladay played late into the second half of the final preseason game and struggled. Kadarius Toney is nursing an injury once again, and training camp standout Collin Johnson suffered a season-ending injury in practice. 
Robinson didn't do much in the preseason, but it's clear the Giants will get him the ball early and often. Look for Robinson to have the lowest average depth of target on the team, but for new head coach Brian Daboll to target him frequently as he did with Cole Beasley and Isaiah McKenzie in Buffalo. 
It's worth pointing out that Beasley and McKenzie (primarily slot receivers in Buffalo) totaled 138 targets last season. While Robinson won't approach that number, don't be surprised if he leads the Giants in targets as a rookie.
---
Much has been made about the state of Tampa Bay's offensive line, and not in a good way. But one reason the unit might not be as bad as many expect is due to second-round pick Luke Goedeke, who is slated to start at left guard in Week 1.
Goedeke earned a 92.2 grade at right tackle during his final college season at Central Michigan. He did not surrender a sack and allowed just three quarterback hits all year. While he struggled during the preseason (53.3 grade on 112 snaps), the move to guard is still new for him. He should only get better at that spot with more experience. 
The Buccaneers need Goedeke to play well early in the season, especially with two other new starters on the offensive line. He has a chance to have a big impact as a rookie protecting Tom Brady.
---
The linebacker position was a huge problem for the Jaguars last year, as Myles Jack (37.7) and Damien Wilson (44.0) had the worst seasons of their respective careers. That led the Jaguars to move on from both players while also selecting two off-ball linebackers early in the 2022 NFL Draft. 
Devin Lloyd was one of their two first-round picks, but he missed most of training camp and the preseason with an injury. That has left the door open for third-round pick Chad Muma, who shined as a run defender in the preseason. 
Muma is a great athlete who missed only 8% of his tackle attempts during his career at Wyoming. Despite being drafted two rounds after Lloyd, don't be surprised if it's Muma who winds up being the every-down starter at middle linebacker for the Jaguars this season.
---
Twenty-three running backs heard their names called in the 2022 NFL Draft. Yet, only one projects to be a workhorse back in Week 1. That is none other than Dameon Pierce, who was picked in the fourth round by the Houston Texans. 
Pierce was incredible in the preseason, forcing four missed tackles on 11 attempts. He even sat out the final preseason game with the rest of the starters, showing how much the team will need him early in the season. 
Pierce could see a massive workload from get-go, with no one else behind him challenging him for snaps. So it wouldn't be surprising to see him play around 80% of the offensive snaps for the Texans in the first month of the season.