At its heart, PFF is a player evaluation website, and the most interesting players to evaluate every year are rookies. These first-year players represent the weight of hope for their respective franchises and, depending on the team, can be shouldering the entire weight of that hope.
[Editor's Note: PFF's advanced statistics and player grades are powered by AWS machine learning capabilities.]
This season, more than most, the performance of these rookies is interesting to watch because none played preseason football to get their feet wet. Each has had to learn on the fly; some have seamlessly translated their game to the NFL level while others have floundered.
So, let's take a look at some rookie studs and duds in Week 8.
STUDS
Week 8 overall grade: 90.4
Diggs' performance against Philadelphia certainly wasn't without its ugly plays, as you might expect if you have been closely following his rookie season, but he started to show some of his upside.
Diggs had a pair of interceptions, including an outstanding grab in the end zone, as well as a pair of pass breakups in the game without being flagged for a penalty. He still gave up some plays and is far from the finished product, but he showed for the first time this season the play that made some people think he was worthy of Dallas' first-round draft pick, never mind the second-round pick they spent on him.
This marks the second week in a row that Diggs has managed at least two pass breakups, and it featured the first two interceptions of his rookie season. Next up for him will be limiting the bad plays in coverage that have been far too frequently occurring.
Week 8 overall grade: 89.3
Alex Highsmith played only 25 snaps against the Baltimore Ravens, but we had to find a way to list him amongst the studs of the week because those snaps featured one of the plays of the game — and ultimately the difference between the two sides.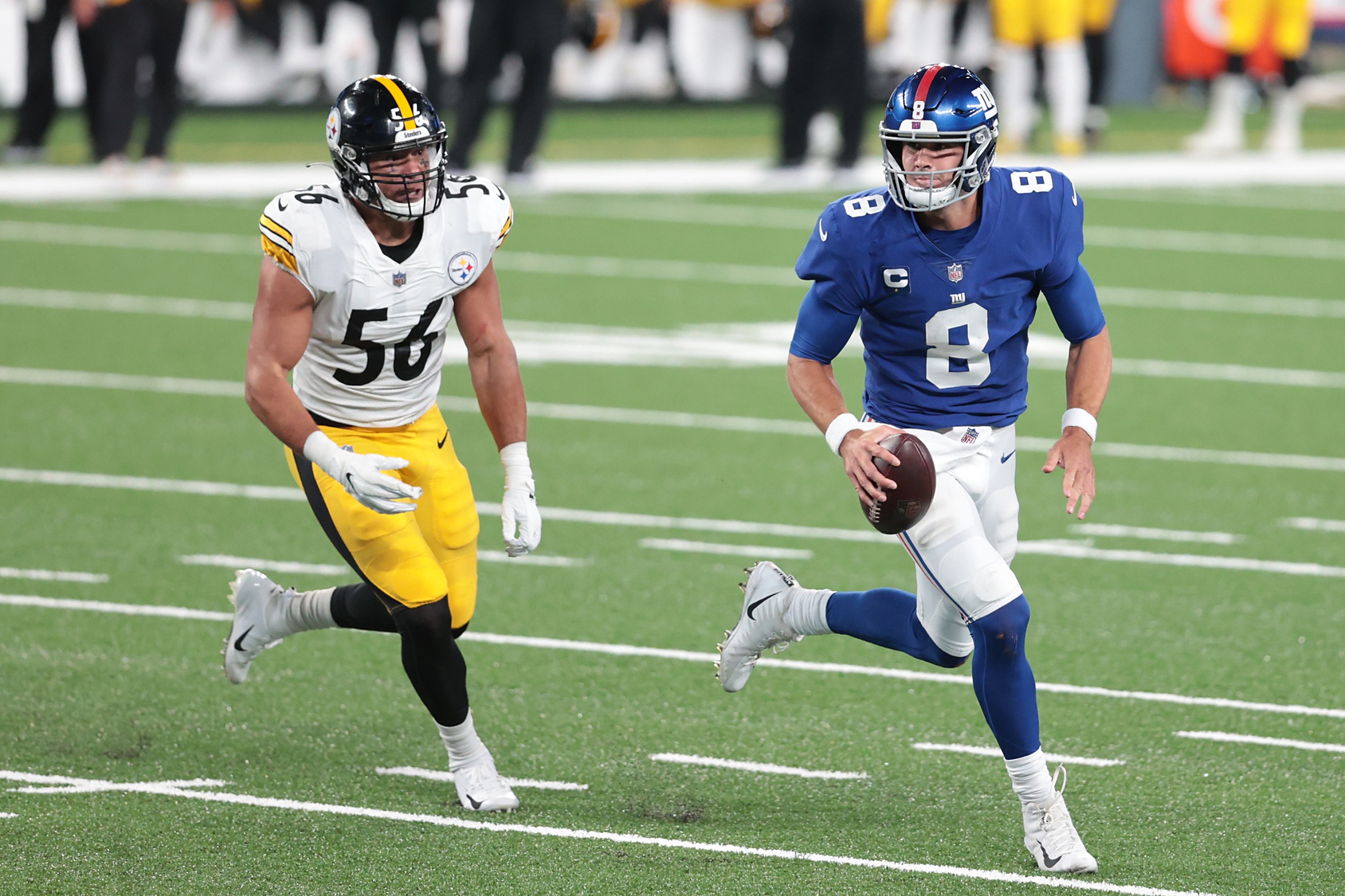 Highsmith dropped underneath a Lamar Jackson pass to pick it off and make a house call for six points. Highsmith was targeted twice in the game, including that play, and didn't give up a catch, meaning Jackson had a passer rating of exactly zero when testing the rookie in coverage.
Highsmith also got in on a tackle and an assist from his snaps, but he had a chance to rush the passer on only two occasions. Other players may have had more playing time this week, but few made a bigger impact on their team than Highsmith.
Week 8 overall grade: 89.4
Joe Burrow continues to look very much for real, and while there was a concern that the offensive line tasked with blocking for him was so bad it could have a detrimental effect on him as the season wore on, he is getting better the longer he plays.
This week, he was able to orchestrate an upset of the Tennessee Titans despite a bad offensive line getting even worse on paper due to injuries. Burrow was outstanding overall, produced a 92.0 PFF grade when pressured and delivered the ball to his receivers with exceptional precision in some key moments in the game.
After struggling to find any success with the deep ball early in the season, Burrow hit on two of three attempts that traveled 20 or more yards from the line of scrimmage against the Titans, showing that he has that club in his bag even if he can't match Justin Herbert's arm strength.
Week 8 overall grade: 85.5
One of Burrow's favorite targets, Tee Higgins was also a standout rookie performer of the week. His box score numbers weren't mind-blowing, but sometimes the number and depth of the receptions don't tell you anything about their quality.
Higgins caught six passes for 78 yards, but three of those receptions were tough, contested catches, and one of them was one of the best receptions of the week from any receiver. With the ball into tight coverage, Higgins went up and Moss'd the Titans' defenders before toe-tapping both feet in along the sideline to secure a spectacular grab.
Higgins ended the game with an 80.6 overall PFF grade, the best mark of his young career, and his grades have improved as his playing time and opportunity within the offense has increased.
Week 8 overall grade: 78.2
Back on Thursday night, Jeremy Chinn had an impressive performance for the Carolina Panthers' defense in a losing effort against Atlanta. Chinn was seemingly all over the field and involved in all facets of the game for Carolina, recording four total pressures to tie for the team lead on just eight blitzes.
He also recorded 11 total tackles, two defensive stops and a pass breakup in coverage, as he made a real positive impression in every facet of defensive play. Only a pair of missed tackles held him back from what would otherwise have been a truly spectacular grade that would've ranked him among the very best players of the week.
Chinn's versatility and deployment this season has been fantastic to watch, and he looks set to become an outstanding cornerstone of this defense for years to come.
DUDS
Week 8 overall grade: 27.9
You had to see this one coming, right? Some Dallas players gave half-hearted attempts at talking optimistically about what we could expect from DiNucci heading into Sunday night, but the team's offensive gameplan suggested that confidence was little more than a smokescreen.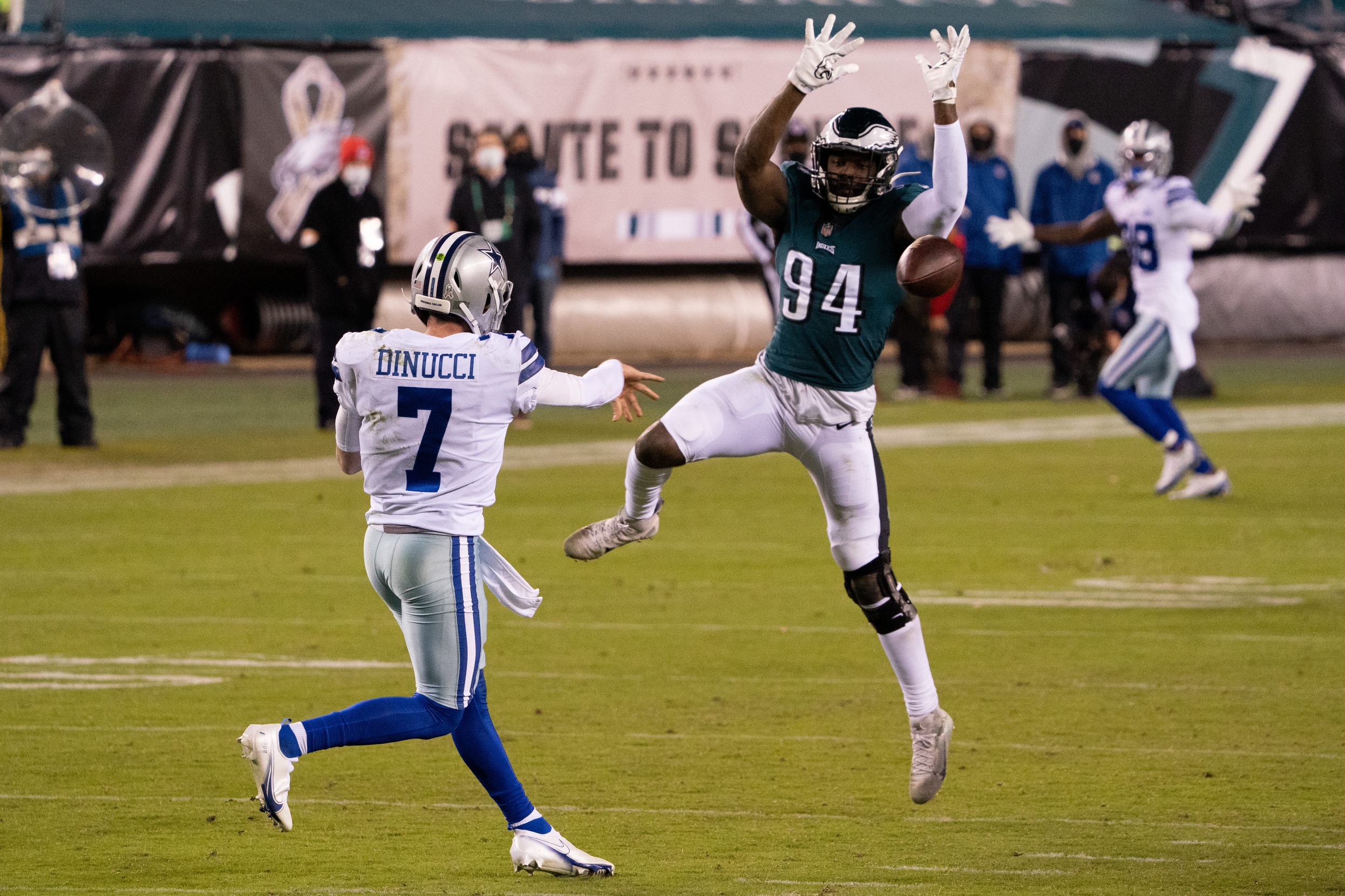 The team set out to minimize what it asked DiNucci to do, and he still had five turnover-worthy plays, the most in the league this week. Somehow, DiNucci escaped from the game without an interception, but it wasn't for a lack of trying. He completed 51.2% of his passes, and that number jumps to just 63.2% when adjusting for drops, the second-worst mark in the NFL in Week 8.
Week 8 overall grade: 34.1
The Tampa Bay Buccaneers may have lost Vita Vea due to injury, but they still have a formidable defensive front — one that proved too much for Shane Lemieux to cope with on Monday night.
Lemieux surrendered five total pressures on 49 pass-blocking snaps and was flagged for a false start as he tried to get an edge rusher. He fared better in the run game, but it still wasn't exactly good. He allowed his man to make a tackle for loss twice — one was nullified by a penalty and another went for a short gain.
The degree of loss was a signature of Lemieux's game. When he was beaten, it was a bad loss, as he earned three of the most severe downgrades PFF gives in pass protection. Lemieux was a fifth-round draft pick back in April, and this was a tough debut as a starter for the former Oregon product.
Week 8 overall grade: 26.9
Patrick Queen flies all over the field like a human missile, but he struggles to harness that speed and energy consistently and make the plays he's capable of. He missed five tackles against Pittsburgh, the most of any defender in a single game this season.
The Steelers' quick passing game meant he didn't generate any pressure from 10 blitzes, and he surrendered a 155.4 passer rating when targeted in coverage this week, including being beaten for a touchdown. Queen also had his struggles in the run game, but the majority of his bad play came from those missed tackles that allowed short plays to gain extra yardage. Queen was coming off the best game of his rookie campaign last week, but he plummeted back down to earth hard against the Steelers.
Week 8 overall grade: 29.1
It wasn't a fun day at the office for anybody on the Jets' defense while trying to contain Patrick Mahomes and the Chiefs' offense. Ashtyn Davis finished with a 29.5 PFF coverage grade and was victimized at times by one of the best offenses in the game.
Davis was in primary coverage for one of Kansas City's touchdowns and was a big part of a second one, as well. He also had a significant downgrade for overrunning a play with a bad angle and surrendered another couple of first downs as part of a coverage unit that was just overwhelmed all day.
Week 8 overall grade: 29.7
Kenneth Murray was at the center of much of what went bad for the Chargers defense as it collapsed and helped surrender a three-score lead against the Broncos this week.
In coverage, he allowed a catch every time he was targeted (six), culminating in 58 yards and a 106.9 passer rating. But it was arguably the run game where he struggled the most. Murray was heavily downgraded multiple times either for overrunning his gap or for simply being dominated at the second level by Broncos right tackle Demar Dotson.
Murray has had an up-and-down rookie season but was coming off his best NFL game last week. This was a swing fully in the wrong direction.