At its heart, PFF is a player evaluation website, and the most interesting players to evaluate every year are rookies. These first-year players represent the weight of hope for their respective franchises and, depending on the team, can be shouldering the entire weight of that hope.
[Editor's Note: PFF's advanced statistics and player grades are powered by AWS machine learning capabilities.]
This season, more than most, the performance of these rookies is interesting to watch because none played preseason football to get their feet wet. Each has had to learn on the fly; some have seamlessly translated their game to the NFL level while others have floundered.
So, let's take a look at some rookie studs and duds in Week 6.
STUDS
Week 6 overall grade: 92.6
Jefferson was quiet last week after back-to-back spectacular games, but he was back making plays and putting up numbers this week against Atlanta. Jefferson now owns three PFF game grades above 90.0 this season and has been making plays in a variety of ways. Much of his success came late in the game with the score already well out of hand, but that shouldn't diminish how good Jefferson was.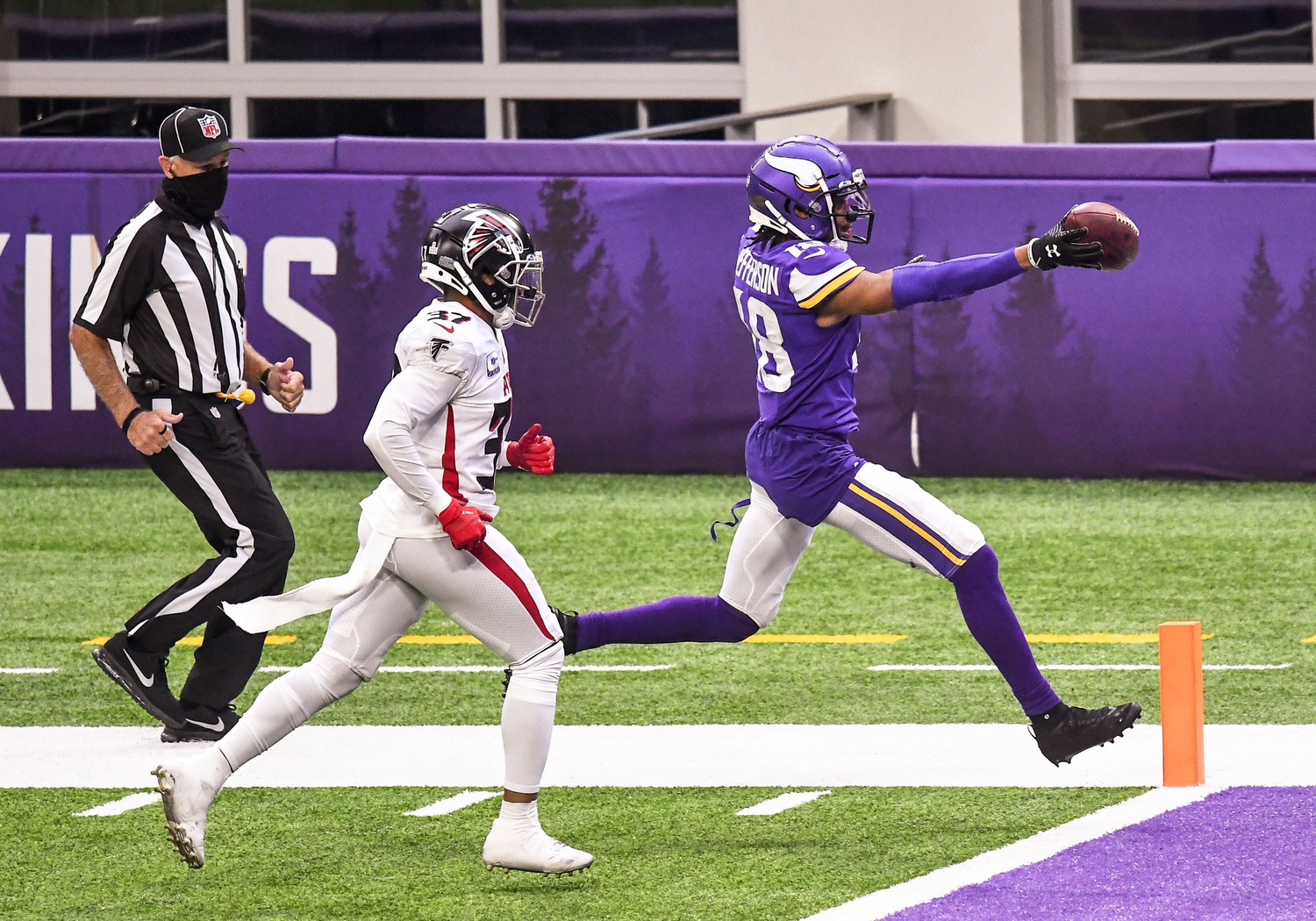 He roasted the Atlanta secondary on a double move and also scored a touchdown most receivers wouldn't have by reaching across the goal line when he came down on the body of the tackler just short of the score. Jefferson has been a transformative player for the Minnesota offense, and he now needs some other players on that unit to raise their game to his level for the team to have success.
Week 6 overall grade: 89.7
The No. 4 overall pick in the draft, Andrew Thomas has been struggling early in his rookie season and was benched to start this game due to reportedly being late to a team meeting on Saturday. Ordinarily, that would be that, but the fellow rookie who was handed an opportunity in his place — Matt Peart — seized it with both hands.
The third-rounder out of UConn allowed just one hurry on the same number of pass-blocking snaps that Thomas later allowed three on. Peart also earned a 93.4 PFF run-blocking grade, dramatically eclipsing anything we have seen from Thomas this season. It's less than one game of action, so it's an extremely small sample size, but what was just a simple disciplinary move may have edged closer to a full competition for a job with Peart's performance.
If nothing else, he put his hand up in a major way for a bigger part in the team's future plans.
Week 6 overall grade: 88.8
Chase Young looked far closer to the player he was before injury than the one who played a week ago in his first action since missing time. His numbers from Week 6 won't blow you away, but some of his best plays on tape are hidden from the stat sheet.
He had one pressure and a couple of clean pass-rushing wins that never had a chance to become pressure or were eventually picked up by a second blocker to prevent disaster. Young also had a pair of defensive stops, tying for the second-most on the Washington defense. By the end of the game, he had the highest PFF grade of any Washington defender, something that is likely to happen more than once in the team's future.
Week 6 overall grade: 88.7
Michael Ojemudia was having a rough rookie season before facing off against the New England Patriots. The third-round corner has had multiple games with a PFF grade of 51.0 or lower, but he had by far the best grade of his young career this week thanks to forcing a pair of fumbles. Ojemudia also had a pass breakup on a key target, and although he gave up some yardage, he earned an 89.8 PFF coverage grade — almost 15 grading points higher than his previous best mark.
Ojemudia's job was helped this week by a New England receiving corps that is one of the weakest in football, but that doesn't automatically translate to the kind of performance he generated this week. He deserves significant credit for that.
Week 6 overall grade: 85.3
A.J. Terrell has had a wild rookie season already, and we're only six weeks into it. His performances have been up and down, but he was also placed on the shelf with his experience on the COVID-19 list. This week, he put together the best PFF grade of his four-game career, with his first NFL interception coming off Kirk Cousins.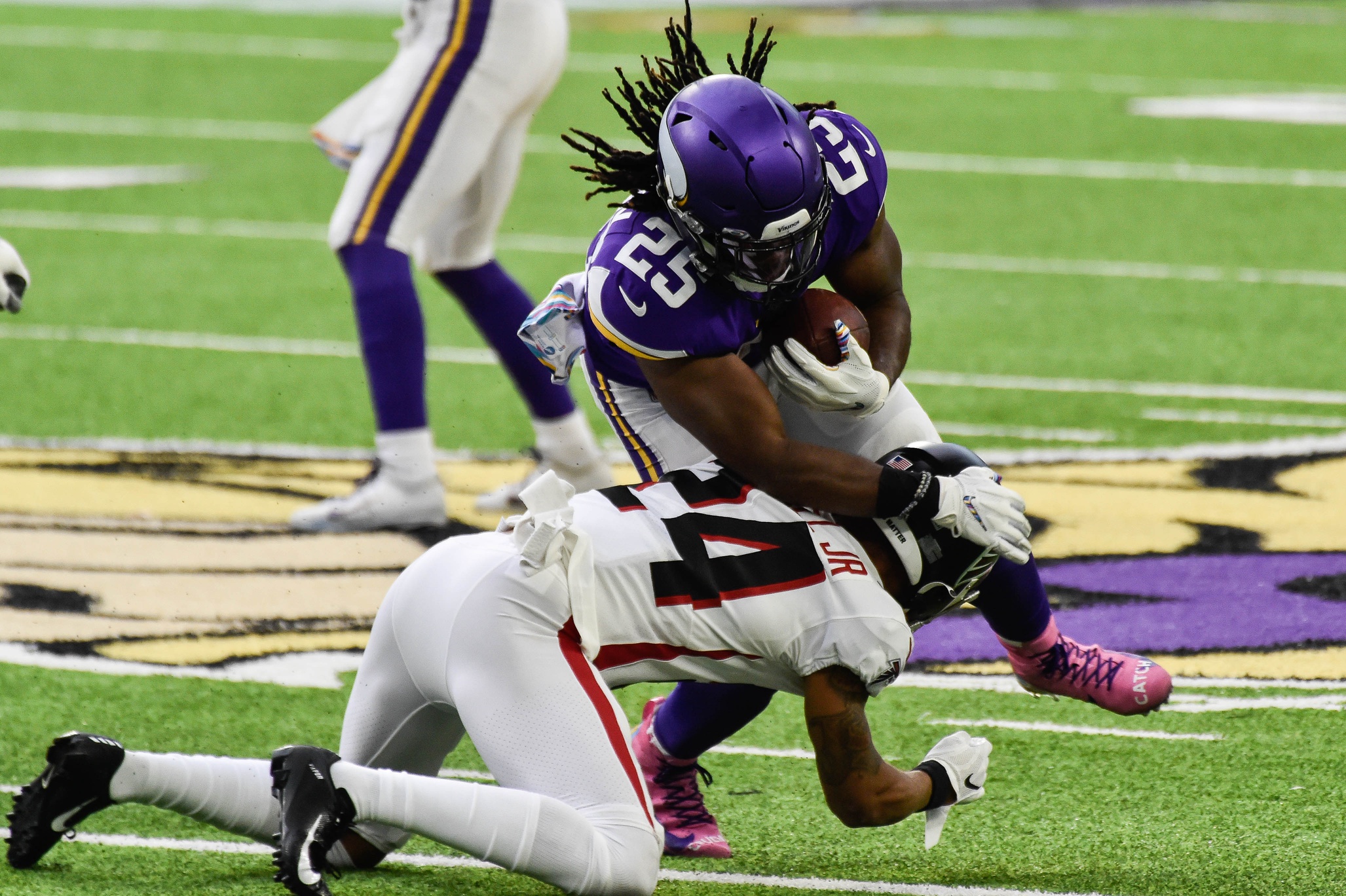 Terrell also had three defensive stops, which tied for the team lead, and was unfortunate to see a touchdown in his coverage numbers; Vikings receiver Justin Jefferson made a great play to reach out and break the plane with the football as he came down lying on top of Terrell. This was an impressive game from the rookie for the various ways in which he got involved and made plays, rather than just limiting himself to coverage on the outside.
DUDS
Week 6 overall grade: 43.8
The Vikings had been struggling through the play of Dru Samia and Dakota Dozier at guard all season — they were the two lowest-graded players on Minnesota's offense before this game — but an injury to Samia forced tackle prospect Ezra Cleveland into the lineup at guard. Against Grady Jarrett and the Falcons' defensive line, that was always likely to end badly — and it did.
Cleveland ended the game with a 27.5 PFF pass-blocking grade, allowing a team-worst five total pressures. He was far from helped by the rest of the line, with all three members of the interior earning a pass blocking grade in the 20.0s for a truly disastrous platform from which to work for the Minnesota offense. This isn't what Cleveland was drafted for, but it was still a dud performance in Week 6.
Week 6 overall grade: 39.8
In what is a fairly constant theme of this article, rookie linemen — particularly those drafted outside of the top picks — struggle immensely early in their NFL careers. Second-round tackle Robert Hunt held up well a week ago against the 49ers, but the wheels came off this week against the Jets.
He allowed four total pressures, but that doesn't come close to reflecting the totality of his negative plays in the game. He had another two clean pass protection losses, allowed his man to make the tackle in the run game three times and was flagged for a false start in addition to several more negative grades that didn't actually generate anything we could call a stat.
The NFL is a tough landscape for rookie offensive linemen, even those who escaped intact from the previous week.
Week 6 overall grade: 27.1
The Detroit run game suddenly sprung to life against Jacksonville, and though it would be too much to lay all of that at Davon Hamilton's doorstep, he was a contributing factor to the Jaguars just being dominated in the trenches up front.
Hamilton played 41 snaps, with 26 of them run plays, and generated a 26.7 PFF run-defense grade after missing as many tackles (one) as he made. Hamilton was just consistently moved at the point of attack by the Detroit offensive line, with center Frank Ragnow and guard Jonah Jackson beating him up all day long.
Each player was winning against him individually, so when the two combined on a double team, it was just game over. This was the lowest PFF grade of Hamilton's young rookie season, and it's a performance he will hope to quickly forget.
Week 6 overall grade: 30.2
Injuries to Green Bay's defense have pressed undrafted rookie linebacker Krys Barnes into action this season, with this week against Tampa Bay representing a season-high in terms of snaps (56) — 18 more than any game he has played in before.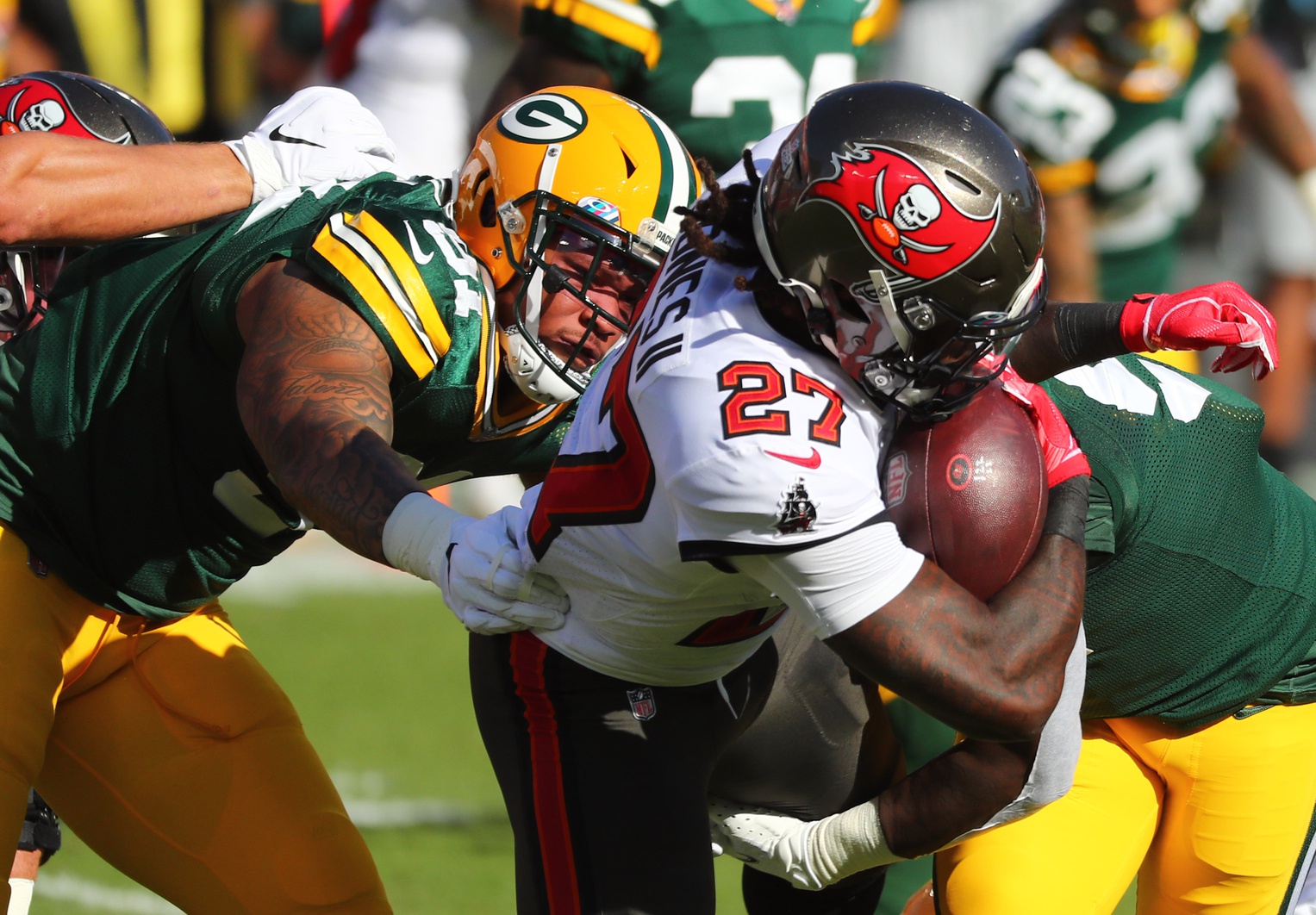 Unfortunately, it also resulted in the worst PFF grade of his season. His biggest negative plays were three missed tackles on Ronald Jones, two of which came in the run game and one on a screen, but he also struggled to deal with the power of NFL offensive linemen once they got their hands on him.
The Bucs have a good offensive line, so the problem was only magnified this week, with center Ryan Jensen, in particular, causing him all kinds of problems at the second level.
Week 6 overall grade: 33.5
Edge rusher K'Lavon Chaisson is primarily supposed to be a source of pressure on the quarterback for the Jaguars, but he was forced to defend the run far more than the team typically asks of him against the Detroit Lions this week. That didn't go tremendously well (33.4 run defense grade), but perhaps of bigger concern was how little pressure he was able to produce when he did rush the passer.
From 27 rushes, Chaisson generated just two hurries, only one of which was a clean and decisive win against left tackle Taylor Decker. He also offset that with an offside penalty as well as any negative that came with his run defense. Chaisson was a work in progress as a prospect at draft time, but that work is starting to look more extensive than the Jaguars might have hoped.