The biggest takeaway for the Minnesota Vikings from Netflix's "Quarterback" documentary series? Kirk Cousins needs to get hit less in 2023.
Seemingly every time the series cut back to Cousins, he was taking a big hit or spending every waking moment recovering from one before going out and getting hit all over again.
All quarterbacks get hit, and there isn't necessarily a correlation between quarterback size and durability, but Cousins is relatively slight in stature at 6-foot-3 and a little more than 200 pounds, so there's an intuitive increase in concern that you don't necessarily have with a passer who is 40 pounds heavier.
Last season was the first year under new offensive mind Kevin O'Connell, who brought over his unique slant on the Sean McVay offense that is taking over the league.
Even predating O'Connell's arrival, Cousins had seemed to take on a more aggressive approach to his game, particularly in clutch situations, but that extra aggressiveness has exposed him to more hits than before.
Before 2021, Cousins hadn't been hit as he threw more than 10 times in a single season. He endured 19 of those plays in 2021, then 12 more in 2022. He was also sacked a career-high 46 times last season and saw a higher percentage of pressure result in sacks (17.1%) than his career baseline (15.7%).
Last year's Vikings offense produced mixed results when it came to Cousins. His overall PFF grade dipped from 88.2 in 2021 to 79.3, and he averaged almost half a yard less per pass attempt. He threw for more yards, but he also took 129 more dropbacks than the year before when counting the playoffs. Additionally, the Vikings won 13 games and set an NFL record with 11 victories in one-score games. Was that evidence the new offense had tapped into the right balance within Cousins' play, or did he simply catch a streak of positive variance?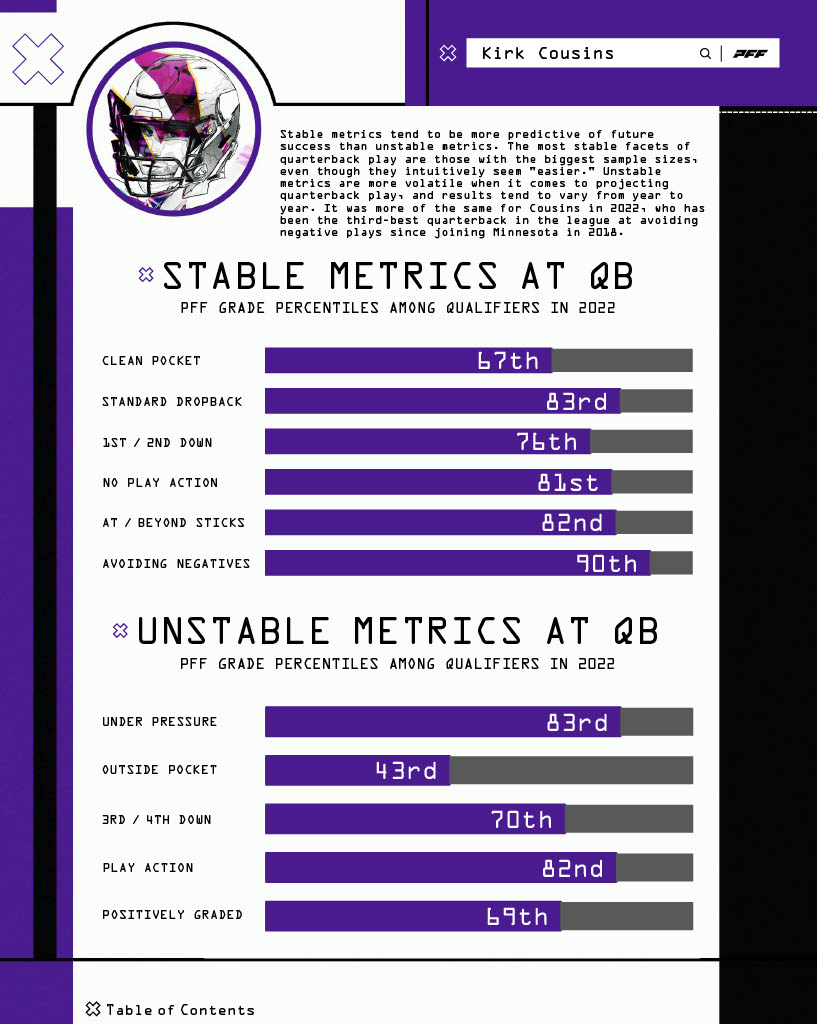 The loss in the playoffs to a New York Giants team that they had beaten just three weeks before suggests variance may be the more likely reason, but the critical area of improvement this offseason will be better protecting Cousins.
Minnesota's line finished the year with an 82.8 pass-blocking efficiency, the same as the Giants at 26th in the league. They surrendered 228 total pressures including the postseason, which was the most in the league. The Kansas City Chiefs played two extra games and still allowed 23 fewer total pressures than the Vikings as an offensive line. And the Philadelphia Eagles, arguably the best line in football, allowed 99 fewer pressures despite playing two more games.
Christian Darrisaw emerged last season as one of the best tackles in the game, and on the other side Brian O'Neill is a quality starter, but the Vikings still have too much pressure coming up the middle and could also tweak the scheme to minimize the plays where Cousins is exposed to those big hits that cause his coaches to cringe.
For his part, Cousins himself also needs to work on finding the correct balance between proving his toughness, hanging in and making the play, and protecting himself and minimizing the hits he takes over a season. Patrick Mahomes — the league's best quarterback — allowed pressure to turn into a sack just 10.1% of the time last season despite actually inviting pressure more often than most quarterbacks. Even in the playoffs, when he could barely move on an injured ankle, that number was just 6.7%.
Cousins was far from poor in this area, but Mahomes is the gold standard and the target for other quarterbacks to emulate even when it comes to protecting himself.
There are a lot of reasons for optimism for Year 2 of O'Connell's offense in Minnesota, but one of the biggest areas of growth needs to be keeping Cousins better protected.