Two quarterbacks who have ruled the NFC for the past decade — the Green Bay Packers' Aaron Rodgers and the Seattle Seahawks' Russell Wilson — will once again be the main offseason storyline in 2022 as trade rumors persist in both camps.
Since Wilson entered the league in 2012, he ranks second among quarterbacks in wins (102) and Rodgers slots in at No. 3 (95). The next best mark from an active NFC signal-caller lags far behind (Matt Ryan, 76).
Wins aren't a quarterback statistic, but quarterbacks obviously impact winning and losing a great deal. Wilson averaged 3.17 PFF Wins Above Replacement per season from 2012 to 2020, with Rodgers slightly ahead at 3.36. When attempting to project a player's impact on a new team, it's not as simple as transferring their WAR over. But it's not crazy to think that both Wilson and Rodgers could take over for a team around .500 and vault them into contender status right away. 
---
Click here for more PFF tools:
Rankings & Projections | WR/CB Matchup Chart | NFL & NCAA Betting Dashboards | NFL Player Props tool | NFL & NCAA Power Rankings
---
Last offseason may have opened the floodgates for premier quarterback trades, but there is one very important distinction with this offseason's candidates: every single one will probably be looking for an extension with their new club immediately following a trade.
Los Angeles Rams quarterback Matthew Stafford, Indianapolis Colts quarterback Carson Wentz and Detroit Lions quarterback Jared Goff did not immediately need a new deal last offseason, which may have been a bigger factor in the decision-making process than we realize. 
Nevertheless, if a team is willing to part with premium draft capital for an elite signal-caller, a contract extension is just an additional cost of doing business.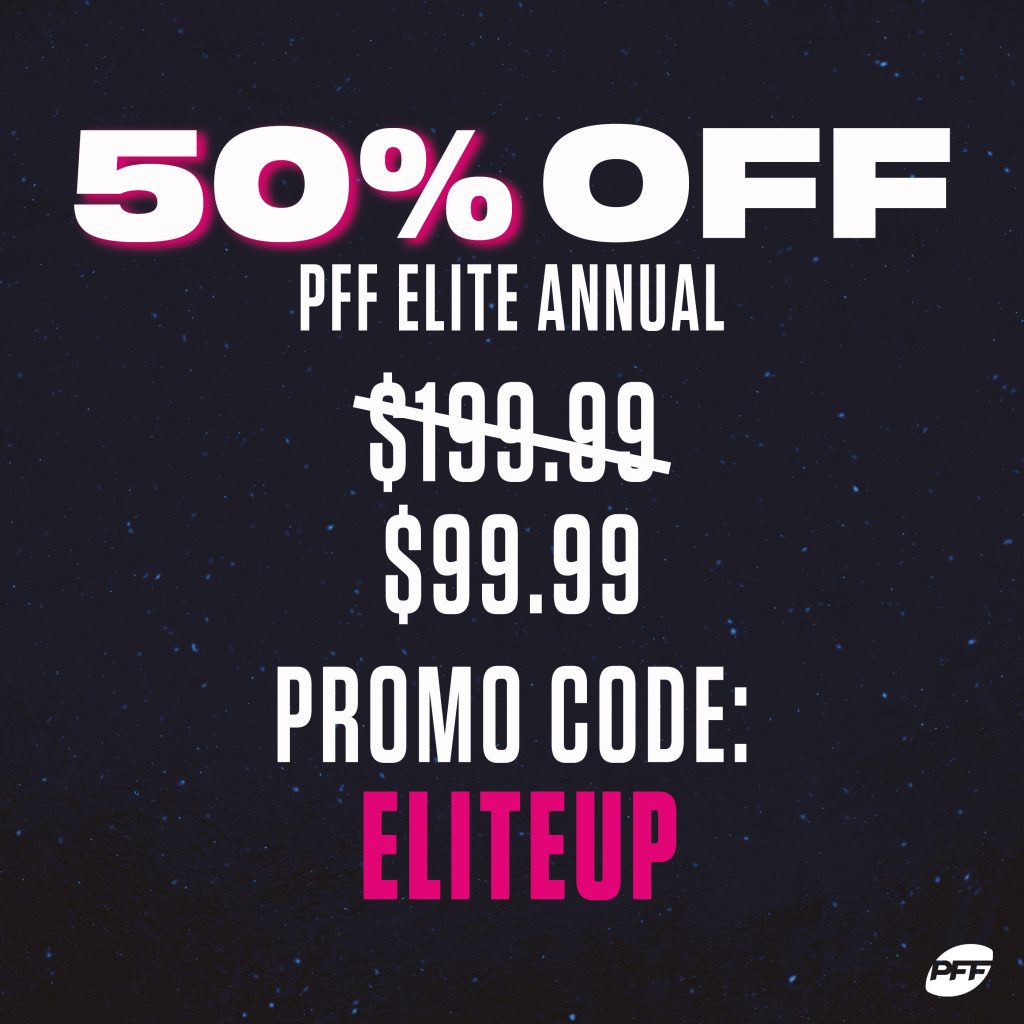 Potential Trades
Note: We won't discuss Houston Texans quarterback Deshaun Watson, who has been rumored to be a target of the Miami Dolphins for some time now.
Terms: Broncos send 2022 1st, 2023 1st, 2022 2nd (Denver), 2022 3rd (Denver) 
Green Bay Packers dead money: $26,847,138
Denver Broncos inherited contract: One year, $26,970,588
Rodgers will be 39 years old in 2022 and will likely be looking to sign an extension that makes him the NFL's highest-paid quarterback on a per-year basis, which certainly factors into the value of any trade. Nevertheless, the Packers have made it abundantly clear they are willing to let Rodgers retire before they accept a bad trade offer. So any interested team will still need to pay full price to acquire his services, especially considering the 2020 NFL MVP has a chance to repeat with a strong final month of the season. 
First-year Broncos general manager George Paton set the stage for this move with a phenomenal trade at the deadline, sending edge defender Von Miller to the Los Angeles Rams for 2022 second- and third-round picks. As a result, they're currently projected to have five of the top 90 picks in the 2022 NFL Draft.
With three highly skilled wide receivers (Courtland Sutton, Jerry Jeudy and Tim Patrick), an uber-talented tight end (Noah Fant) and a phenomenal rookie running back (Javonte Williams) all under contract through 2023 at least — coupled with PFF's 10th-best pass-blocking offensive line so far in 2021 — this is a dream scenario for a quarterback to land in. Green Bay may want one of these players, or perhaps a defender in edge rusher Bradley Chubb or interior defender Dre'Mont Jones headed back their way, but Denver's roster is talented enough to withstand losing a few important contributors — especially if it means acquiring Rodgers.
The Broncos have not had a quarterback finish a season with a 70.0-plus PFF grade since Peyton Manning in 2014. Rodgers has earned a PFF grade of at least 74.6 in each season since 2014, including three straight campaigns from 2018-20 earning at least an 83.8 grade. We hear that an NFL roster is "a quarterback away" a lot, and never has that been more true than it is with this Denver Broncos team.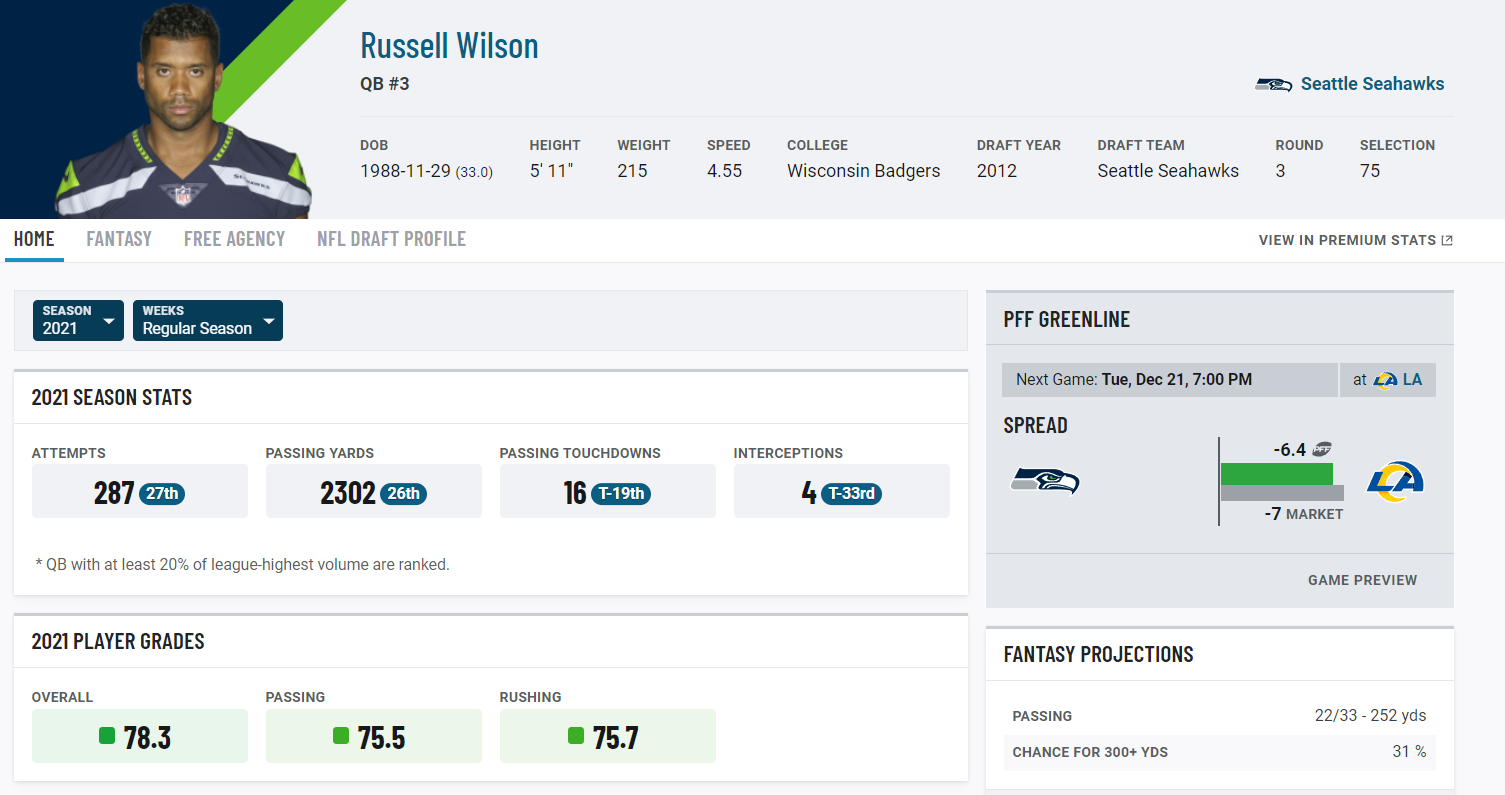 Terms: Saints send 2022 1st, 2023 1st, 2022 2nd, 2023 3rd
Seattle Seahawks dead money: $26,000,000
New Orleans Saints inherited contract: Two years, $51 million
Amid displeasure with the Seahawks organization this past offseason, Wilson went so far as to have his agent share a list of four teams that he would be willing to waive his no-trade clause for: the Chicago Bears, Dallas Cowboys, Las Vegas Raiders and New Orleans Saints. 
The Bears appear to have their quarterback of the future in rookie Justin Fields, and the Cowboys extended Dak Prescott for $160 million across four years. The Raiders' situation perhaps bears monitoring, even as Derek Carr performs at a high level. But the Saints are desperate for a legitimate NFL quarterback and have one of the greatest offensive minds in the history of the sport in head coach Sean Payton, who can get the most out of every player on his roster. 
New Orleans quarterbacks this season have 38 completions that traveled 15-plus yards in the air out of 461 dropbacks (8.2%). Wilson has 35 such completions out of 335 dropbacks (10.4%). Payton has managed to, for the most part, keep this offense afloat despite a starting wide receiver group that likely doesn't have a player who would get snaps for 25-plus other teams, an offensive line decimated by injury and now Trevor Siemian and Taysom Hill under center. 
Bringing Wilson into the fold would completely open up the offense and give defenses fits as they try to stop both the downfield aerial attack and a dynamic ground game led by Alvin Kamara. Opposing defenses have lined up with seven or more defenders in the box on 59.4% of Saints plays in 2021, the fifth-highest rate in the NFL. Wilson has faced seven or more box defenders on just 44% of his snaps this season. 
If Wilson lands in the Crescent City and wide receiver Michael Thomas can finally get back healthy, the Saints immediately become contenders in the NFC.

Terms: Steelers send 2022 1st, 2023 2nd
Minnesota Vikings dead money: $10,000,000
Pittsburgh Steelers inherited contract: One year, $35 million fully guaranteed
This may seem a bit crazy, given that Cousins is PFF's fourth-highest-graded passer (86.1), but if Minnesota ownership elects to move on from head coach Mike Zimmer and start over, trading Cousins is the quickest means to turn things around in a hurry. A decision must be made this offseason one way or the other because Cousins is entering the final year of his contract, which carries a fully guaranteed $35 million salary. After receiving two franchise tags with the Washington Football Team, Cousins has effectively become untaggable for the remainder of his career.
No team wants to enter a season with their quarterback playing on the final year of his deal with no ability to ensure he sticks around if extension terms cannot be agreed to in the offseason. This provides Cousins with tremendous leverage, and Minnesota is therefore probably unwilling to let it play out this way. The team must either extend or trade him this offseason. 
To that end, the Vikings used the No. 66 overall pick in 2021 on former Texas A&M quarterback Kellen Mond, a player with 46 starts in the SEC and a rocket arm, but also one who struggled to consistently play at a high level and take care of the football. However, Mond's 80.9 PFF passing grade in his 2020 senior season was a career-best mark, and he had the lowest turnover-worthy-play rate of his college tenure (2.4%).
The question with Cousins is not whether he's a proficient signal-caller, but whether he's good enough to win with a roster that has to work around the fact he accounts for 15%-20% of the salary cap in a given year. Mond is undoubtedly not the player Cousins is right now, but his 2022 cap hit is roughly 2.6% of the veteran's 2022 cap hit of $45 million. One way to look at this: Is Kirk Cousins 38 times better than Kellen Mond? 
Not too long ago, Cousins was drafted in the fourth round after starting 45 games at Michigan State. He got his NFL shot following an injury to Robert Griffin III and made the most of it. Now, it might be time to see if Mond can do the same. 
From the Steelers' perspective, they just made edge defender T.J. Watt the highest-paid defensive player in football. They may soon make Minkah Fitzpatrick one of the highest-paid safeties in football and are still getting elite play out of veteran interior defender Cameron Heyward. They have no interest in a full-scale rebuild, and they probably shouldn't. 
On offense, two of the game's best young wide receivers in Diontae Johnson and Chase Claypool will be under rookie contracts through the 2022 season. Rookie tight end Pat Freiermuth has seven touchdown receptions through Week 15 — only Rob Gronkowski in 2010 (10) and Hunter Henry in 2016 (8) hit paydirt more often as rookie tight ends since 2006. Lastly, rookie running back Najee Harris can serve as the reliable presence in the backfield that Cousins has loved to lean on in the form of Dalvin Cook in Minnesota. 
Ben Roethlisberger's 58.7 PFF passing grade this season ranks 33rd. Cousins would get the ball to Pittsburgh's playmakers far more effectively and let them create big-time yards after the catch.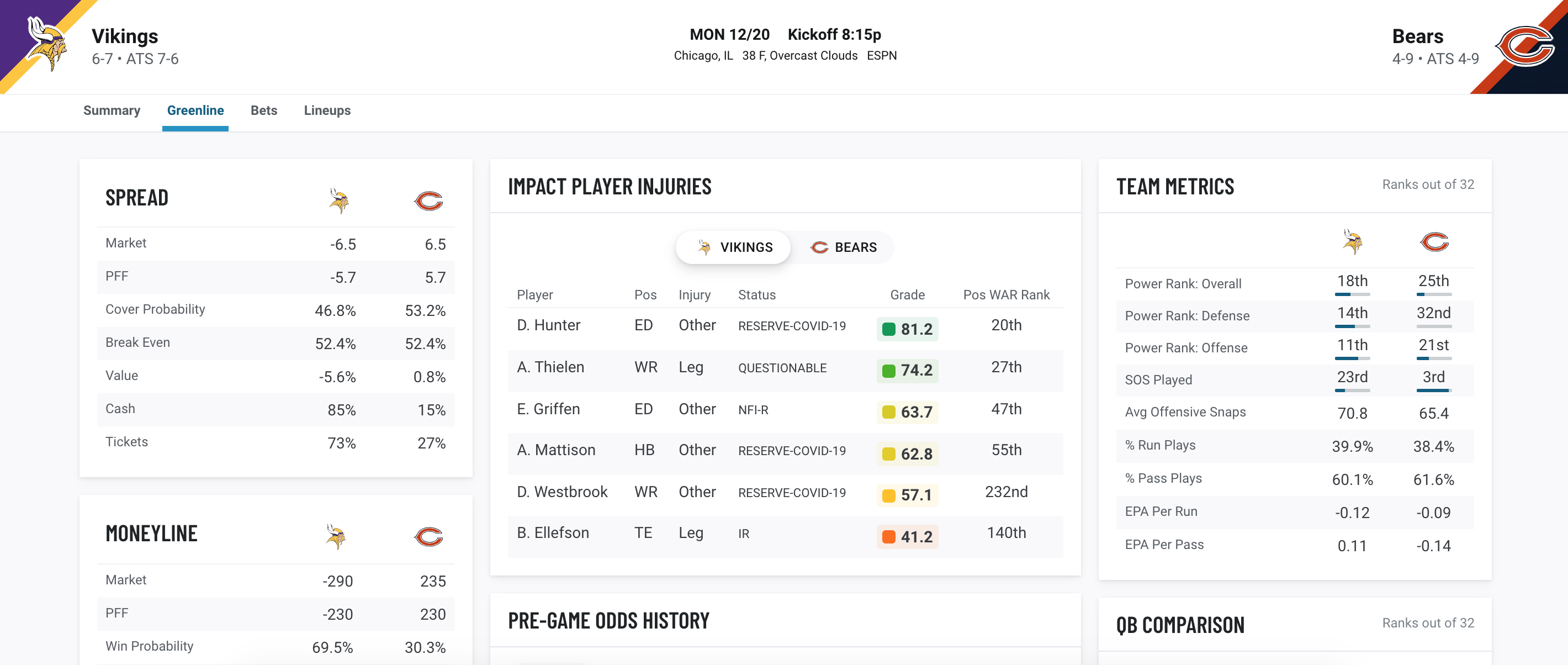 Terms: Football Team send 2022 1st, 2023 1st, 2022 3rd
Las Vegas Raiders dead money: $0
Washington Football Team inherited contract: One year, $19,877,519
Do we expect the Raiders to trade Carr? No. In fact, they're more likely to give him a top-of-market extension this offseason that makes him a Raider for life. However, with all the turmoil surrounding the team, what if a new head coach and/or general manager decides to just hit the reset button? The quickest way to do that is by getting a massive haul for the 30-year-old quarterback and jumpstarting a rebuild. 
Amidst what could be described as utter chaos around him, Carr has quietly become one of the NFL's better starting quarterbacks among the 30-and-under age group. Since 2020, he ranks sixth in PFF passing grade among 30-and-under quarterbacks (85.0), second in big-time throw rate (6.7%), third in yards per attempt (7.9) and third in adjusted completion percentage (78.3%). Any way you slice it, Carr has become one of the game's best quarterbacks with many years ahead of him. 
Washington Football Team defensive coordinator Jack Del Rio was the Raiders' head coach from 2015-17, with the 2016 season being the only year Carr has made the playoffs in his career. He threw 28 touchdown passes to just six interceptions that year. After getting fired, Del Rio did make comments about how he doesn't believe Carr plays well in cold weather, which Carr certainly took umbrage with at the time. Nevertheless, the two have familiarity and were successful together, so perhaps that can be a bridge to a reunion. 
Washington has managed to be a .500 football team despite replacement-level quarterbacking in each of the past two seasons. With emerging star wide receiver Terry McLaurin and the team's offensive line currently earning the third-best pass blocking grade in 2021 (79.1) despite some injuries, Carr could step in and make the team a true contender. 
Terms: Panthers send 2023 2nd, 2022 4th
San Francisco 49ers dead money: $1,400,000
Carolina Panthers inherited contract: One year, $25.6 million
Garoppolo has played well enough through the 2021 season to keep No. 3 overall pick quarterback Trey Lance on the sidelines, but this simply cannot continue into 2022 after the team traded three first-round picks and a third-round pick to go up and get him. Lance started for effectively just one season at FCS North Dakota State before declaring for the NFL, so it's perfectly understandable that he would have a redshirt rookie season. Still, this offseason is the time to transition into the future in the Bay Area. 
An interesting idea for the two teams to explore could be Sam Darnold going to San Francisco in this trade and serving as Lance's backup, with Carolina retaining the majority of his fifth-year option salary in order to facilitate the move. The 49ers have shown with recent moves — such as bringing in former first-round quarterback Josh Rosen — that they like to see what they can get out of physically gifted depth options at signal-caller. 
Carolina already traded away its 2022 second- and third-round picks, potentially taking the team out of the major quarterback sweepstakes. That leaves Garoppolo as a prime option. Panthers owner David Tepper is desperate for just average quarterback play at this rate, with a very solid duo of wide receivers in D.J. Moore and Robby Anderson doing a lot of the heavy lifting. 
Head coach Matt Rhule has made it very clear that he wants his offense to work through the run game, something Garoppolo is obviously familiar with in San Francisco. Garoppolo is also a proficient game manager if only asked to throw around 20-25 times a game, weaponizing play action as opposing defenses bite hard on run fakes.