As a part of our partnership with ESPN, this is a part of a story that was originally published on ESPN+ and can be viewed in its entirety here with your ESPN+ subscription — Ranking the NFL's second-year breakout candidates: 15 players who could become stars
While Washington Football Team pass-rusher Chase Young and Los Angeles Chargers quarterback Justin Herbert — both top-six picks in the 2020 NFL Draft — didn't waste any time showcasing their talent at the NFL level last season, most rookies stumbled through a year of hopefully correctable errors. The 2020 class endured one of the most unique first years ever amid the coronavirus pandemic. Now, that group will have a chance to settle down and soak in a normal offseason.
Which second-year players could break out in 2021? We ranked the best 15 sophomores who could star in 2021 after showing only glimpses of their potential last season.
When PFF ranked every team based on rookie production, the Bengals, Colts and Bucs led the way, but as you can see with one of the top players on this list, there's a way for Cincinnati to take the next step:
Pick in 2020 draft: No. 1
Before Burrow was lost for the season in November with a left knee injury, Burrow put together an elite season when throwing 20 yards or fewer — and an abysmal one when throwing deep. He was the sixth-highest-graded quarterback on throws of 20 yards or fewer, earning a 90.1 passing mark. He ranked just 34th (61.5) on deep passes.
There are arm strength concerns, but it felt like Burrow just had a run of bad luck. And those deep-ball issues, which were not all his fault, could either be addressed or naturally regress to the mean. If Burrow keeps up his accuracy and decision-making under 20 yards and the rest of his game irons out, he could be a strong contender for a Pro Bowl spot in 2021.
---
Pick in 2020 draft: No. 15
Jeudy had a rough season, hauling in only 46% of his targets en route to a 52-catch, 856-yard campaign. There is hope for upside, but that's assuming Denver's quarterback play is much improved. Jeudy led the league in targets that were incomplete via a quarterback-fault error (28), according to tracking from PFF. Accuracy issues from Broncos quarterbacks simply didn't allow for him to show off his true skill set.
Jeudy wasn't completely faultless, though, as his 17.1% drop rate ranked as a bottom-five mark in the league among receivers with at least 25 targets. But if those numbers — quarterback-fault incompletions and drop rate — regress toward average, Jeudy is in line for a great 2021 season.
---
Pick in 2020 draft: No. 58
The former left tackle at Boise State was moved to guard immediately after being drafted by the Vikings, and although there were some rocky moments, he did enough to warrant a spot on this list.
From Week 6 — the beginning of his tenure as a starter — to Week 10, Cleveland was the 52nd-highest-graded player at the position (57.2) among 70 guards who played at least 100 snaps. From then on, everything started to click. His grade rose to 71.5 over his last five games, which put him 17th among guards to close out the season. He graded out better as a run blocker over the course of the season, which makes sense given the intricacies of switching from tackle to guard in pass protection, as he was tasked with taking on bigger bodies inside.
Cleveland's second half of the 2020 season provides hope that he can become a top player at the position for Minnesota as early as this season.
---
Pick in 2020 draft: No. 60
As Uche acclimated to the NFL, he slowly gained trust from coach Bill Belichick. And in the second half of the season, he finally put it all together.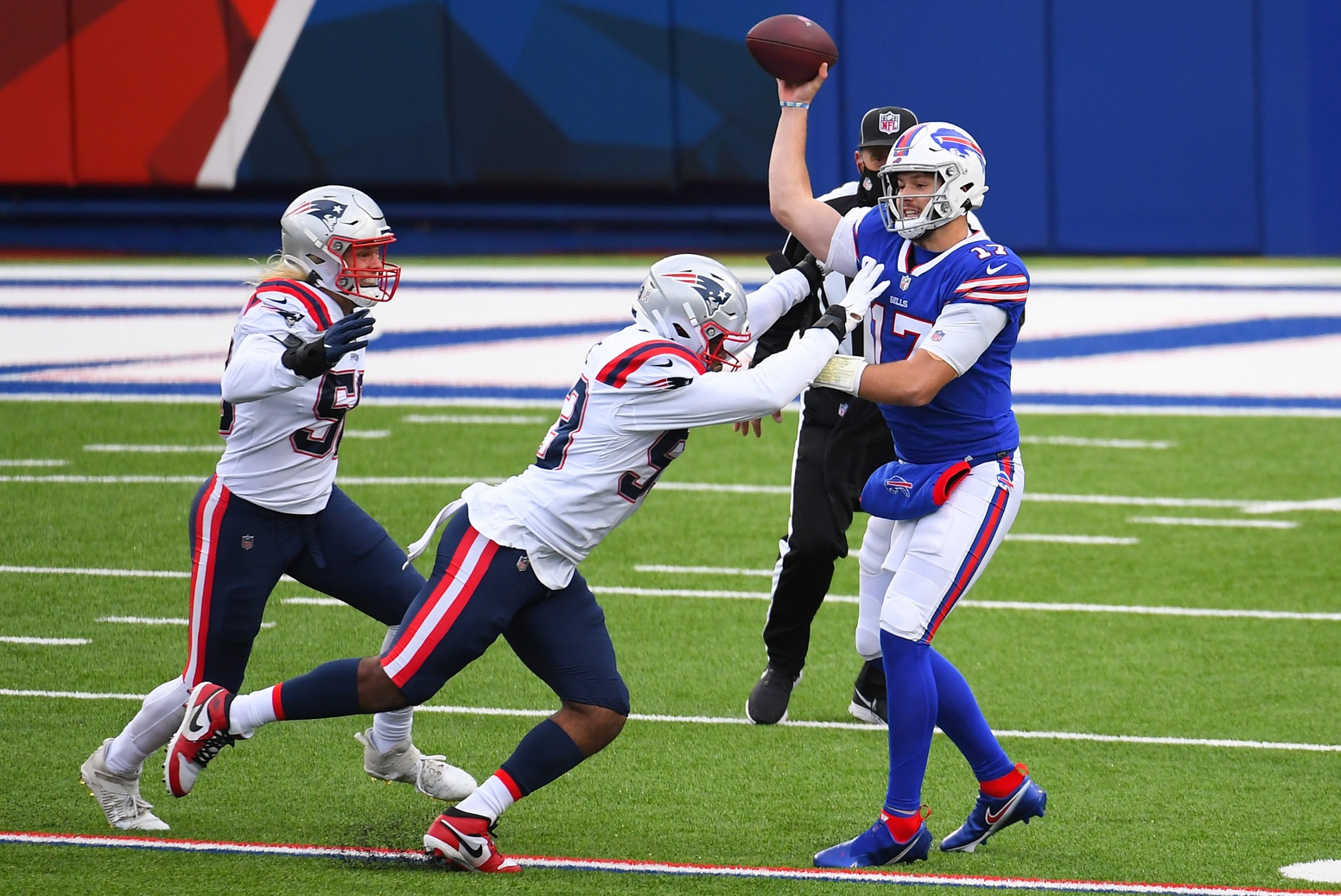 Uche has quickness and good hands to detach from offensive linemen on pass plays and good hip movement to get around the corner. From Week 8 — when Uche was awarded his first defensive snaps of the season — until the end of the year, his 77.6 PFF grade ranked second only to Chase Young among rookie edge players. That ranked 16th overall. A full season as a starter could see him put up big numbers.
---
Pick in 2020 draft: No. 27
After just one season with the Seahawks, Brooks made linebacker K.J. Wright expendable this offseason. Brooks now slides into the starting lineup in Seattle's sub package. A year ago, the coaching staff couldn't keep Brooks off the field, as he played in their base package while Wright moved to the edge.
This season, he'll get those base snaps as well as the sub snaps next to Bobby Wagner. He shows really nice coverage instincts to eliminate throwing windows. His rookie PFF grade doesn't do him justice — he finished with a 50.0 mark — but there are excellent plays on tape that provide a glimpse of what he can be. Brooks just needs to be more consistent, and the sky's the limit if he can make it happen.
---
Pick in 2020 draft: No. 216
It was a rough first few games for Curl as he tried to get acquainted with the speed of the NFL, but a poor stretch against the Ravens, Rams and Giants in Weeks 4-6 soon gave way to a lights-out performance the rest of the way.
He was the highest-graded rookie safety from Week 7 until the end of the year, posting a 71.4 PFF grade during that time. He fits perfectly in Washington's zone-based scheme, in which he can come down and patrol underneath areas. To go along with his name, he's a great "curl" defender — the curl area is one of the designations for an underneath zone — with his Cover 3 grade of 77.4 dwarfing his grades in any other coverage. He's better when playing closer to the line of scrimmage, and if his play in the second half of the season is any indication, he will have a great second year.
---
Pick in 2020 draft: No. 10
Wills is a technical pass blocker who has major issues in run blocking. His 52.8 grade last season in the run game didn't affect the Browns as a whole, as they still finished around league average in rushing efficiency. The offensive line, however, was somewhat propped up by running back Nick Chubb, with the team ranking 26th in rushing yards before contact per attempt.
Relying on the running back to grind out every yard isn't a good strategy, so a second-year Wills will need to provide a boost in that facet. That's the only negative around his game because he showed early in the season he can be a dominant pass protector. Over the past eight seasons, only five rookie tackles with at least 150 pass-block snaps have produced a higher pass-block grade than his 79.4 mark. His run blocking should catch up soon.
---
Pick in 2020 draft: No. 135
Since 2015, no rookie guard has notched a higher pass-block grade than Dotson's 87.2 mark from 2020. There is something of a sample issue, though, with Dotson starting and finishing only five games while seeing spot duty in another nine games. The other issue is that Steelers quarterback Ben Roethlisberger's penchant for getting rid of the ball quickly could be inflating the young guard's grade.
With that said, Dotson's rookie stats are out of this world. He led the NFL in pass-block grade among guards, allowing zero sacks, zero hits on the quarterback and a microscopic 0.5% pressure rate. And assuming the Steelers still covet his skill set, he could have a breakout season in a full year as a starter.
---
Pick in 2020 draft: No. 12
In 2020, quarterback Derek Carr threw more 20-plus-yard passes than he had in a season since 2017. If Carr is going to continue to push the pace and look for explosive plays, it bodes well for Ruggs.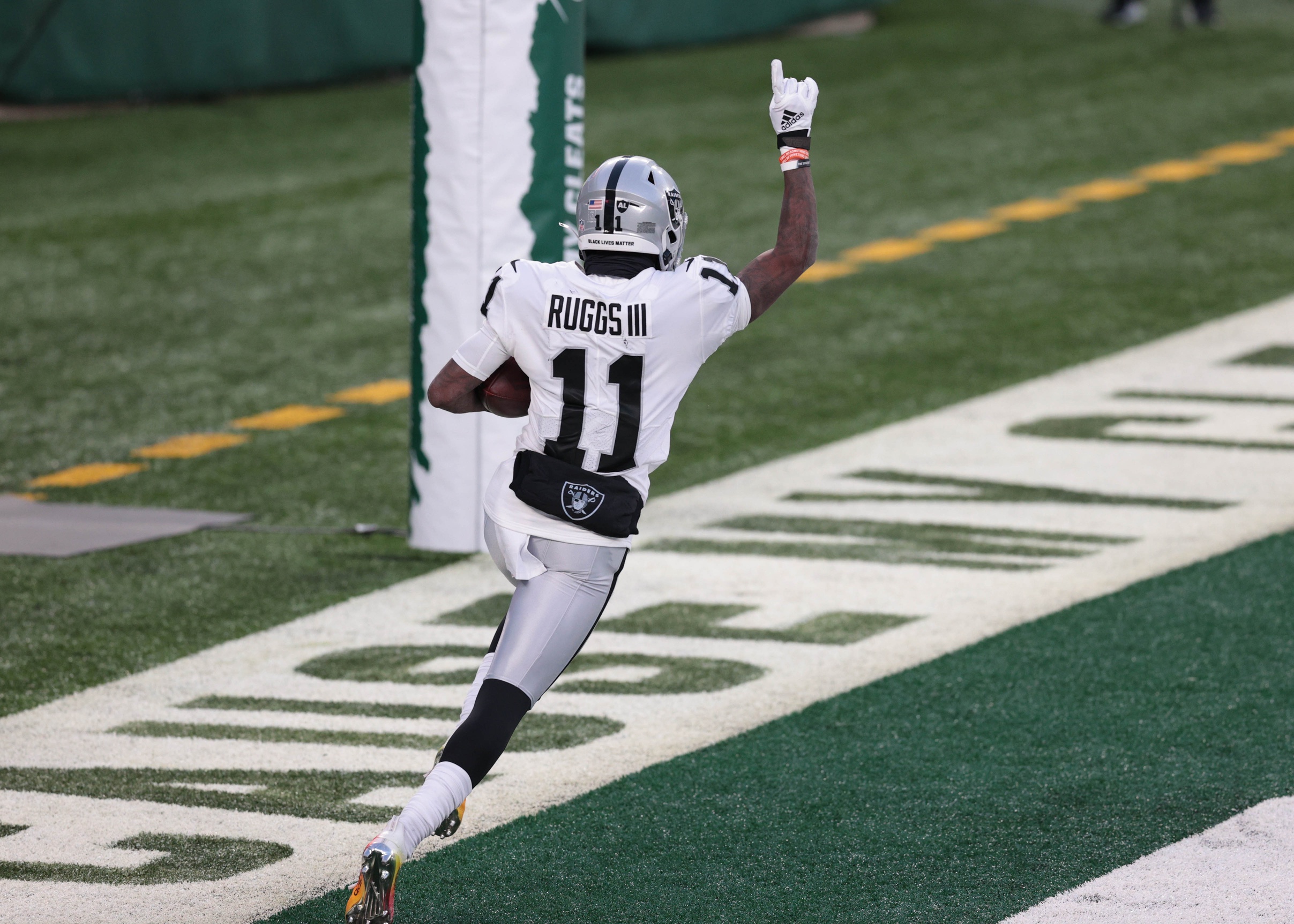 The speedster saw the 39th-most targets at that depth in 2020 — 14 fewer than former teammate Nelson Agholor. With Agholor now in New England, Ruggs can start racking up those targets and generating the subsequent production attached to such catches.
With that said, Ruggs had problems corralling deep balls. He slotted into 69th in rate of receptions on catchable targets beyond 20 yards last season. He will get the opportunities, but will he make the most of them? That remains to be seen.
---
Pick in 2020 draft: No. 105
With the losses of Josh Hill and Jared Cook to the tight end room in New Orleans, Trautman becomes a must-watch player. Over the course of the regular season and playoffs, he was the league's 12th-highest-graded tight end, which easily put him at No. 1 among rookies. His 76.9 PFF grade dwarfed Dominique Dafney's 63.3 mark among rookie tight ends with at least 100 snaps.
While that's good, it gets even better. Once Trautman started to get his feet wet and see more snaps in the Saints' offense, he excelled. From Week 9 until the end of the playoffs, he was tied for the sixth-highest grade among tight ends with at least 100 snaps over that span. There were only 33 individual games last season where a tight end graded above 90.0, and Trautman had two of them.
As he becomes a focal point of the offense, he will break out in a big way.
---
Pick in 2020 draft: No. 4
It was a tale of two seasons for Thomas, whose head was spinning after the first few weeks of his rookie campaign. Only one tackle recorded a worse pass-blocking grade through Week 7 than Thomas, who sat at an abysmal 45.3 mark. He allowed pressure at 14% clip in those seven games — 3.5 percentage points worse than anyone else at the position.
Criticism abounded, but Thomas stuck with it and put together a solid second half of the season. His 63.5 pass-block grade from Week 8 on was a huge upgrade and showed that he could succeed at the NFL level. He cut his pressure rate by more than half, dropping all the way to 6.1%. There's reason to believe he can continue down that path and make another solid jump in 2021.
---
Pick in 2020 draft: No. 71
Madubuike claimed the title of best rookie defensive tackle in 2020, and his 72.1 PFF grade ranks 15th among first-year interior defenders over the past five seasons. He has some quickness to his game, which allows him to get off, come inside counter moves in pass-rush situations and chase down ball carriers from the backside on runs away from him.
Getting enough reps next year is going to be important. He may not be an every-down starter this season, but he'll come off the bench and provide a spark. And that might just lead to a full-time role in the near future.
---
Pick in 2020 draft: No. 54
Epenesa, a standout college edge rusher, didn't look the part of a successful NFL pass-rusher, which is in part why he fell to the middle of Round 2 despite a career 91.3 pass-rush grade at Iowa. He doesn't have natural bend, but he always has been productive. As the 2020 season wore on, he started to put together strong games. In Week 17 against Miami, he earned him a 72.5 PFF grade.
Epenesa wasn't expected to come into the league and win right away, but with an offseason of development under his belt, he'll be able to find more ways to succeed at the line of scrimmage for 2021.
---
Pick in 2020 draft: No. 3
It's impossible for Okudah to struggle more than he did in 2020, and that's why he's a breakout candidate for 2021. Among the 23 rookie cornerbacks with at least 100 coverage snaps, his 30.9 grade ranked last. It's the third-worst grade for a rookie cornerback in the past five seasons.
Luckily for Okudah, he'll get to play in a different system as a sophomore. If new Lions defensive coordinator Aaron Glenn runs a similar defense to the one he was a part of as a defensive backs coach in New Orleans, we'll see Okudah featured in varied coverages with varied alignments rather than the more static Cover 1 defense he suffered through in the Matt Patricia era. He can only get better.
---
Pick in 2020 draft: No. 69
Lewis had a rough first season as a pass protector trying to keep Russell Wilson clean, posting a lowly 47.0 pass block grade. There were 73 guards with at least 250 pass-blocking snaps, and Lewis ranked 66th. Nothing about his pass blocking inspires confidence going forward, but his run blocking was excellent. The former LSU product finished sixth in run-block grade among all guards and shows an impressive ability to run defenders off their spots.
His positively graded run-block rate was the eighth-highest in the league. He has too many whiffs in both the run game and pass pro, but a player with his size and power who is already among the upper echelon of run blockers in his first year should make the leap in other categories as well. If he can figure out the speed and strength combo of NFL interior pass-rushers while maintaining his high level of play in the run game, the Seahawks could have a gem on their hands.