The five first-round rookie quarterbacks selected in 2021 to transform their respective NFL franchises have all officially thrown a pass — albeit in preseason action.
PFF watches and grades every snap of every player in the preseason as well as the NFL regular season, thus allowing us to dive deeper into each quarterback's performance than simply the highlight-reel throws.
Obviously, it's preseason, and so none of these debut performances will determine how good or bad each quarterback becomes at the NFL level.  The grades are complicated by varying degrees of playing time, full supporting cast and the level of competition they went up against, but this was the first look at what we expect to be the new wave of NFL signal-caller play.
Subscribe to
PFF Overall Grade: 80.3
Snaps: 22
Wilson played only 22 snaps against the New York Giants, but his performance looked effortless for the Jets — a far cry from Sam Darnold's laboring play over the past few seasons. Wilson threw the ball with plenty of zip and also was rarely out of rhythm, earning the quickest average time to throw (2.4 seconds) of any of the five first-round rookie quarterbacks.
Wilson didn't make any big-time throws, but nor did he have any glaring mistakes. A couple of his passes were impressive, though, even if they didn't quite make the threshold for a big-time throw.
As an aside, it might be time to invest in Corey Davis stock, as the free agent addition saw a target from Wilson on all four of his snaps in the game.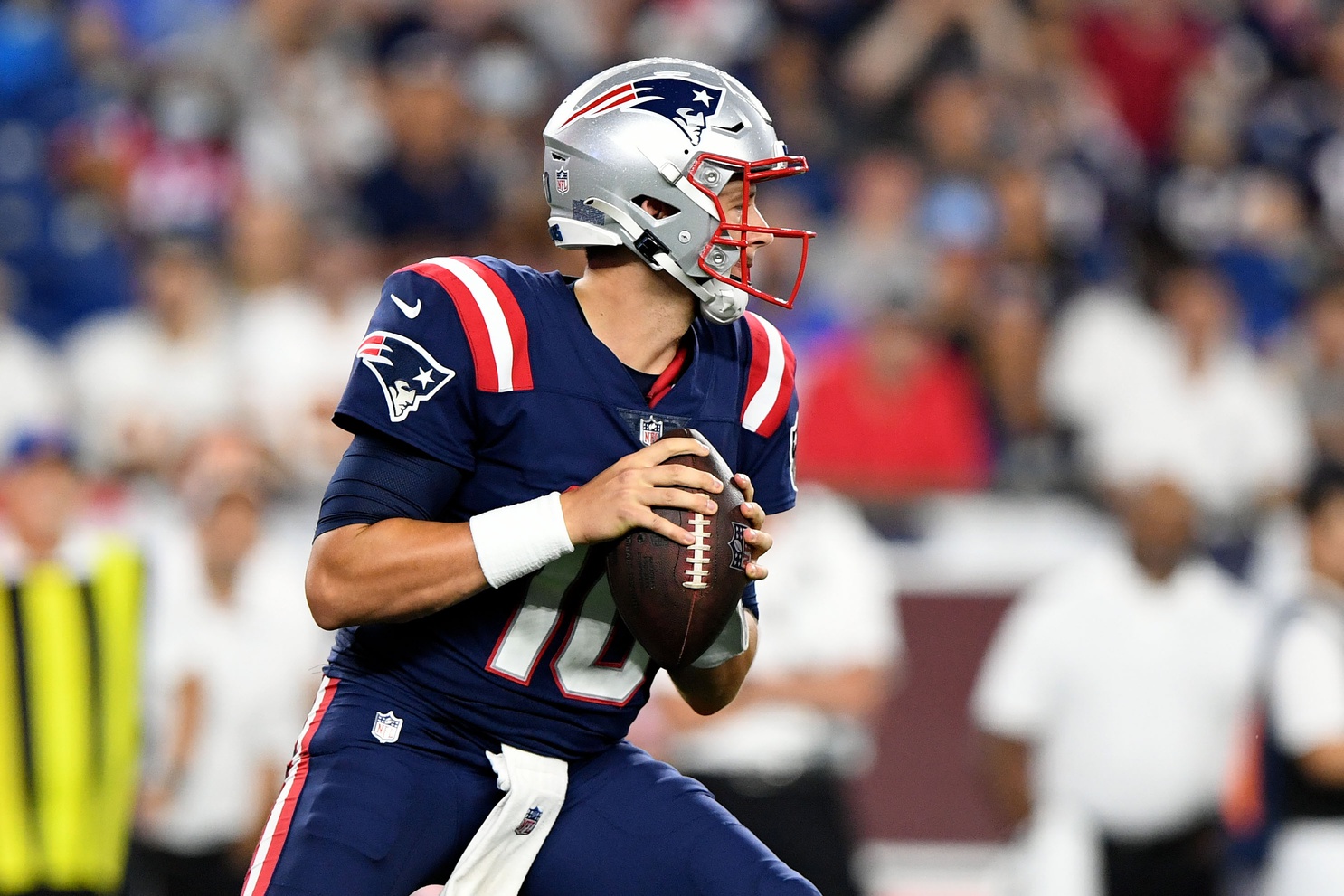 PFF Overall Grade: 79.5
Snaps: 33 snaps
New England provided Jones what felt like an audition in this game. When he entered the contest, the Patriots kept the first-team offensive line out there to make sure they would have a chance to fairly evaluate him, and he looked efficient and collected while running the offense.
At the start of the second half, the Patriots had Jones run a drive entirely in the hurry-up offense, which seemed to at times give him difficult situations to navigate. The best throw he had in the game was an incompletion — dropped into the arms of his receiver in the end zone for what could have been a big touchdown, only to see him fail to come up with the catch.
Jones didn't have a turnover-worthy play in the game, and his 2.56-second average time to throw — the fastest of all three Patriots quarterbacks who took snaps — suggests he may well be ready to start sooner rather than later.
PFF Overall Grade: 64.0
Snaps: 33 snaps
Fields' debut may have generated more hype than any other. While he was certainly very productive, accounting for over 170 total yards on just 33 snaps, the performance may not have been quite as good as it looked at first glance.
Fields' athleticism and physical gifts clearly translate to the NFL just fine — he will be a nightmare to contain at this level just as he was in the Big Ten. But the concerns about his game in college seem to remain. He had by far the longest average time to throw (3.8 seconds) of any of the first-round rookies, and even when the plays he extended by moving around are filtered out, he averaged half a second more per dropback than any of the rest.
Sometimes, he will turn those plays into positives, but they sometimes invite pressure and cause him to struggle. Fields also fumbled the ball trying to spin out of a tackle and threw a very interceptable floated pass. Those two plays amounted to two turnover-worthy plays that are easy to gloss over. He looked accurate, athletic and capable of making big plays, but there were plenty of negatives to this debut, as well.
PFF Overall Grade: 58.7
Snaps: 15
Seeing the fewest snaps of the first-round signal-callers, Lawrence still managed to squeeze in a nice big-time throw, finding Marvin Jones Jr. for a 35-yard gain after having all day in the pocket on the play. Lawrence also made a nice throw to pick up a first down on an out-route by the sideline on third-and-long, but he also took an unnecessary sack, missed a receiver high on one pass and critically fumbled the football when trying to get away from pressure (albeit a fumble he recovered).
Lawrence looked to have a good command of the offense, although he did have a tendency to hold onto the ball longer than is advisable in the NFL, even if one of those plays resulted in his biggest throw of the game.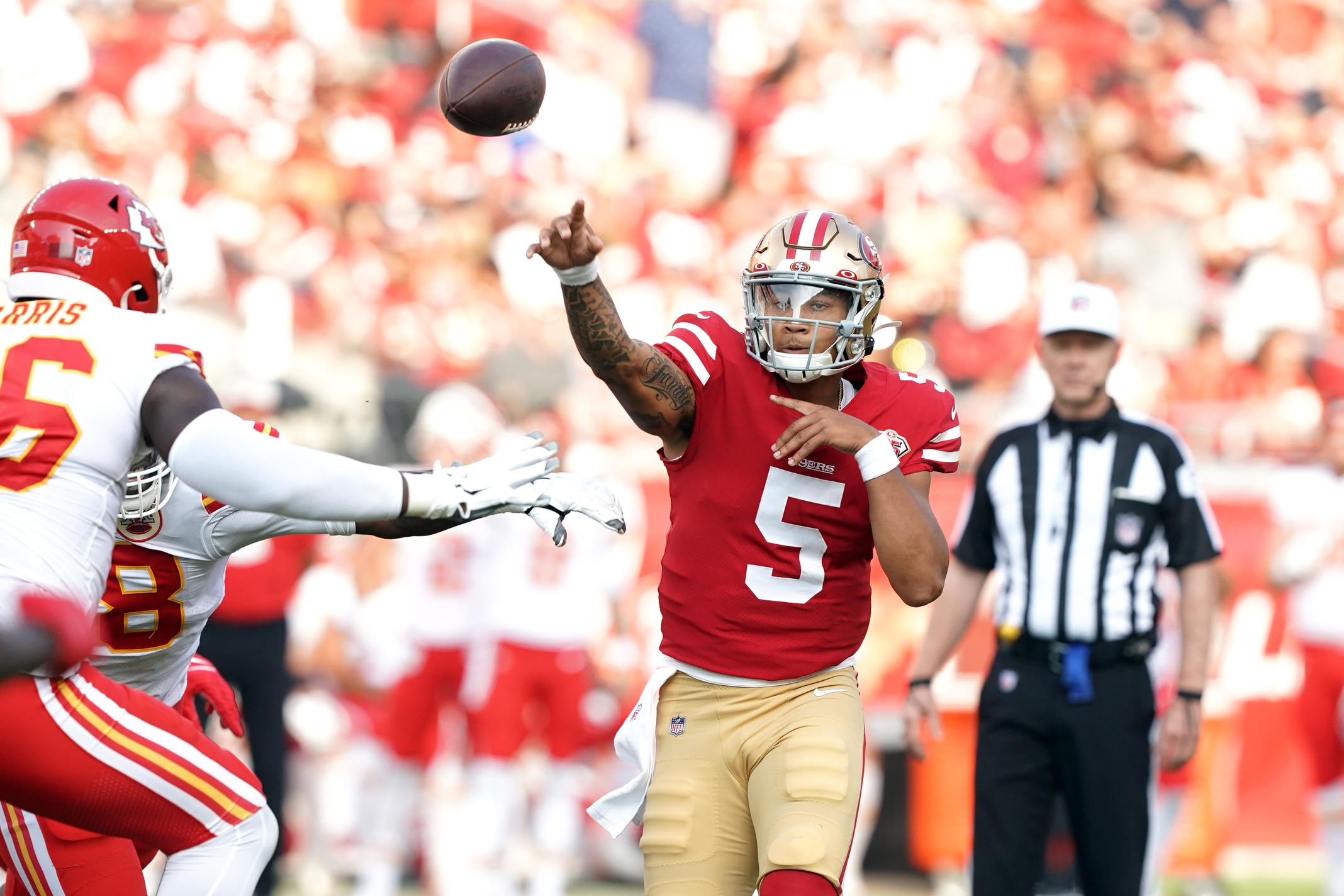 PFF Overall Grade: 48.8
Snaps: 29
One of the most difficult debuts to parse into a single grade, Lance's performance spanned the entire spectrum of quarterback play. His first play showcased his ability to effortlessly move around the pocket and find a receiver open for a first down, only to see Brandon Aiyuk drop the ball.
And it only got more complicated from there.
Lance's signature play was a play-action bomb to Trent Sherfield for a deep touchdown that was perfectly on the money. On the negative side of the ledger, he took a couple of unnecessary sacks and made three turnover-worthy plays — the latter being a backbreaker for a PFF grade on a small sample size. None of them actually resulted in turnovers, but had either of the defensive backs caught the passes they stepped in front of instead of merely causing an incompletion, the vibe around Lance may well have been different.
Overall, there was a lot of encouragement from his debut, but the negatives were hidden from the box score.