Sitting in a hotel room in Los Angeles, California, with his now-wife, Rachel, Maxx Crosby felt his body was broken. He was prepping for surgery to repair a torn labrum he suffered during the 2020 NFL season. He also played through the year with a broken hand that required a metal plate to be put in.
And he did so while starting all 16 games.
This was all before Crosby, the star Las Vegas Raiders edge rusher, would lead the league in pressures, pressure percentage, quarterback hits and quarterback hurries in the upcoming 2021 season — a year we may look back on as the start of a span of dominance in the NFL. But he didn't know it yet. How could he? He was scheduled to undergo two surgeries, was coming off a disappointing season compared to his rookie stats and was a year into his journey — an honorable but challenging one — to live a life without alcohol after checking into rehab a year prior.
It was in that hotel room, with many thoughts swirling in his mind, that he did what many of us do when we need to unplug for a bit: Netflix. Crosby, a big basketball fan, turned on "The Last Dance," a documentary about Michael Jordan and the Chicago Bulls dynasty. He binged all 10 episodes in two days.
"I was so inspired and so fired up from seeing it," Crosby said in an exclusive with PFF. "I said to Rachel, 'I'm about to go back to Vegas and I'm about to change everything.'"
***
NFL fans today get inside access to their teams, hearing, watching and reading endless information from general managers, head coaches and even owners. Employed members of an organization will always talk highly of their teams, and that can, at times, lead to descriptions of situations through rose-colored glasses. But where some front offices may bend the truth for the sake of optimism in what they say, there are two areas of action where the truth is apparent: how they spend their money via player contracts, and how they use their draft picks.
Edge rusher is a premium position in football. You can confirm that in both categories of truth telling when it comes to roster building. The top nine contracts in the league right now with the most guaranteed money at signing are quarterbacks, but the first non-quarterback to show up in that category is an edge rusher (T.J. Watt). The draft tells the same story. Of the past 10 drafts, quarterbacks have been selected No. 1 overall the most — seven times, to be exact. The other three? All edge rushers: Jadeveon Clowney, Myles Garrett and Travon Walker.
So, how does a player who leads the NFL in total pressures over the past two seasons — in just the third and fourth years of his career — get selected in the fourth round?
| | | |
| --- | --- | --- |
| YEAR | PRESSURES | PASS-RUSH WIN % |
| 2019 | 45 | 9.4% |
| 2020 | 48 | 8.4% |
| 2021 | 101 | 24.2% |
| 2022 | 81 | 15.6% |
"He was an unknown," Chris Creighton, Crosby's head coach at Eastern Michigan, said in an exclusive interview with PFF. "I'm meeting this really long, 6-foot-5, bright blonde hair. My first impression was just being really hopeful. It wasn't like, 'Hey, this guy's gonna dominate the NFL.'"
Creighton evaluated Crosby long before the NFL did. The future Raiders pass rusher's size and natural athleticism stood out immediately.
"His senior year [of high school], I went down there to watch him play basketball," Creighton said. "That's part of his story, too. He was playing at 250-255, but it wasn't a good 255. But the way that he moved and the way that he played the game — even mentally — you just knew he was an athlete."
In his 32-year coaching career, Creighton has made a living out of turning former power forwards and centers into good football players. That has come on offense with receivers and tight ends or on defense with linemen. Ironically enough, Crosby actually thought his best position would be at tight end in college.
"I initially wanted to be a tight end," Crosby said. "That's what I thought my best position was. I was like, 'OK, I play basketball, I'm athletic, I'm coordinated. I want to play tight end.'"
When Crosby began traveling to college recruiting camps, he signed up as a tight end but also got some reps at defensive end by request. Eastern Michigan was one of those schools to work him out at defensive end. They ended up being Crosby's first full scholarship offer.
First and only, at any position.
So he committed to Creighton and Eastern Michigan. Although Creighton was hopeful and excited about his new commit, Crosby's time with the Eagles got off to an amusing — or not-so-amusing, depending on who you ask — start. That 250-pound basketball player Creighton had evaluated showed up to campus looking far different.
"So [Crosby's] older brother played some football at SMU and was a Calvin Klein model," Creighton said. "I guess he was pretty successful with that. And Maxx shows up [his true freshman year] in June and I was like, 'Are you trying to be a Calvin Klein model? You know, are you trying to play Division I football?'"
"I was slow [in high school]," Crosby said with a laugh. "I just didn't feel right. So, for me, in my head, I'm like, 'If I'm going to do something, I'm going to go all the way in.' I cleaned up my diet before I went to Eastern, and I was hooping all the time trying to cut weight. I kind of took it a little too far. I got skinny as hell and I dropped down to like 215 when I got to Eastern. I kind of took that a little bit too far."
The Eastern Michigan coaching staff wasn't happy at first, but looking back on it, that weight cut might have been what put Crosby on an NFL path as a pass rusher.
"[Coach] will never admit this, but that might have been the best thing I ever did because before that I didn't even realize how athletic I was," Crosby said. "When I went to Eastern, I was skinny, but I knew most likely I was gonna redshirt that first year. So I dropped that bad weight and I was able to just put on good weight from then on. I thought it was genius."
Crosby said shaping up his body through basketball allowed him to not only be lighter but more explosive. That showed up immediately.
"I can't remember how quickly he put the weight on, but his freshman year he was scout team defensive end and you couldn't block him," Creighton said.
At that time, the Eagles' offensive line was nothing to scoff at, either. In both 2015 and 2016, one of Eastern Michigan's starting offensive tackles was Andrew Wylie, now a Super Bowl champion in the NFL.
"I'm not saying that Andrew couldn't block Maxx," Creighton said, "but I am telling you that it was a war with Maxx as a true freshman on the scout team."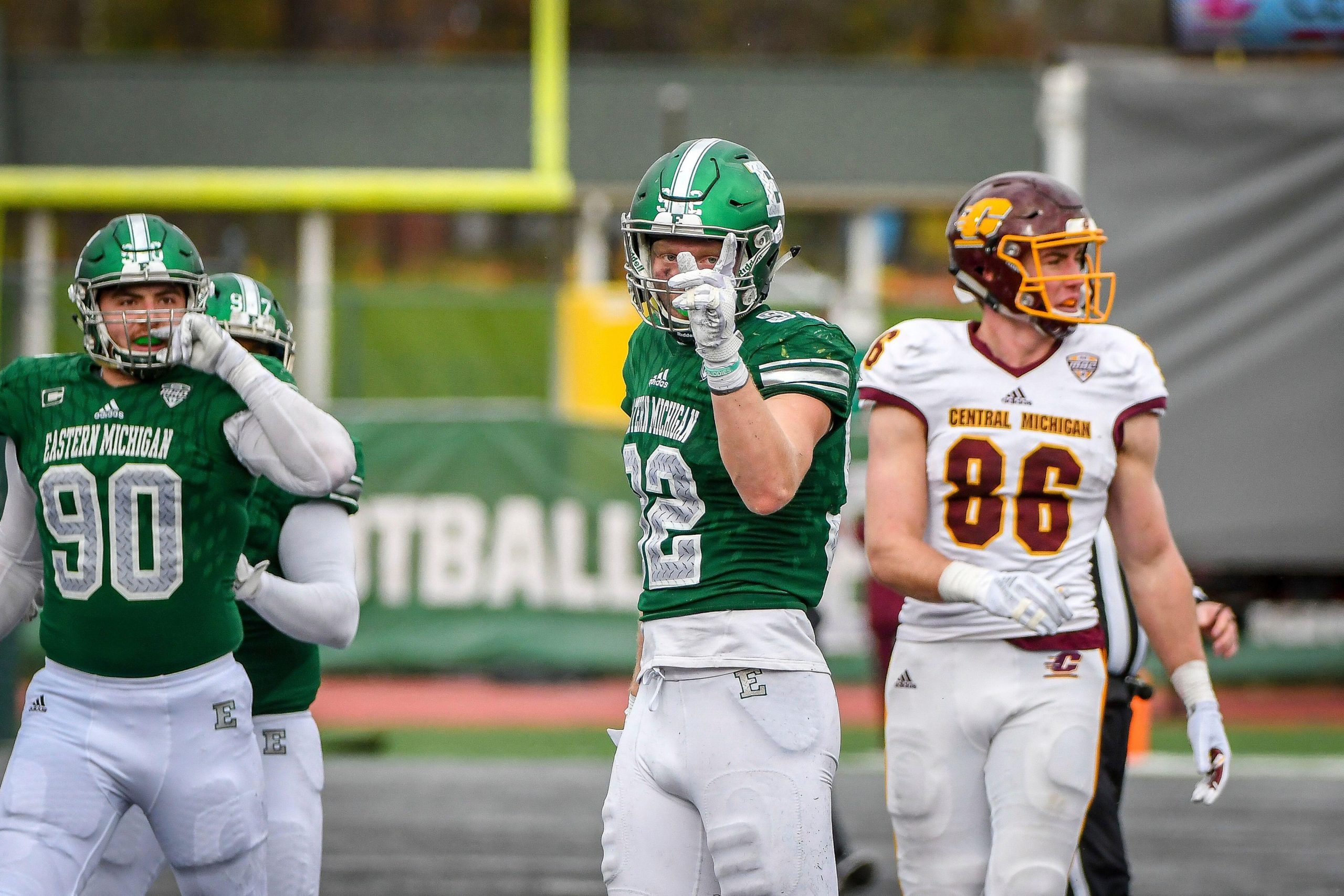 Crosby eventually got to the right weight for him and soon became a starter. He was named first-team All-MAC in both the 2017 and 2018 seasons before entering the 2019 NFL Draft. In the end, the Raiders selected him in the fourth round, at Pick 106. It was a fitting landing spot, as the only coach to believe in him enough to offer him a full scholarship also grew up a die-hard Raiders fan.
"I can't tell you I was sitting there going, 'Oh my gosh, this guy's gonna be the best defensive end that the NFL's ever had,'" Creighton said. "His body is special, sure, but that's not it. It's the two inches underneath the left side of his chest — his heart. And his mindset. He really believes that he can be the best to ever do it, and he is willing to commit, to pay the price and to discipline himself."
***
Crosby called 2020 the most important year of his life. His story of sobriety has been widely told, and for great reasons. But beyond that choice and that fight, he looks back on how hard that year was for him on the field and is thankful for the tribulations it brought. It was a step back statistically, in many ways, from his rookie year. His sacks dropped from 10 to seven. His pass-rush win percentage fell a full point, from 9.4% to 8.4%.
He didn't enter that 2020 season in the best shape due to his time in rehab, which took him away from the field and the weight room. When kickoff for Week 1 came, he didn't feel like the best version of what he could be. He already made the courageous step to remedy that in his personal life. But in that 2021 offseason, as he sat and awaited surgery in Los Angeles, he made the decision to take that next step — an extreme step — to be the best version of himself on the field moving forward.
"I got my surgery, and I went back to Vegas," Crosby said. "I sat with our nutritionist, our strength coaches, our position coaches, everything. I said to them, 'Listen, I want to do this perfectly. Like at the end of the day, I don't wanna be just a guy from Eastern who had some success and ended up being a decent player in the league. I want to be the best, and I'm gonna do whatever it takes.'"
Maxx Crosby | 2021 NFL Regular Season
| | | |
| --- | --- | --- |
| STAT | NUMBER | NFL RANK* |
| Pass-Rush Grade | 91.8 | 2nd |
| Sacks | 10 | T-17th |
| QB Hits | 19 | 1st |
| QB Hurries | 72 | 1st |
| Total Pressures | 101 | 1st |
| Pass-Rush Win % | 24.2% | 1st |
*Ranks among qualifying edge defenders
Crosby got to work. He honed his diet and his preparation.
These days, Crosby's weekly prep during the season starts the night after a game. He'll watch the game he just played at least five times before he goes to bed, viewing the regular All-22 copy twice, then the TV broadcast at least once before running it back on the All-22 once or twice. In the early parts of the week, he'll get into his next matchup, finding tendencies, strengths and weaknesses he might be able to attack. But Crosby watches his own film more than anything. He believes that as long as he perfects his best, that will be enough to beat his opponent's best.
That's the Michael Jordan mentality that inspired him in that hotel room.
"MJ never had any doubt in his mind that he could be the best. Most people don't talk like that. They say, "Well, is it really realistic that I could be the best or I could be another really good player?' I don't understand why I would take all this time and do all, put every single thing into it, and not think I can go do this — be the best version of myself. I can go be the best in the world."
Crosby doesn't say any of this from a place of arrogance. While talking about wanting to see his name at the top of every edge rusher list, he mentions the other elites at his position as a nod of respect. Myles Garrett, Nick Bosa, Micah Parsons, Von Miller. The list went on. It's the mindset that there is no perfect formula to becoming the best pass rusher that intrigues him and fuels him, motivating him to say: Why not me?
"I'm not gonna stop until I get that recognition," Crosby said. "I'm not gonna stop until I'm winning and whatever that takes. I'm willing to run that marathon and like, I don't care if it's year eight or nine until they're like, 'Yeah, Maxx is the best guy in the league.'
"I feel like I'm that guy right now. I'm in that conversation, but I want it to be undisputed. That's what I push for every day. It's everything I do, man, from literally warmups to anything [on the field]. I want to be in the front. I want to lead from the front."
Crosby is in a race — a marathon, as he says — to be the best. But not just on the field. In the weight room, in his diet, in his discipline, in how he spends his time, as a husband and now as a father. But this isn't a race of perfection for him. It's a race to be the best version of himself as often as he can. In the NFL, he believes that will be enough.
No matter how he does it or how long it takes to prove that point, it's safe to say Crosby will attack that goal like it's his last dance.