PFF Analysts Steve Palazzolo and Zac Robinson give you an overview of every team's quarterback, and where they rank in terms of overall PFF grade as well as detailed notes on a select few who stood out for good, or bad, reasons in Week 14. These rankings are based on their overall grades after Week 14, and can be found as a part of the PFF Edge subscription.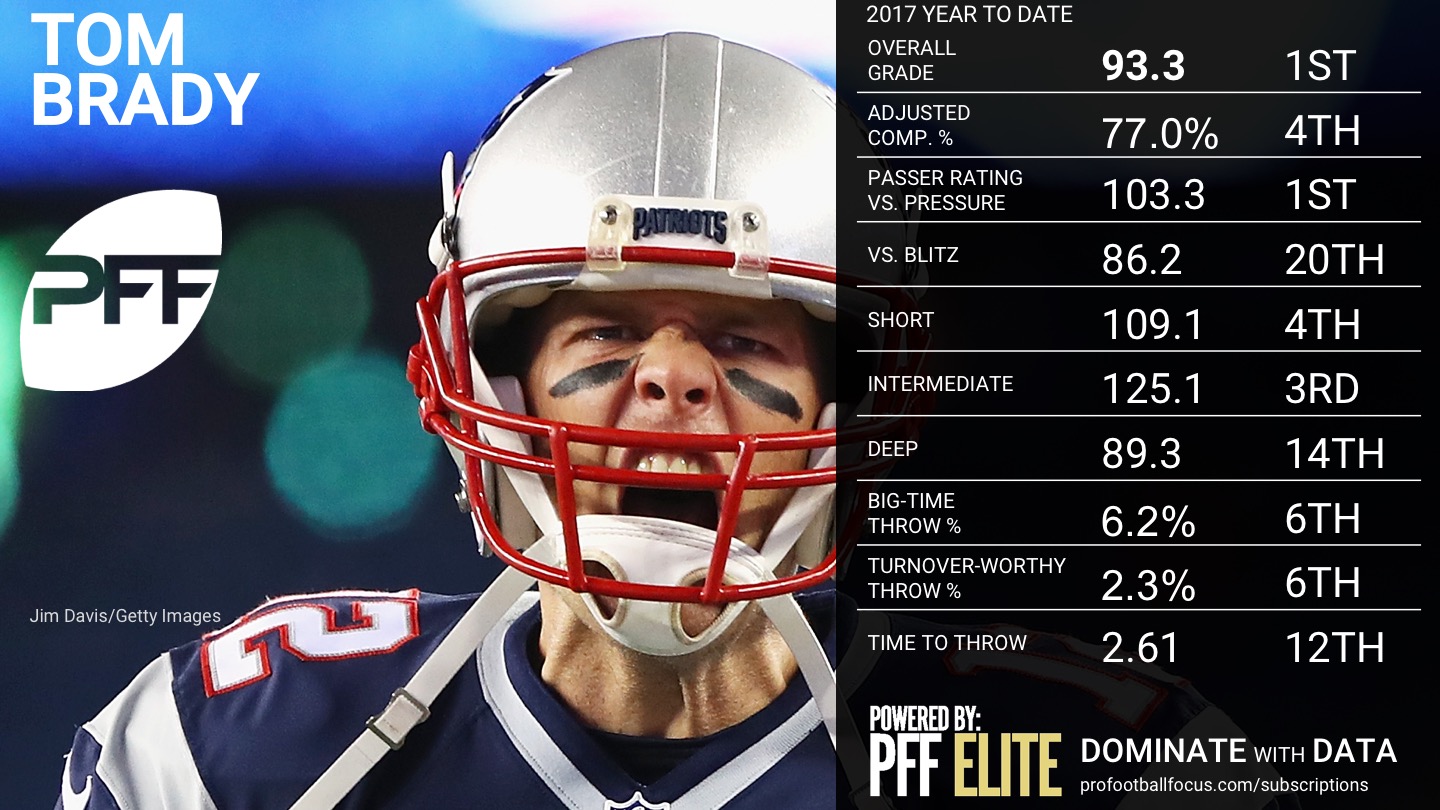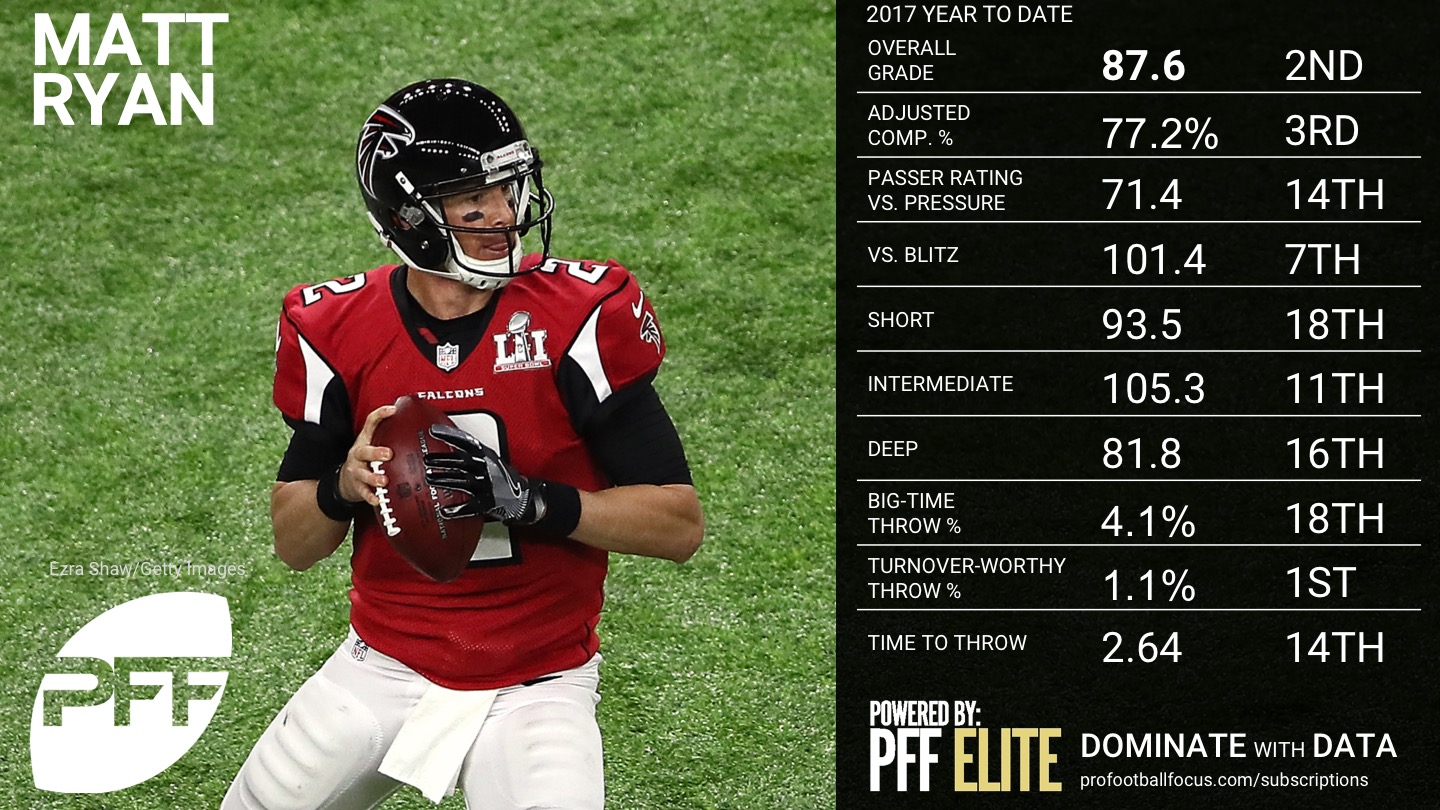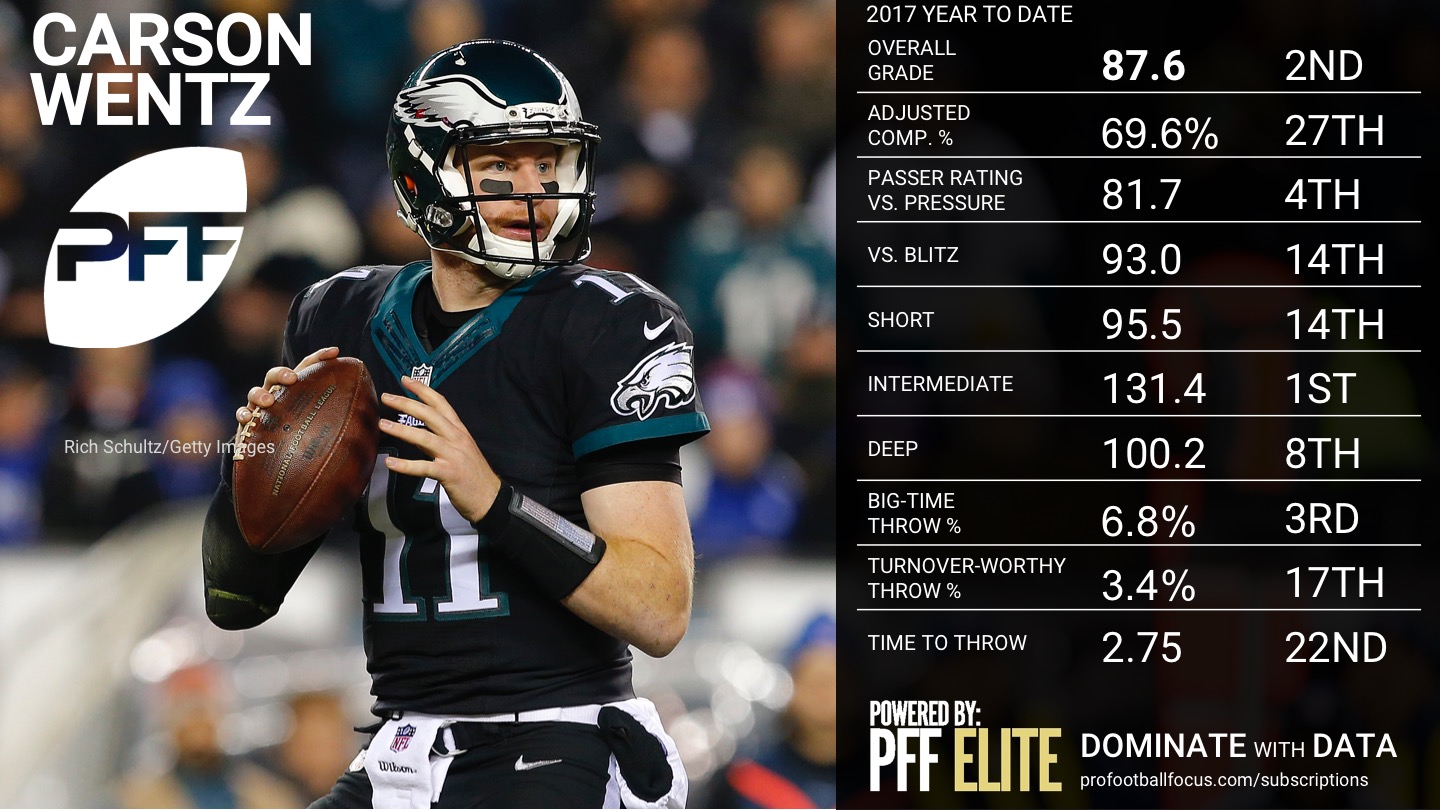 Before going down for the season due to a knee injury, Wentz was on fire, doing his usual outstanding work on third down. He maneuvered the pocket to make plays while throwing with excellent ball placement in the red zone. He threw a tight-window crossing route to TE Trey Burton for a 20-yard score and then came back to him with a well-placed out-route for another touchdown. Wentz finished with four touchdowns on the day and he finished 9-for-19 for 171 yards on passes thrown at least 10 yards in the air.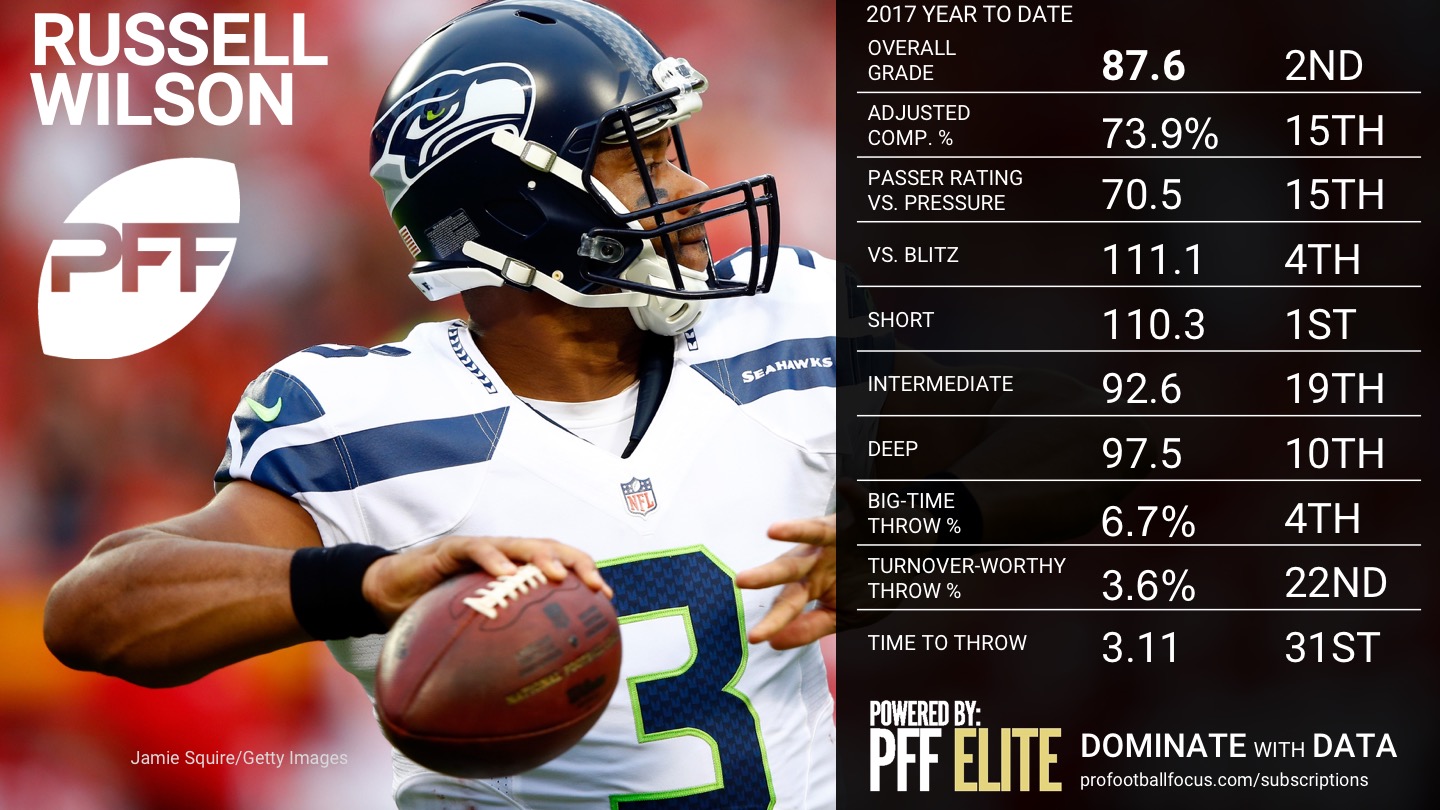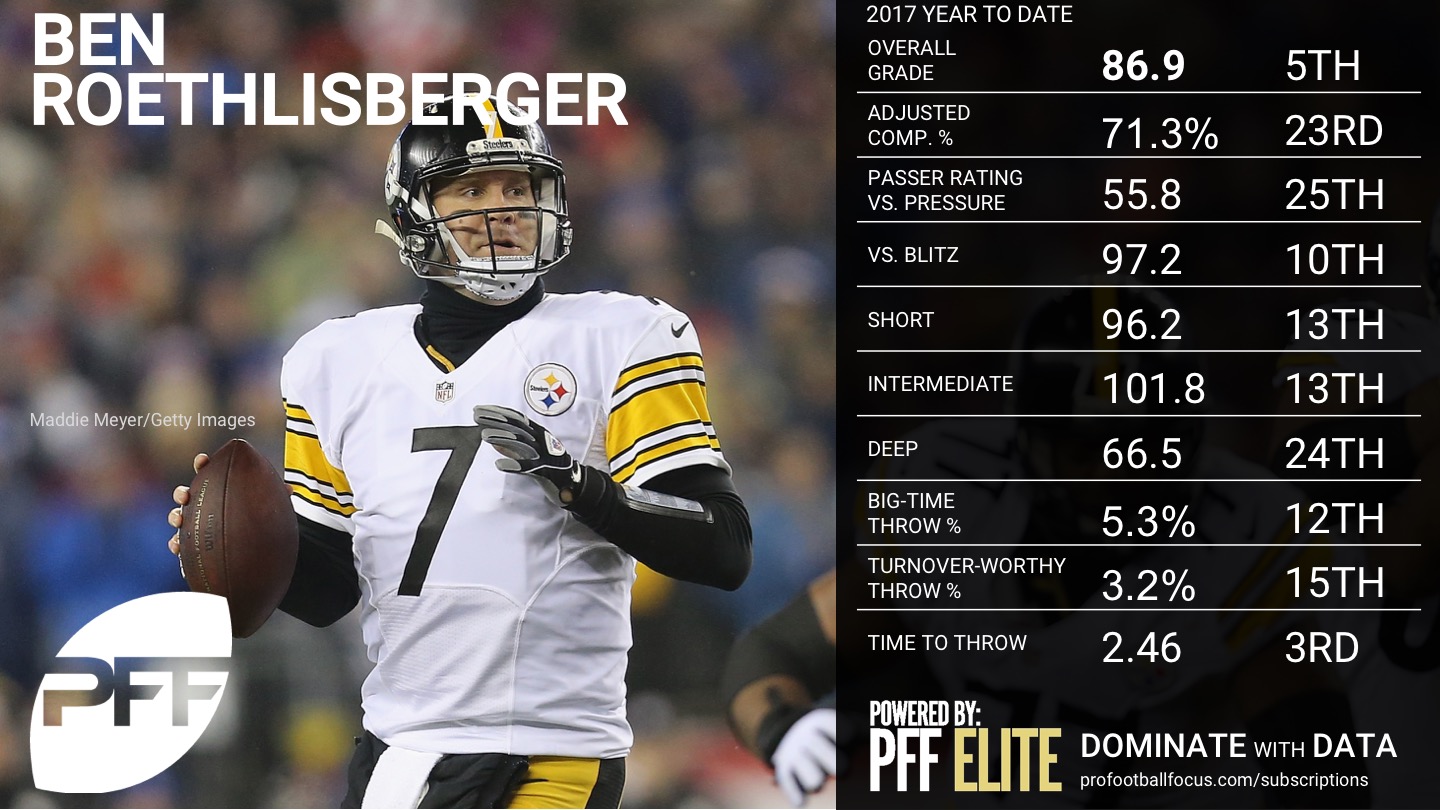 The Steelers spread attack was in full effect, with Roethlisberger dropping back to pass a total of 70 times, completing 44 of his 66 passing attempts. The Ravens had no answer to stop Roethlisberger no matter the looks defensively, as he consistently found completions underneath when they played their two-high safety zone coverages, and took deep shots down the field when they chose to play single-high coverage. Roethlisberger dropped in a number of big time throws down the field to Antonio Brown on straight go routes, going 3-of-5 for 105 yards on throws to the deep right part of the field. He had a lot of success beating zone coverage in between the numbers, where he went 27-for-35 for 297 yards on throws in that part of the field.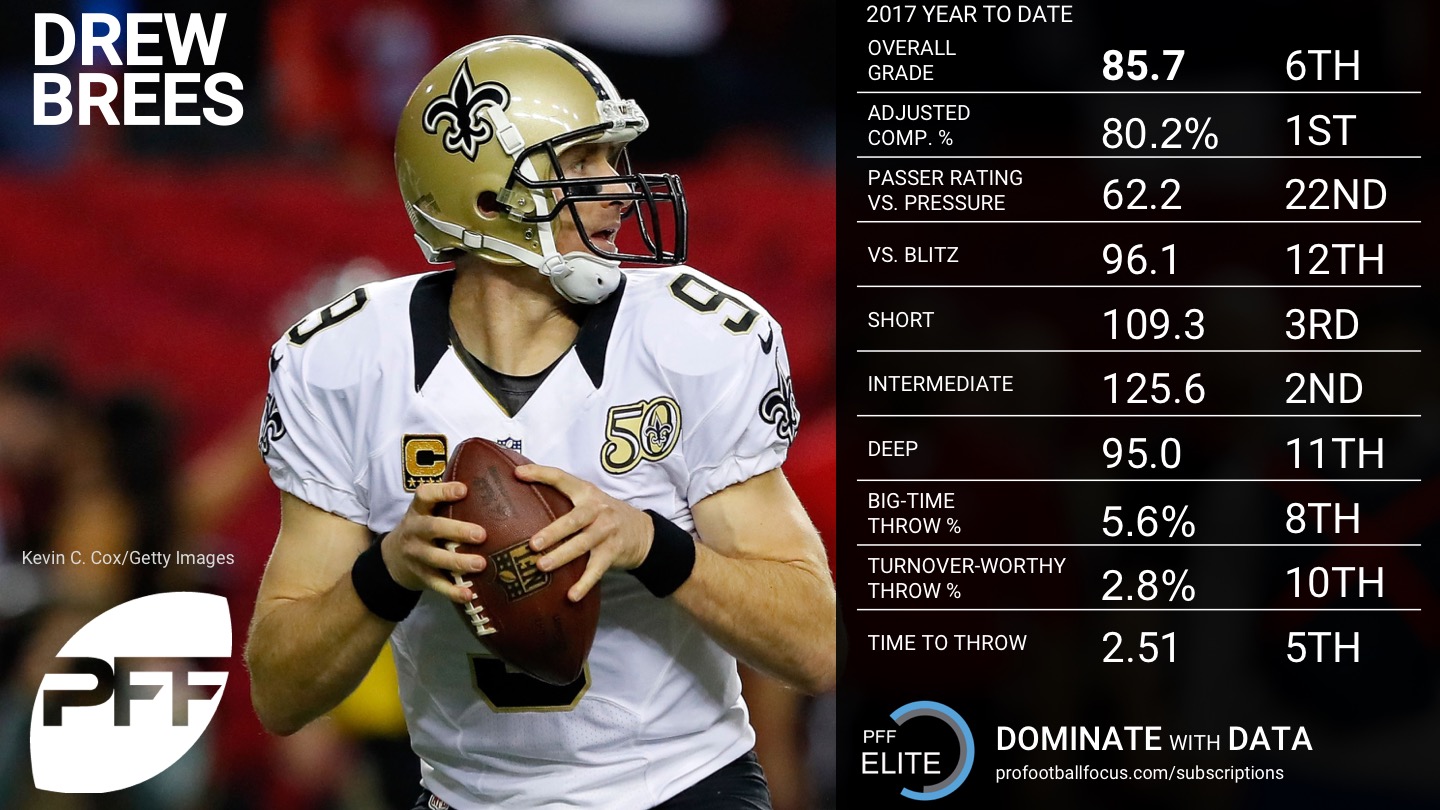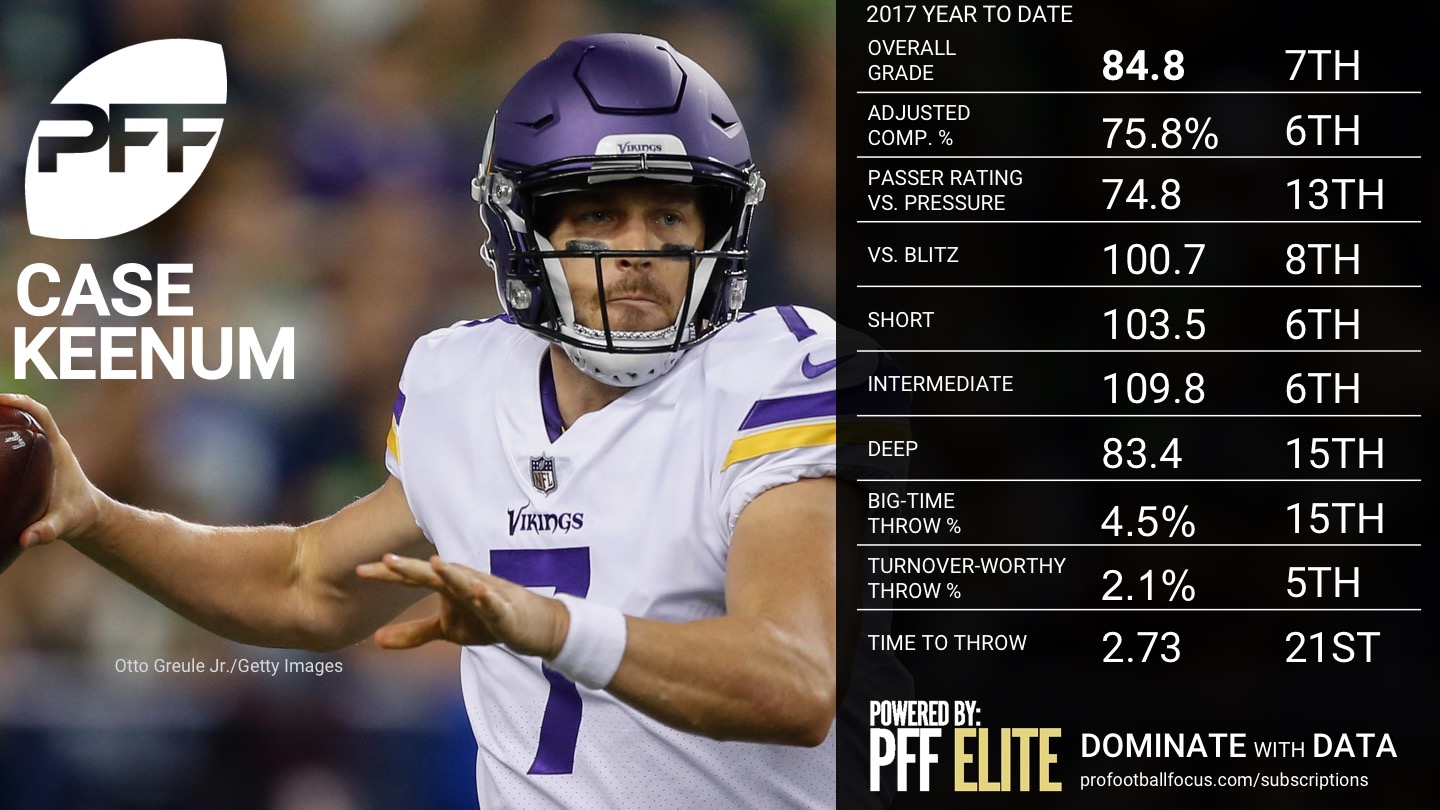 Keenum was under heavy pressure against the Carolina Panthers, and he took an uncharacteristic six sacks, but he also made some fantastic throws throughout the game. Some of his best throws were incompletions, whether dropping one in TE Kyle Rudolph's hands up the seam, or hitting WR Adam Thielen in the chest in the end zone, or firing one up and away from coverage in the end zone that Thielen was unable to haul in. Keenum's first touchdown was a tight-window strike for an 18-yard score up the seam, making up for an early forced interception. Keenum's second pick was not a good throw as he left it too high on the wide receiver screen, but an unlucky bounce is what turned it into an interception. Overall, Keenum made enough good throws that the final stat-line and passer rating of 75.9 did not do him proper justice.
Rivers continued his hot play, going a fantastic 11-for-13 for 268 yards on passes thrown at least 10 yards in the air, including a 4-for-4 mark on 20-plus yard throws. Rivers hit WR Tyrell Williams for a 75-yard score on a post route before hitting WR Keenan Allen on a 51-yard corner route, both plays showing that he has plenty left in his arm to get the ball down the field. Rivers has the highest PFF grade over the last four weeks, and he's heating up at the right time for a Chargers playoff push.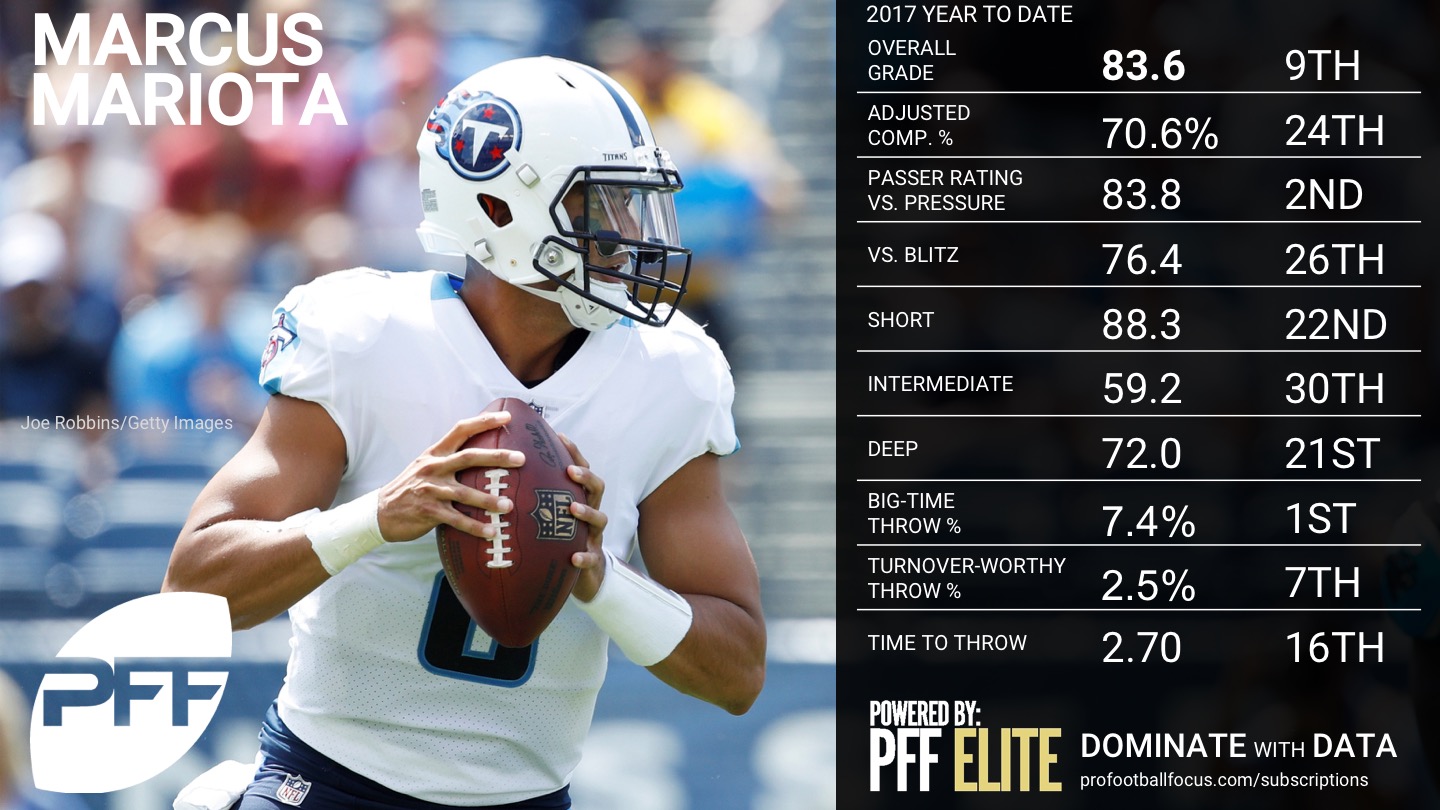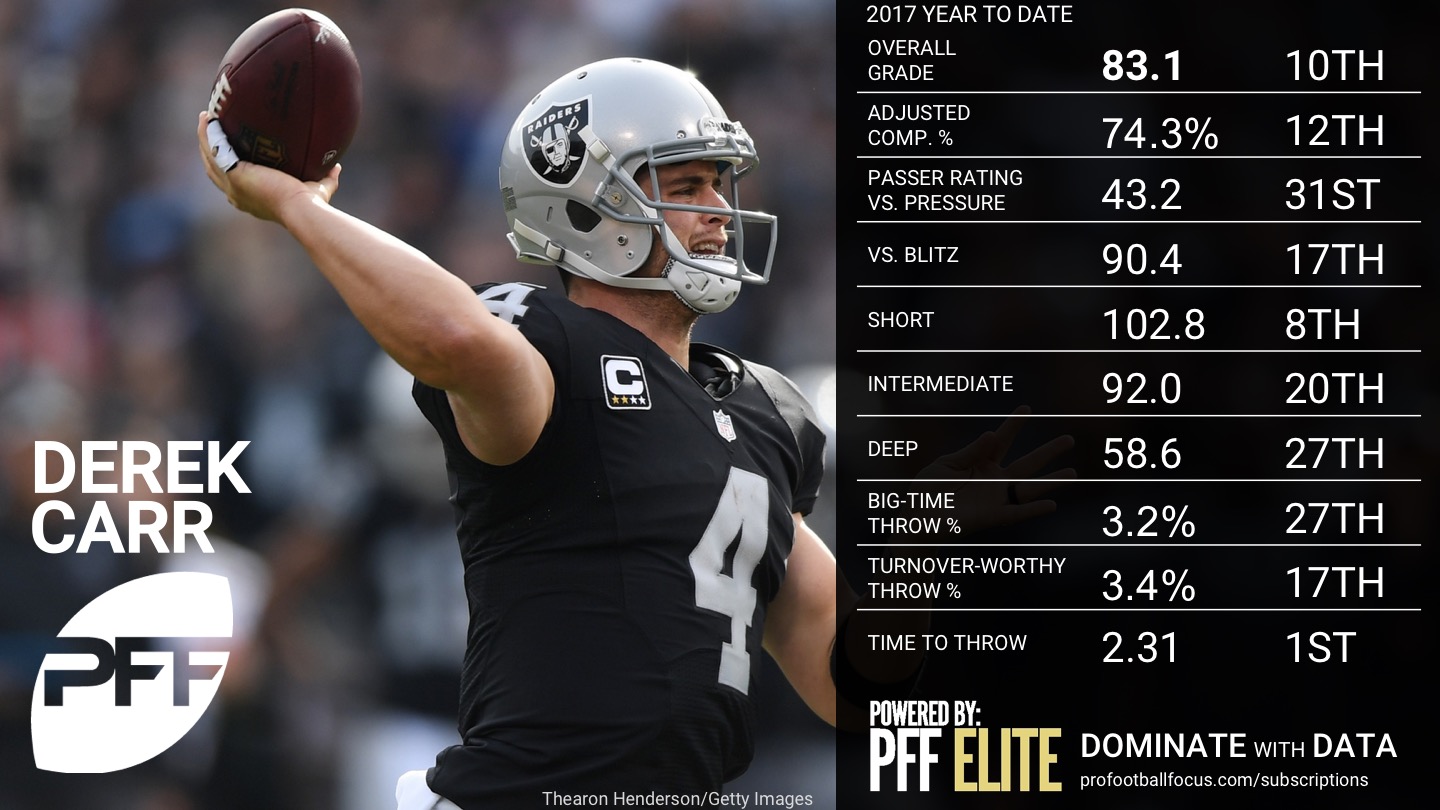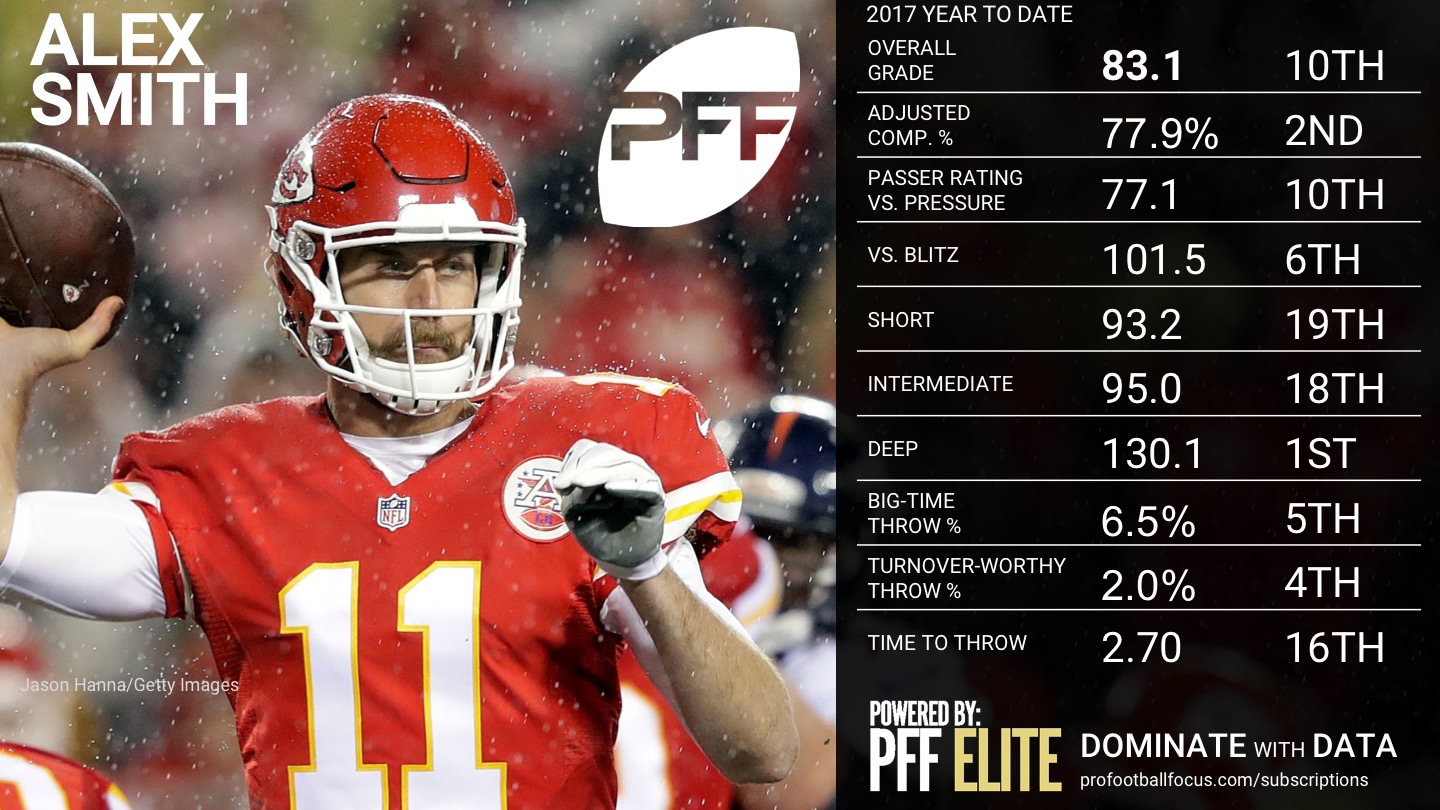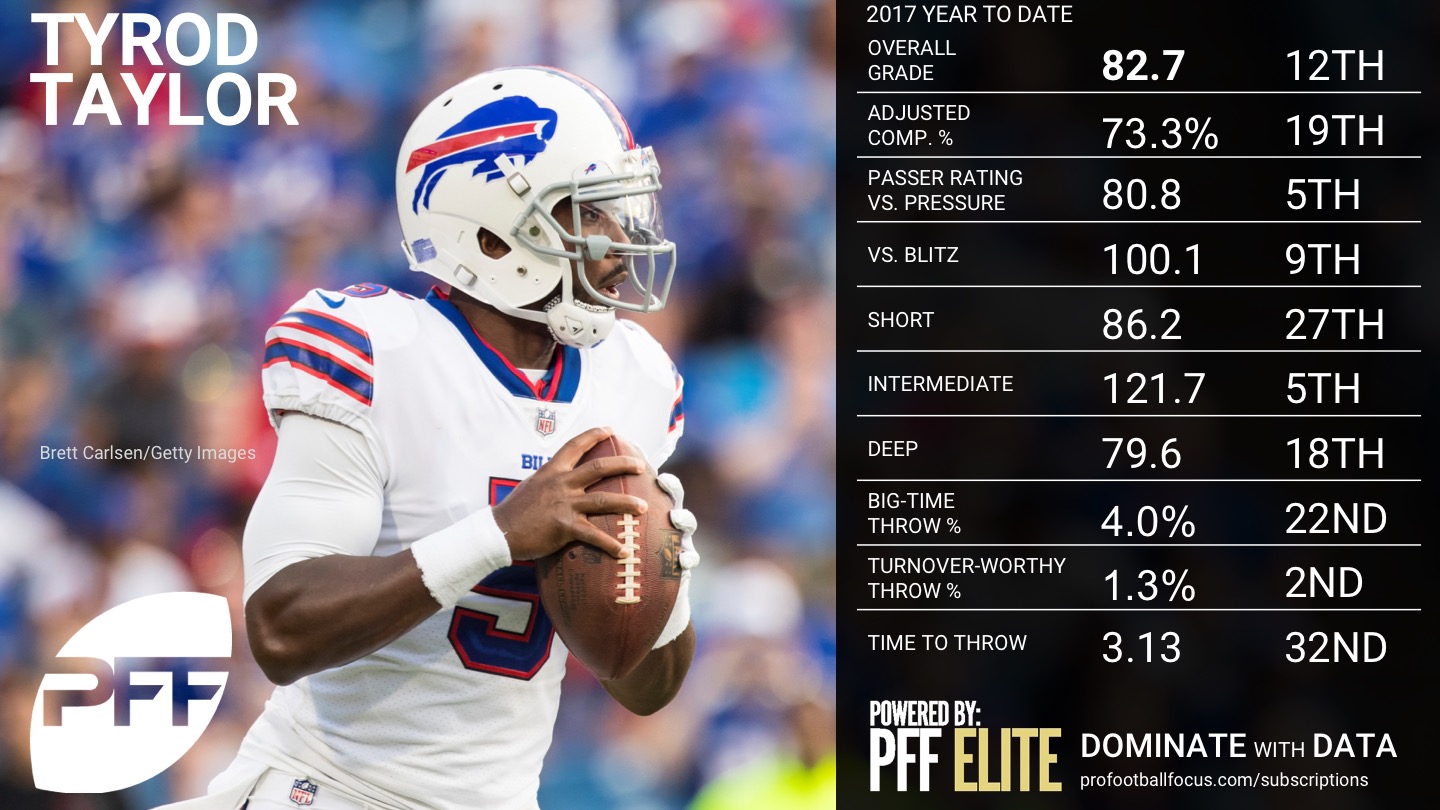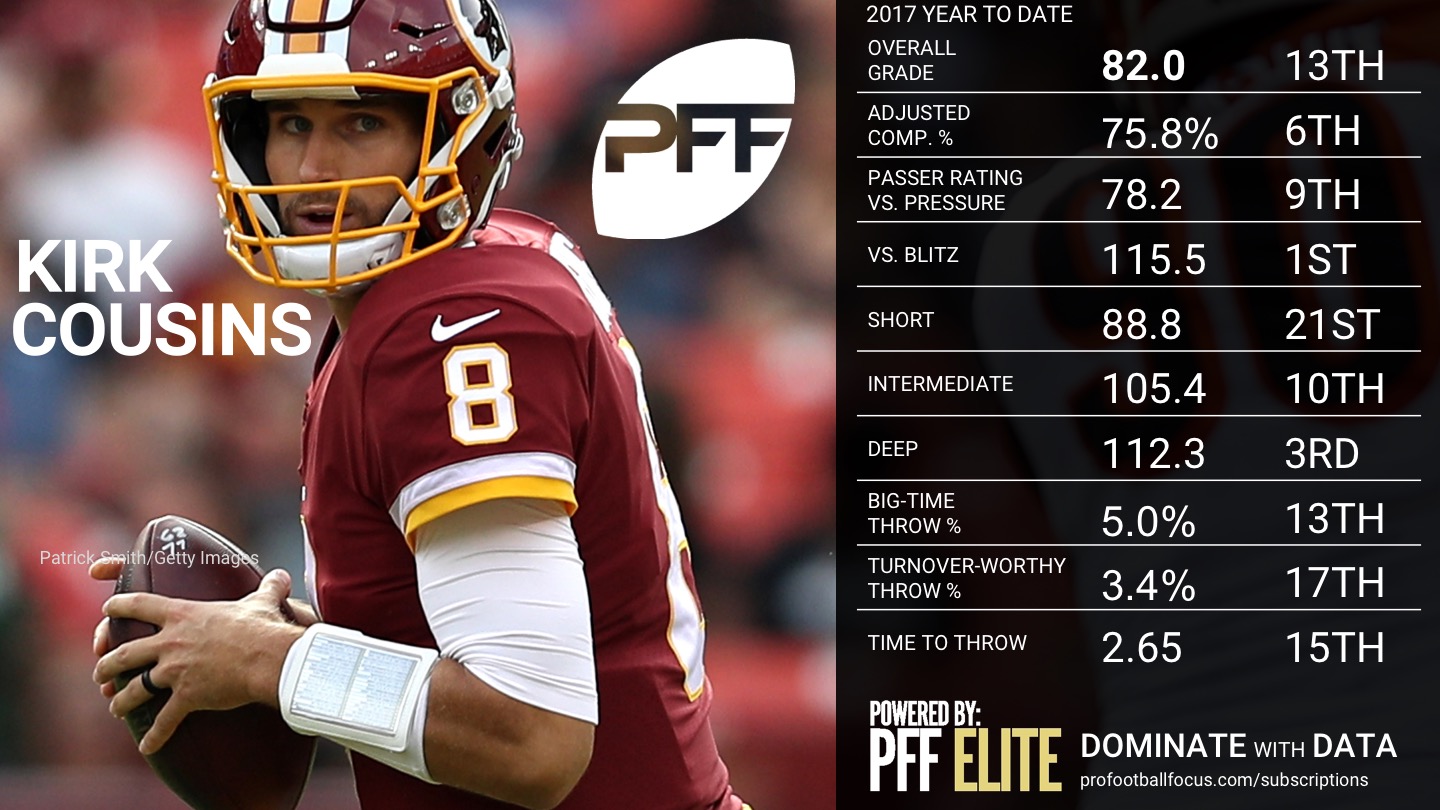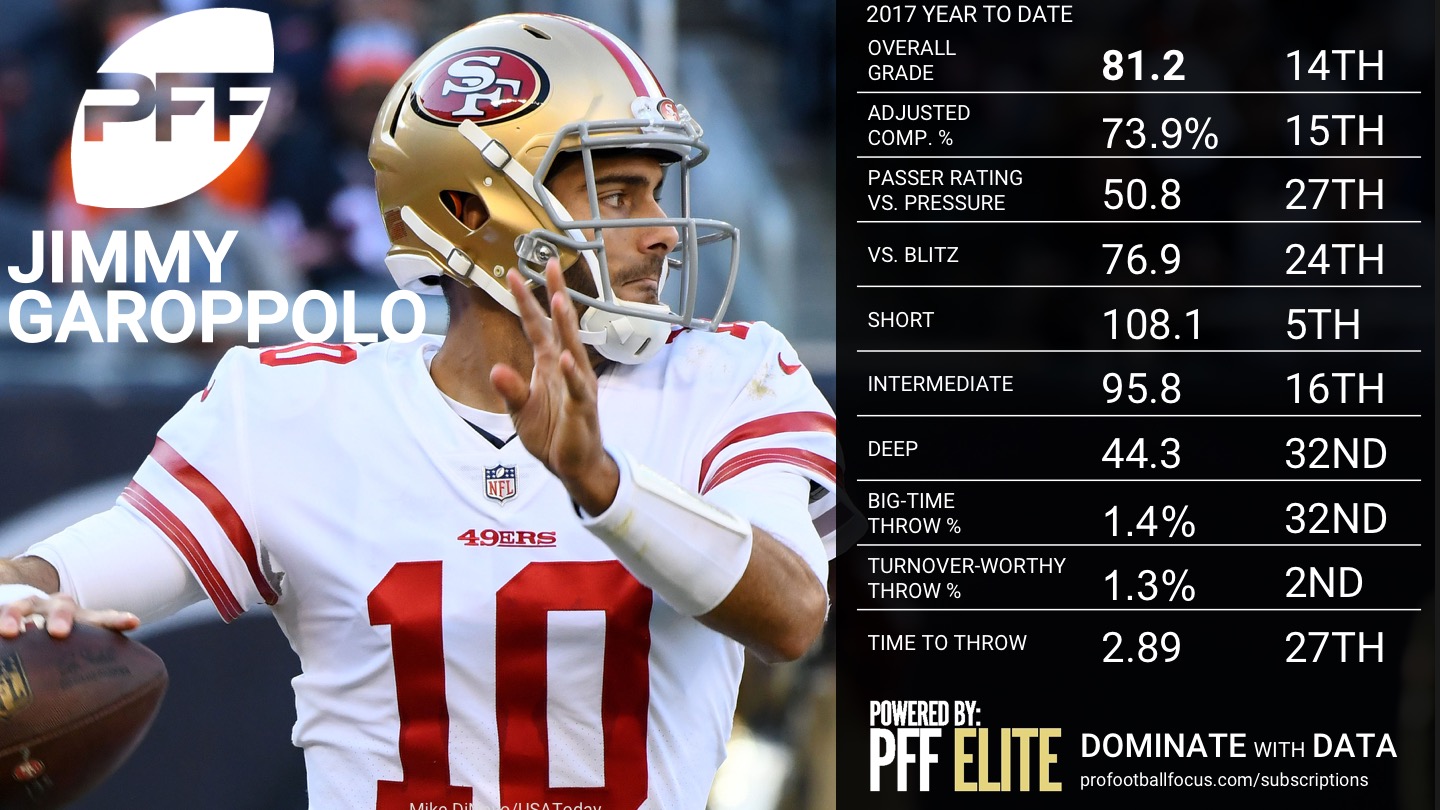 Garoppolo posted another solid week with much of the same we saw last week against Chicago. It was a bit of a slow start with an ugly forced throw under pressure that resulted in an interception, but he settled in and had most of his success at the intermediate level in between the numbers going 11-of-15 for 202 yards on throws traveling less than 20 yards. Perhaps the most impressive part of his game was how he handled pressure with Jadeveon Clowney consistently disrupting his throws with hits and pressure, as a number of times he got throws off to the intermediate level and key third downs with his quick release and good accuracy. He was pressured third-most in the NFL this week at 47.2 percent, but was able to throw for 147 yards at 9.8 yards per attempt.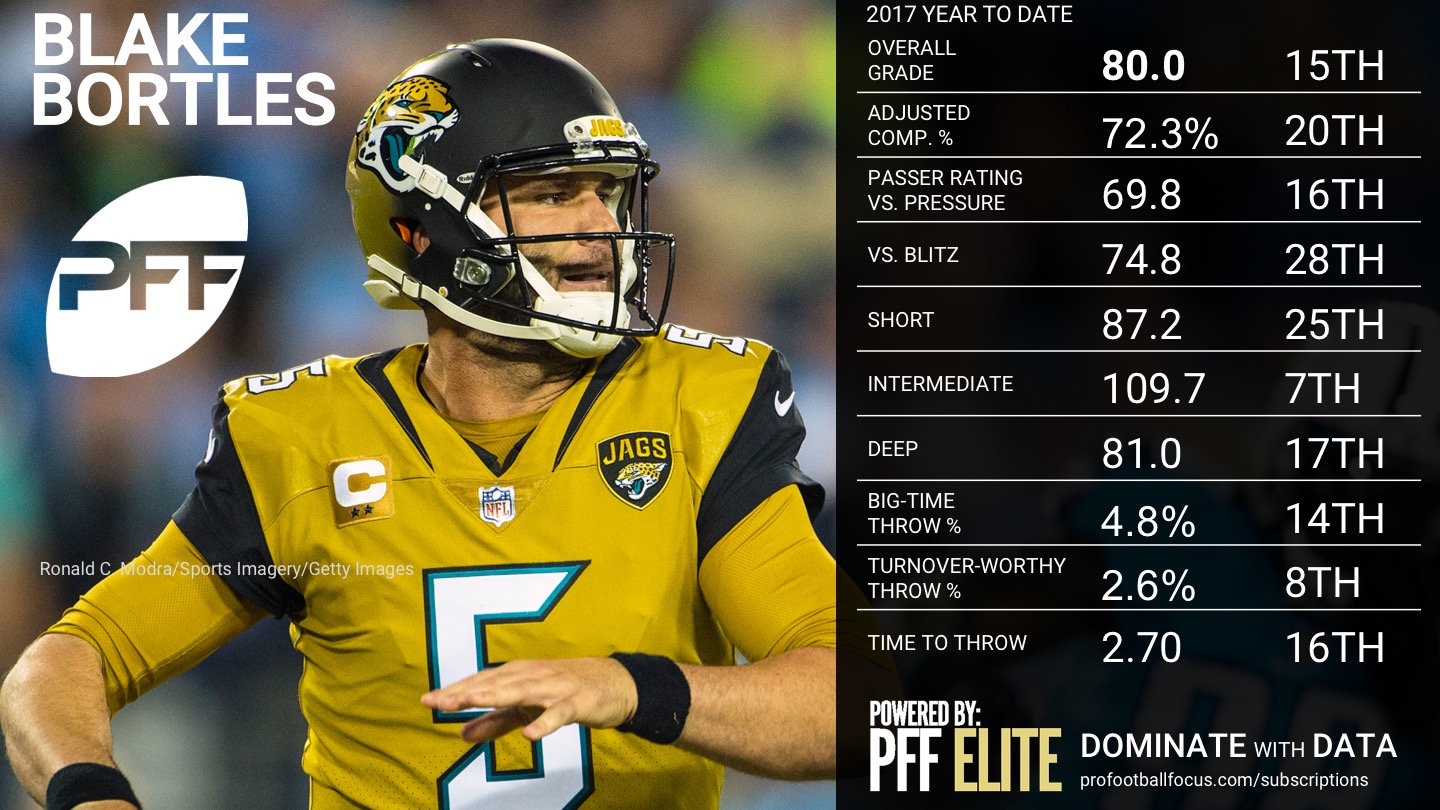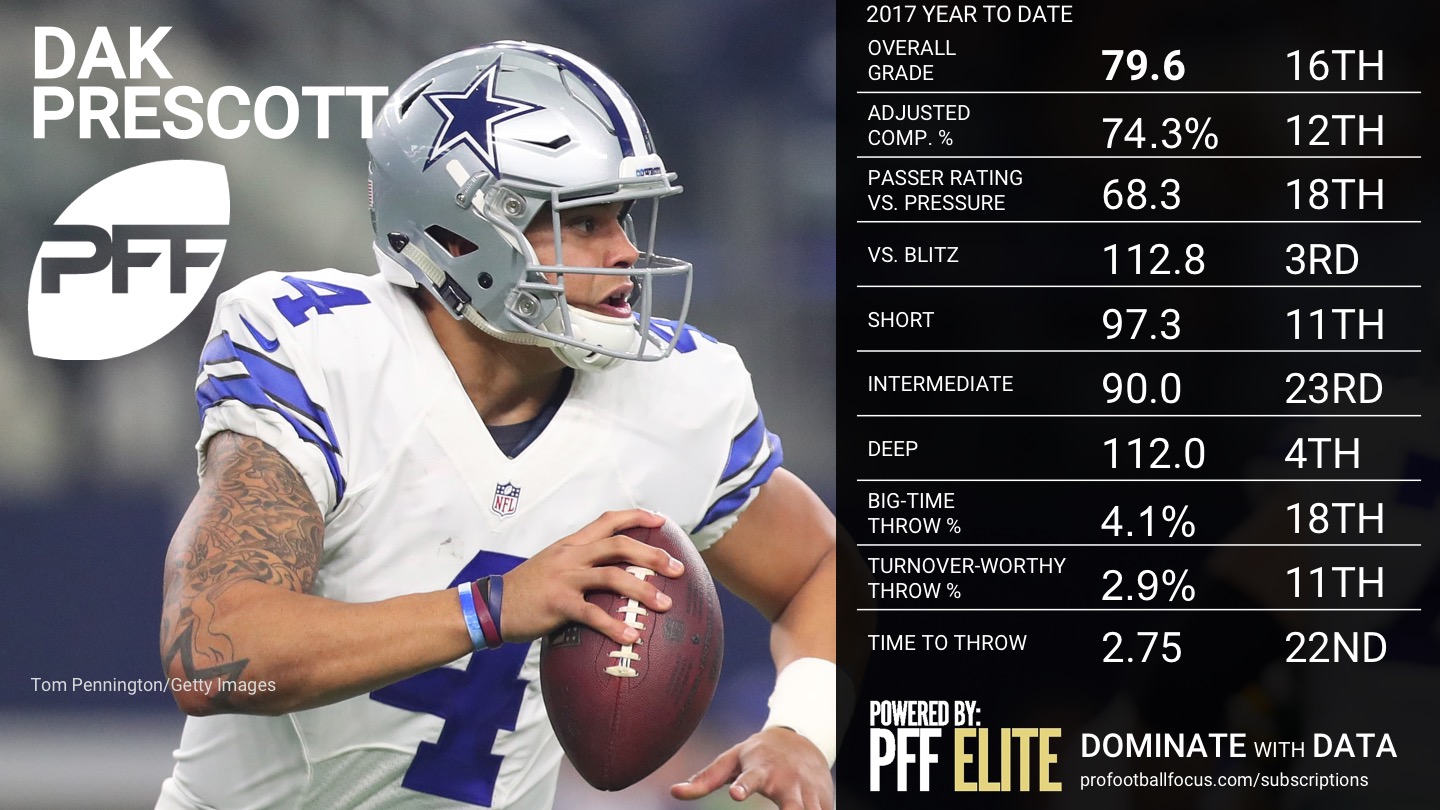 Prescott was able to get back on track, throwing with great accuracy throughout the game and maneuvering the pocket better than he had in previous weeks. A large part of that can be attributed to the offensive line and him getting the ball out on time, with him being under pressure the fewest percentage of quarterbacks in Week 14, throwing from a clean pocket 78.8 percent of the time. He threw the ball accurately in quick game and his pass-catchers helped him out with big plays after the catch, with three plays over 50 yards including two touchdowns on simple slants and quick outs. When Prescott was under duress, he handled it much better than he has in previous weeks, with an 85.7 percent adjusted completion rate, tied for first in the NFL this week.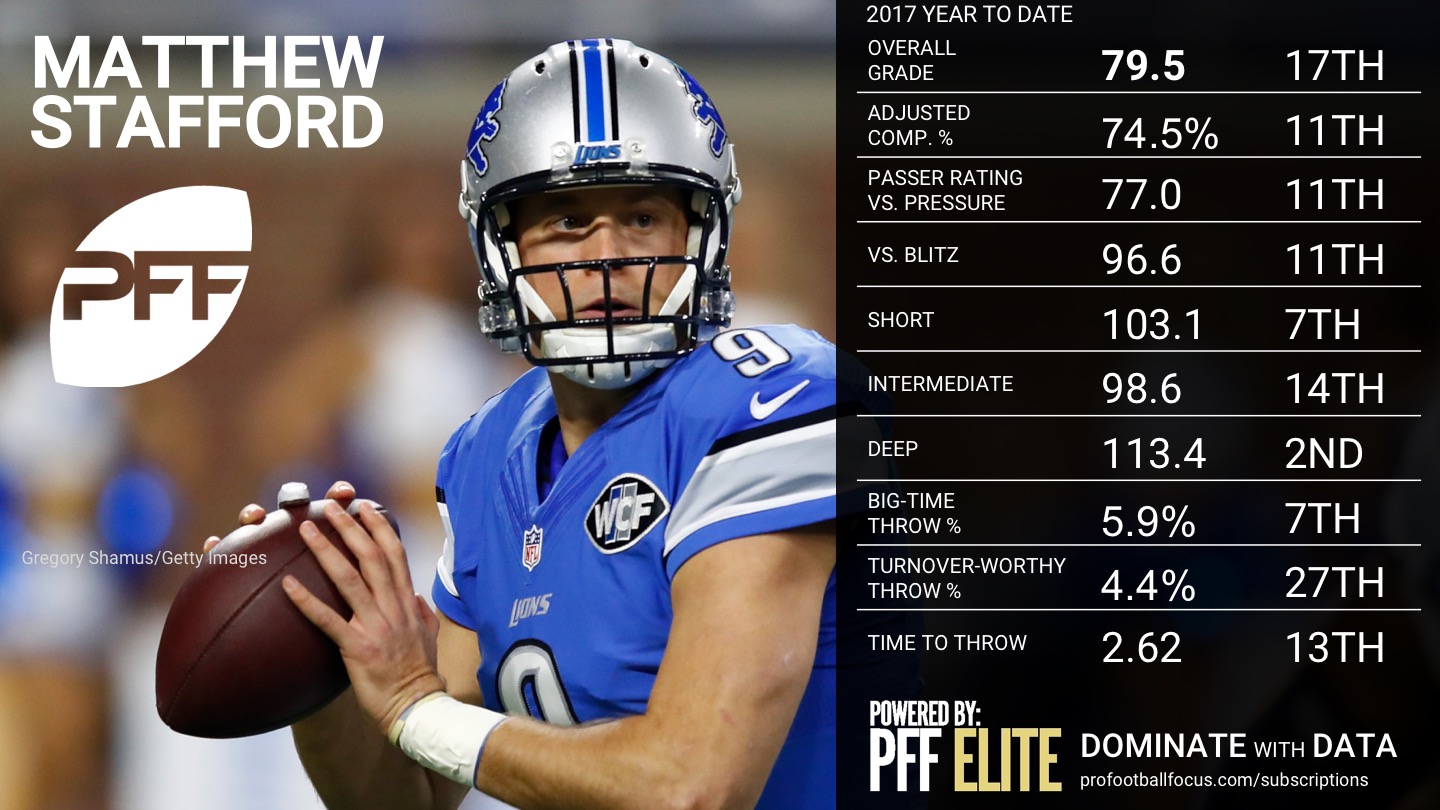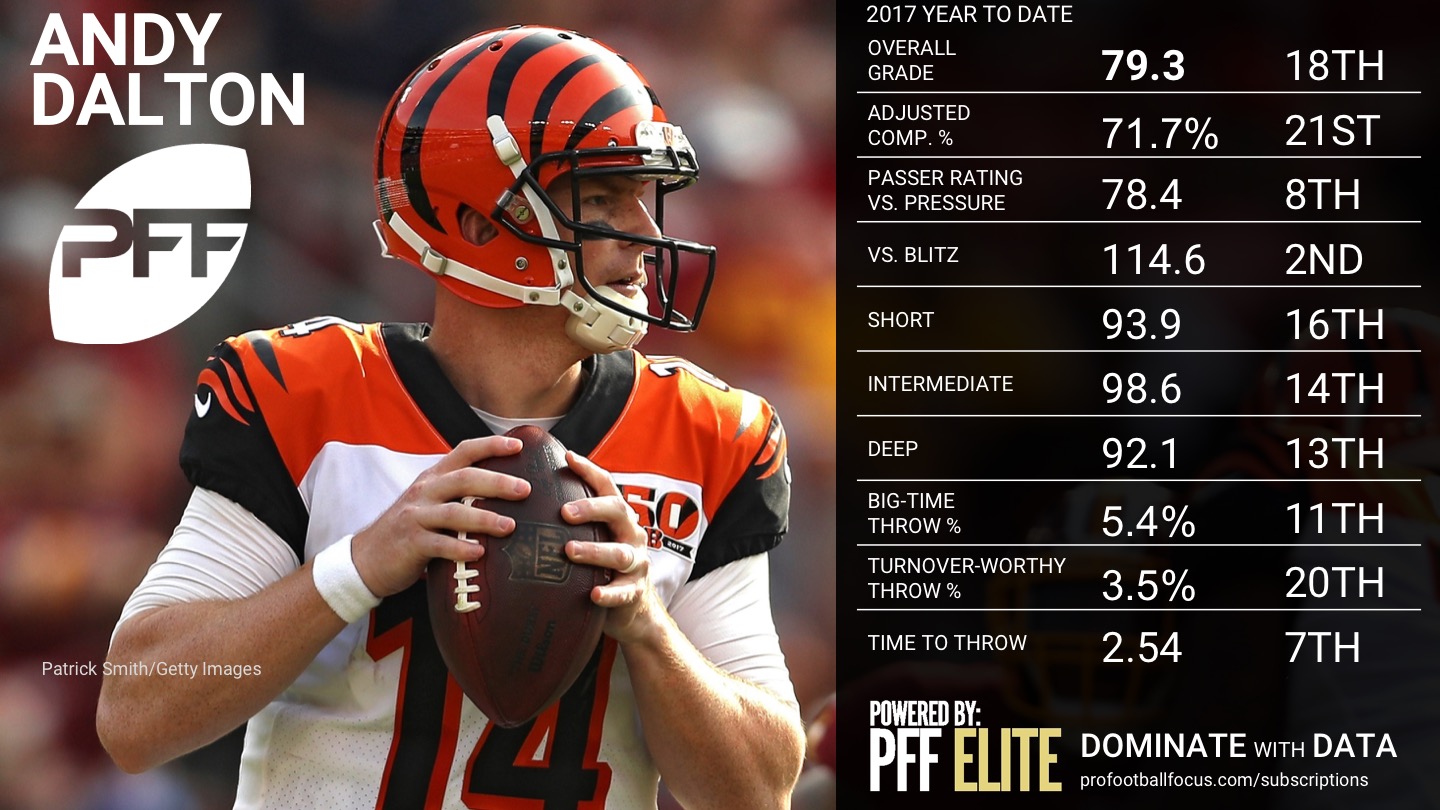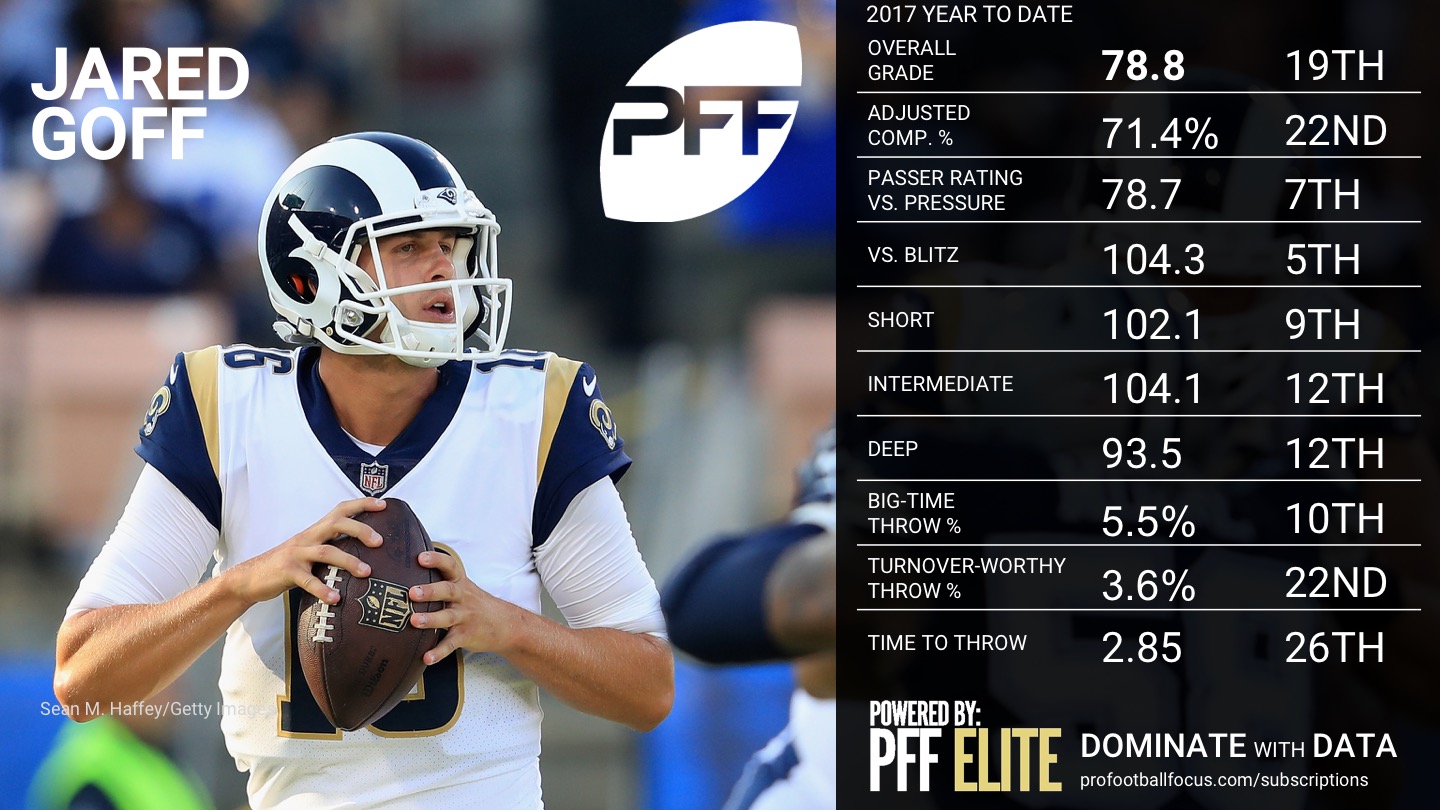 Goff's raw numbers and passer rating tell a different story than how his performance went against the Eagles. He had a fair amount of luck on his side, with two dropped interceptions right in the hands of defenders, one in the red zone on an underthrown pass, the other coming on a misread of coverage over the middle off of play action. The fierce pass-rush of the Eagles disrupted the timing and rhythm of the passing game, with Goff under pressure on 55.2 percent of his dropbacks, the most in Week 14. He handled the pressure well, but the Eagles pressure forced him off the spot to find checkdowns underneath, leading to his second-lowest passing yards total on the season.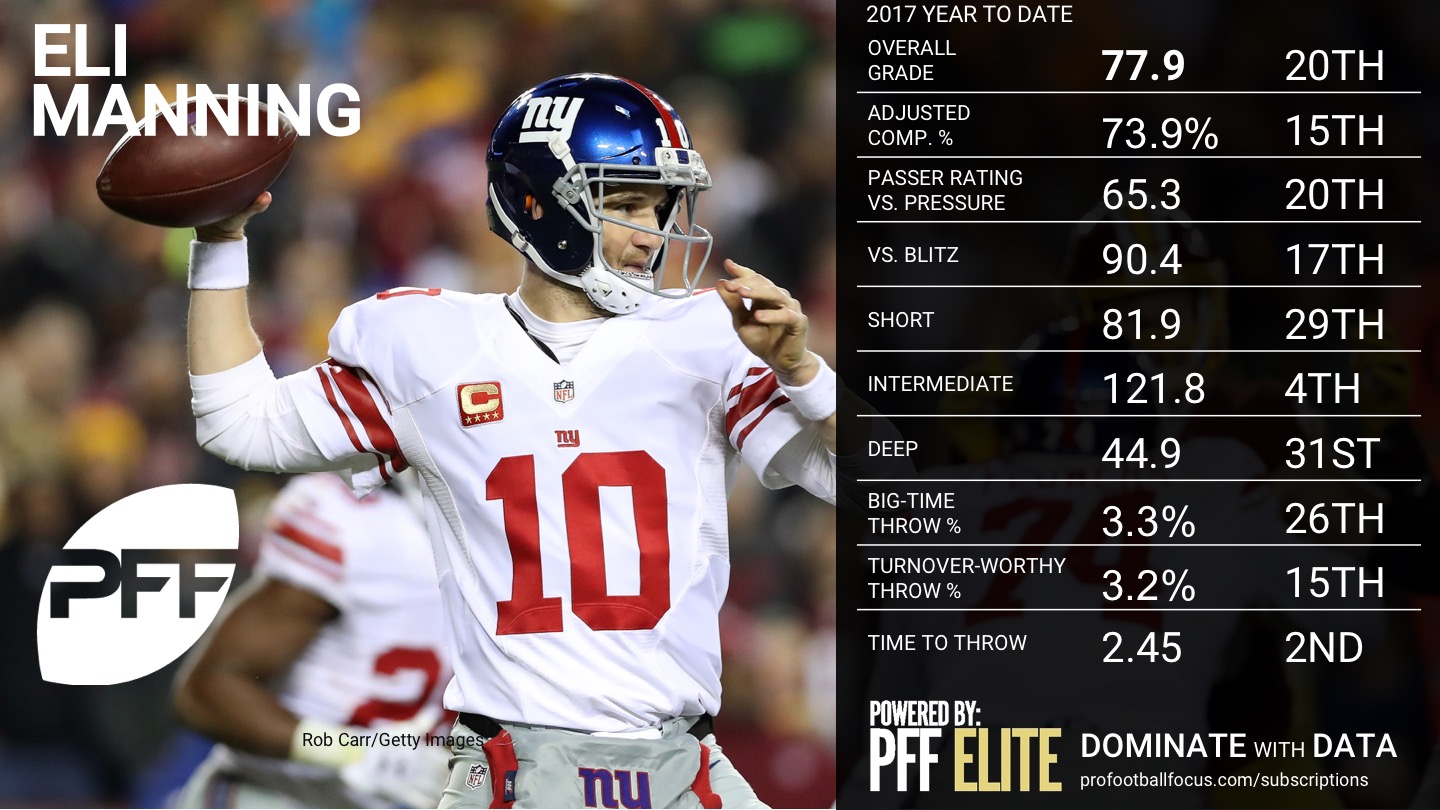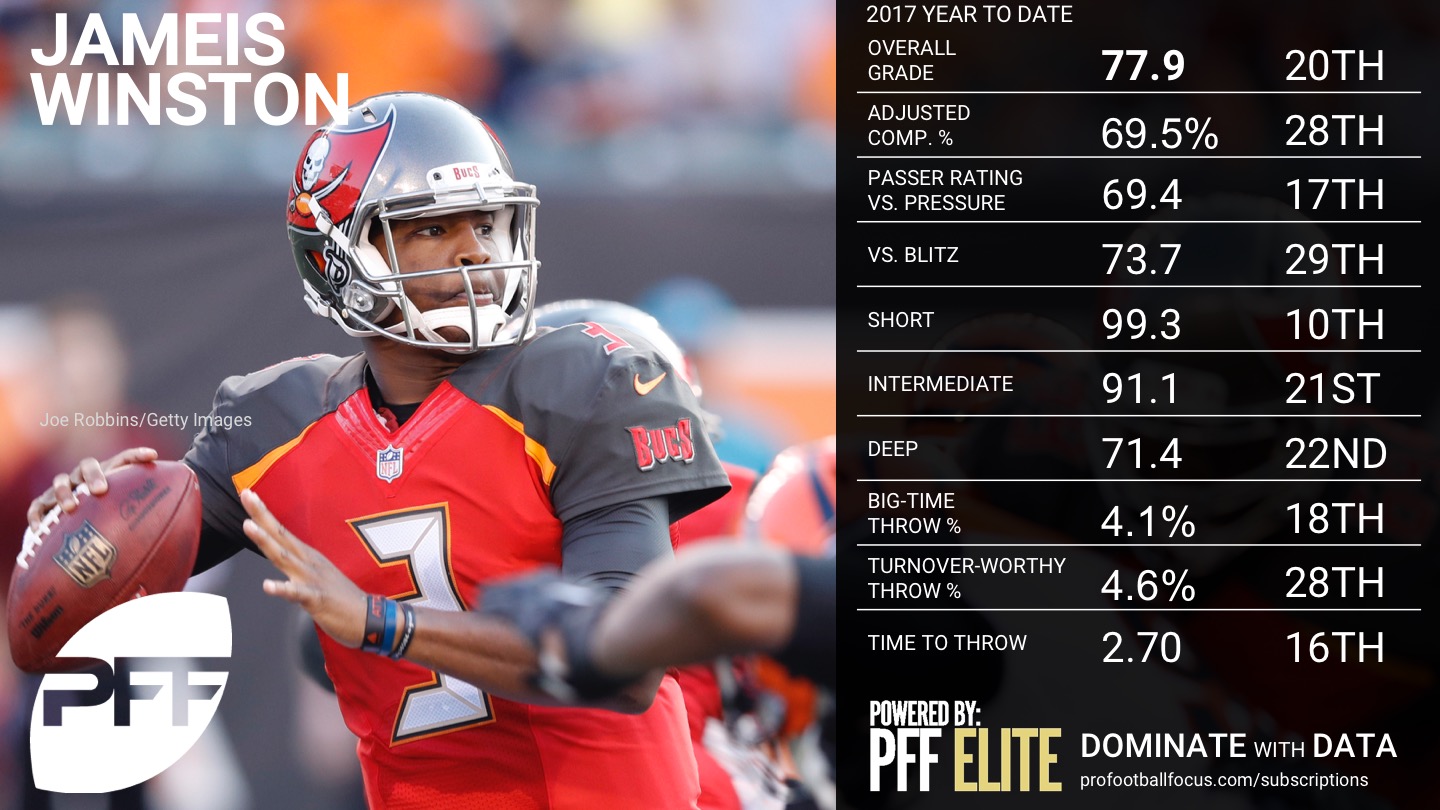 Winston was highly volatile on Sunday from down-to-down, struggling with accuracy and decision-making. He worked well up the seams at the intermediate level especially early on, but had two bad interceptions – one missing with his accuracy, leaving a throw inside along the sideline, and another with a bad decision trying to force a throw with his receiver blanketed. He followed that up with a pocket fumble trying to get rid of the ball under heavy pressure. Winston struggled against the blitz, completing just 46.2 percent of his passes at 4.1 yards per attempt.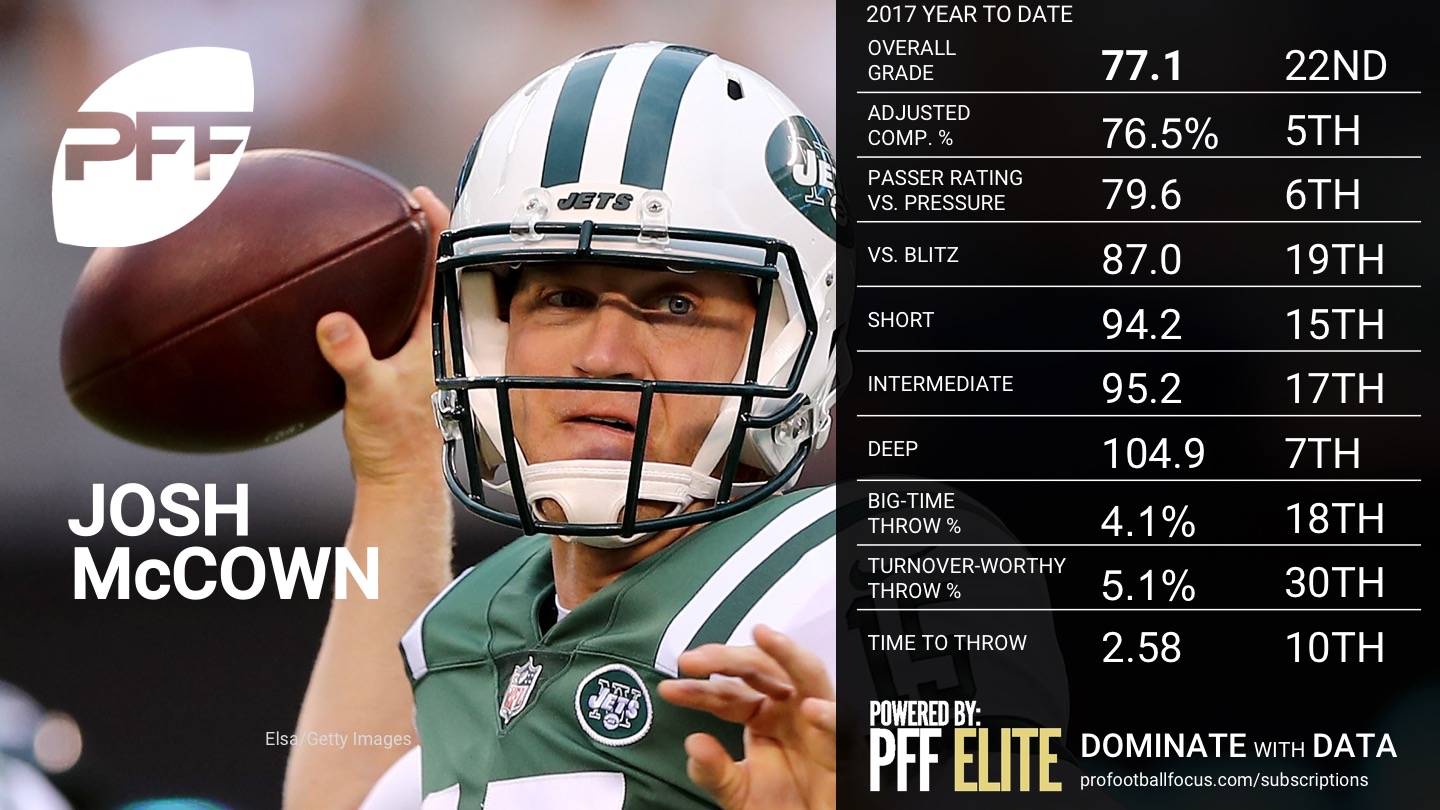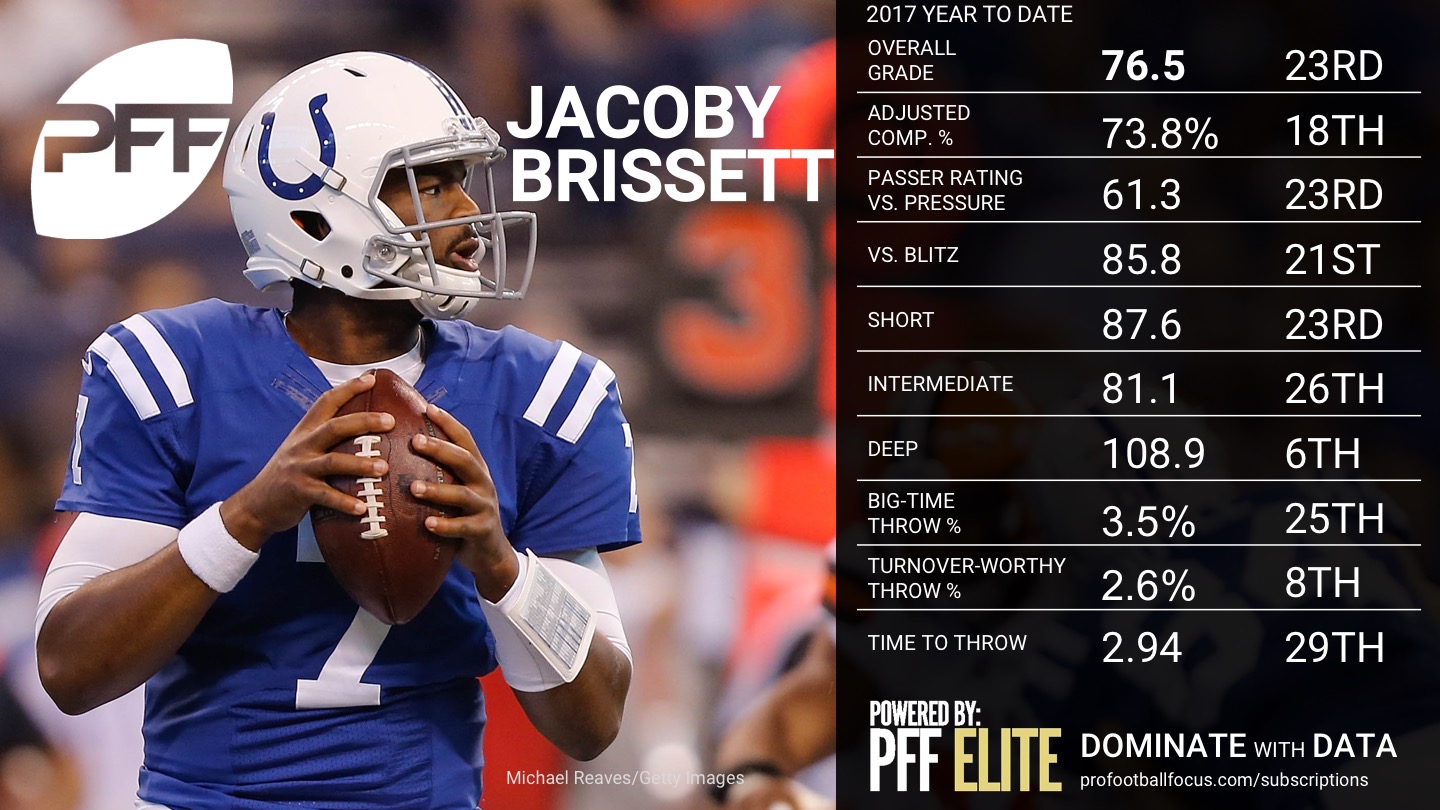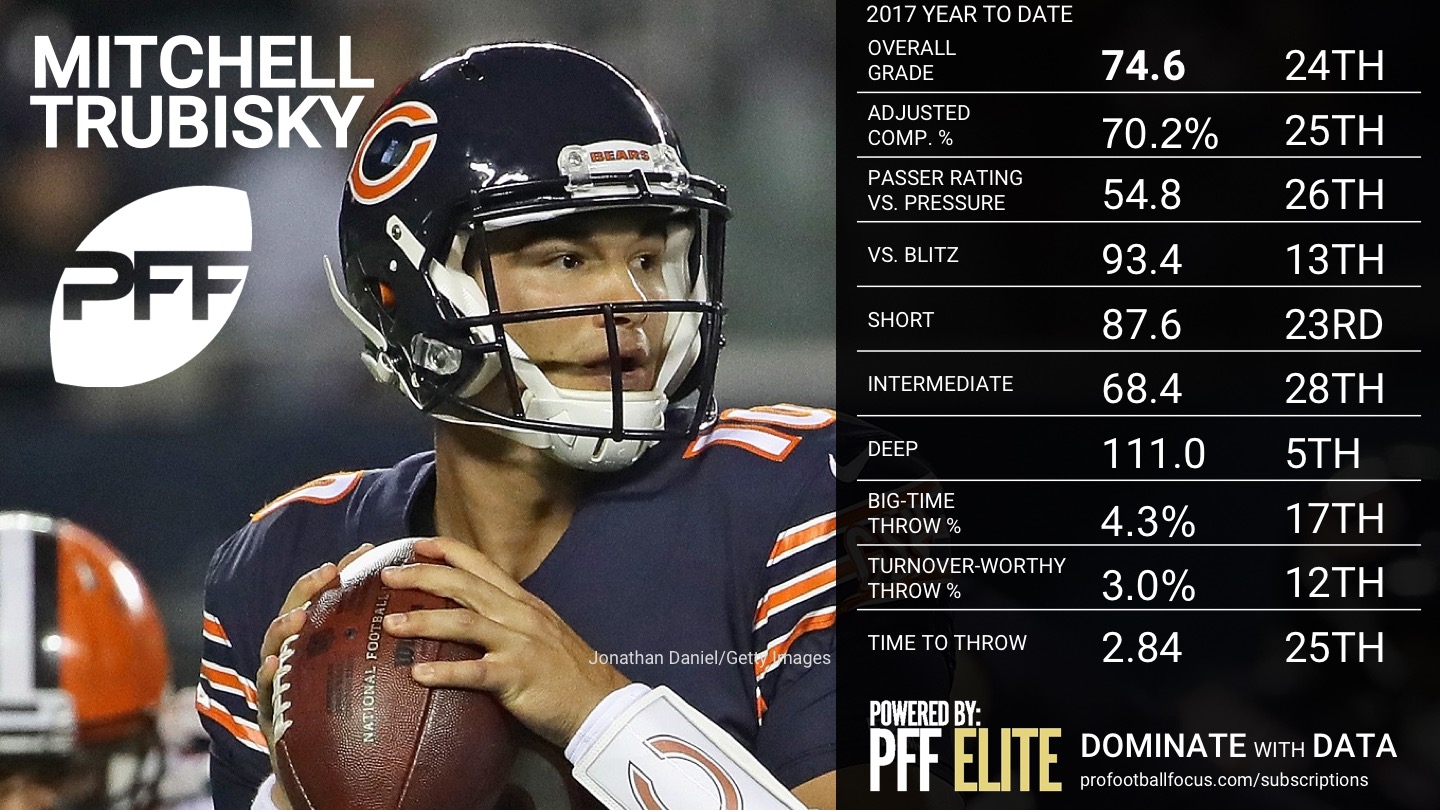 It was the best game of Trubisky's young career, although the Bengals' defense helped him out with a number of open throws available, particularly in the middle of the field. Still, Trubisky showed he can make the tight-window throws as well, whether a crossing route in close coverage or his touchdown, a corner route in the low red zone that was placed up and away from coverage. On the day, Trubisky finished with the third-highest adjusted completion percentage of the week, hitting 25-of-29 passes that reached his target (overall 25-for-32, one drop, one batted pass, one spike).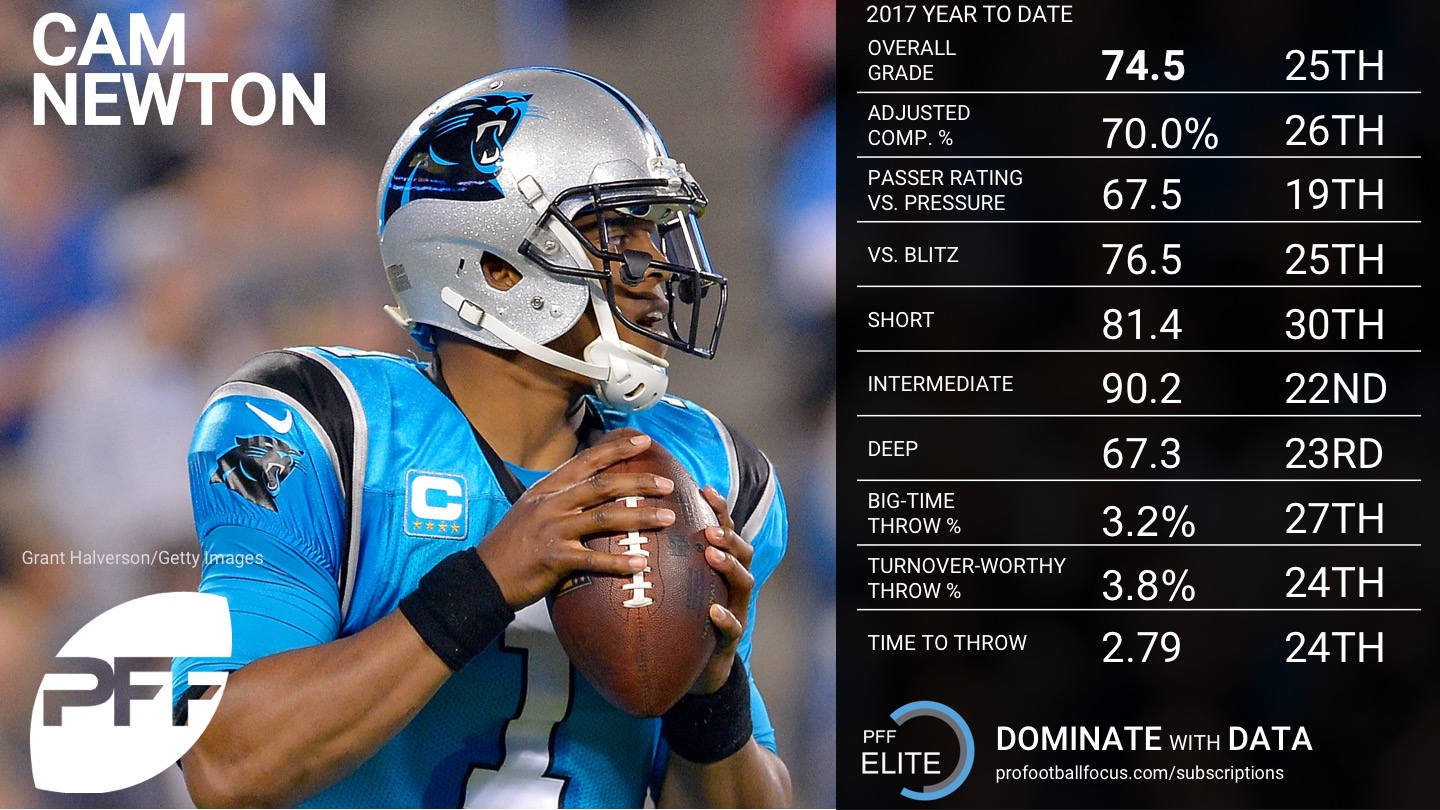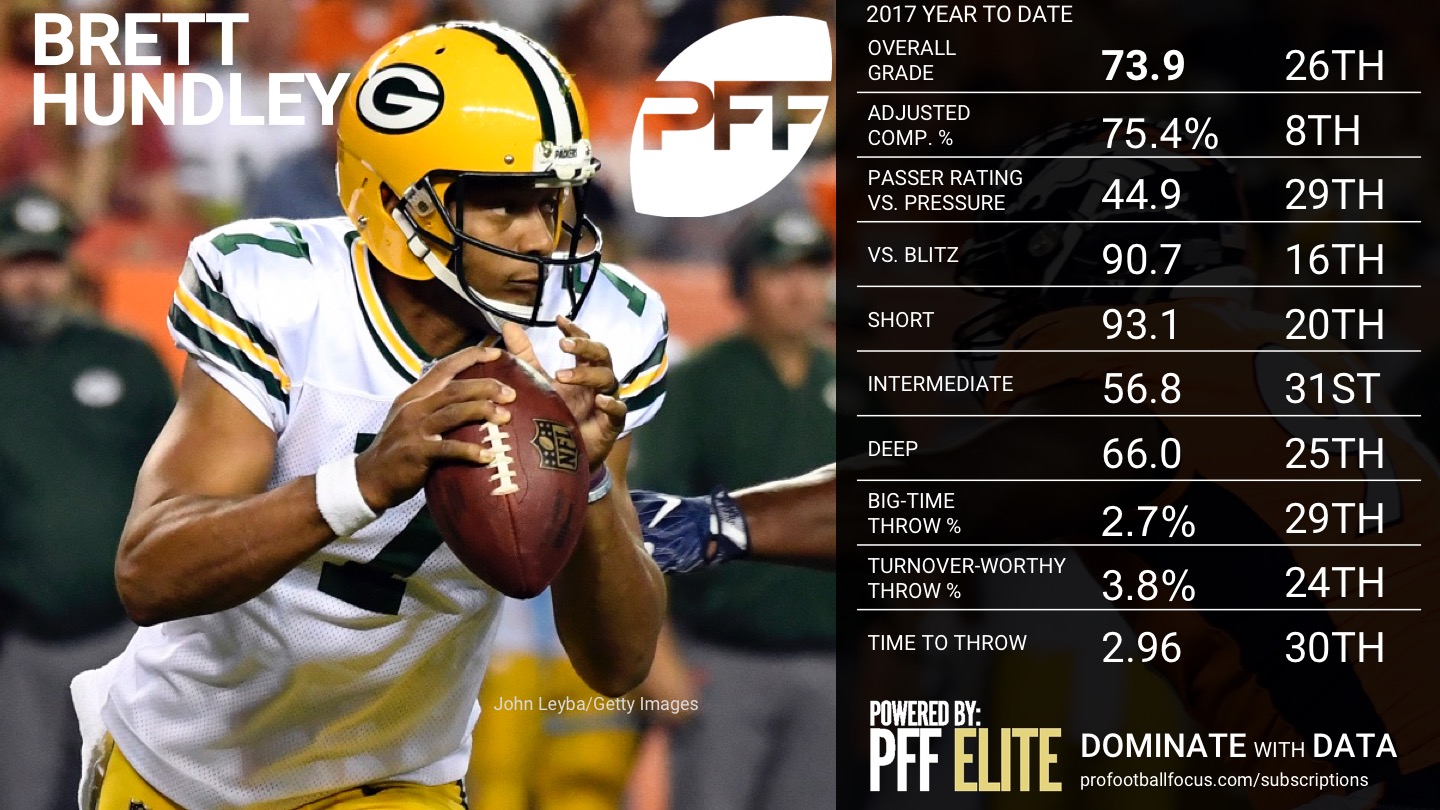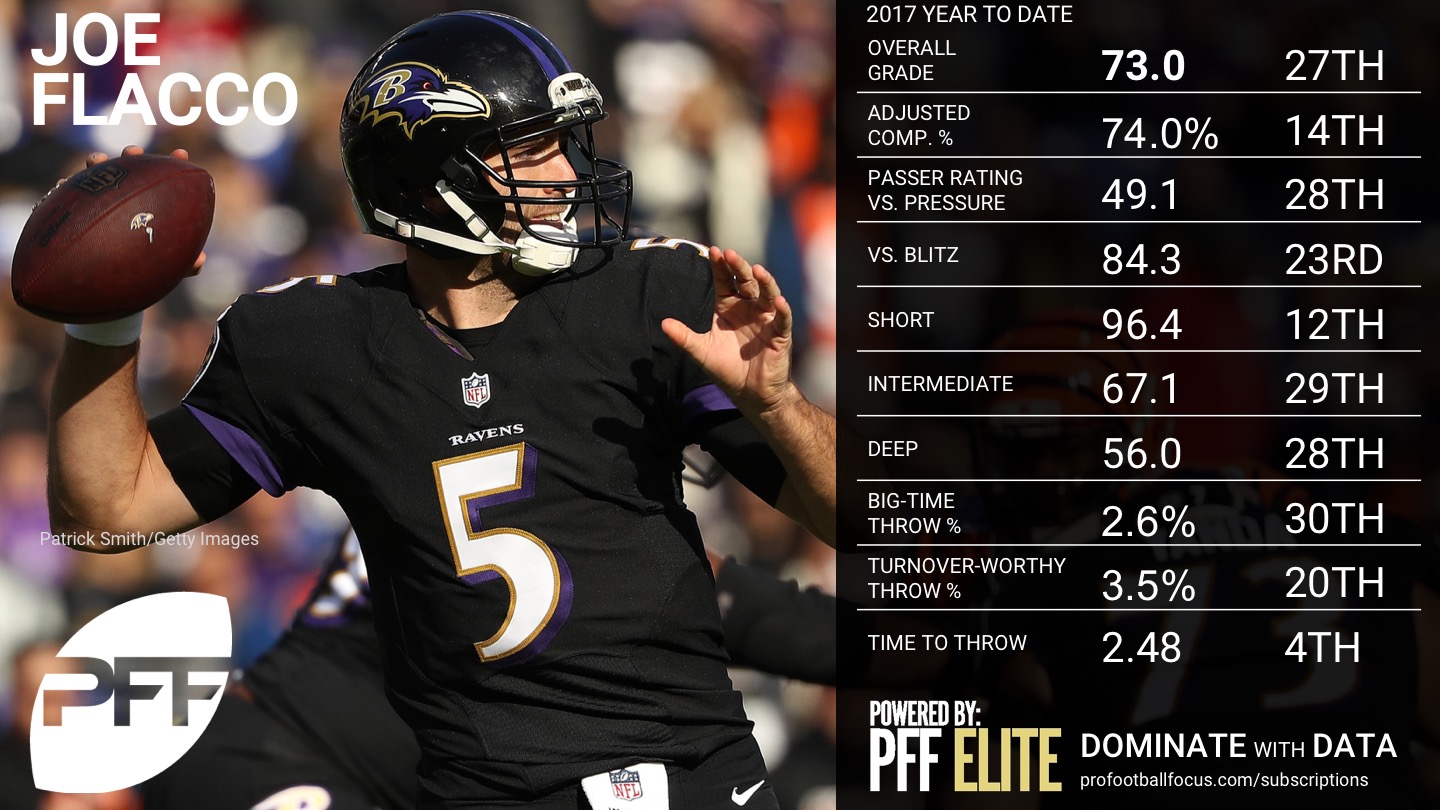 Interception luck was on Flacco's side whose lone pick was an ill-advised, late pass thrown directly to a cover-2 safety. He got away with others later in the game, whether throwing another pop up to a safety, leaving a tight-window throw short to a cornerback, or firing a screen pass directly to a defensive lineman, all of which fell incomplete. Flacco did manage to sneak one behind the defense for a 30-yard score and he went 3-for-4 for 48 yards at the intermediate (10-19-yard) level, but overall, it was a not a great performance despite his line of 20-for-35 for 269 yards, two touchdowns and one interception.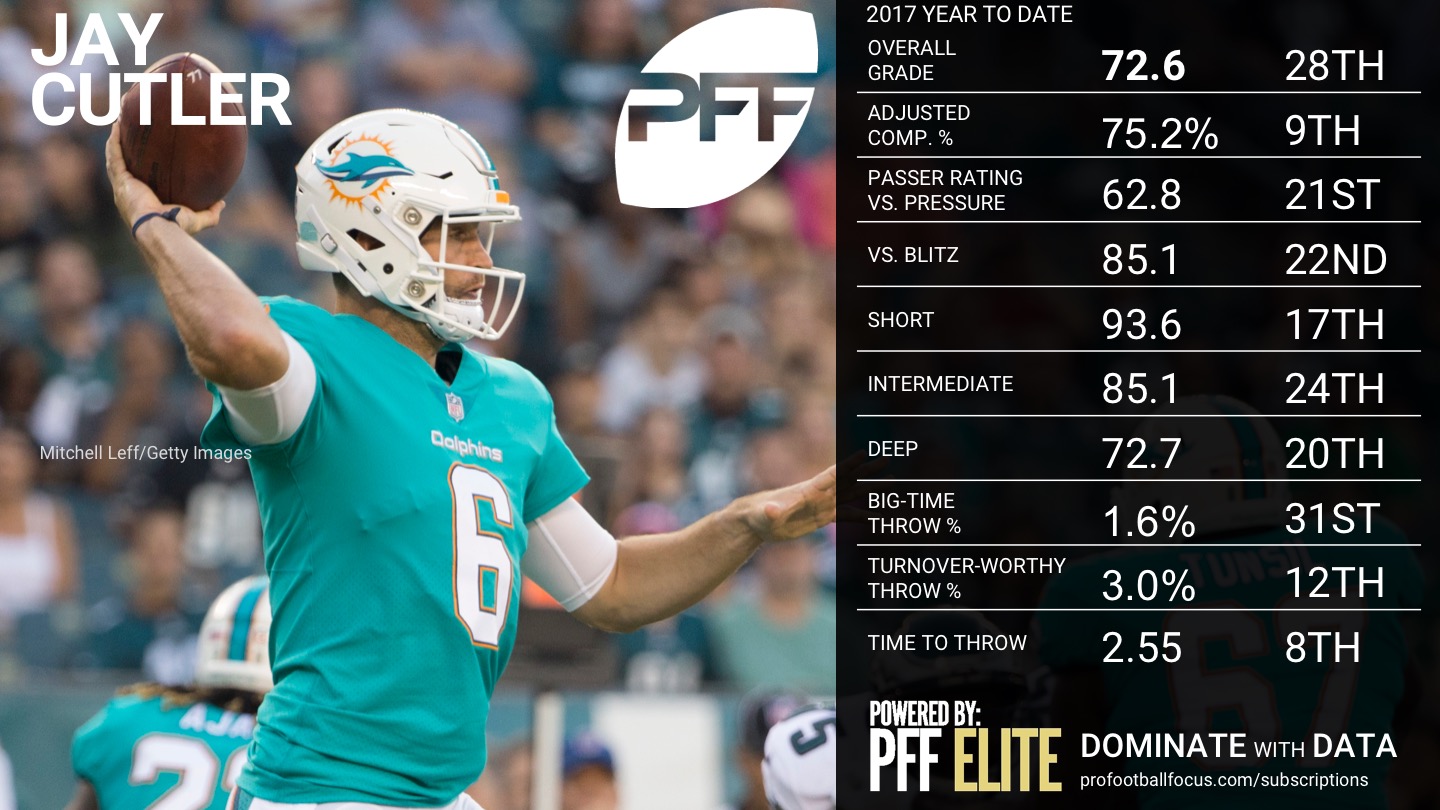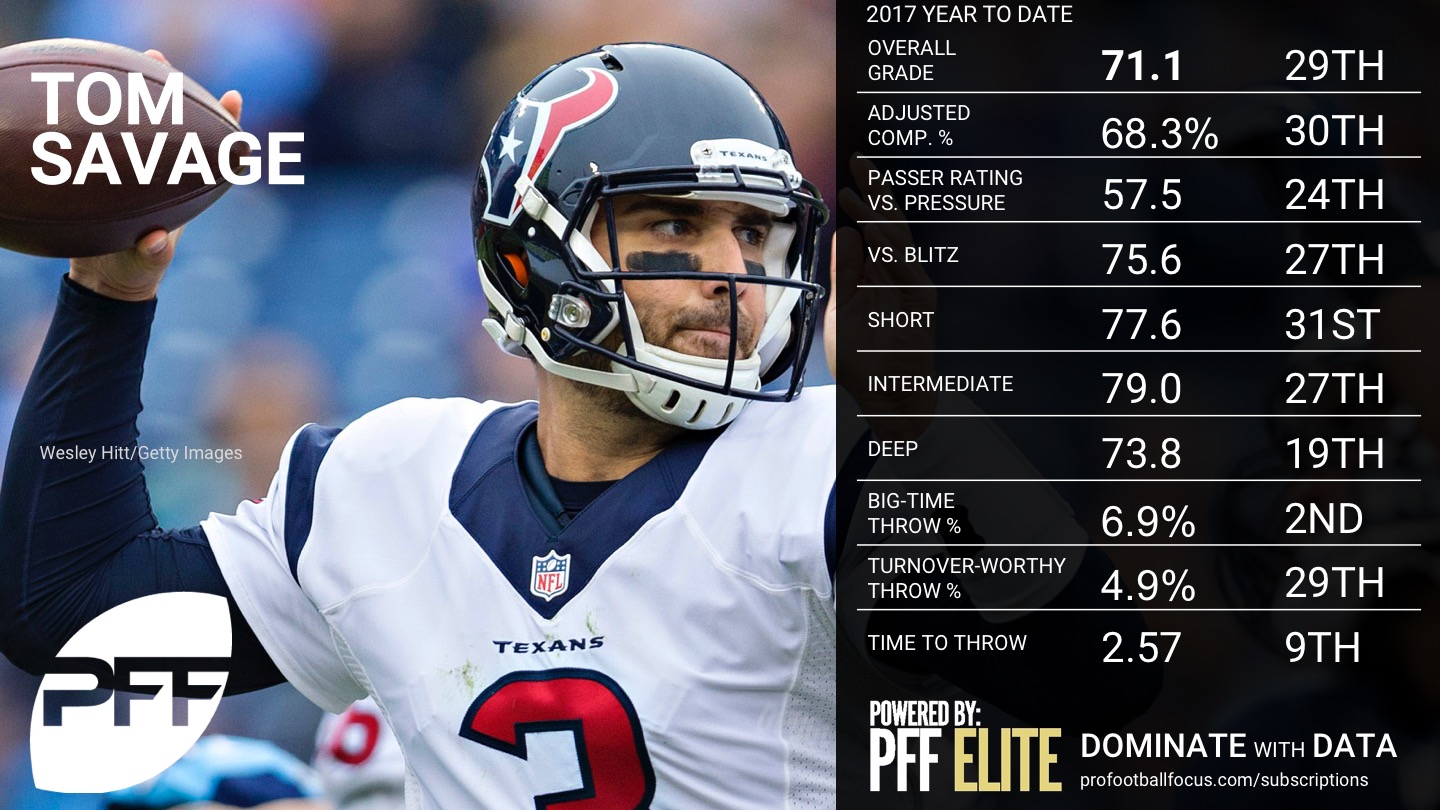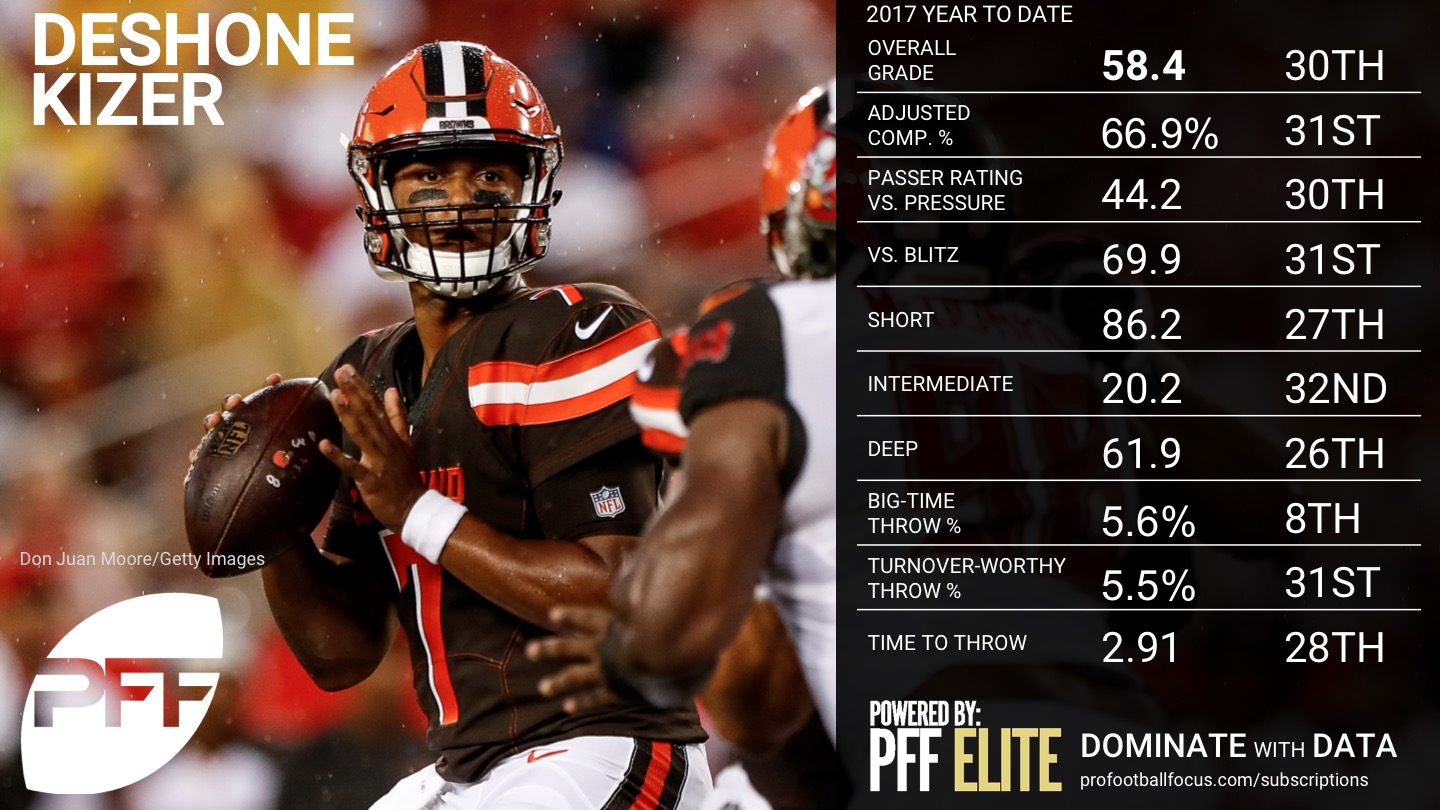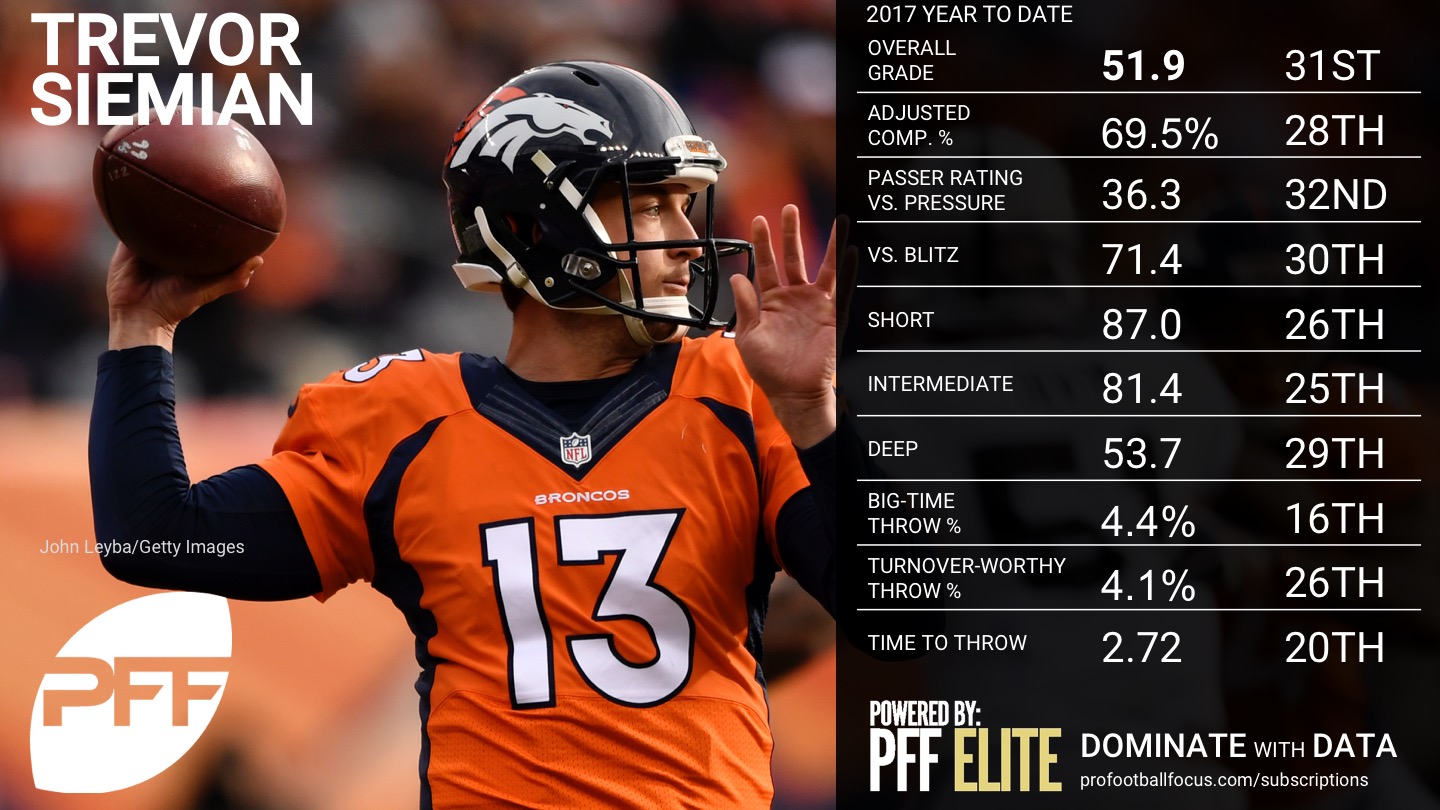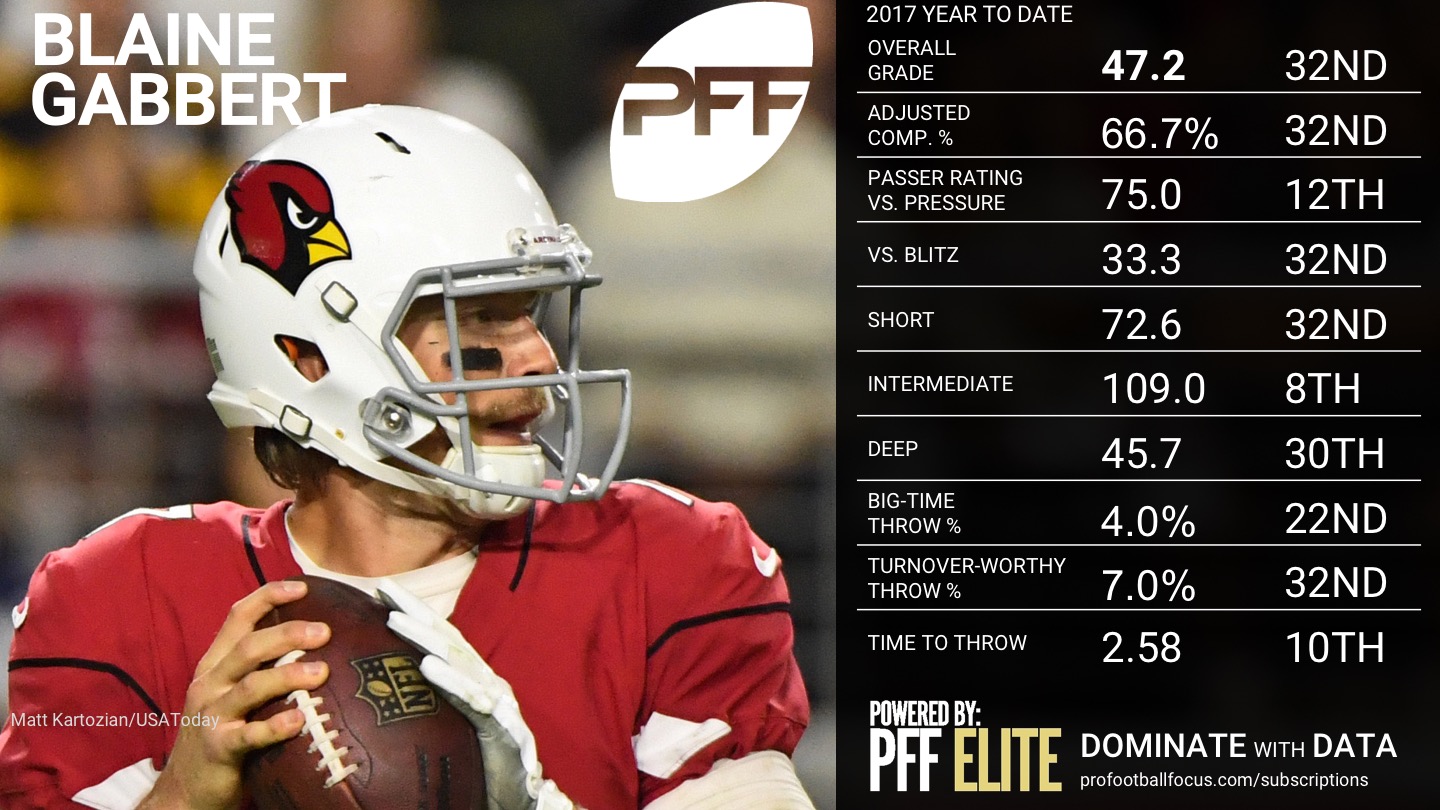 Editor's Note: The following quarterbacks, due to their injuries, lack of play over the past few weeks or recent starting quarterback changes have been pulled from their place, as their low snap count will eventually trickle off from their place in the rankings or they have not had enough snaps to qualify for a ranking yet:
7. Aaron Rodgers, Green Bay Packers – 84.9 overall grade
24. Carson Palmer, Arizona Cardinals – 75.7 overall grade
25. Deshaun Watson, Houston Texans – 75.1 overall grade
29. Ryan Fitzpatrick, Tampa Bay Buccaneers – 73.2 overall grade
32. Mike Glennon, Chicago Bears – 71.7 overall grade
35. C.J. Beathard, San Francisco 49ers – 68.5 overall grade