As a part of our partnership with ESPN, this is a part of a story that was originally published on ESPN+ and can be viewed in its entirety here with your ESPN+ subscription — NFL playoffs 2020 concern index: Should we be worried about Russell Wilson, Tom Brady and Lamar Jackson?
When Tom Brady struggles, we all feel it. When Lamar Jackson can't complete passes, out come the haters. Certain NFL players are lightning rods for attention, especially if their play slips to mere mortal standards. Is this fair? No, but with the NFL playoffs around the corner, we need to know if the players who are struggling will bounce back and lead their teams down the stretch and on a big playoff run.
Let's take a deeper look at five players who have either not produced at the level we are accustomed to from years prior or have slipped from their elite play from earlier in the season: Brady, Jackson, Russell Wilson, Josh Jacobs and T.Y. Hilton. All stats and grades are from PFF.
Even with the opening-week loss to the Saints — the Bucs' apparent boogeyman this season — Brady has looked like a perfect fit in Bruce Arians' Tampa Bay offense. And while the results have tapered off in the second half of the season, there is reason to look at the glass as half full.
During this rough stretch, Brady just hasn't been able to connect on deep passes, a staple in Arians' scheme. In his first four games, Brady's passer rating on deep passes (passes thrown 20-plus yards in the air downfield) was 114.5, eighth best in the league, and it might have been first if not for three drops by his receivers. His deep passing grade was tied with Russell Wilson for tops in the league over that span.
There were warning signs after the Bears game, in which he put up a goose egg in the deep pass completions column, but he followed that game by going 4-of-9 in his next two. However, his next four games were abysmal, as he completed only one deep ball on 23 attempts. The Tampa Bay offense suffered as a result, because this is an Arians offense that thrives off these types of plays. It's not the surgical dink-and-dunk stuff of late-era-Patriots Brady.
Still, we believe deep-ball passing tends to fluctuate year to year and even game to game. Brady responded by completing four deep passes against Kansas City for 152 yards. Brady probably sits somewhere between his dreadful four-game stretch recently and his great four-game stretch to start the season, so the chances are that he'll be fine going forward.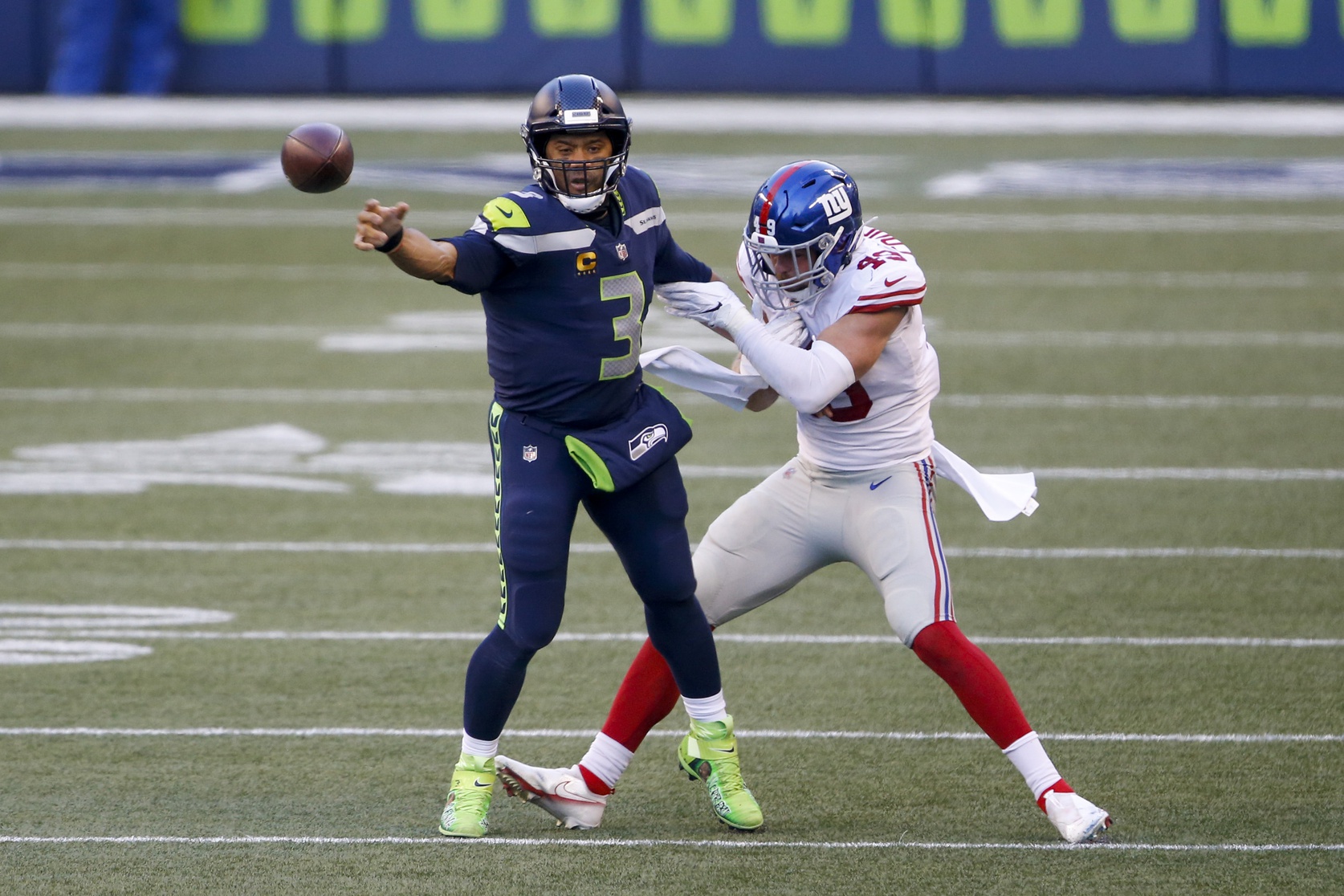 After a blistering start to the season that saw him put up MVP numbers, Wilson has cooled off considerably. Through Week 8, his 95.0 grade would have broken the record for the highest PFF grade earned by a quarterback. He threw accurately, avoided turnovers and cashed in on deep shots time and time again. But a rough stretch has since clouded that early success.
Wilson's 63.5 grade since Week 9 sits ahead of only two rookies and three backups among quarterbacks who have taken 100 snaps in that span. Most concerning, the issues with Wilson seem to be at the foundational level. When removing screens, play-action passes and RPOs, his grade still languishes near the bottom of the league. On straight drop-back passes since Week 9, his sack rate has risen by three percentage points, his turnover-worthy play percentage has jumped by 1.4 percentage points, and his adjusted completion percentage has dropped by 6.2 percentage points.
Wilson will have to make some plays as a straight drop-back quarterback in tight playoff games — times when he won't always be able to lean on the aforementioned peripheral concepts. He's certainly capable, but his play of late has not been good enough for the Seahawks to win games against top-tier competition.
---
When all seems lost, when all seems hopeless and when you've been counted out, playing against the Dallas Cowboys' defense is quite the cure. The Ravens and Jackson sat at 6-5, just out of the playoffs, entering Week 13, and the Cowboys came to town to get them back on track.
Baltimore now sits at 7-5 with improved playoff odds, but it's still going to be a climb to reach the postseason. The Ravens are worse in a lot of areas compared to their 2019 team, with the biggest decline coming in passing efficiency. Specifically, the Ravens and Jackson haven't been great against man coverage this season. Against any type of zone defense, the quarterback's grades have stayed roughly similar — 81.4 in 2019 and 79.7 this year. But against man coverage, his grade has plummeted from 90.2 to 70.5.
One issue is that he's using his legs much less in those situations. He has scrambled only eight times for 57 yards against man coverage, while he had 17 scrambles for an impressive 220 yards last season. Jackson can likely afford to hold on to the ball a little longer before seeing if there are more plays to be made on the ground against man coverage.
He would also benefit from the playcalling giving him deeper concepts. His average depth of target is down 1.4 yards from 2019. The Ravens should provide Jackson with deeper routes to create more explosive passes, and if nothing is open, let him use his legs. He will probably bounce back from all of this eventually, but is it already too late for 2020?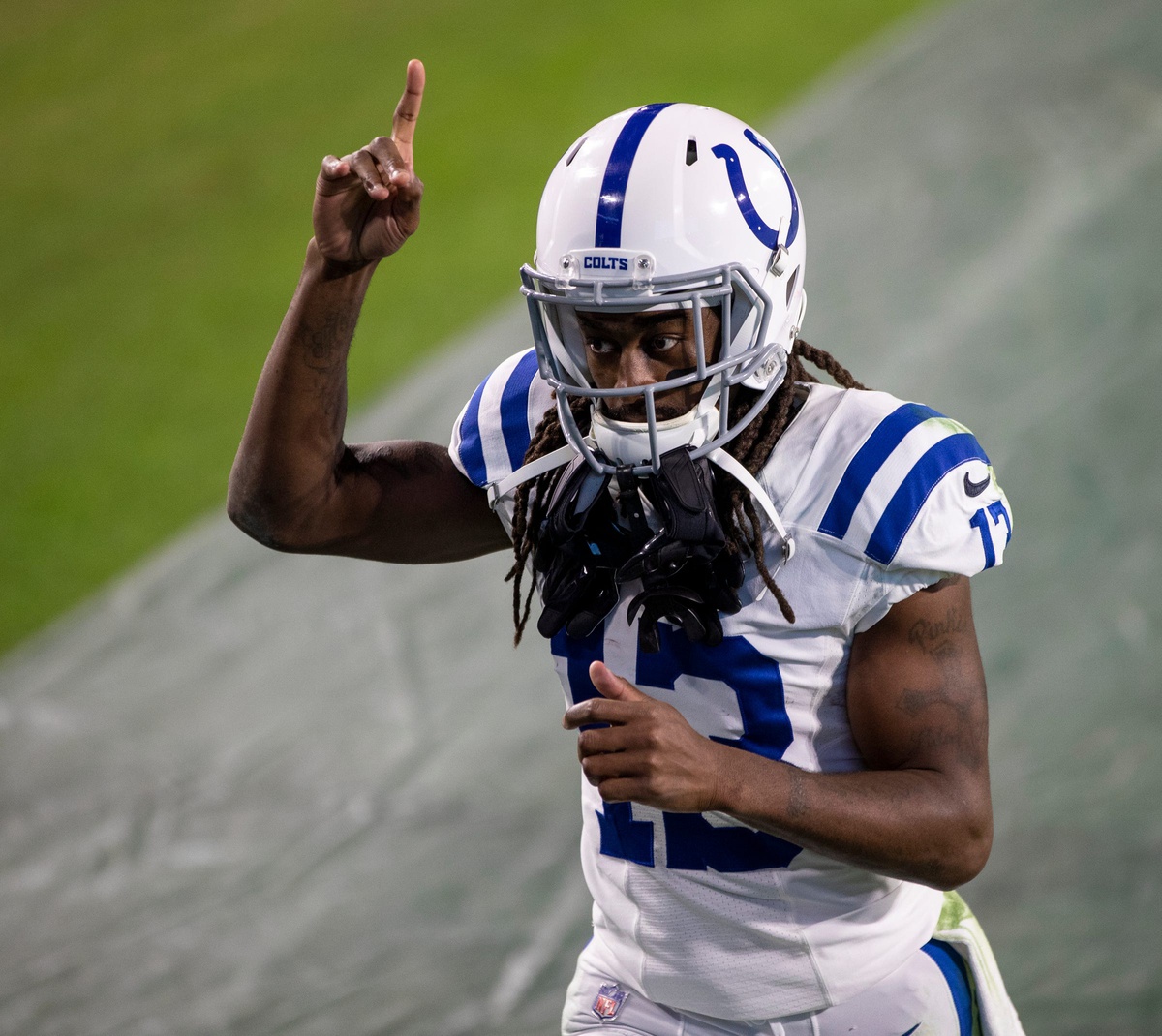 The Colts are heading into a stretch run in the battle for the AFC South title, but even with the success they have found as a team overall, their offense has been middling for most of the year.
While veteran quarterback Philip Rivers has improved the Colts' offensive efficiency output, they still rank only 15th in the league in yards per play. So to move the ball with more effectiveness, a little more explosiveness will have to be in order.
Entering Week 14, the team ranks 22nd in deep pass attempts, even with the lightning-fast Hilton on the team, and Hilton's targets have all but gone away as Rivers has implemented his famous "throw the ball to the running back every play" strategy.
It's possible that the Rivers offense just doesn't take enough deep shots to suit a player like Hilton. It's also possible the veteran wideout's legs have finally given out. His grade on passes thrown 20 yards downfield this season sits at only 71.8 through 13 weeks, which would be his lowest grade for a season and five grading points lower than his grade last season. For a player who never dipped below 89.0 over his first seven seasons, this is slightly concerning.
Andrew Luck's early retirement hasn't helped, but Hilton still posted a 91.3 mark in the same category in 2017 with Jacoby Brissett under center.
Targeting Hilton downfield has just not worked for Rivers this year, as only 33% of those deep targets have been caught. And yes, Hilton still leads the team in deep targets, but the efficiency of these routes has paled in comparison to past years: He has 114 yards on 12 deep targets, while Marcus Johnson has 138 yards on eight deep targets and Zach Pascal has 96 yards on nine deep targets.
---
Jacobs' smashing rookie season may have given way to a mediocre sophomore campaign, but the underlying numbers suggest that a bounce back is on the horizon.
The Alabama product broke out with a 4.7-yards-per-carry average on his 249 rush attempts last season but has fallen to 3.8 this season. More than that, though, he broke tackles at an immeasurable pace in his first year in the NFL, averaging 0.28 forced missed tackles per attempt to rank first among runners with at least 60 carries. Jacobs' rushing grade of 86.9 was second only to Nick Chubb's mark of 90.3 among all running backs in 2019.
The Raiders running back has slipped a bit to 80.6 this year, but that still puts him ninth in the league. That said, he's not breaking tackles at the enormous rate he was last season — his 0.19 forced missed tackles per attempt is tied for 19th among backs with at least 60 carries — but this slight downturn might be due to the Raiders' change in scheme this season.
As the Raiders have moved on from Oakland, so too have they moved on from their outside-zone usage in the run game. Last season, Jacobs was given 110 carries on outside-zone plays, where he was able to set up blocks and use his lateral quickness to stop on a dime and cut back into voided space. His ability to work the blocking earned a grade of 80.1 on such runs in 2019. This year, Jacobs has run more inside-zone plays than any other concept, and his grade for those runs is only 69.7.
Jacobs is still on pace for a big NFL career, so one shouldn't be too worried about the dip in yards per carry. He's still getting the job done but could sure use a couple of more outside-zone runs.