Per ESPN's Adam Schefter, the Pittsburgh Steelers are going to make at least one more run at a Super Bowl in 2021 with Ben Roethlisberger at quarterback. 
Looking at the Steelers performance through the first 12 weeks of the 2020 season, a Super Bowl seems far from out of reach. Pittsburgh began the year 11-0 with suffocating play from its defense and an offense that wasn't elite but was still a marked improvement over the Mason Rudolph– and Duck Hodges-led unit of 2019. Across that 11-game winning streak, Pittsburgh ranked 14th in EPA per play. 
Subscribe to
Then the wheels fell off. Pittsburgh won just once in its final six games, including a double-digit postseason loss to a shorthanded Cleveland Browns squad that didn't have head coach Kevin Stefanski on the sidelines. Roethlisberger and the play of the offense was the team's undoing. From Week 13 through the postseason, the Steelers fell to 26th in EPA per play on offense, and Roethlisberger ranked 31st out of 32 qualifying quarterbacks in PFF grade. That team is far from winning a Super Bowl. 
The season's disappointing conclusion put the Steelers in a difficult spot this offseason with a guy who has been their quarterback since taking over for an injured Tommy Maddox in 2004 and rattling off 15 consecutive victories in his first 15 NFL starts. Roethlisberger helped lead the team to three Super Bowls early in his career, winning two of them. As time progressed, Roethlisberger became less of a "game manager" and one of the better high-volume passers in the NFL. He recorded PFF grades of at least 80.0 in every season from 2012 to 2018. 
That version of Roethlisberger is unlikely to come back, though. 
Roethlisberger's decline in arm strength wasn't reminiscent of Drew Brees in 2020, but his effectiveness throwing downfield did take a hit. His 70.8 passing grade on throws 20 or more yards downfield ranked 28th out of 36 quarterbacks with at least 25 such attempts — the first time he had been below 90.0 since 2013.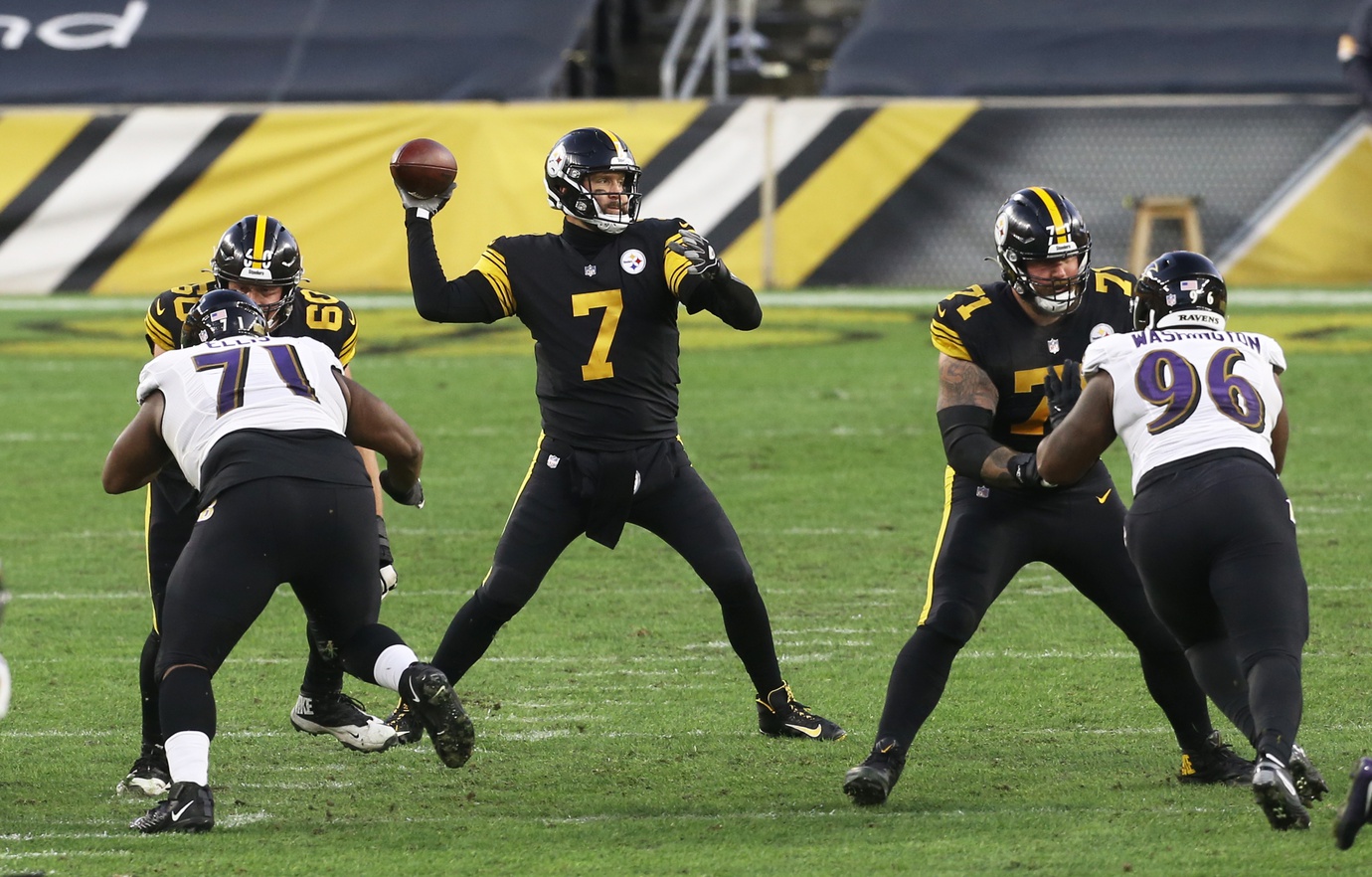 The more concerning aspect of this offense with Roethlisberger returning is his lack of mobility. Roethlisberger's ability to elude pressure and extend plays was a trademark of his game early in his career. The Steelers offense has cut down significantly on that backyard football style of offense over the past several years, but the conservative game plan went to another level this past season. 
Roethlisberger dropped back to pass 626 times during the 2020 regular season. He left the pocket via scramble or designed rollout on just 28 of those plays — a 4.5% rate that came in above only Tom Brady and Philip Rivers among qualifying quarterbacks. On a related note, his average time to throw of 2.17 seconds on the year was the lowest mark since PFF began collecting the data point. And the 59.4% of his passes short of the first down marker led the NFL. 
With no running game to speak of, Pittsburgh was limited to short, quick passes over the middle of the field and deep shots down the sideline. If the ball didn't come out of Roethlisberger's hands quickly, the chances of him eluding pressure were slim. 
Therein lies the Steelers' biggest problem to solve in 2021: How do they make the most of this version of Roethlisberger? The hope is that new offensive coordinator Matt Canada can help breathe some life into a unit that became stale in 2020.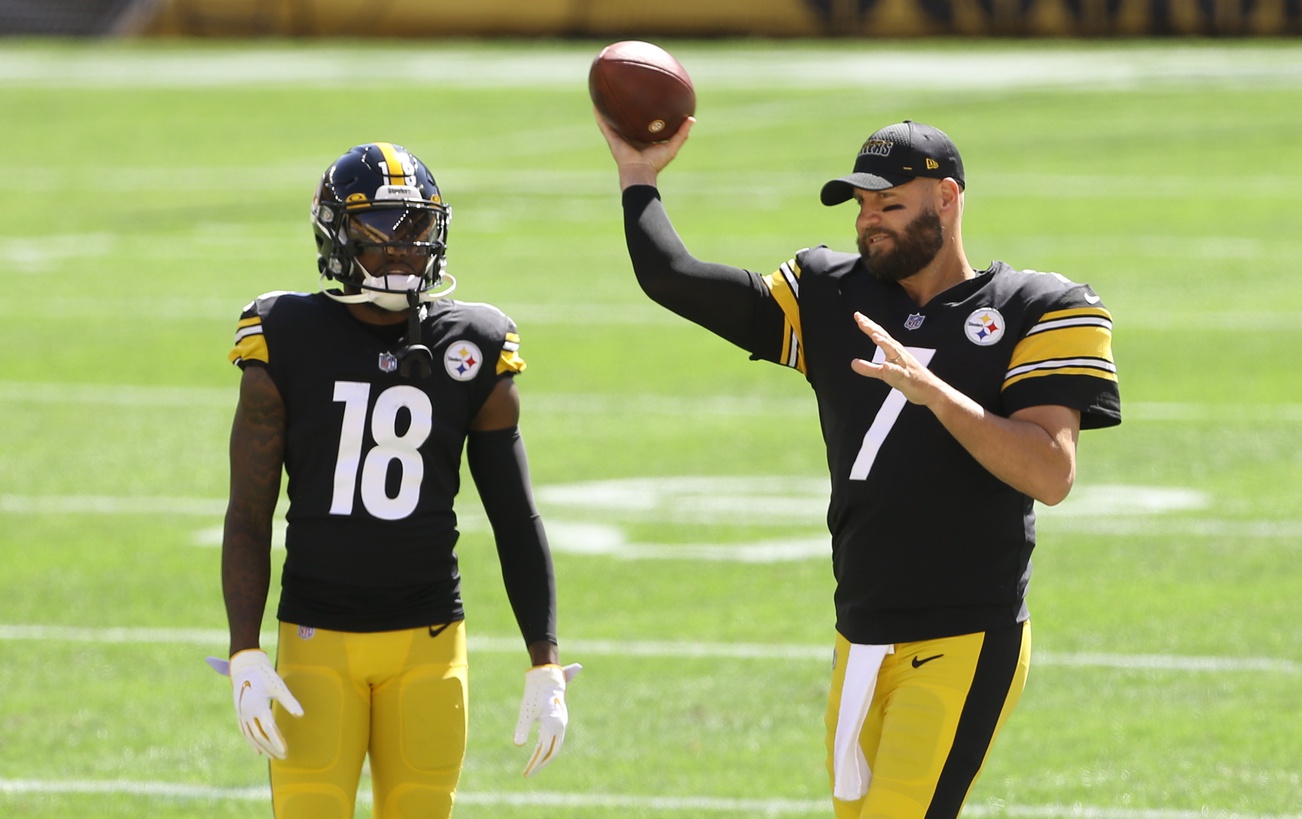 Pittsburgh was left with few options at quarterback in 2021 when looking at their cap situation and draft capital. It was either run things back with Roethlisberger on a re-negotiated contract, turn the reins over to Rudolph or the recently signed Dwayne Haskins, go bargain-shopping in free agency or take a chance on a quarterback beyond the top of the 2021 draft class. The Steelers opted for the safe bet, hoping that they could recapture some of what got them out to an 11-0 start last season and pushing off the rebuild for at least one more year. 
The Steelers announced the re-worked deal. According to NFL Network's Tom Pelissero, Roethlisberger ultimately agreed to a $5 million pay cut to help the Steelers navigate the salary cap challenges ahead. He was owed a $4 million base salary and had a $15 million roster bonus for 2021 but reduced his salary by $2.925 million down to the minimum of $1.075 million. The roster bonus must then have been dropped from $15 million down to $12,925,000, and that amount was then converted into a signing bonus. 
Pittsburgh then tacked on voidable years to spread out the $12,925,000 over the maximum five years. Roethlisberger's new 2021 cap hit should now be $25,910,000, clearing $15,340,000 off the books for the Steelers in 2021. The move gets the Steelers back under the cap and potentially enables them to try their best to retain pending free agents WR JuJu Smith-Schuster, ED Bud Dupree and others, though that will still be quite a challenge.