Oklahoma and Texas have sent shockwaves across the college football landscape with the announcement that they will be leaving the Big 12, almost certainly for the SEC.
The move is expected to reverberate throughout college football as the remaining Big 12 teams scramble to find new homes, the Big Ten and Pac-12 make power plays to keep up with the SEC and the American Athletic Conference tries to get a seat at the Power Five table.
Subscribe to
The internal politicking at these institutions as the realignment commences will be fascinating, but as fans of the sport, we are not privy to this as it happens. We are, however, privy to the downstream effects of realignment on recruiting thanks to the excellent work from 247Sports. From their data, we can make and test claims about the impact of conference realignment on wider recruiting strategy and outcomes.
We'll be using the Maryland Terrapins' 2014 move from the ACC to the Big Ten as a case study for how realignment affected the recruiting strategy in those conferences. Specifically, we'll use difference in difference (DiD) regression to answer two questions:
Did Maryland leaving the ACC cause southern ACC schools to recruit inside the Terps' footprint less often?
Did Maryland joining the Big Ten cause eastern Big Ten schools to recruit inside the Terps' footprint more often?
For our purposes, Maryland's footprint will be considered the Washington, D.C., Philadelphia, New York City, Baltimore and Richmond metropolitan areas since they're all within a reasonable driving distance of the College Park campus.
Did Maryland leaving the ACC cause southern ACC schools to recruit inside the Terps' footprint less often?
We require a counterfactual for DiD regression — a set of similar schools that we can argue were unaffected by Maryland leaving the ACC. We'll be considering the ACC schools north of North Carolina to be our counterfactuals. These schools (Virginia, Virginia Tech, Syracuse, Pittsburgh and Boston College) are close enough to Maryland's footprint that we'd expect them to recruit the area regardless of if they play Maryland.
They are also roughly of similar quality to most of the southern schools (Duke, Wake Forest, N.C. State, North Carolina, Clemson, Georgia Tech, Florida State and Miami) and play similar schedules, so we can assume they're comparable. Louisville will not be considered since it joined in 2014, the same year Maryland left.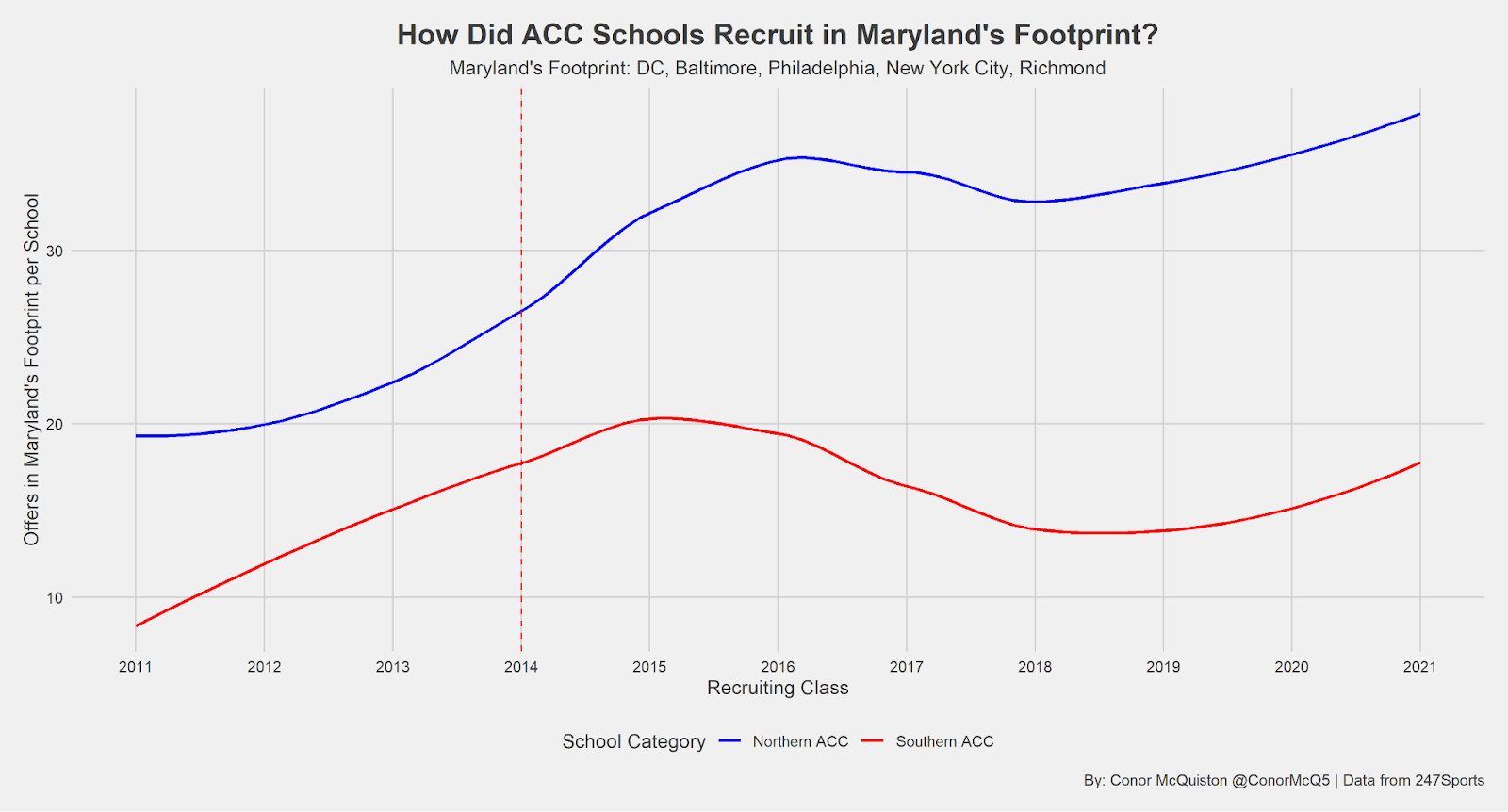 Our image is already murky. Northern and southern ACC schools appear to have a similar trend in Maryland footprint offers, with a peak around 2015-16 classes, a valley around 2018-19 and a gradual increase since. The drops and peaks may appear slightly muted in southern schools compared to their northern counterparts, but it is too subtle to say anything definitive. Additionally, we are using conglomerates and might be losing information accordingly, so let's look at the schools individually.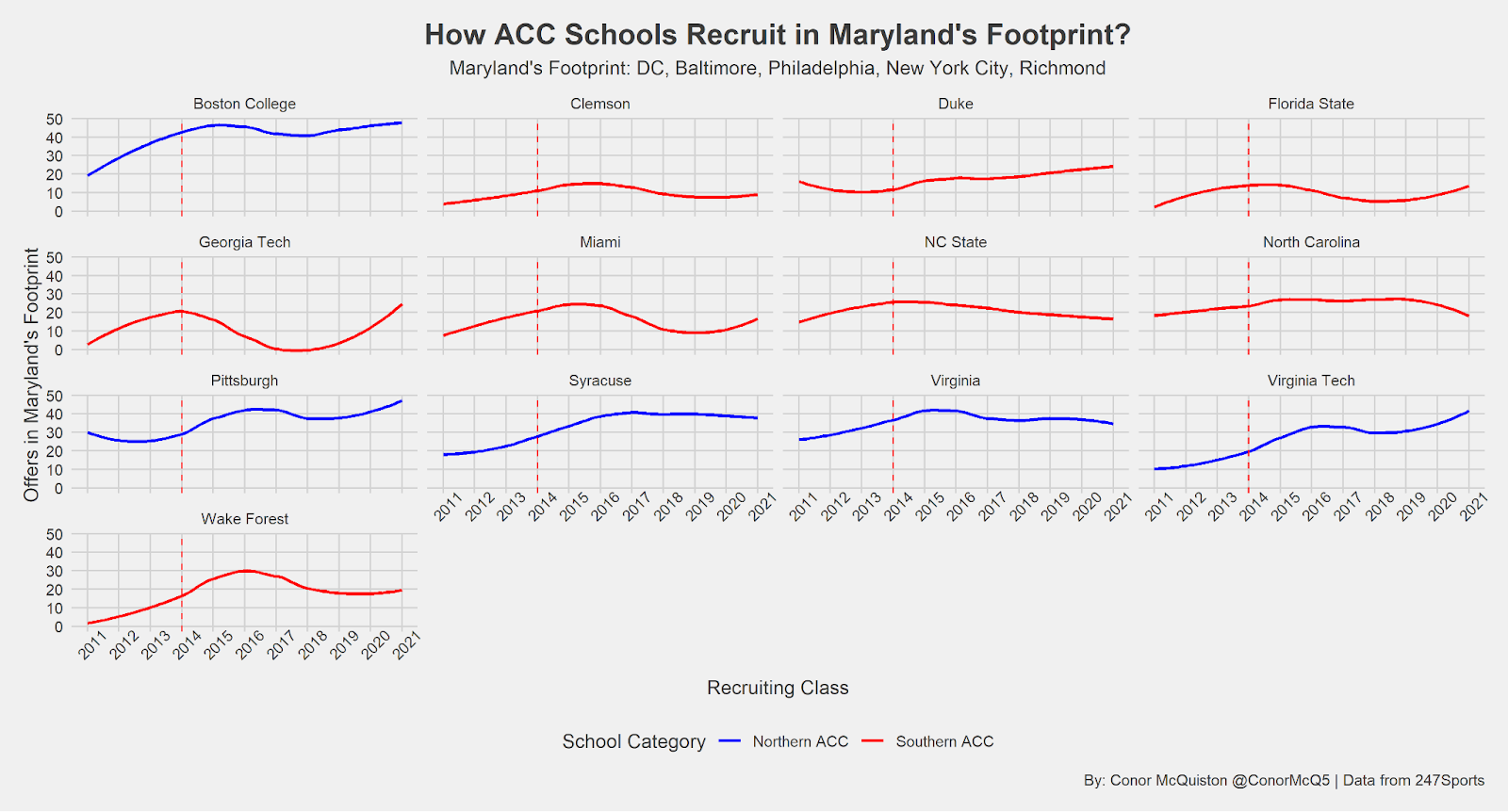 At the school-by-school level, there does not appear to be an inflection point where all southern schools began to shift away from Maryland's footprint in a meaningful way. To pick some examples, Duke began recruiting the area more, North Carolina mostly remained constant and N.C. State had a very slow, very small decline. There isn't an overarching trend, so this could easily be reading tea leaves. Let's look at the regression results.

Several model specifications were tested for thoroughness. The main differences between the models were whether we controlled for the number of players a program offered in a year and if we included Syracuse and Pittsburgh as ACC members. A control for total offers was included since programs can extend wildly different numbers of offers.
For example, Clemson extended 109 total offers in 2018, whereas NC State offered 259 prospects. So, it's an important factor when modeling how many offers a particular program extended to one area. Additionally, Pittsburgh and Syracuse joined the ACC only a year before Maryland left, so there is a reasonable argument that those programs are not as good of counterfactuals as the rest of the ACC.
The main takeaway is that, after controlling for a program's total offers in a year, there was no statistically significant effect on the southern ACC's recruiting activity in Maryland's footprint as a result of the Terps moving conferences. This means that we fail to reject the null hypothesis that Maryland's ACC departure had no effect on southern ACC schools' recruiting strategy in the Terps' footprint. In English: The result of this study means we have no evidence that Maryland leaving the ACC changed how ACC schools recruited in the DMV area.
This result makes sense. There are still ACC schools in Maryland's footprint, so far-away programs can still get exposure in the recruiting market. Additionally, Maryland was in the ACC for decades, so those far-away programs had plenty of time to form relationships with local high schools.
Since the Big 12 is likely to explode following Texas and Oklahoma's departure, this result is not particularly relevant to them. However, if, say, a Bay Area Pac-12 team or a Carolinas ACC team were to leave in country-spanning mergers, then we would not have any reason to expect either conference to stop recruiting those metro areas.
Did Maryland joining the Big Ten cause eastern Big Ten Schools to recruit inside the Terps' footprint more often?
We are considering the western Big Ten teams (Indiana, Illinois,  Minnesota, Northwestern, Purdue, Wisconsin, Iowa and Nebraska) to be the counterfactual to the eastern Big Ten teams (Ohio State, Michigan, Penn State, Michigan State) for this part of the study. Explicitly, this means we'll be assuming that the western teams are so far away from Maryland's footprint (728 miles from Washington, D.C., on average) that they won't be affected by the addition, but that the eastern teams (339 miles from Washington, D.C., on average) might.
Rutgers is a complicating factor here since the program joined the Big Ten in the same year with functionally the same footprint. As such, we can't isolate Maryland. But this means if there is any causal relationship between teams from the same footprint joining a conference, and a conference reacting accordingly from a recruiting standpoint, it should be apparent.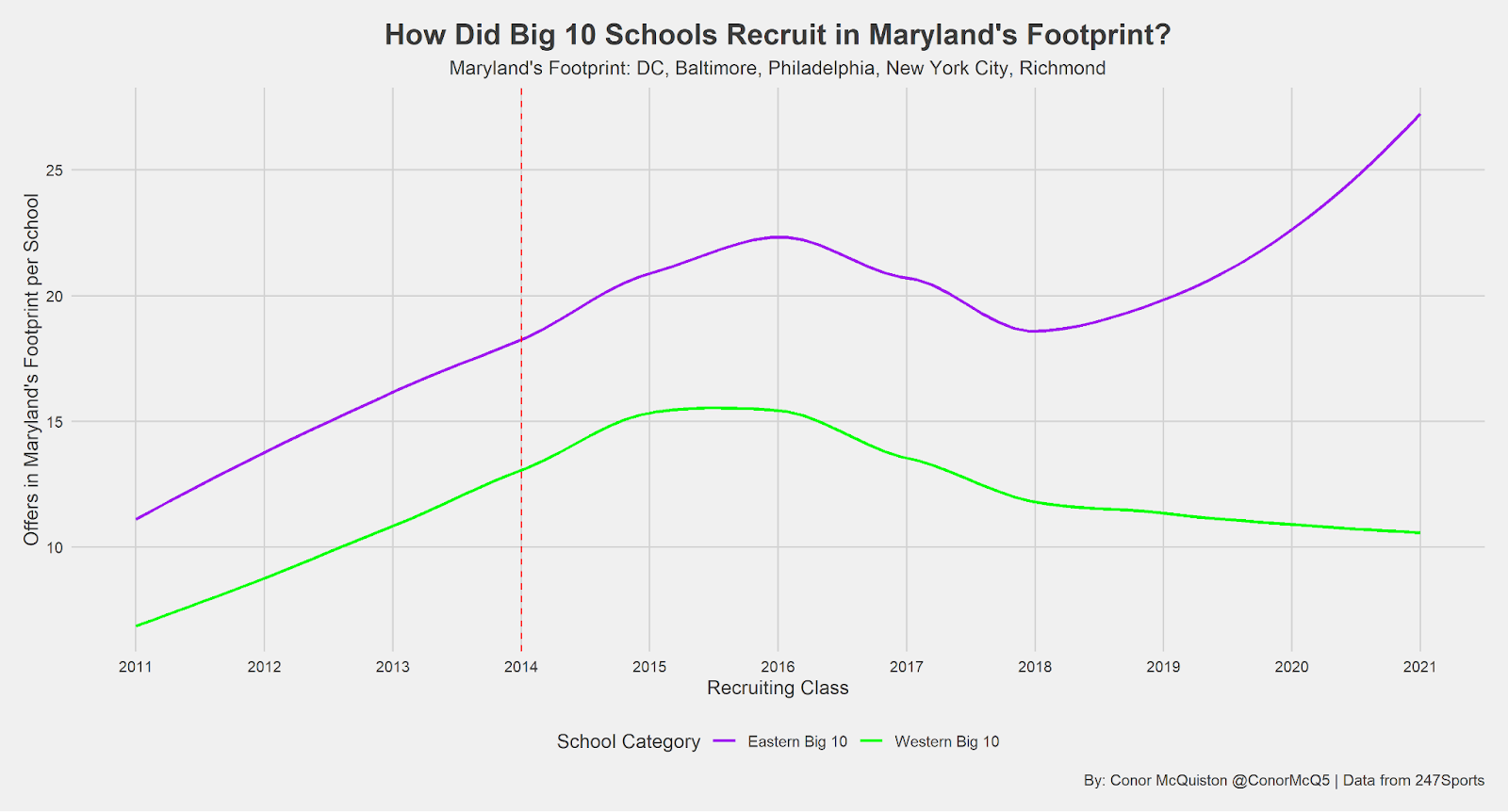 In the aggregate, it certainly looks like eastern schools around 2018 turned course and began hitting the DMV much harder than they did before Maryland and Rutgers joined the Big Ten. This seems like evidence against the null hypothesis, but let's break it down by team to see what's going on.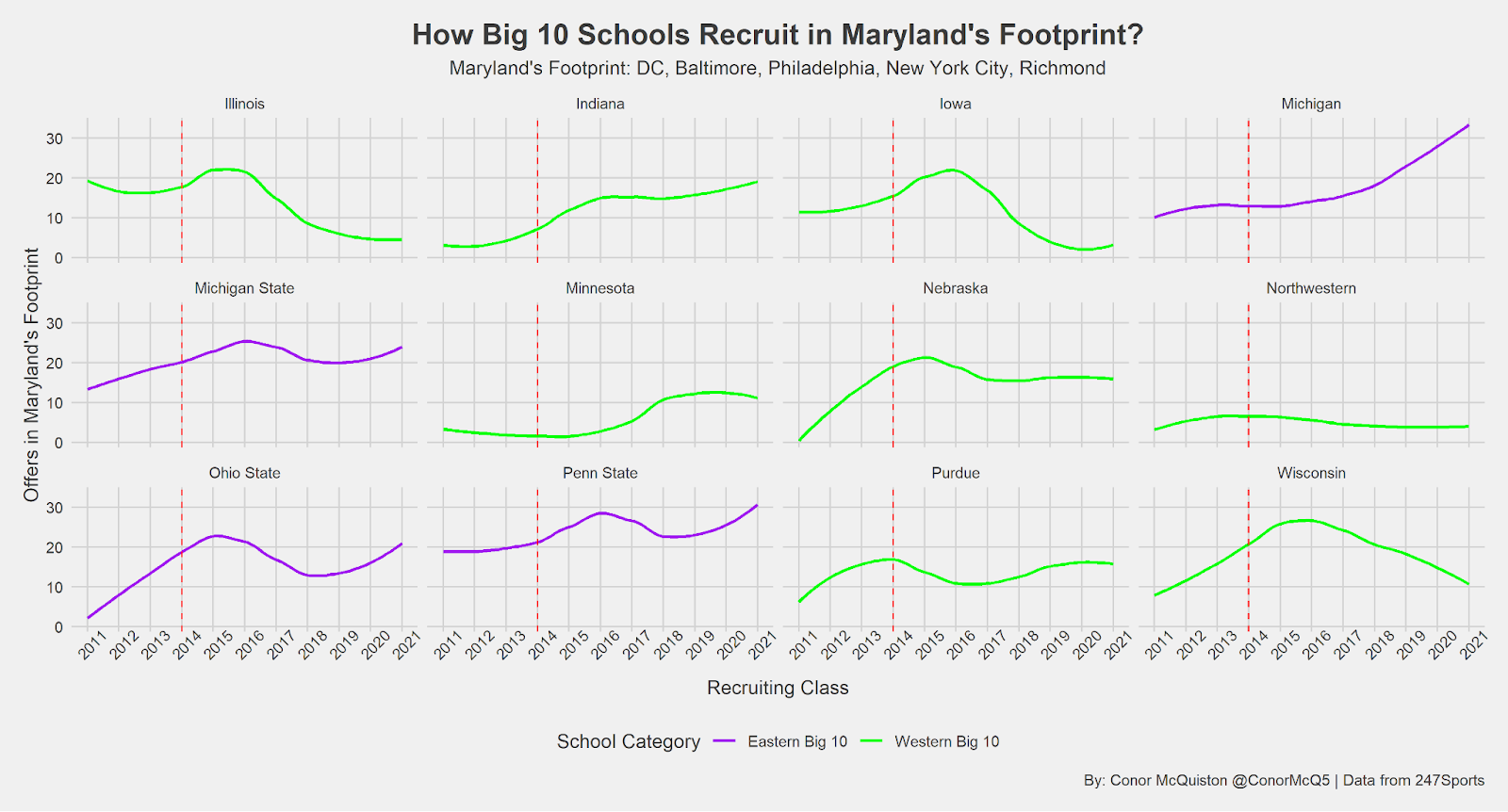 It appears our evidence was not as strong as it initially seemed. The large spike in eastern activity in the DMV appears to primarily be driven by Michigan becoming tremendously more active in the area starting around the 2017 class through 2021. Anecdotally, this makes sense. Over that period, Michigan employed several coaches, notably Don Brown and Pep Hamilton, who have experience working within Maryland's footprint. It is difficult to tease out the influence of the addition of Rutgers/Maryland from just these plots, so let's see the results of the regression.

Once again, several model iterations were tested, including control for total offers and bunching in Indiana with the eastern Big Ten schools. Indiana was included with the eastern schools because it plays Maryland and Rutgers every year, so an argument could be made that it gets an exposure boost in those areas despite being over 500 miles away.
Regardless of the model specifications, however, there was no statistically significant effect on eastern Big Ten schools' activity within Maryland's recruiting footprint. Therefore, we fail to reject the null hypothesis that Maryland (and Rutgers) joining the Big Ten had no effect on eastern Big Ten schools' recruiting strategy within the DMV. To translate into regular, non-statistics language: We have no evidence that Maryland and Rutgers joining the Big Ten expanded the Big Ten's recruiting footprint.
This result also makes sense. Since programs tend to focus on recruiting close to home, if a program was close enough to tap into fertile recruiting grounds like the DMV, then they probably would do it regardless. Additionally, while playing in College Park or New Brunswick may make it more convenient to meet with local high school coaches, one or two yearly meetings do not alleviate the thousands of dollars necessary to send coaches into those areas and cultivate those relationships.
How does this result apply specifically to Texas and Oklahoma joining the SEC? This means that they will not act, as some media members have put it, as a gateway for the SEC to more easily recruit in the state of Texas. The gate just has an entrance fee, and if programs were willing to pay that fee, they would've by now.
Conclusion
Much digital ink has been spilled on the idea of college teams joining new conferences and shifting the recruiting landscape of that conference. Several difference in difference regressions upon Maryland leaving the ACC and joining the Big Ten have failed to produce evidence of a causal relationship between its conference realignment and its new/old conference rivals' activity in its recruiting footprint. While it still needs to be researched as to whether this is a generalizable result, the early returns of this mean we might be able to expect the following fallouts from the incoming wave of conference realignment:
Any significant increase in SEC recruiting activity in Texas (if there is any) will likely

not

be the result of Texas and Oklahoma joining the conference.

Any future conference departures will likely not dissuade that team's former conference foes from recruiting in its footprint.

Any new conference additions will not act as gateways into its footprint for new conference foes.