In a battle of 1-1 teams, the Cleveland Browns secured their second win of the season over the Washington Football Team. 
The Browns didn't look as sharp offensively as they did in their Week 2 victory over the Cincinnati Bengals, but their ability to chew up yardage with Nick Chubb and Kareem Hunt and take advantage of mistakes from Dwayne Haskins was enough to string together consecutive wins.
Editor's note: All of PFF's grades and advanced stats from this game will be finalized and made available to ELITE subscribers within 24 hours of the final whistle.
STORY OF THE GAME
Perhaps the most promising aspect of Haskins' rookie season was that he did such a good job of taking care of the football. His turnover-worthy play rate of 1.9% was the fourth-lowest mark in the NFL during the 2019 season. Haskins gave the Browns defense plenty of opportunities to make plays in this game, though. And it goes beyond the plays where Cleveland was actually able to capitalize. 
Haskins threw three interceptions and lost a fumble on a Myles Garrett strip sack. Those turnovers led to 24 Browns points on the ensuing drives. Beyond those plays, Haskins threw a pass directly to Denzel Ward in which Isaiah Wright played defender and saved the turnover, and he put the ball on the ground on a botched exchange with Antonio Gibson. When you make that many mistakes as an offense and as a quarterback, it's going to be tough to win the game. 
Haskins simply isn't the kind of passer that can overcome those mistakes at this stage of his career. He's been one of the least accurate quarterbacks in the NFL thus far this season. Even factoring in the lack of reliable weapons on offense in Washington, Haskins' start to the season has been concerning. You have to wonder if Alex Smith gets a chance to complete his remarkable comeback at some point this season.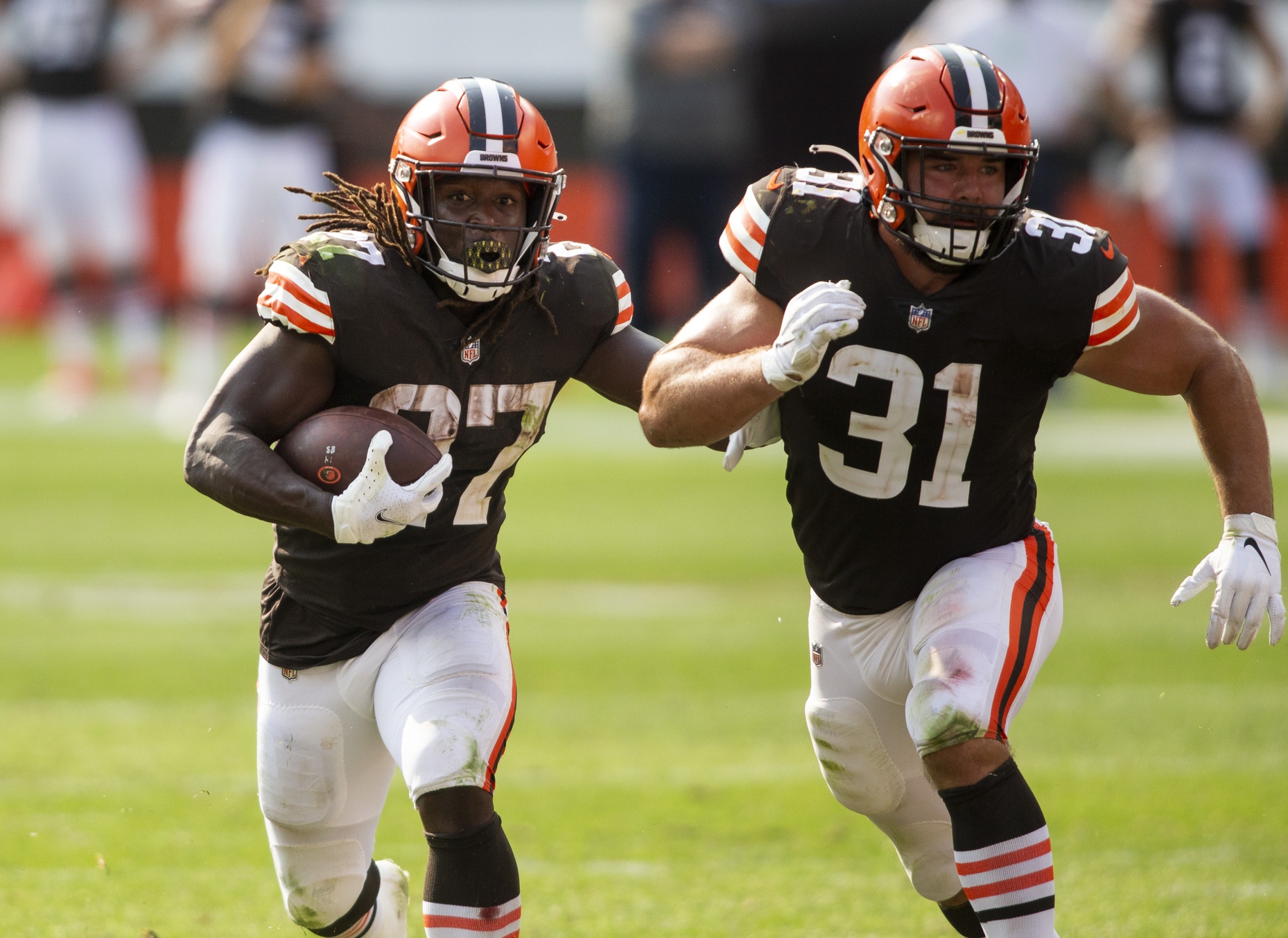 On the other side, it's still hard to be 100% confident with this Browns offense after one truly impressive display through three weeks, but Cleveland will take the win and a 2-1 start heading into a Week 4 contest with the Dallas Cowboys. 
ROOKIE WATCH
Both of these teams are turning to rookies for serious contributions, but the highest-profile rookie in this game — Chase Young — saw his action cut short in the first half with a groin injury. If he's out for any length of time, Washington has two competent starters to turn to in Montez Sweat and Ryan Kerrigan, but it's still a tough blow for that defense. Young has been as advertised in the first two-plus games of his NFL career. 
One week after taking on a bigger role in the backfield, Antonio Gibson was on the field for fewer offensive snaps in Week 3 (25) than fellow running back J.D. McKissic (33). However, he did get the most touches in the backfield (12). Gibson was able to punch in a goal-line carry for a rushing touchdown, as well. He looked like the best runner in Washington's backfield with over 5 yards per carry and four first downs or touchdowns on his nine carries. 
Isaiah Wright and Antonio Gandy-Golden saw time at wide receiver for Washington, and it was actually the undrafted free agent Wright who saw more playing time in his first taste of offensive action, with 18 routes run to Gandy-Golden's nine. Wright saw six targets on those 18 routes and brought in four passes for 24 receiving yards. Gandy-Golden's only touch on offense, meanwhile, came on a 22-yard rush. It appears as if Wright has started to carve out a role for himself in the slot for Washington while Terry McLaurin and Dontrelle Inman serve as the team's top two outside wide receivers. 
The Browns' first-round pick, Jedrick Wills, played well enough again to not stand out as a big negative following his move to the left side. For a rookie offensive linemen, that's often all you need to see. He did get beat several times in pass protection, but it was a solid overall performance for the Alabama product against a talented Washington defensive line. 
Harrison Bryant continues to serve as Cleveland's TE2 with David Njoku on injured reserve, and most of his snaps came once again as a run blocker. That said, Bryant did come away with his first career receiving touchdown on a three-yard grab in the fourth quarter. 
Jordan Elliott (22 snaps) and Kamren Curl (14 snaps) both saw some defensive snaps for their respective teams, but both players had relatively quiet games. 
ELITE subscribers can view player grades, advanced statistics, positional snap counts and more in Premium Stats 2.0.