Check back frequently for PFF analysis of the latest NFL headlines. This page will continue updating throughout the day as news comes in…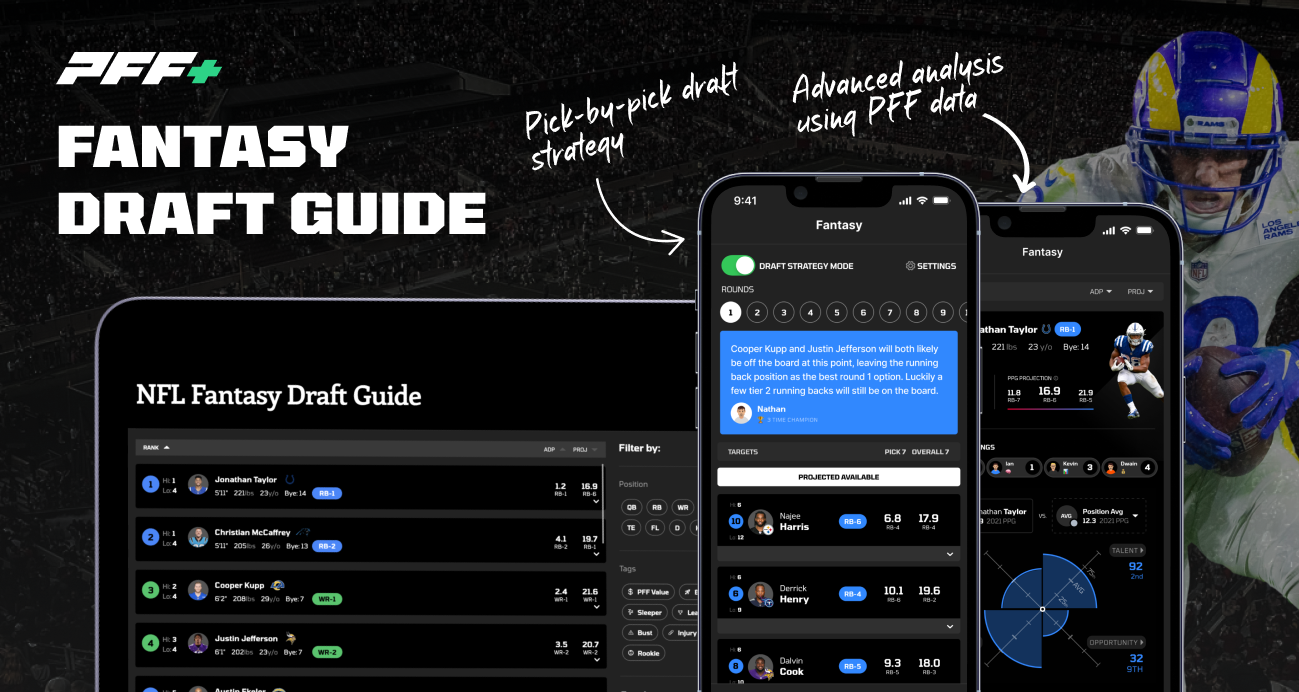 ---
AUG. 22
It's an MCL sprain for the No. 5 overall pick, which is far better news compared to what it looked like when the injury occurred during Sunday's preseason game versus Cincinnati. Thibodeaux went down after getting cut-blocked by Bengals tight end Thaddeus Moss and immediately grabbed his right knee.
The Giants' season opener is in under three weeks against the Tennessee Titans, so it's probably pushing it for him to be ready by then. Week 2 against Carolina is likely a more logical return date, if all goes well.
The Giants have had Thibodeaux working with the first-team defense in OTAs and camp, and he has played 31 total snaps in two preseason games, earning a 68.9 PFF grade.
Acquired for a conditional fifth-round pick in early July, Mayfield wins the starting job over Sam Darnold and will get the start against his former team, the Cleveland Browns, in Week 1. Darnold is expected to be the backup.
Mayfield is coming off a rough year, battling an injury to his non-throwing shoulder throughout the 2021 season, leading to a career-low 63.6 PFF grade.
But there are some positives and things Mayfield doesn't get enough credit for: Since entering the NFL, his 5.8% big-time throw rate ranks fifth in the NFL, behind only Russell Wilson, Aaron Rodgers, Patrick Mahomes and Matthew Stafford.
Carolina is entering a pivotal year under head coach Matt Rhule, with many believing it could be a make-or-break year for the coaching staff. Mayfield also needs a big year for his own sake as he enters the final year of his rookie contract.
Minnesota will send a conditional seventh-round pick in 2024 to Las Vegas in the deal.
Mullens signed with the Raiders this offseason after spending his first four NFL seasons in San Francisco, and last year in Philadelphia and Cleveland.
He has started 17 career games — including one last season for the Browns when he finished 20-of-30 for 147 yards and a TD. He earned a 69.2 PFF grade in that game.
The move means Jarrett Stidham has won the backup job in Vegas, while Minnesota appears not satisfied with Kellen Mond and Sean Mannion as they enter the final week of the preseason.
---
AUG. 18
NFL, NFLPA Reach Settlement In Deshaun Watson Case
Watson is suspended for 11 games, will pay a $5 million fine and will undergo mandatory evaluation by behavioral experts and follow their suggested treatment program.
By reaching a settlement, the NFL and NFLPA avoid the situation potentially dragging into the season and reaching federal court. A ruling from appeals officer Peter C. Harvey is no longer needed.
Watson spoke to reporters after the news and maintained his innocence. "I'll continue to stand on my innocence, just because you know settlements, and things like that happen doesn't mean that a person is guilty or anything. I feel like a person has an opportunity to stand on his innocence and prove that, and we proved that from a legal side, and just going to continue to push forward as an individual and as a person," Watson said.
Watson's suspension takes effect Aug. 30 when NFL teams are required to cut rosters down to 53 players. He will be eligible for reinstatement on Nov. 28 and will be available to play in Week 13 against his former team, the Houston Texans.
---
Head coach Doug Pederson went on to say that they will be very careful not to rush Robinson back into things, but he's headed in the right direction. Robinson started participating in team drills Tuesday. He tore his Achilles tendon in Week 16 of last season but avoided the PUP list to start camp, a sign he was ahead in his recovery.
The former undrafted free agent had an up-and-down year under then-head coach Urban Meyer, totaling 767 rushing yards and eight touchdowns. He earned a 77.1 PFF rushing grade. As a rookie, Robinson tallied 1,070 rushing yards and 10 total touchdowns.
The Jaguars have been leaning heavily on former first-round pick Travis Etienne throughout camp, and the expectation is he'll carry the workload until Robinson is fully healthy. It's unclear how things will shake out once Robinson is fully back in the fold.
---
AUG. 17
Brown started all 17 games for Jacksonville last season, playing a career-high 678 snaps. His 43.2 overall and 36.7 run-defense grades were career lows by a wide margin.
A first-round pick of the Patriots in 2015, Brown spent four years in New England followed by two years in New Orleans before getting traded to Jacksonville last year. He earned an overall PFF grade of at least 68.0 in five of the first six seasons of his career.
The move will save Jacksonville $3 million in cap space but leaves behind $4.5 million in dead money.
With the move, expect DaVon Hamilton and Jay Tufele to move up the depth chart.


---
Hardman landed awkwardly going up for a pass and trainers were examining his left leg before taking him back in with a cart.
Hardman set career-highs in receptions (59) and receiving yards (693) last season. He's earned near-identical PFF grades in all three years of his career, with a 69.1 grade in 2019, 69.8 in 2020 and 68.5 in 2021.
Kansas City traded star receiver Tyreek Hill this offseason, which was expected to lead to more opportunities for the former second-round pick.
The Chiefs were already without JuJu Smith-Schuster on Wednesday, as he's sitting out practice due to a sore knee.
Marquez Valdes-Scantling and second-round rookie Skyy Moore round out a receiver group that will likely share the wealth more than ever before in the Patrick Mahomes era.


---
It's a four-year, $76.4 million extension that includes $42 million guaranteed. The deal makes James the highest paid safety in league history, surpassing Minkah Fitzpatrick.
The concern with James has never been the play, but rather his availability. Injuries held him to five games in 2019 and kept him out for the entire 2020 season.
He returned last season to an All-Pro level, recording 118 tackles, two interceptions, two sacks and three forced fumbles. He earned a 78.1 PFF grade.
James had been holding-in throughout camp but will now return to practice with the deal finally done.
---
Lock was scheduled to start Thursday night's preseason game vs. the Chicago Bears, but this now takes him off the field.
Any player who tests positive for COVID-19 must isolate for five days. The league is no longer testing for COVID, so Lock had to self-report his positive test.
Lock, acquired from the Broncos in the Russell Wilson trade this offseason, is in the midst of a quarterback competition with Geno Smith.
Head coach Pete Carroll told reporters Tuesday that Smith is still leading the way, but no decision was imminent. The plan was for Lock to get a preseason start after Smith started the first game.
In Saturday's preseason game against Pittsburgh, Smith played the first half and went 10-of-15 for 101 yards and made two big-time throws, earning an 88.0 PFF grade. Lock took over for the second half and went 11-of-15 for 102 yards, two touchdowns and one big-time throw, earning a 63.3 overall grade.
We'll see if this news throws a wrench into Seattle's quarterback competition. Their final preseason game is scheduled for Aug. 26 against the Dallas Cowboys.
---
A conditional late-round pick will be going back to Las Vegas in this trade.
The Raiders, under former general manager Mike Mayock and head coach Jon Gruden, selected Gillespie in the fourth round of the 2021 NFL Draft. He appeared in just three games as a rookie and played in 13 total snaps.
Gillespie had been competing for a backup safety spot behind Johnathan Abram and Trevon Moehrig. Former Patriots safety Duron Hamon, who has ties to the new regime, was signed this offseason and likely had the leg up on Gillespie in camp.
In two preseason games so far, Gillespie has played 40 total snaps, earning a 71.6 overall PFF grade.
This is another depth move for Tennessee, who also claimed former Texans second-round cornerback Lonnie Johnson Jr. off waivers on Tuesday.