PFF was not a big fan of Daniel Jones as a draft prospect. He was viewed as a player with marginal first-round talent — someone who should have been drafted at the top of the second based on the data from his college career. Of course, he was always likely to go higher than that because of the value of the quarterback position, but it was still eye-opening when the New York Giants pulled the trigger at No. 6 overall. 
Still, after two seasons in the NFL, it feels like Jones is suddenly underrated after being largely written off in some quarters. 
Jones had an overall PFF grade of 65.9 during his rookie season and led all rookies in touchdown passes. The 2019 quarterback class was tightly bunched in terms of grade over their debut seasons, so Jones was in the same ballpark as Kyler Murray, Gardner Minshew and Dwayne Haskins, the other three rookies to drop back to pass more than 200 times.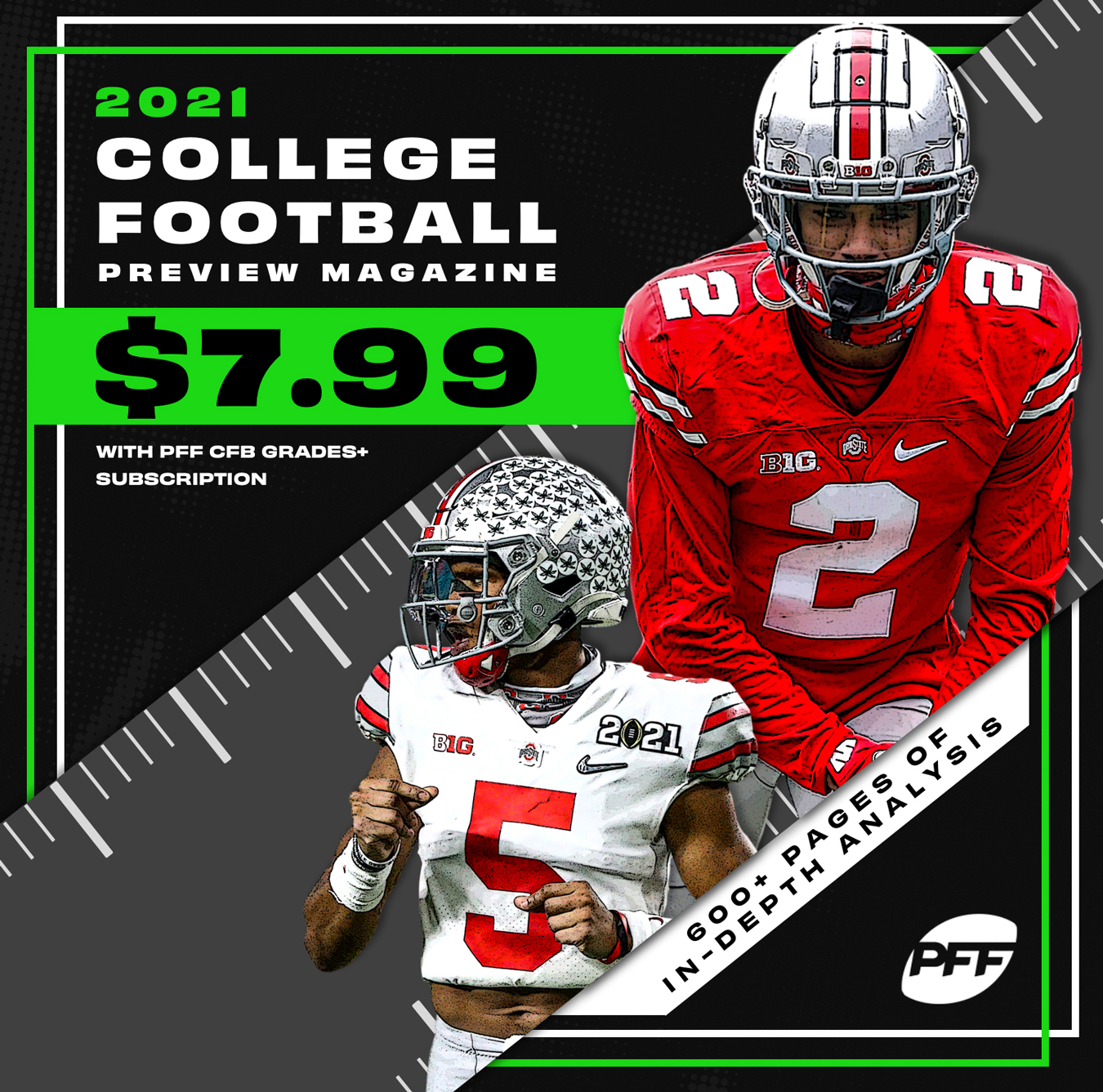 For Jones to even be in the same broad area as Murray given the gulf in quality between the two as draft prospects was notable. Year 2, however, showed just how beholden we can all be to box-score statistics. Jones played in 14 games and dropped back to pass over 500 times yet finished the season with just 11 passing touchdowns. Even if we credit him with his rushing score as well, he finished with the same number of total scores as Dak Prescott, who played in four and a half games before his season ended due to injury. 
There's no way to make that number look good, but it doesn't necessarily paint an accurate picture of Jones' play in his second season. Jones saw his overall PFF grade jump to 78.4 and added almost 500 yards on the ground, including an 80-yard run that is notable for two remarkable things: one, it ended with Jones falling face-first into the turf having tripped himself up rather than scoring; and two, he recorded a faster top speed than any single run by Lamar Jackson all year according to NextGen stats.
For Jones to put up those grades despite fumbling as often as he did (16 times between runs and pass plays) suggests he was playing some very good football — the team simply didn't wind up in the end zone.