No New Orleans Saints player has caught more flack throughout the past year and a half than their young edge rusher Marcus Davenport.
A hefty amount of pressure and expectations got heaped onto the shoulders of the 6-foot-6 pass-rusher out of UTSA after the Saints traded two first-round picks and a fifth-rounder to the Green Bay Packers to move up 13 spots and select Davenport 14th overall in the 2018 NFL Draft.

Even though he enjoyed an average rookie season by PFF's standards, it wasn't dominant enough to overcome the hype his price tag warranted.
A season ago, Davenport racked up 28 quarterback pressures and five sacks to go along with an overall PFF grade of 69.7. And while his pressure numbers are relatively impressive at first glance, eight of those pressures were charted as either clean-up or pursuit pressures, and his pass-rush win rate of 13.5% ranked 48th among the 119 edge defenders who rushed the passer at least 100 times.
He appeared to have caught his stride in Week 8 against the Minnesota Vikings last season, earning a season-high six pressures and two sacks on only 26 pass-rush snaps before injuring his toe mid-game and playing through pain for the rest of the year.
This season, however, has been a different story. Back healthy, Davenport has already garnered more pressures than last season through only eight games.
He's notched 38 pressures so far, the ninth-most among edge defenders, with 27 hurries to his credit (8th) to go along with three sacks and a pass-rush productivity of 9.9, which is tied with T.J. Watt for 11th among players at his position. 
These numbers have aided in his PFF overall grade improving to 75.7 and his pass-rush grade climbing from 62.6 last season to 68.0 so far this year. Through eight games of the 2019 NFL season, Davenport has won 18.3% of his pass-rush snaps, up from 13.5%, which is actually higher than the mark of teammate Cameron Jordan (17.9%). 
So far, 92.6% of Davenport's pass-rushing snaps have come from the right side of the defensive line, and this is where Davenport has thrived. Only Vikings edge defender Everson Griffen has more pressures when lined up on the right side (45) than the UTSA product's 35, while Davenport's 18.8 pass-rush win rate ranks sixth among the 27 players who have rushed the passer at least 100 times from the right-hand side of the defensive line.
Key in Davenport's strides as a pass-rusher this season has been the leap he has taken with his pass-rush plan.
He flashed the ability to counter his bull-rush with an outside rip and swim move towards the end of last season, but this season, he has begun to put it together more frequently.
To further illustrate Davenport's improvement and impact, we'll take a look at a few of his reps from what was most likely the best two-game stretch of his career thus far, in Weeks 4 and 5 against Dallas and Tampa Bay, where he accumulated 14 pressures, nine hurries and two sacks.
On a first down play early in the fourth quarter against the Bucs, Davenport goes with the right arm "stab" into the right tackle's chest/shoulder area. This way, he gains inside leverage, knocking the right tackle down and getting the sack.
This simply displays the power and burst he's capable of just off of sheer talent and physicality.
His presence on the field was apparent in this game. On the very next play, he goes back to the right defensive end spot and what do you know, the Buccaneers send a tight end his way for a chip block on 2nd and 19.
Against the Dallas Cowboys, the Saints liked their matchup with Cam Jordan against right tackle La'el Collins. This meant Davenport would have to try his luck against two-time All-Pro left tackle Tyron Smith, and he was up to the task.
Below is his signature move: the bull-rush. Despite his tall frame, he manages to get under Smith, who is caught backpedaling, and he drives him back into quarterback Dak Prescott.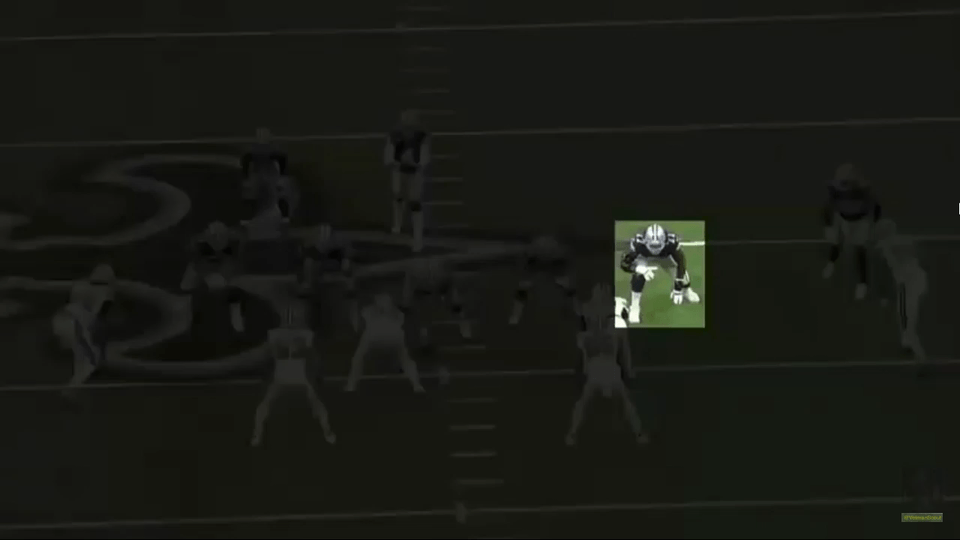 Now, this is where it gets exciting. The counter-move. This is the type of move that could make Davenport special going forward. 
Here, he sizes up Smith, who is prepared for a bull-rush. And as soon as the star left tackle goes to engage, Davenport violently swipes the left arm away and uses his own leverage against him, turning the corner towards Prescott, who is forced to check it down.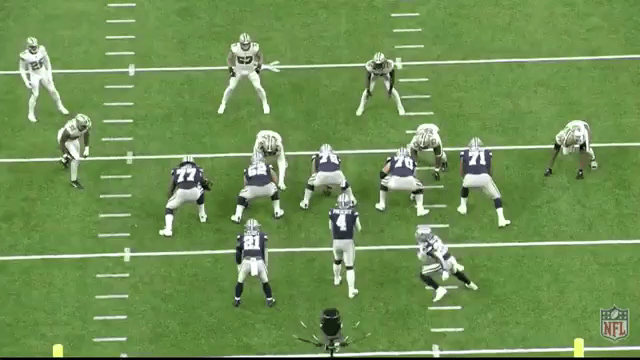 This growth in the pass-rush department is a frightening prospect for opposing quarterbacks considering who is already lurking on the other side of Davenport on the Saints defensive line. Add that to Davenport's already impressive run-defense grades, and he could be well on his way to a long, productive career.
Whether or not trading up for him was considered a smart move for the Saints in hindsight, it doesn't change the fact that Davenport has shown encouraging improvement in almost every phase.
While most will always base his success on whether he was worth it or not, Saints fans should be excited and optimistic about the future of Marcus Davenport, nonetheless.