The New Orleans Saints and Tampa Bay Buccaneers have been on opposite trajectories from the moment Tom Brady put on the pewter-colored jersey.
While New Orleans was phasing out its most legendary quarterback, Tampa Bay brought in its first. When the Saints were running out of steam during the 2020 divisional-round loss, Brady's bunch was only just catching fire. Now, the Saints are cobbling together just enough yardage and points to be considered a legitimate NFL offense, while the Bucs have been buzzing right through the season.
But, over the past two seasons, not a bit of this narrative has made a difference to Saints defensive coordinator Dennis Allen, who has strung together five of the best playcalling showcases we've ever seen against the seven-time Super Bowl champion.

CLICK HERE FOR MORE PFF TOOLS:
Rankings & Projections | WR/CB Matchup Chart | NFL & NCAA Betting Dashboards | NFL Player Props tool | NFL & NCAA Power Rankings
---
After blanking Tampa Bay 9-0 on the road in Week 15, Allen, who also served as the stand-in head coach last Sunday night, now boasts a 4-1 record against Tampa Bay since 2020. It's a record that might even catapult his name into the mix of 2022 head coaching candidates.
It's rare for elite quarterbacks to be bested by the same coach or plan of attack so often, but the New Orleans defense looked much the same as it did before on Sunday night: There was nothing open down the field, pockets were collapsing and there were turnovers one would never expect Brady to throw.
So, with over 350 snaps logged in this era of the rivalry, here's what the data and film revealed about Dennis Allen's approach to stopping Brady.
Personnel and Foundational Principles
The first and most important element to developing a plan to get one over on Brady, Bruce Arians and Byron Leftwich is to have the right bodies in the right places. And in many ways, it's more important to avoid glaring weaknesses than to have an overwhelming strength.
The Saints are built almost ideally in this way. Cam Jordan has had his turn as a top-five defensive lineman in the NFL, and Marshon Lattimore is a top-five cornerback now. However, players such as Paulson Adebo, Malcolm Jenkins, Demario Davis and Marcus Davenport are the necessary pieces to build consistent units at all three levels of the defense.
| | |
| --- | --- |
| Personnel Package | Personnel Usage |
| 4 DL, 2 LBs, 5 DBs (Nickel) | 47% |
| 4 DL, 1 LB, 6 DBs (Dime) | 25% |
| 3 DL, 2 LBs, 6 DBs (Dime) | 24% |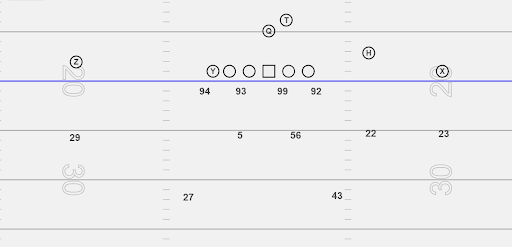 Because these players are available, Allen can access versatility within the scheme that many others would not — and probably should not — employ.
Take Malcolm Jenkins as a perfect example. Jenkins is the mismatch "eraser," lining up over tight ends in Allen's nickel package and then dropping down to linebacker in dime to make space for PJ Williams as another deep safety. Then there is Kwon Alexander and Pete Werner, who play off the ball in nickel and then show as potential edge rushers in Allen's exotic dime fronts.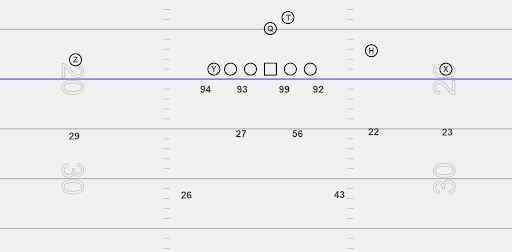 This creates multiplicity in this defense, allowing great athletes to access the full depth of their skill set and coaches to dig deep into their defensive manuals.
For many defenses, certain calls just wouldn't be made with multiple linebackers or without a third safety. But because Allen is 60:40 middle of the field open vs. closed in nickel and dime, identifying player alignments isn't as reliable a tell.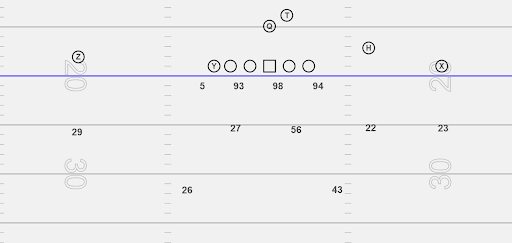 Playing Tight Coverages
New Orleans vs. Tampa Bay Passes, By Formation (Five Games, 2020-2021)
| | | | | |
| --- | --- | --- | --- | --- |
| Formation | Cov. Snaps | EPA per Play | Yds Allowed Per Target | Passer Rating Allowed |
| Trips (TE at WR) | 22 | -0.853 | 2.6 | 47.9 |
| Doubles (TE Attached) | 20 | -0.443 | 3.7 | 61.5 |
| Empty | 16 | 0.521 | 7.9 | 121.7 |
| Trips (TE attached) | 12 | -0.258 | 5.4 | 69.9 |
No one is more intentional about hunting for a mismatch than Tom Brady, which often dissuades teams from playing man coverage against him. Brady's numbers improve drastically when defenses play man instead of zone, transforming from the most surgical dink-and-dunk quarterback to a laser-armed assassin capable of tearing the roof off the defense.
Brady vs. man and zone coverage in 2021
| | | |
| --- | --- | --- |
| | Man coverage | Zone coverage |
| Yards per attempt | 7.4 | 6.9 |
| Average depth of target | 9.8 | 7.3 |
| EPA per play | 0.120 | 0.081 |
| Big-time-throw % | 7.5% | 3.5% |
New Orleans has been the outlier, thanks to its combination of Quarters and Cover 1. In their five matchups, Brady is 29-for-49 for 271 yards and an interception against these coverages, when New Orleans has its nickel package on the field.
The concept of playing more split-safety coverages against the best passing offenses in the NFL isn't novel, but it's made quite a resurgence into this season's broader narratives. What Dennis Allen is doing to stymie this offense comes down to making the small adjustments to bother the timing and spacing of Bruce Arians' aggressive passing attack.
Before digging into that, though, there's a core element of playing elite defense that cannot be schemed out of the game. Someone on the field will be left in a one-on-one, and that player will have to come out on top for the rest of the play's design to matter. In Allen's Quarters and man schemes, that's the backside defender locked into coverage against wide receivers and tight ends.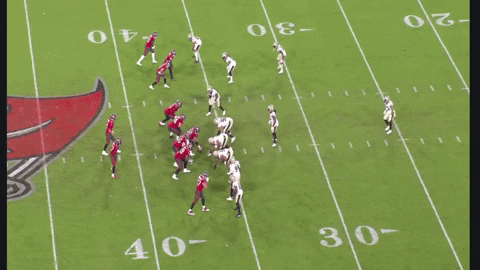 Whether it be Lattimore against the best receiver on the field or Jenkins erasing a monster tight end, New Orleans' ability to handle those near-unguardable players allows this defense to make greater investments elsewhere. New Orleans plays a good amount of press and puts pressure on its players to use good techniques to eliminate these potential issues.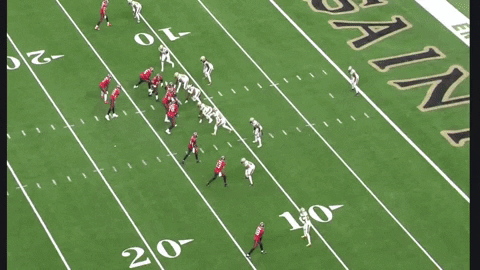 This is where Allen's flavor of Quarters, from the "man-match" coverage family, grows by leaps and bounds in its value. Man-match, meaning I as a coverage defender have a man unless a specific stimulus is met.
Quarters coverage changes the leverage of the slot defender, from inside the receiver to outside, because playing with "man integrity" means sending the receiver to your deep help to form a bracket.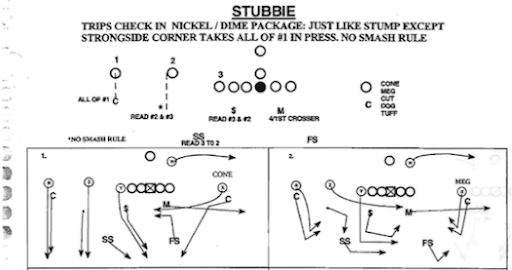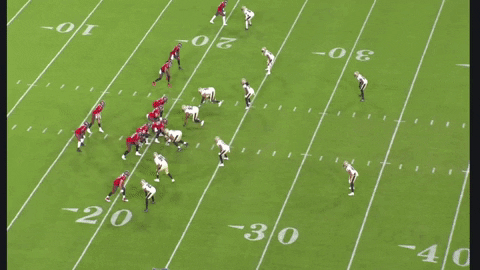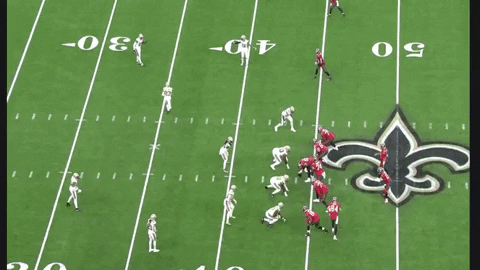 You'll get a pretty clear look at Man-Match Quarters against trips in the clips above. As you work your eyes across each defender, you'll notice:
Corners playing tight man coverage

Safeties playing a "robber" technique, looking to drive on any in-breaking routes or bracket verticals

Linebackers matching underneath routes and backs out of the backfield
Combine each of these elements, and it leaves precious little airspace to fit the football into. Offenses looking to beat this variation of Quarters need to take vertical shots outside, away from the congestion caused by lurking safeties.
These high-variance plays have fallen in New Orleans' favor, and its possible luck eventually evens out, but nearly every deep ball is highly contested. Without the threat of vertical throws, the Saints are sitting hard in the seams and underneath areas that Brady typically feasts upon.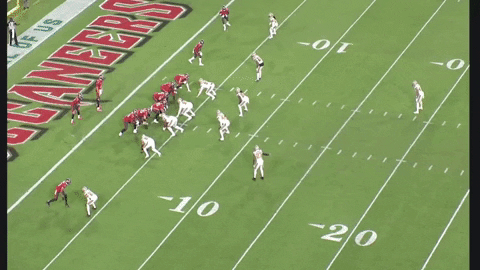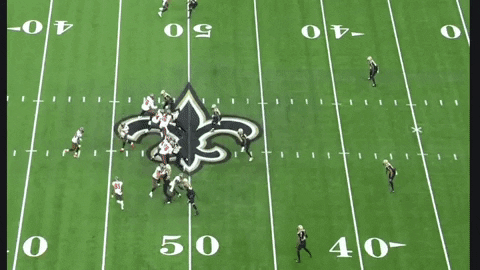 Affect the Pocket, Affect the Quarterback
If there's one thing that will hold true in football until the day we're all long gone, it's that blitzing Brady is a nearly impossible endeavor. Dennis Allen has rarely bothered, with an 18% blitz rate in nickel, and the returns show that the juice isn't worth the squeeze. Of those 18 nickel blitzes, just two generated pressures despite a 46% pass-rush win rate.
The better plan has been to rush four and create scenarios where their up-front players can win through slants, twists and stunts. On nickel personnel pass-rush snaps with a stunt, New Orleans generated pressure on 41% of its snaps — a rate that would lead the NFL in 2021.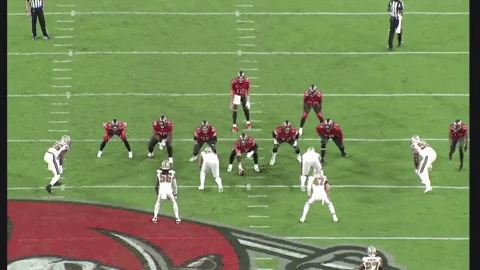 The goal of a stunt isn't even so much to get bodies on the quarterback than it is to affect the throwing platform, assuming their offensive line can handle a five-blocker-to-four-rusher advantage. In the first clip, the twist game with the defensive tackles took the legs out of Brady's throw, which forced a checkdown.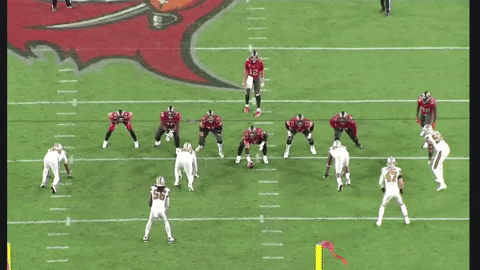 The sack above is more of the same, with Brady unable to navigate a crushed pocket. Not only have the Saints moved the signal-caller off his spot, but the tight coverage also continues downfield and makes Brady pull the ball down.
Dennis, the Deacon of Disguise in Dime
Coverage in Dime
| | | | | |
| --- | --- | --- | --- | --- |
| Player | Coverage Snaps | Yards Allowed per Coverage Target | Passer Rating Allowed | Open Targets Allowed |
| Marshon Lattimore | 99 | 7.6 | 97.9 | 8% |
| Chauncey Gardner-Johnson | 98 | 7.2 | 55.3 | 50% |
| Malcolm Jenkins | 89 | 4.6 | 45.2 | 43% |
| PJ Williams | 78 | 8.3 | 52.8 | 33% |
When a defense can live in man coverage, squeeze the pocket and eliminate throwing windows, it liberates the defensive mind to find new ways to present the same concepts out of more typically aggressive defensive fronts.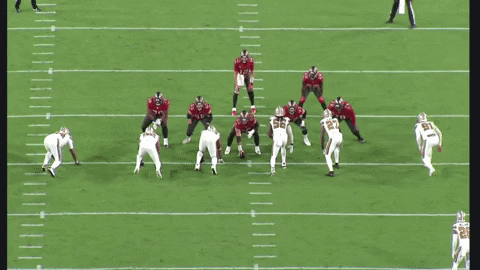 Jenkins, Davis and Alexander will all be walked up at the line of scrimmage to give the impression that five or more can be rushing at any time. Without rushing extras very often, New Orleans has a 41% pressure rate and a staggering 67% win rate.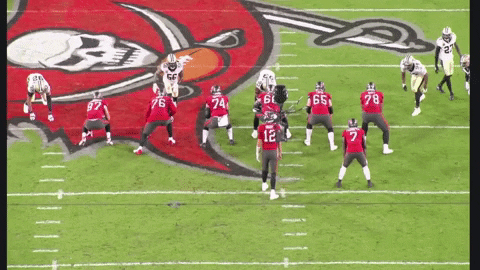 What these mug/bear looks reveal is a defense sabotaging protection schemes but forcing interior linemen to be wasted, accounting for players that it wouldn't need to block.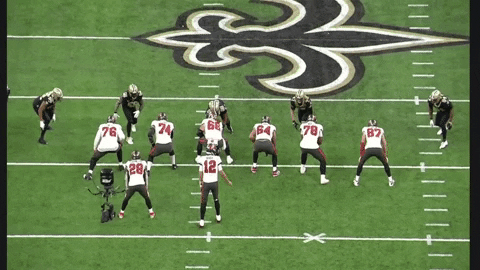 When linemen aren't being made to waste in a protection scheme, the defenders are working elaborate three-man stunts to force offensive linemen to pass each off perfectly and dare the running back to leave the protection scheme for a route. Most valuable of all is keeping Brady from stepping into his throws.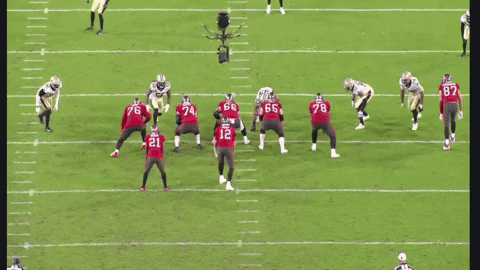 Pass Rush in Dime
| | | | | |
| --- | --- | --- | --- | --- |
| Player | Pass-Rush Snaps | Win Rate | Pressure Rate | Pass-Rush Grade |
| Cameron Jordan | 96 | 10% | 7% | 63.2 |
| David Onyemata | 64 | 23% | 23% | 72.0 |
| Marcus Davenport | 60 | 27% | 18% | 74.1 |
Conclusion
There are two age-old axioms about elite, veteran quarterbacks:
You can't pressure him. He has seen it all and prepared for it 100 times over.

You can't play man and risk exposing your mismatches.
No quarterback has been a better embodiment of these qualities than Tom Brady. For Dennis Allen, though, it couldn't have mattered any less in this 4-1 stretch against Tampa Bay. Tight coverage and interior pressure will make any legend look human, and Allen's Saints defense has forced football's superhuman to break a sweat.