FOXBORO, Mass. — There's an elephant in Gillette Stadium this week, and it's so large that New England Patriots head coach Bill Belichick doesn't even need to mention to his players that it'll be sitting on the visiting sideline.
Players know the elephant is what brought the media circus to the Massachusetts suburbs just as the weather turned crisp and it actually started to feel like football season again. "The Today Show" and "NBC Nightly News" broadcast from Foxboro, Mass. on Friday, and NBC, ESPN and NFL Network plan to host their pregame shows from Gillette Stadium on Sunday — all because quarterback Tom Brady will be making his return for the first time since leaving the Patriots for the Tampa Bay Buccaneers in free agency last offseason.
Click here for more PFF tools:
Rankings & Projections | WR/CB Matchup Chart | NFL & NCAA Betting Dashboards | NFL Player Props tool | NFL & NCAA Power Rankings
---
The 1-2 Patriots have other concerns this week after failing to show up in a Week 3 loss to the New Orleans Saints. This week, that was one point Belichick chose to hammer home to his players over the obvious: New England's ultra-familiar and Pro Football Hall of Fame-bound opponent.
"Win," Patriots safety Adrian Phillips passed along Friday afternoon. "That's the same message it is every week. … Everybody knows Sunday night is a big game, whatever. A lot of outside noise with it, but our mindset is win. You need to win."
"[Brady's return] has nothing to do with us at all. Our job is to go out there and win and beat the opponent that we're playing."
We asked three former Patriots executives what they believed Belichick's full message to players would be this week in meetings.
"Focus on your job," one predicted.
Another guessed it was "awkwardly devoid" of any Brady talk. If Belichick did address it, it's just to repeat an adage the Bucs QB passed along early in the week:
"One thing I learned from the Patriots: Belichick would say, 'Listen, if you love football, then 8:30 on Sunday night at Gillette Stadium is the place to be.' So I'll be there," Brady said on his "Let's Go!" podcast. "It's going to be a great night of football."
Another former New England executive believed Belichick would address it like any other game.
"He ain't changing his message," he said.
"Do your job. Focus on us and what we need to do."
Belichick pointed out that every game comes with some type of distraction when he was asked about the message he sends to players when there's an overarching storyline attached to the game. However, some distractions — like when the greatest quarterback of all time returns to the team with which he spent 20 seasons and won six Super Bowls — are bigger than others.
"Each week has its own challenges besides the game itself," Belichick said Friday. "The actual competition on the field, the week of it, it could be a lot of things — certainly, the travel on away games. Whatever the unique circumstances are of the game you're playing, so we always talk about those.
Each game is different. Each one has its own elements to it. I don't think any two are really alike besides the fact that the teams are different. Some are more similar than others, but there's always an element of something that's a little bit different this week or a different something we have to deal with. It's part of the week."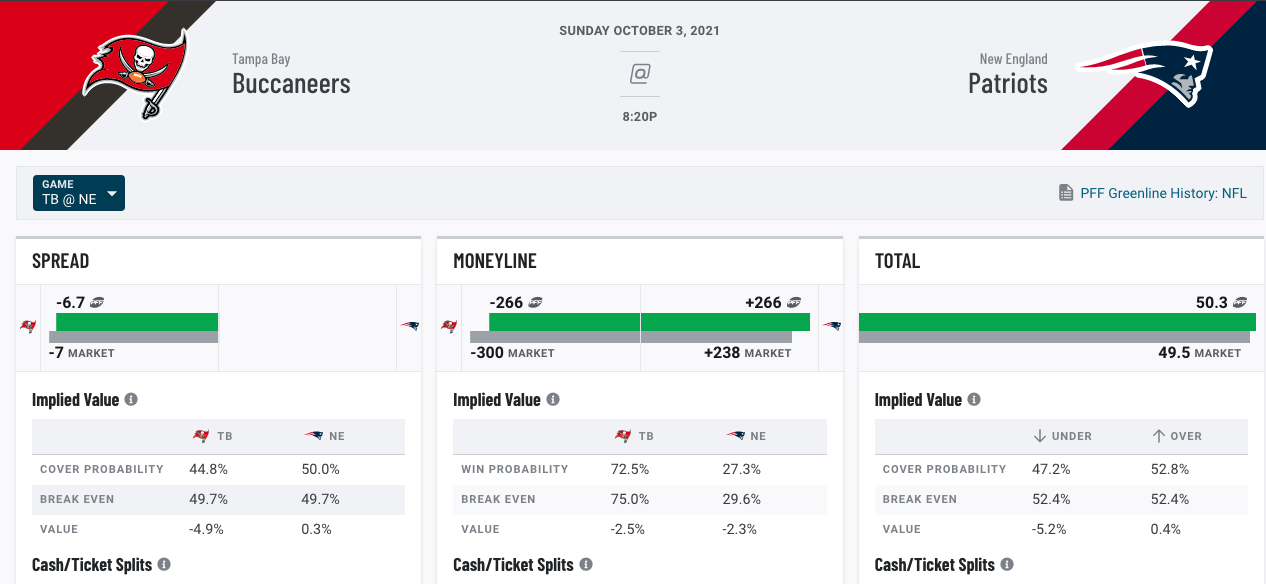 As you might have noticed over the last 21 years, consistency is key for the Patriots head coach. He wants to portray that every game holds the same amount of weight. While that's not true for fans or even the media, this game against the reigning Super Bowl champion Buccaneers counts exactly the same in the standings as New England's Week 11 matchup with the Atlanta Falcons.
"Obviously, this is a different situation, but imagine the first time he faced off against (Matt) Patricia or some of the guys in the room," former Patriots linebacker Matt Chatham, now an analyst for NESN, told PFF this week. "Or Brian Flores, or (Mike) Vrabel, any of the things where that could plausibly, if you wanted to engage that via side story, be a thing, that could be an air quote 'distraction,' I guess. But I would imagine the thing that works best for the people that have always been around him is that he doesn't do much with it, or almost doesn't even acknowledge it with them."
"Just to be consistent. If for some reason he walks in, maybe he initially at the beginning of the week addresses it and just says, 'Hey, no distractions this week, nothing matters, no reunion stuff matters, none of that stuff matters, all that matters is we've got to play better. I'm not insinuating here that he doesn't even say something. He may just have started the week with a warning that none of that shit matters. We've just got to watch the tape and do what we say here, follow the game plan. I just think that the biggest thing that would be helpful is that it's consistent. That it's not as if they had t-shirts and slogans or something the first time they played Matt Patricia for all the defensive guys. He doesn't indulge this stuff usually, so I think that makes it easier for you to not indulge it also as a player."
It also makes it easier for Belichick to largely ignore the situation because the Patriots lost Sunday and have started the season 1-2. Now they face a juggernaut Buccaneers team that brought back every starter from a team that handily beat the Kansas City Chiefs in Super Bowl LV.
"On weeks where you lost, you're worried about your job," Chatham said. "You're not worried about Bill and Tom. There's a lot of bad film out there from their own team, so it helps you not get caught up in that when you're like, 'Holy crap. I had a really bad grade sheet for the week, and I don't want to lose my job.' I'm not going to like, 'Well, Bill thinks this, and I think this about Tom.' Any venture down that side street hurts you in the building."
Patriots players have evaded the topic pretty well this week. When wide receiver Jakobi Meyers and defensive tackle Lawrence Guy were asked about Brady, they mentioned they've played with a lot of great players, like special teams legend and current New England captain Matthew Slater.
Outside linebacker Matt Judon reached the end of his rope when asked continually about Brady.
The look on Matt Judon's face when he is asked a sixth question about facing Tom Brady, and Brady's return Sunday night … pic.twitter.com/B0mYqbPo0B

— Mike Reiss (@MikeReiss) September 30, 2021
"Bro, he's the next quarterback we have to play," Judon said. "They also have two other quarterbacks on the roster. I know he's been in this building for a long time. What he's done can never be taken away. … But it's not like we're afraid of what Tom Brady can do."
Blaine Gabbert and Kyle Trask haven't exactly dominated headlines the same way as the other guy they share Tampa Bay's quarterback room with, but we get Judon's point.
In a vacuum, this game will be like any other. However, the vibe of Gillette Stadium will surely feel different. Brady will undoubtedly be cheered. It would be difficult for many Patriots supporters to ever boo the legendary quarterback, especially so soon after he departed the team, despite the new red, pewter and orange attire. Meanwhile, the Gillette Stadium faithful were already getting tired of their team's offensive effort last Sunday against the Saints. There were boos at Gillette Stadium, and those jeers have been extremely few and far between over the last 20 years since Brady first took over as quarterback way back in 2001.
The Patriots practiced in-stadium on Friday, which is pretty rare during the season. Maybe that's how they were getting prepared for the extra energy that comes with playing a Patriots legend on "Sunday Night Football."
Patriots players know Belichick wants them to win every week. He's just not letting on to what degree more a victory Sunday night against his former quarterback would mean. That's by design.