This is an era of wide-open football — basketball on grass, as they say.
RPO this, simulated pressure that, spread offense here, two high safeties there…
Bill Belichick, ever the inventor, could have aggressively embraced the way of today in the post-Tom Brady era.
Instead, the New England Patriots — on every level — look like a team that hurts to play against.
---
Click here for more PFF tools:
Rankings & Projections | WR/CB Matchup Chart | NFL & NCAA Betting Dashboards | NFL Player Props tool | NFL & NCAA Power Rankings
---
The Cleveland Browns, a team that everyone would recognize as one of the most physically imposing in the NFL, ran headfirst into that brick wall in Week 10. The 45-7 beatdown was a definitive punctuation to New England's last month of football, and the team currently stands as the hottest in the sport.
| | |
| --- | --- |
| NFL Performance Metrics, Since Week 7  | Value (Rank) |
| Offensive Grade | 92.9 (1st) |
| Defensive Grade | 82.0 (1st) |
| Expected Points Added Per Play | .0150 (1st) |
| Expected Points Allowed Per Play | -0.260 (2nd) |
In the past four weeks, the Patriots have the best expected points added (EPA) per play and the second-best EPA allowed per play figure, as well as the top offensive and defensive grades in the league.
The recipe for success? Acting like the schematic advances of the past decade never even happened. In a league that's been 62% pass over the past month, the Patriots are legitimately a run-first offense at 50.4% (and that's removing all garbage-time snaps). Just four of the 657 RPOs and three of the 243 bootlegs in the NFL since Week 7 came from New England, and only the San Francisco 49ers and Baltimore Ravens use 21 personnel — two backs and one tight end — more often.
Those two other teams have a particular brand of football in those packages that we've come to know over the past few years: the Shan-Francisco outside zone scheme and Baltimore creating multiple new gaps with pullers and quarterback runs.
Compare those to the Patriots, who are missing a burner at tailback. On top of that, rookie quarterback Mac Jones would probably do more to eliminate existing running lanes than open new ones as a running threat.
| | | | | |
| --- | --- | --- | --- | --- |
| Team | 21 Personnel Snaps | Top Run Concept | #2 Run Concept | #3 Run Concepts |
| San Francisco 49ers | 99 | Outside Zone (42%) | Inside Zone (22%) | Man (15%) |
| Baltimore Ravens | 74 | Counter (25%) | Man (25%) | Power (21%) |
| New England Patriots | 71 | Man (24%) | Counter (22%) | Draw (20%) |
Instead of creating the horizontal stretches that make those offenses go, offensive coordinator Josh McDaniels opts to get downhill with a combination of run concepts designed specifically to force linemen and linebackers to play slower than they're used to.
The key is using fullbacks and wide receivers as "inserts" in the run game, lead blocking up to the second level and going between the tackles instead of on the edge.
It may be an iso concept or lead draw, where the offensive linemen "fan out" to the most dangerous defensive linemen and lead blockers look for the first linebacker through the gap. This gives a running back a two-way go off his block, and while it lacks the explosive play potential you'd find on the race to the edge on outside zone, it's been an effective way to generate easy yards before contact.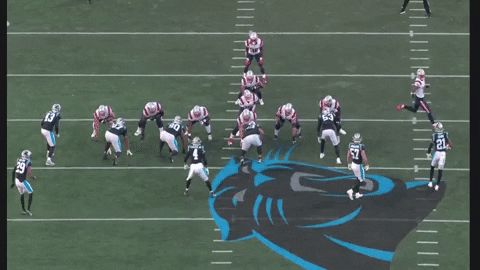 After being kicked out one snap after another, McDaniels will go to his change-up and call a "wham" trap, where a guard will cut a defensive tackle loose and have the fullback kick him out. With the guard climbing to the linebacker, this creates a similar pathway for a running back while looking different to a box defender.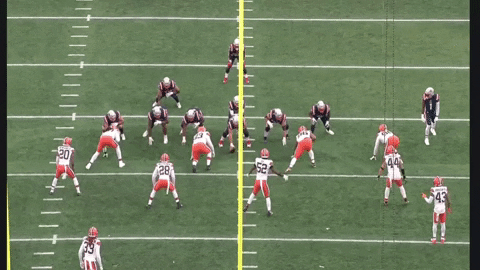 An important effect of these runs is seen on the edge — the tackles fanning out to edge rushers make every run and every play action feel the same. The most important skill in a pass rush is how much ground is gained in the first two strides, but even the best pass-rusher has to honor the run if there's no obvious pass protection stimulus to work off of.
| | |
| --- | --- |
| 21 Personnel Play-Action Passes (since Week 7) | Value |
| Dropbacks | 18 |
| Yards Per Attempt | 11.1 |
| % of Throws Past the Sticks | 47% |
| Completions of 15+ Yards | 8 |
Since Week 7, only one of the Patriots' 18 play-action passes out of 21 personnel have resulted in a quarterback hit (and only two pressures altogether). When the quarterback stays clean, he can work the ball downfield efficiently, leading to eight passes going for 15 or more yards. Selling downhill runs brings linebackers forward as well, creating perfect scenarios for Mac Jones to work with.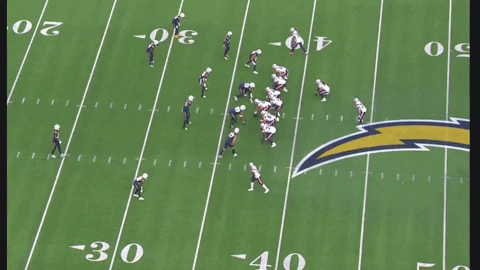 Defensively, this is still the best mind the NFL has ever seen, and no one better understands how to match up and find the winning edge situationally. In the past four weeks, New England is edged only by the Tennessee Titans and Miami Dolphins in percentage of dime snaps (six defensive backs).
| | | |
| --- | --- | --- |
| Player (since Week 7) | Outside CB Snaps | Slot CB Snaps |
| J.C. Jackson | 163 | 8 |
| Jalen Mills | 154 | 29 |
| Myles Bryant | 3 | 116 |
| Joejuan Williams | 95 | 2 |
| | | | |
| --- | --- | --- | --- |
| Player | Box Snaps | Slot Snaps | Free Safety Snaps |
| Kyle Dugger | 78 | 46 | 32 |
| Adrian Phillips | 80 | 29 | 51 |
| Devin McCourty | 30 | 11 | 139 |
When the time comes to play the pass, it's hard to find better examples of how to make single-high defense work in this era, outside of Foxborough, Massachusetts. Only the Dolphins have more snaps on the year with the middle of the field "closed," but the Patriots more than eclipse Miami in defensive grade (90.0 to 73.1) and EPA per pass (-0.342 to -0.147).
Playing with six defensive backs will put you in a position to succeed in Cover 1, when you have the players you need to match up with receiving threats. Even in Cover 3, though, you can see underneath defenders nearly perfectly find the balance between protecting the seams of the defense (just outside of the hash marks) and the sideline, where there should be more airspace to throw into.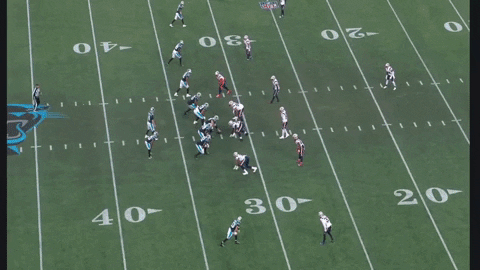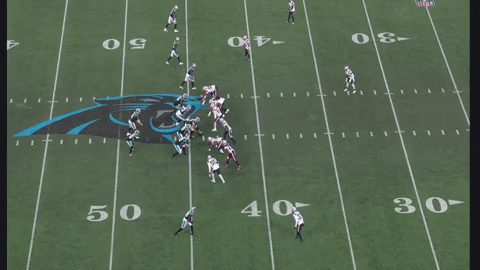 It wouldn't be a Belichick defense without a cruel tendency breaker, either. After looking at one-high safety and pressed defenders, safeties will spin out and play Cover 2, taking away access to the throws that would be available against Cover 1, along the sidelines.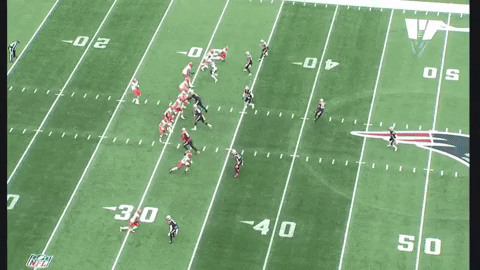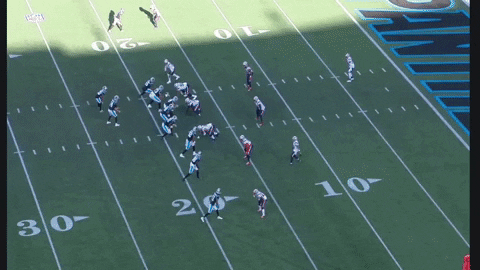 But there's more to it than flooding the field with defensive backs because every defensive package has its own structural identity.
Take, for example, how this defense fits the run out of its base personnel (only four defensive backs). If you've followed my work (or that of PFF's Seth Galina) you've heard mentions of the "Tite/Odd" front — with two defensive tackles inside of offensive tackles and a nose over the tackles. This is supposed to keep linebackers clean, at the expense of pass rush.
Belichick does run an odd front but opts instead for his "Base" front (what you may hear called the "Okie" front in other football parlance), with two defensive tackles outside of the tackles and a nose tackle.
What New England wants to do with that is hide the "rotation" of the safeties (which one is rolling down) and the "reduction" of the front (which outside linebacker is rushing, and which defensive tackle is slanting down inside of the offensive tackle). This is a rare approach in the NFL, as only three teams have played more than 45 total defensive snaps with an odd front and one high safety in the past four weeks.
| | | | |
| --- | --- | --- | --- |
| Team | Odd Front, Single-High Snaps (since Week 7) | Defensive Grade (Rank min. 10 Snaps) | EPA/Play (Rank) |
| Pittsburgh Steelers | 66 (1st) | 63.0 (9th) | 0.116 (12) |
| Miami Dolphins | 58 (2nd) | 59.2 (12th) | -0.035 (9th) |
| New England Patriots | 49 (3rd) | 75.3 (3rd) | -0.139 (6th) |
This is much better for edge presence in pass-rushing situations, but it asks linebackers to take on uncovered guards in the run game. While the degree of difficulty is through the roof, it leads to incredible reps of Ja'Whaun Bentley and Dont'a Hightower flying downhill to fix the run fit for this defense. You can see teaching tape quality reps on the edge, as well, closing off creases by moving the point of attack into the backfield.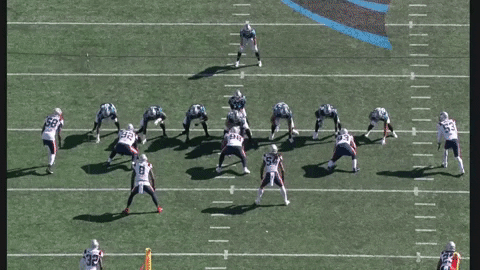 Every season comes with a team dubbed the one "nobody wants to play."
This year, just like every other, it's the Patriots.