Training camp tweets have hit a little different this year after an offseason of unknowns surrounding the NFL season. The absence of preseason games has made beat writer reports and team-sanctioned highlights all the more valuable to see which first-year players have stood out. Rookies have also been put in the most difficult spot to succeed early on due to the pandemic. With less than a week remaining until meaningful NFL football, let's look at the rookies who have been making waves.
The WR Class
This one shouldn't come as a surprise. The 2020 wide receiver class was hyped as maybe any group ever at the position, and we're seeing exactly why with training camp reports. First-rounders Jerry Jeudy (Broncos), CeeDee Lamb (Cowboys), Jalen Reagor (Eagles) and Brandon Aiyuk (49ers) have all drawn rave reviews (although Reagor will miss a few weeks with a shoulder injury). Then, you have second-rounders Laviska Shenault (Jaguars), Van Jefferson (Rams) and Chase Claypool (Steelers) — each of whom has reportedly pushed their way into serious playing time despite going to franchises with established starting trios at the position.  
[Editor's Note: PFF's advanced statistics and player grades are powered by AWS machine learning capabilities.]
The ridiculously deep class doesn't stop there, though. Third-rounder Bryan Edwards looks slated to start at the 'X' position for the Raiders with Tyrell Williams on IR (I broke down exactly what we saw from Edwards at South Carolina here). Fifth-rounder Quintez Cephus has turned heads for the Lions and should push for playing time. Keenan Allen said seventh-rounder K.J. Hill has "been amazing" in Chargers camp and looks to be the likely starter in the slot. The 2020 class is already living up to its billing.
An undrafted free-agent corner out of Wake Forest, Bassey has already impressed enough that he's seeing time with Denver's starting defense. Bassey's draft stock took a massive hit at the Senior Bowl when the 5-foot-9, 190-pound corner got tossed around by the physical group of receivers. Despite Bassey having a productive college career that saw him break up 35 passes and pick off five more in three seasons as a starter, his size was going to be a bad fit in many schemes.
Vic Fangio's scheme, however, was not one of those. The Broncos zone-heavy defense was a perfect fit for Bassey's skill set, and he has quickly risen up the depth chart. Denver is seemingly already so comfortable with the rookie that it was willing to deal cornerback Isaac Yiadom, who was a third-rounder only two years ago.
Below are the pros and cons from the 2020 PFF Draft that can be found here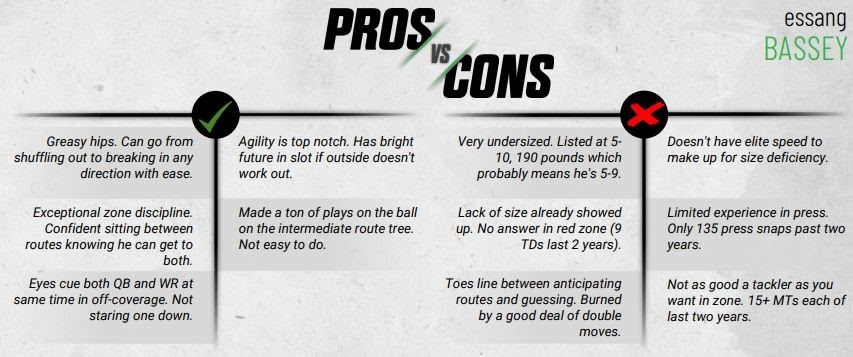 With Derrius Guice and now Adrian Peterson gone, the reins at running back in Washington belong to Gibson. He's been running with the first team all camp, and rightfully so. He was the single most elusive player in college football last season, but we barely got to see him, as he broke 33 tackles on only 71 touches. The former Memphis wide receiver/running back also runs a 4.39-second 40-yard dash at 228 pounds. That's an identical figure to Jonathan Taylor, and it would have gotten a lot more publicity had Gibson not run with the wide receivers at the combine. There's a reason Washington was comfortable parting ways with a veteran like Peterson, and his name is Antonio Gibson.
The fourth-ranked interior lineman on PFF's 2020 draft board, Lewis has come into Seahawks camp and already locked down the right guard spot in their offense. Reports indicate that it hasn't been close, either. That shouldn't be too surprising, as Lewis is coming from an NFL-ready system at LSU last season. They ran more empty protections than anyone in college football in 2019, and Lewis more than held his own with only 14 pressures allowed on 608 pass-blocking snaps.
That may not seem terribly impressive, but given his assignments, it very much was. Compare that figure to teammate and fellow third-round pick Lloyd Cushenberry III, who allowed 34 pressures last season, and you'll see why we were so high on Lewis. 
It's not every day you see a team account seemingly throw its starting quarterback under the bus by tweeting out a clip of him getting intercepted in practice, but that's how impressive Cameron Dantzler's break to pick off Kirk Cousins a few weeks ago was. Nicknamed "The Needle" because of his skinny stature, there weren't too many on-field reasons for Dantzler's fall to the third round.
He dropped to No. 87 overall on the back of a dreadful 4.64-second 40-yard dash at 185 pounds and the fact that, despite being 6-foot-2, he has only 30 ⅝-inch arms. Those unimpressive athletic tools allowed only 2-of-4 targets to be caught for 13 yards against LSU last season, though — and 14-of-29 targets to be caught for 222 yards all year long. Don't be surprised if Dantzler sees the field early in Minnesota's mixed-bag cornerback group full of youngsters.
Motley didn't end up making the final cut for the PFF draft guide, but that doesn't mean we weren't relatively high on him. He checked in as the 139th-ranked player on PFF's draft board and CB17. However, after putting up an unimpressive Pro Day that saw him vertical jump 30 inches, broad jump 9 feet, and have a 7.1-second three-cone at 183 pounds, it was unlikely he was going to get drafted. He has caught on in Tampa as an undrafted free agent, though, already picking off Tom Brady multiple times in camp.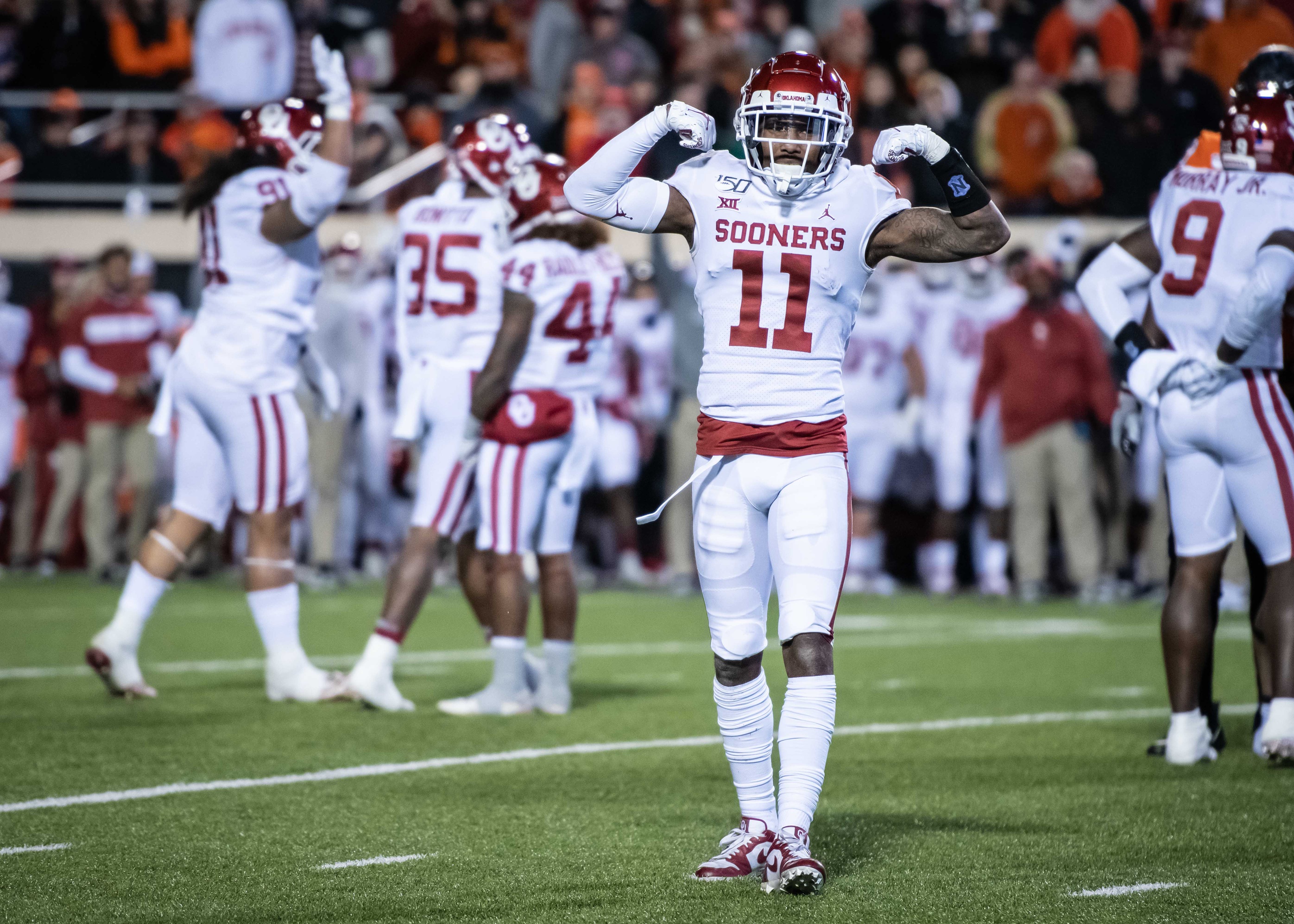 His tape was far different than those athletic measurables, as he would track Big 12 opponents' No. 1 receiver on a weekly basis. He allowed only 319 yards and a completion percentage of 43.4% on 428 coverage snaps last season. While the Bucs have a loaded corner room, Bruce Arians said about Motley, "Keep making plays every single day, he's going to get a job."
According to John Schmeelk of Giants.com, Holmes "was probably the most productive player in the entire defensive backfield during training camp." The former UCLA cornerback fell to the fourth round because of his size (5-foot-10, 195 pounds), but we liked him as one of the top slot corner options in the draft. He finished ranked 86th on PFF's draft board despite an injury-plagued junior campaign that saw him earn only a 61.8 coverage grade.
Holmes was very much an up-and-down player at UCLA, but his high-end reps were fantastic. With eight pass breakups in his sophomore campaign, he earned a 78.7 coverage grade while showing what he was truly capable of. Holmes picked off passes that season while guarding two first-round receivers in N'Keal Harry and Marquise Brown. 
The fourth-rounder went to a tough spot to find playing time, with free-agent addition Austin Hooper and former first-rounder David Njoku ahead of him. Even with an uphill climb, don't be surprised if Bryant is on the field a good deal this fall. He was voted as the Maurice Bassett Award winner by local media, which goes to the team's top-performing rookie in training camp. In the pre-draft process, he won PFF's award for best route-runner at the position, and that skill has obviously translated quickly to the NFL.
Bryant was quite comfortably the most productive tight end in the country over the course of his FAU career, posting over 2,000 yards in three seasons as a starter whil earning receiving grades over 90.0 in each. Kevin Stefanski's offense features two tight ends regularly, making Bryant's path to the field a tad easier than if he was TE3 in a lot of other situations.
Media, players and coaches — pretty much anyone who has seen Burrow so much as touch a football the past few months — can't stop raving about how Burrow has performed since coming to Cincinnati. The first overall pick was easily the most NFL-ready quarterback prospect we've seen since we started grading in 2014 after playing in an NFL offense at LSU and dominating against multiple elite defenses in the SEC and playoffs.
I truly believe he can be a top-10 quarterback from Day 1, and he's impressed in camp with some of his top receiving options (A.J. Green, John Ross and Tee Higgins) being banged up. Only Baker Mayfield has had a higher passing grade in our six years of college grading than Burrow's 94.1 mark last year. Mayfield, however, didn't have to face four different top-10 ranked defenses like Burrow did at LSU. The Heisman winner looks like he'll hit the ground running.