Pittsburgh Steelers quarterback Ben Roethlisberger acknowledged publicly for the first time Thursday morning that his Week 17 game against the Cleveland Browns could be his last regular-season appearance at Heinz Field.
The 18-year pro's comments indicate that he will retire after the 2021 season.

Click here for more PFF tools:
Rankings & Projections | WR/CB Matchup Chart | NFL & NCAA Betting Dashboards | NFL Player Props tool | NFL & NCAA Power Rankings
Best Bets Tool
---
Roethlisberger was asked Thursday morning if he's approaching Monday night's game against the Browns as if it's possibly his last game at Heinz Field.
"I don't ever speak in definites or guarantees. That's just not what I've ever done or who I am. But looking at the bigger picture, I would say that all signs are pointing that this could be it — regular season, that is," Roethlisberger told reporters. "I know we still have a chance to get a playoff game there if things fall our way, we take care of business and things have to happen. But in the grand scheme of things in terms of regular season, signs are pointing that way that this could be it."
The Steelers enter Week 17 on the playoff bubble with a 7-7-1 record.
Roethlisberger has completed 65.2% of his passes for 3,373 yards, 20 touchdowns and eight interceptions in 14 games this season. His 58.6 PFF passing grade ranks 34th among 40 qualifying quarterbacks.
---
Related content for you:
AFC North Playoff Picture: How each team can win the division
Via Eric Eager
---
Ben Roethlisberger: PFF grades and rank among QBs since 2006
| | | | |
| --- | --- | --- | --- |
| Season | Snaps | PFF Grade | Rank |
| 2006 | 929 | 54.5 | 26th of 42 |
| 2007 | 928 | 85.6 | 4th of 46 |
| 2008 | 957 | 64.0 | 25th of 40 |
| 2009 | 989 | 85.2 | 6th of 44 |
| 2010 | 798 | 86.8 | 5th of 41 |
| 2011 | 989 | 75.2 | 10th of 40 |
| 2012 | 832 | 86.2 | 5th of 39 |
| 2013 | 1,055 | 83.5 | 7th of 44 |
| 2014 | 1,110 | 86.6 | 3rd of 42 |
| 2015 | 799 | 91.1 | 3rd of 39 |
| 2016 | 921 | 77.1 | 12th of 39 |
| 2017 | 1,036 | 87.7 | 3rd of 42 |
| 2018 | 1,085 | 78.2 | 16th of 39 |
| 2019 | 95 | 49.0 | N/A |
| 2020 | 1,010 | 69.0 | 25 of 42 |
| 2021 | 918 | 59.6 | 34th of 40 |
What do the Steelers have to replace?
After being carried by Roethlisberger for much of the last decade, the Steelers offense has been limited by its quarterback over the previous two seasons. The veteran's 65.6 PFF grade since the start of the 2020 season ranks 29th out of 32 qualifying quarterbacks. 
Pittsburgh's offensive line is now a shell of the unit that was in the conversation for best in the NFL roughly five years ago, and Roethlisberger doesn't have the same kind of mobility he did earlier in his career. The result has been a heavy dose of short, quick throws to avoid pressure. 
Quickest average time to throw in a single season over the past two years
| | | |
| --- | --- | --- |
| Quarterback | Season | Average time to throw |
| Ben Roethlisberger | 2020 | 2.17s |
| Ben Roethlisberger | 2021 | 2.27s |
| Tom Brady | 2021 | 2.34s |
In addition to posting the fastest average time to throw in both 2020 and through the first 16 weeks of the 2021 season, a league-high 60% of Big Ben's passes since 2020 have targeted receivers short of the first-down marker. The only threat to generate explosive plays in the passing game has been quick go-balls down the sideline, hoping that Diontae Johnson or Chase Claypool can make a contested catch or draw a pass interference penalty. 
The hope is that whoever fills in for Roethlisberger in 2022 unlocks more of the passing game than what we've seen with late-career Big Ben, particularly when it comes to intermediate throws over the middle of the field and the play-action game. 
The Pittsburgh Steelers are expected to enter the 2022 offseason with the ninth-most effective cap space, with around $34 million available.
Effective cap space considers the open roster spots that need to be filled, and Pittsburgh has 43 players already under contract for 2022, a top-10 mark. For the 2023 season, Pittsburgh is projected to have the second-most effective cap space in the NFL. 
Steelers general manager Kevin Colbert and vice president of football and business administration Omar Khan (one of the most respected salary cap gurus in the league) did an excellent job ensuring that there would not be a massive rebuild awaiting them following Roethlisberger's retirement. And while they traded their 2022 fourth- and fifth-round picks in an attempt to make the playoffs one final time with Roethlisberger, they still have more than enough resources at their disposal. 
The Steelers' three primary receiving weapons are all on rookie contracts through at least the 2022 season, which should be extremely enticing to any quarterback. 
Steelers wide receivers: PFF receiving stats and rank among draft class
| | | | | |
| --- | --- | --- | --- | --- |
| Player | Yards per route run | Yards after the catch per reception | Explosive plays | Missed tackles forced |
| Diontae Johnson | 1.82 (8th) | 5.0 (9th) | 50 (6th) | 42 (2nd) |
| Chase Claypool | 1.97 (t-3rd) | 5.5 (6th) | 36 (t-5th) | 15 (t-6th) |
| Pat Freiermuth | 1.31 (t-4th) | 4.1 (4th) | 7 (2nd) | 8 (1st) |
Potential veteran options
Fox Sports NFL insider Jay Glazer recently appeared on the Pat McAfee Show and reported that the Pittsburgh Steelers would prefer acquiring a veteran quarterback this offseason — with many expected to be available on the trade market and in free agency — because they would like to avoid starting from scratch with a rookie.
Trade candidates
We've discussed hypothetical trade scenarios and realistic values for each quarterback in a recent article, and each could make sense for Pittsburgh ahead of 2022.
A big factor may be whether Steelers offensive coordinator Matt Canada is retained. Canada and Seattle Seahawks quarterback Russell Wilson barely missed one another other at Wisconsin and N.C. State, with Canada becoming the offensive coordinator at Wisconsin the year after Wilson left for the NFL. None of the other quarterbacks have an apparent connection to Canada.
It's fair to wonder how much of Canada's offensive scheme in 2021 is predicated on having Ben Roethlisberger under center and whether he would shake things up with a new signal-caller. Still, schematically, this offense aligns more with Derek Carr's usage than the other options on the list.
Steelers quarterbacks have lined up in shotgun on 71.5% of snaps in 2021, the seventh-highest rate in the NFL. Jimmy Garoppolo, Russell Wilson and Kirk Cousins all rank in the bottom seven in the percentage of snaps from shotgun in 2021.
Pittsburgh has run the lowest rate of play action in the NFL in 2021 at roughly 12.4%, with Derek Carr's Las Vegas Raiders running the third-lowest rate of play action at 13%.
Pittsburgh has used motion on 312 snaps, good for 28th in the league. Derek Carr's Raiders are one spot ahead of them with 317 snaps.
Lastly, the Steelers and Raiders both currently rank in the top seven in the percentage of inside zone rushing attempts, at 43% and 36%, respectively.
If the older veteran options are not deemed good fits, perhaps the Pittsburgh Steelers explore the market for Miami Dolphins quarterback Tua Tagovailoa or New York Giants quarterback Daniel Jones, should either be made available.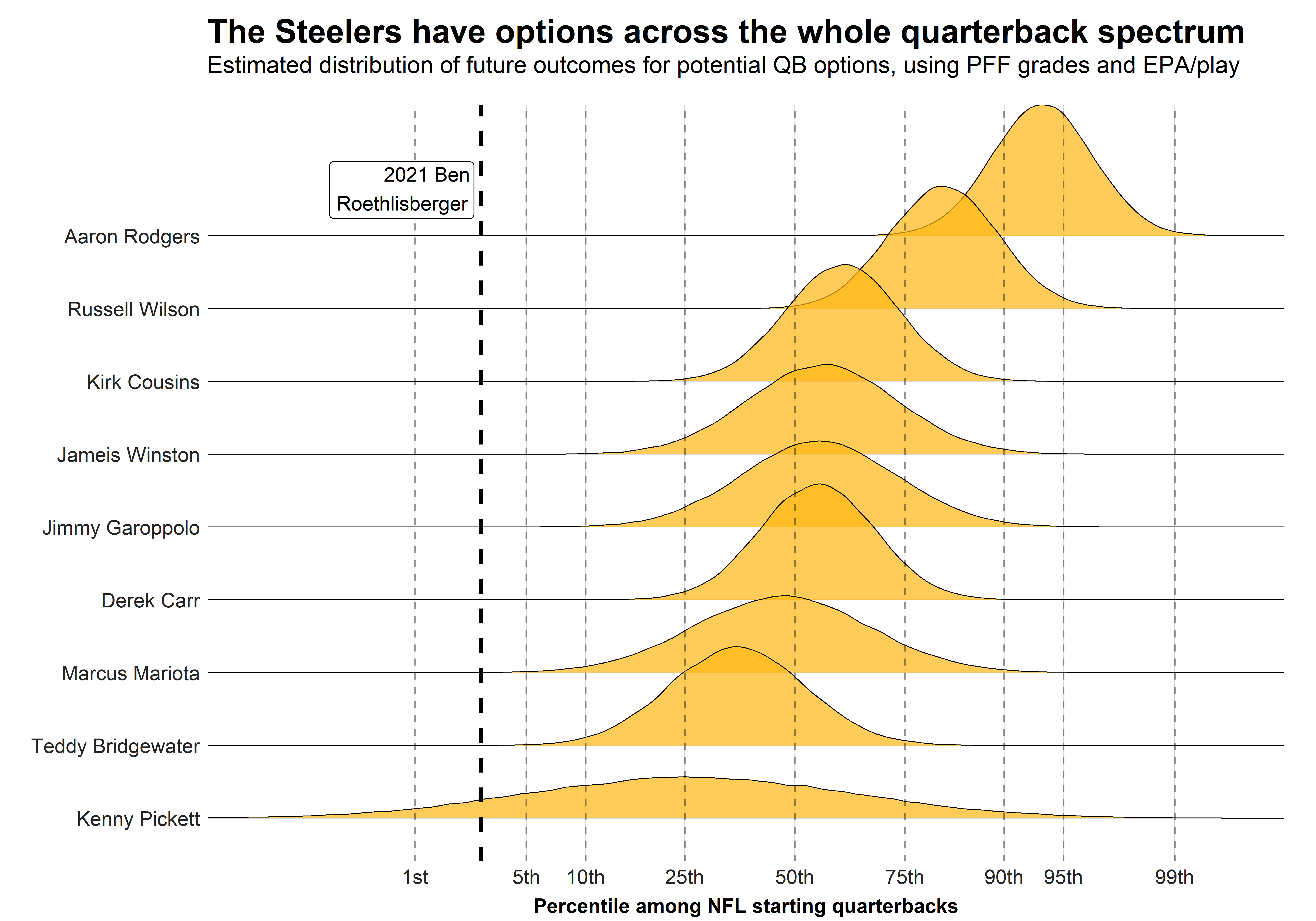 None of these three projects as much more than low-end or bridge starting options, given what we've seen from them the past several years. 
Winston would provide a welcome change of pace stylistically, given his arm strength and willingness to push the ball deep and over the middle of the field. His 10.8-yard average depth of target since entering the league in 2015 ranks first among all quarterbacks by a full yard. Of course, there is risk involved with that approach, and Winston's league-high 156 turnover-worthy plays since 2015 are evidence of that. 
Mariota is perhaps the most intriguing of the three after spending the last two seasons on the sideline in Las Vegas behind Derek Carr, who also stands out as an option to replace Roethlisberger. 
We discussed Mariota as a potential low-risk starting option last offseason. His career was trending in the right direction — he ranked 12th in PFF grade in 2017 — before an elbow injury in Week 1 of the 2018 season lingered throughout the remainder of 2018 and into 2019 before Ryan Tannehill replaced him. 
Mariota has flashed above-average accuracy, ranking 11th in accurate-pass rate across the 2017 and 2018 seasons, and even ranked first in PFF rushing grade at quarterback over that same span. That ability in the running game could be of use as Pittsburgh looks to rebuild its young offensive line.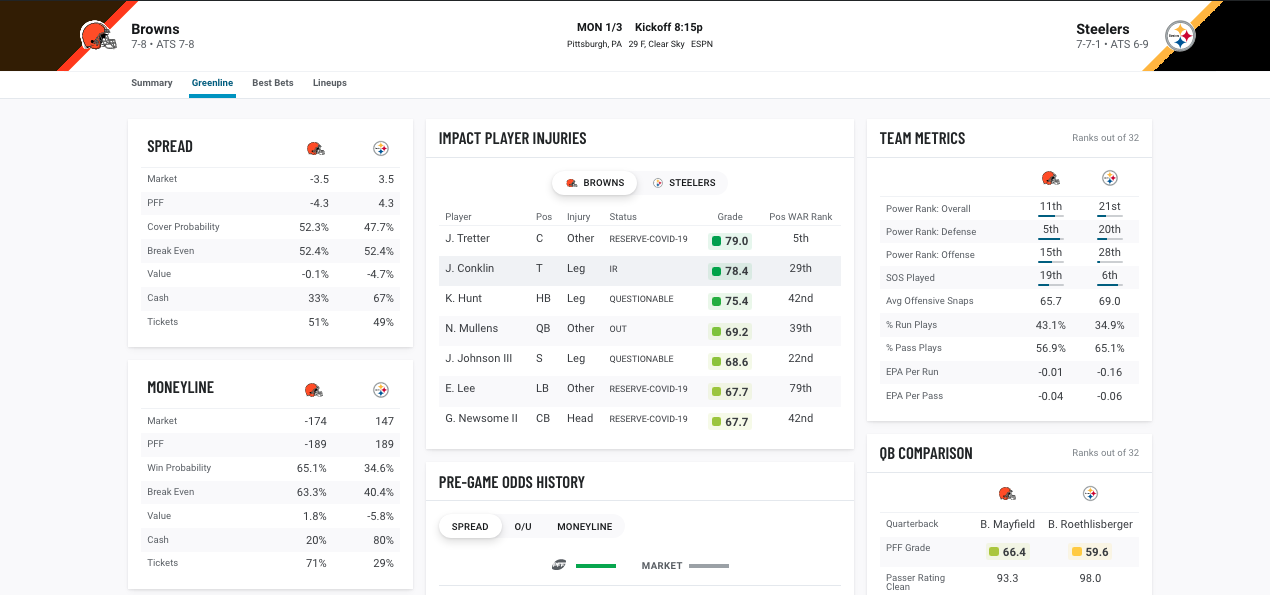 The one rookie replacement option that will continue to get connected to Pittsburgh is Pickett. The Steelers have had a first-hand look at Pickett's growth, as the Heisman finalist from Pitt has shared a practice facility with the Steelers over the past several years. His name has already been projected on buildings in the city.
First a light show ➡️ Then he put on a show!

Heisman 2 Pickett#H2P | @kennypickett10 pic.twitter.com/yIDeB6NhQz

— Pitt Athletics (@Pitt_ATHLETICS) December 5, 2021
Pickett wasn't high on the draft radar entering the 2021 season, but passing for over 4,300 yards, over 40 touchdowns and breaking several of Dan Marino's records at Pitt has changed that.
His 92.3 PFF grade this season ranks second among all FBS quarterbacks, and he was very effective pushing the ball downfield. His 38 completions on throws 20 or more yards downfield were tied for third-most of any FBS quarterback.  
Related content for you:
Super Senior: How Kenny Pickett's "no regrets" mentality has him on the cusp of breaking a Dan Marino record 
Via Trevor Sikkema