Xavien Howard is reportedly unhappy with his contract situation in South Beach, which could force the Miami Dolphins to trade the star outside cornerback ahead of the 2021 NFL season.
The 2020 All-Pro and two-time Pro Bowler avoided voluntary OTAs with the Dolphins in June, and head coach Brian Flores highlighted the obvious in a press conference as questions swirled regarding the cornerback's absence.
"It's pretty clear that this is a contract situation, which we've talked about internally," Flores said. "That's what I believe it is and we'll continue to have those discussions."
Subscribe to
NFL Network's Michael Silver hammered home the fact that Howard is "unhappy with his contract" and added that "there's a lot of trade chatter" tied to the 2016 second-rounder's name in a Twitter thread Wednesday.
ESPN's Adam Schefter tweeted a statement from Howard that said he had officially requested a trade from the Dolphins on Tuesday.
Howard has allowed just a 62.5 passer rating when targeted over the past three NFL seasons, good for the third-lowest figure among the 131 cornerbacks with at least 75 targets since 2018. He also ranked second in percentage of targets where he recorded either a pass breakup or an interception (23.4%) in the same three-year span.
The 28-year-old is now entering his sixth NFL season after earning a career-high 89.6 PFF coverage grade in 2020. Howard logged just a 53.0 passer rating when targeted, 10 pass breakups and 10 interceptions — all career-highs. He ranked No. 4 in PFF's outside cornerback rankings entering 2021, behind only Jaire Alexander, Jalen Ramsey and Marlon Humphrey. Only Alexander recorded a higher PFF grade than Howard in 2020.
But Howard isn't paid like the fourth-best outside cornerback in football.
He signed a five-year, $75.25 million extension with Miami in May 2019, but only $27.18 million was fully guaranteed at signing. Per Over The Cap, his current contract ranks just 20th at his position in average guaranteed money per year ($5.4 million). Teammate Byron Jones, however, signed a five-year contract with $46 million fully guaranteed at signing ($82.5 million total) in March 2020. Jones ranks third at his position in average guaranteed salary per contract year, per Over The Cap.
Howard made a change in agent representation in January, moving on from Damarius Bilbo of Klutch Sports Group to sign with DEC Management's David Canter.
Miami currently has more than $41 million 2021 cap dollars tied to the cornerback position, far and away the most of any NFL team. Competitors at the opposite end of the spectrum include the Arizona Cardinals ($9.7M), Kansas City Chiefs ($10.8M) and Tampa Bay Buccaneers ($11.3M). The Cleveland Browns and Los Angeles Chargers both have more than $20 million in available cap space for the 2021 season, as well.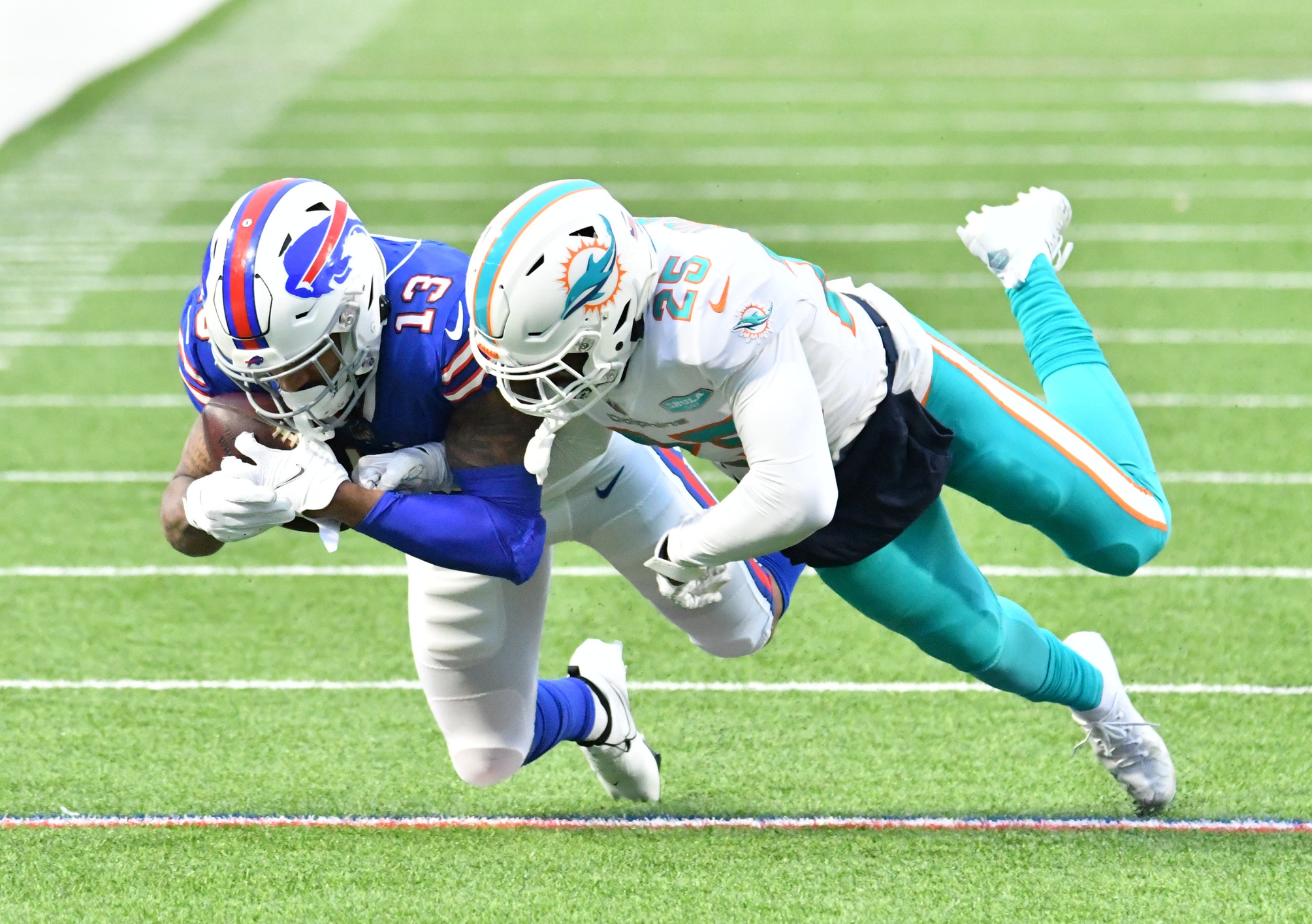 The best fit for Howard is the Cardinals. They're currently spending next to nothing at the cornerback position, should be in the market for a veteran presence to replace now-Minnesota Vikings cornerback Patrick Peterson and run a high percentage of man coverage – perfect for Howard's skill set. In what was a banner 2020 season for Howard, the Dolphins ran Cover 0 or Cover 1 concepts at the highest rate in the NFL (53.5%). Defensive coordinator Vance Joseph and the Cardinals ranked fourth in the NFL, at 45%.
Kansas City has only about $8 million in 2021 cap space available right now, but the team should be a player in the Howard market if it can figure out the financials. The Chiefs also run a high percentage of man coverage concepts (36%) and are in no position to shy away from outside cornerback talent.
Both Arizona and Kansas City could see significant returns from trading their respective 2022 first-round picks in exchange for Rounds 3 or 4 picks and Howard from the Dolphins. Multiple Day 2 picks could also be an option for Howard without a pick swap in return.
The Dolphins' brass should also get aggressive in their efforts to keep Howard in Miami. He's an ideal scheme fit for Flores' defense and is coming off a career year. And while second-year Auburn product Noah Igbinoghene is a coveted prospect, the 21-year-old second-rounder still needs significant development to fill Howard's shoes. Igbinoghene earned just a 37.1 PFF grade across 286 defensive snaps in 2020.
Howard is an upgrade for any potential suitor, regardless of the landing spot. And he's also a premier piece with his current team. Interest in his services should spike for as long as the trade chatter continues.
---
Dive into PFF's guides to get the most out of the 2021 season, from the 2022 NFL Draft to college football to fantasy football! Get 40% off a PFF subscription with promo code SAVE40