The Jared Goff era of Los Angeles Rams football came to an abrupt halt this offseason when the team swapped him in a trade for then-Detroit Lions signal-caller Matthew Stafford. 
And Stafford has wasted no time in jumping out to a 2-0 record with his new team in 2021 after wins against the Chicago Bears and Indianapolis Colts.
Unlike Goff, Stafford allows head coach Sean McVay and the Rams to play whatever game is necessary to win. McVay can relax knowing he doesn't have to call the perfect pass play every time to get his quarterback to throw on time to his first read. Stafford can scan a defense and get through his progressions, and he won't turtle if he has to hold on to the ball in the pocket. McVay also knows he can create explosive plays out of thin air with Stafford's arm strength and willingness to push the ball downfield.
---
Click here for more PFF tools:
Rankings & Projections | WR/CB Matchup Chart | NFL & NCAA Betting Dashboards | NFL Player Props tool | NFL & NCAA Power Rankings
---
In both Rams games so far this season, McVay has dialed up so-called "shot plays" for Stafford on the first bootleg play action of the contests. The bootleg (or keeper) is a major part of this offense. Nobody ran more keepers off play action last year in the regular season than Goff. He had 93 such plays, while the next highest quarterback, Russell Wilson, had only 74. Stafford, meanwhile, ran only 20 last year.
Goff averaged 8.1 yards per attempt with an average depth of target of 4.3 yards in 2020. The idea was that the horizontal stretch of the wide/outside zone run play would allow him to roll out to the opposite side, hit a short route and let the receiver run in space after the catch.
With Stafford — and the sample size is still small on these plays — the Rams can make it look like their normal action off the wide zone but then set up and throw double moves down the field. It's not that Goff never had these plays called for him. It's that so far on the first bootleg of the game for Stafford in both games, the Rams have called a big shot corner-post route looking for a touchdown. They are trying to score and control the game from their first offensive play.
In Week 1 against the Bears, it worked to perfection. Stafford rolled out and then flipped his hips as Van Jefferson broke open into deep space: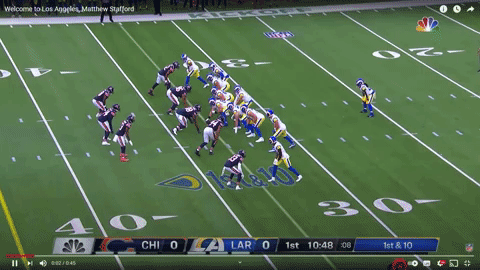 Los Angeles tried the same thing against the Colts, except the defense did a great job of covering the deep route. No worries for Stafford, who unlike most quarterbacks can stay patient and work his eyes all way to a backside checkdown on the opposite side of the field and still pick up a first down: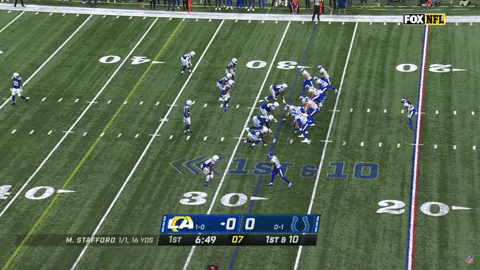 Stafford has had nine of these plays called for him so far, and he leads the league in passing grade on them while averaging 15.5 yards per attempt and a 10.6-yard average depth of target. Again, the small sample size might be doing some heavy lifting here, but the results are stunning so far.
Related: NFL Week 2 Team of the Week & Awards via Anthony Treash 
Stafford's ridiculous arm talent shows up on other plays where McVay's scheme can't get the first read open down the field. In the fourth quarter in Week 2, after showing off wide zone runs to the Colts' defense for the whole game, McVay dialed up a "leak" concept.
Robert Woods pretends like he's blocking and then sneaks up in plain sight before wheeling up the field. Woods gets bumped around the line of scrimmage, and the Colts do a good job covering him down the field. The first read is eliminated. Stafford's second read, Van Jefferson, is manned up over the middle and locked down. By now, the quarterback is under pressure.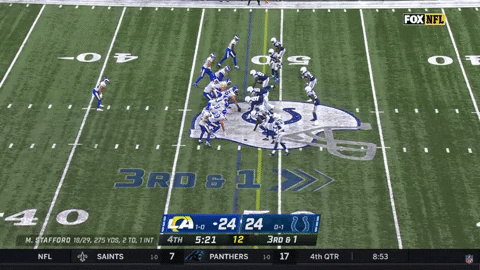 Under pressure. Sidearm. No problem. First down.
This is what Stafford gives Sean McVay — an outlet in case of emergency.
Stafford's advanced understanding of the game shows up even on dropback passes without play action. The Rams found themselves facing a second-and-14 on one play in the second quarter against Indianapolis. The Colts showed press man-to-man defense with linebacker Bobby Okereke sitting low as a robber-type defender. Quarterbacks love intermediate in- or out-breaking routes against press-man coverage, and that's what Woods is doing in the slot. The problem is that if Stafford stares at Woods the whole time, Okereke — as the free zone defender — will stand in the window.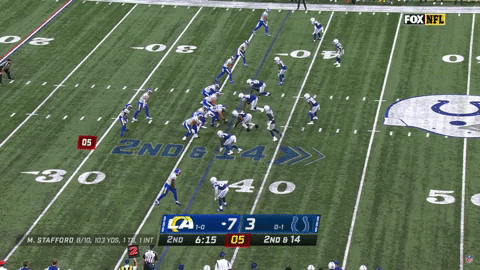 Watch Stafford move his eyes and shoulder to his left to give Okereke the idea that he is going to throw to Cooper Kupp underneath. He's opened the window to Woods by himself — it's not McVay doing it for him. 
Later in the game, an incompletion on a throw to Woods tells us more about the future of this offense. The Rams break the huddle with the Colts showing a one-high safety defense, but as Stafford gears up into his cadence, Kenny Moore II starts to fly back deep to show that Indianapolis is going to be playing Cover 2.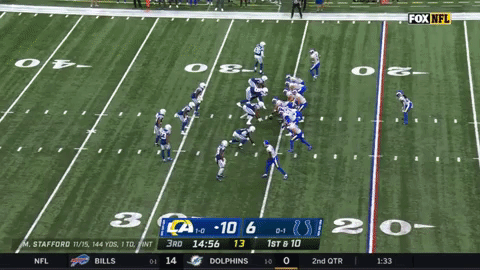 Stafford sees that and checks into what was most likely the second play call given in the huddle. Generally, especially on first down, you'd expect a team to check into a run against two-high safeties. Instead, McVay and Stafford check into a pass that forces linebacker Darius Leonard into a one-on-one matchup with Woods. Leonard wins this round, as Stafford puts the ball slightly out of reach for his receiver, but the idea that McVay and Stafford want to throw the ball even against two-high safety looks is promising. 
Stafford's arm talent and hubris can get him in trouble. He's going to try tight-window throws other quarterbacks won't attempt. His accuracy is good, but it's never been pinpoint elite. His interception in the second quarter Sunday is evidence of that. Still, the Rams finished 24th in overall offensive efficiency last regular season and rank third right now in the young 2021 campaign.
Los Angeles needed a change at quarterback — and paid a hefty price to make it happen — and is reaping the rewards of having a veteran signal-caller who can take some of the weight off his head coach's shoulders.