The 2021 offseason could be one of the wildest times in the NFL in recent years due to the expected quarterback movement throughout the league.
Among the reports, Deshaun Watson wants out of Houston and Matthew Stafford is leaving Detroit. When those two pieces move, they will each most likely break the internet. But that could also just be the tip of the iceberg. Aaron Rodgers could up and leave Green Bay after an MVP season. A former MVP in Cam Newton will most likely be looking for a new team. And what about Jameis Winston, who has a year of refinement under Sean Payton?
Let's live in that world. A world where NFL quarterbacks are moving to different teams and shifting the landscape of the league more in one offseason than any other. Here are my favorite fits for quarterbacks who could be on the move this offseason.
Watson broke out in a big way this year for the Texans. After back-to-back seasons with 82.7 grades, where he went from transcendent player to bottom-tier quarterback from play to play, he was consistently the former on every play in 2020. His 92.5 grade ranked third-best by a quarterback in the regular season.
Watson could go anywhere and elevate the play of his teammates, but I've picked the Jets because the new coaching staff — 49ers East — would create the best offense for him. Under Bill O'Brien, Watson was tasked with doing most of the heavy lifting within the offensive structure. Over the past three regular seasons, only Matt Ryan has had more non-play action, non-screen dropbacks than Watson. He's been great in these situations, posting an 86.7 passing grade — the sixth-highest mark in the league — but getting him some structural help would be a benefit.
Houston called the seventh-highest percentage of pass plays, the 27th-highest rate of screen passes and the 22nd-highest rate of play-action passes from 2018-20. Let's put Watson in Mike LaFleur's Shanahan offense taking a load off the quarterback. Since LaFleur became the passing game coordinator in San Francisco in 2019, the team ranked seventh in play-action percentage and third in screen percentage.
You can still call an offense that has Watson throw the ball a lot, and you'd want to because of his immense talent. But at least give him some easier completions.
Speaking of the Kyle Shanahan offense, a mouth-watering fit would be for him to get hold of Matthew Stafford this offseason. Shanahan has created really good offenses in San Francisco out of mostly spare parts at quarterback, and while Stafford is not the mint condition signal-caller he once was, he is still an upgrade.
Shanahan's offense mostly targets the middle of the field in the underneath areas under 15 yards. He is great at creating openings against underneath zone defenders and not forcing his slew of short-armed quarterbacks to make too many throws outside.
Here is where San Francisco quarterbacks targeted their receivers over the past two seasons: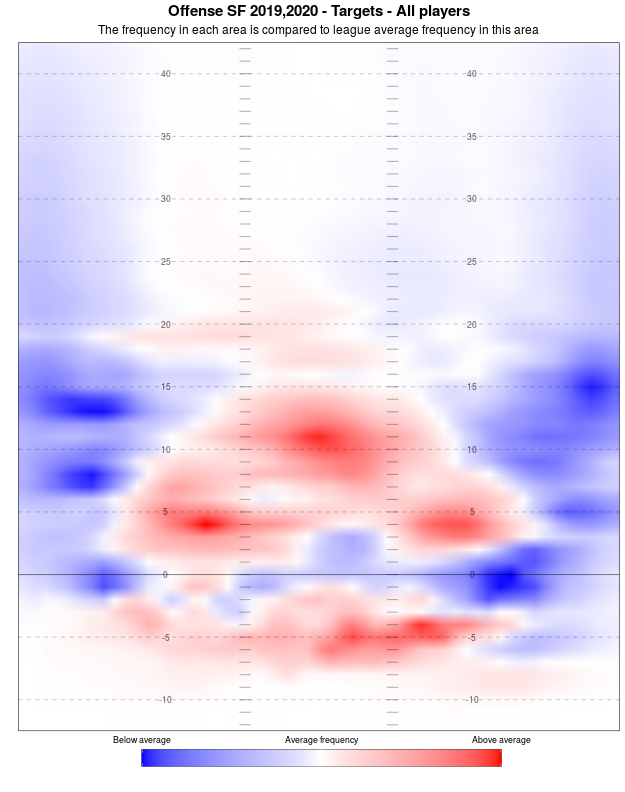 We can see how deep red the middle of the field is. With Stafford, the 49ers' offense can work more parts of the field. In fact, the last time Shanahan had a quarterback who could throw anywhere on the field — Matt Ryan in 2016 — his unit led the league in many offensive categories. The heat maps of where Ryan targeted the field in 2016 and where Stafford targeted the field in Detroit the past two seasons show some similarities: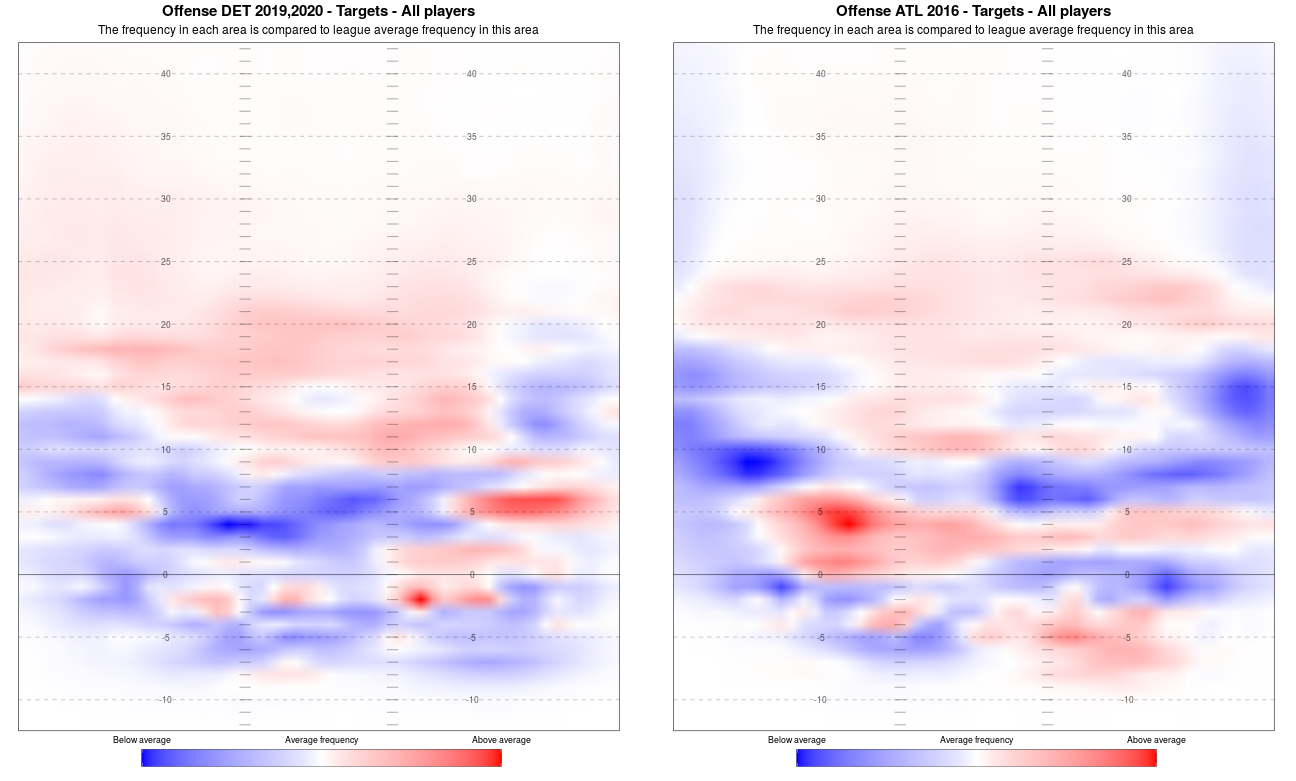 San Francisco ranks dead last in percentage of throws over 20 yards during the 2019 and 2020 seasons. Only 7.3% of their throws were targeted downfield. That changes in a heartbeat with Stafford.
It is certainly a worthwhile question as to whether we will ever see 2015 Cam Newton again. The injuries ravaged his final years in Carolina, and last year in New England was abysmal in regard to both his own passing performance and whatever talent the Patriots surrounded him with.
Indianapolis has all the pieces in place to comfort Newton. First, the offensive line is great. Finding a new tackle to replace the retiring Anthony Castonzo will be important, but this was the seventh-best pass-blocking unit in 2020 by PFF's pass-blocking efficiency metric. The Patriots, meanwhile, ranked 17th this season. Getting Newton as many clean pockets as possible will do well to hold him together for a full season.
The Colts would also give Newton a receiving upgrade. Going from what the Patriots trotted out last season to T.Y. Hilton, Michael Pittman Jr., Zach Pascal, a few athletic tight ends and some interesting options out of the backfield could be bountiful. We could also see a return to form for Hilton as one of the top receivers in the game with a quarterback like Newton.
The Colts ranked 24th in deep pass percentage this season, with Rivers unable or unwilling to find Hilton down the field. Newton didn't throw the ball down the field much last season but having those types of weapons could mean a nice uptick in that area and more explosive plays.
I believe the Saints will want to hang on to Winston and see if Sean Payton's coaching can knock out some of the bad decision-making he showed in Tampa Bay. There's a good chance they can keep him for a low enough price.
He probably won't go looking for a new backup job, but Winston in Carolina would be one of the greatest juxtapositions between quarterbacks of all time. Among quarterbacks with over 100 dropbacks last season, Teddy Bridgewater had the 36th-lowest average depth of target. If you're going to throw short all the time, you need to be perfect in your accuracy and reads (see: Brees, Drew 2017-2019). Bridgewater threw the ball short but still notched 20 turnover-worthy plays, forming the ninth-highest rate in the league. That's not good enough.
At least with Winston, owner of the highest depth of target in the regular season over the past five seasons, you can create explosive plays — especially with an interesting and low-key very good skill position group. Winston barely threw the ball in 2020 and still ranks second in the league in total big-time throws since 2016.
If Teddy isn't the answer in Carolina, let's go in the opposite direction and be the next team on the list of, presumably, five or six franchises that take a chance on Winston in the next decade.
This is more fantasy than anything because I don't think Rodgers actually leaves Green Bay this season. But if he were to leave, what better place to cement his legacy than in New Orleans in a completely different offense from Matt LaFleur's.
Rodgers' play dipped during the end of the Mike McCarthy era in Green Bay. After a year of feeling each other out in 2019, LaFleur and Rodgers met each other halfway in 2020 and produced one of the most lethal offenses ever. That old Shanahan offense struck again. They ran motion, they ran play action and they ran screens to make Rodgers' life much easier. Was Rodgers' resurgence mostly scheme-related? We have seen worse quarterbacks look like world-beaters under similar systems.
Jared Goff and Jimmy Garoppolo both went to the Super Bowl and are not great quarterbacks, while Baker Mayfield's great year in Cleveland was founded in a similar offense. The only way we'll know for sure if Rodgers is truly back to his best is to give Sean Payton a crack at him. Payton is one of the last survivors of a bygone West Coast offense era, using different formations and personnel groupings to create quick throws. His play-action offense is entirely different from Lafleur's, as well.
With the wide zone and boot action being so prevalent in the modern NFL, Payton still likes his quarterbacks to run play action and then stay in the pocket to throw deep out-breaking routes to the sideline. Giving Payton someone who can throw the ball over five yards downfield could open up his offense even more. It's a match made in heaven for a quarterback and play caller always looking to prove themselves.