Lamar Jackson's 74.9 PFF grade in 2020 currently ranks 18th among 32 qualifying quarterbacks. This comes just one year after Jackson exploded into the elite quarterback conversation with a 90.1 overall grade and a performance that made him the unanimous MVP selection in just his second season out of Louisville. As the drop in grade would suggest, things haven't come quite as easily for Jackson and the Baltimore Ravens this year.
Fueled by two subpar performances in his last three games, the questions are beginning to mount. Have teams "figured out" Jackson? Can he win as a passer when defenses force the Ravens to become one-dimensional? Most importantly, can Jackson win the big game?
The game this past weekend against the Pittsburgh Steelers certainly qualified as that. Baltimore had the benefit of a bye week before the game thanks to a schedule reshuffling stemming from the Tennessee Titans' COVID-19 outbreak earlier this year. It was an opportunity to show that they were still the team to beat in the AFC North. However, Jackson came out with an early pick-six to Robert Spillane, and things didn't get a whole lot better as the game progressed. He finished things out with a season-worst 47.7 PFF grade for the game. 
Lamar Jackson PFF grades by game | 2020 Season
Jackson has graded below 50.0 twice in the past three weeks. He did that just once all of last season — in a Week 3 loss to the eventual Super Bowl champions. The game against Pittsburgh put a magnifying glass to some legitimate reasons for concern about Jackson and this offense as a whole. 
I'll start with this: Jackson has never been an accurate passer. Even last season, when he graded so well, his accurate-pass rate of 56%, according to PFF's charting data, ranked 30th of 32 NFL quarterbacks. The thing is, that doesn't matter when you are making as many big plays as Jackson was and holding onto the football on offense. 
In 2019, Jackson ranked among the top-10 quarterbacks in big-time throw rate — PFF's highest-graded throws — and that simply accounts for his play through the air. He also notched 47 runs of 10 or more yards, which were more than Josh Allen, Deshaun Watson and Russell Wilson combined. It was a pick-your-poison scenario. If you sold out to stop the league's best rushing attack, Jackson would hit Mark Andrews down the seam for a big play. If you sat back, the Ravens would gouge you on the ground with plenty of talented running backs and arguably the most dangerous runner in the entire league at quarterback.
More important was the fact that the guy simply wasn't giving opposing defenses turnover opportunities when he dropped back to pass.
Lamar Jackson turnover-worthy play rate by year
| | | |
| --- | --- | --- |
| Season | Turnover-worthy play rate | Rank |
| 2018 | 4.6% | N/A |
| 2019 | 1.8% | 2nd |
| 2020 | 5.0% | 30th |
His rookie season was littered with fumbles and turnover opportunities through the air. Those all but disappeared last season, as Jackson's 1.8% turnover-worthy play rate trailed only Wilson among 32 qualifying quarterbacks, but it has returned with a vengeance this season. We saw that carelessness with the football in a variety of forms in the game against Pittsburgh.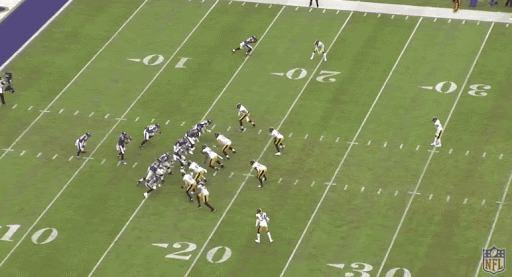 The pick-six to Spillane wasn't the only play where Jackson fell prey to underneath coverage. His later interception to Alex Highsmith — a dropping edge defender — was another example of a mistake Jackson can't afford to make. He throws the ball off his back foot from a clean pocket, allowing Highsmith to drop off the fullback and get underneath Andrews for the interception. 
Jackson has been more effective throughout his NFL career targeting the middle of the field than he has been going outside the numbers, as he does in the play above. Even in his MVP campaign last year, Jackson ranked just 16th in PFF passing grade outside the numbers (75.8). By comparison, he ranked fifth in PFF passing grade between the numbers (92.4). That gap has only gotten wider this season. Because of that, we may see more teams try to take away the middle of the field against Baltimore, particularly with a lack of depth out wide behind Marquise Brown.
Beyond the turnover opportunities he provided through the air, Jackson also fumbled three times in the game, and they weren't all forced by an intimidating Pittsburgh pass rush.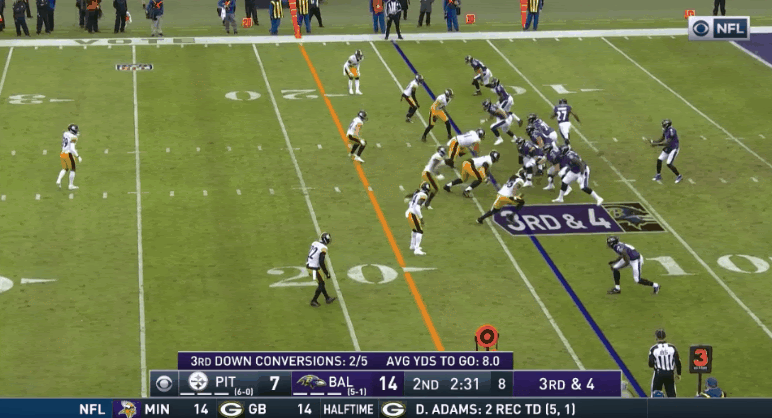 Yes, the ball was wet in this example, but no player has fumbled more than Jackson as a runner over the last three seasons. The benefit of the doubt when it comes to ball security isn't there, and Jackson was fortunate no defenders were closer, or else it would have been yet another turnover deep in his own territory.
The Steelers are likely the best defense that the Ravens will see all season, but last week makes it three games now where Jackson has committed three or more turnover-worthy plays this season. They lost two of the three, with a dominant defensive showing carrying them against Joe Burrow and the Bengals in the other.  Those are mistakes that this Baltimore offense simply isn't equipped to overcome against good teams.
The talk about Jackson and the Ravens playing from behind has likely gotten to the point where it's overstated. Ideally, you would like your quarterback to be in Jackson's position — not constantly being tested to bring his team back from behind. However, the PFF grades and passing numbers support the idea that Jackson plays better with a lead. That shouldn't be surprising. When you run as often and as effectively as Baltimore does, making Jackson become a traditional dropback passer isn't in your best interest. He hasn't shown the kind of consistent accuracy that would lead you to believe he would have much success in that role, either. 
The thing is, we just watched this Ravens' offense take a blowtorch to the NFL last season when that was the case. Forget the playoff loss to Tennessee for a second. This is an offense that averaged over 0.15 expected points added per play in 2019 — comfortably the top mark in the NFL. Jackson is such a unique athlete and talent that he can be one of the least accurate quarterbacks in the NFL and still be the source of nightmares for opposing defenses in a Greg Roman scheme tailored to his strengths. 
However, Jackson can't afford to give defenses opportunities to flip possession like he is right now. Otherwise, his limitations as a passer will continue to be magnified, and the Ravens will have trouble beating heavyweights in the AFC like Kansas City and Pittsburgh.