Remember when Tom Brady posted a video of himself and Rob Gronkowski smirking while walking to the beat of Sean "Diddy" Combs' "Bad Boy for Life" following their overtime victory over the Chiefs in the AFC Championship game? The song goes "We ain't, goin' nowhere, we ain't goin' nowhere, we can't be stopped now."
That message held true for them as they went on to win the Super Bowl, and here we are in Week 6 of the 2019 NFL season and the New England Patriots still can't be stopped.
After having several opportunities of being able to invest in Eli Manning's replacement but declining to do so, the New York Giants finally did so this year with drafting Daniel Jones sixth overall. Thus, Giants fans had something they haven't had in years: Hope. Nonetheless, Jones led the Giants to an impressive road victory over the Tampa Bay Buccaneers in his first career start in Week 2 but failed to follow that performance up in the two weeks after. Consequently, all eyes were on Jones as he faced his toughest test yet against one of the top defenses in the league.
Using PFF's unique grades and advanced database, we give you the top takeaways from Week 6's edition of Thursday Night Football.
Danny Dimes threw some Danny Duds
The city of New York and football media on all platforms were quick to overreact to small sample size and dub Daniel Jones "Danny Dimes." Last night, we saw one Danny dime and a lot of Danny duds with one big-time throw and three turnover-worthy plays. Overall, Jones threw 60% of his passes inaccurately, with 32% of his passes being flat out uncatchable. There were variety of things led to this underwhelming night of Jones', but his inability to release the ball quickly and tendency to force throws were large reasons why.
At the end of the night, Jones had an average time-to-throw of 3.2 seconds and when that time eclipsed 3.1 seconds, things got rather ugly. On such throws, Jones had a 42.8 passing grade and threw 37.5% of his passes as uncatchable. In addition, he averaged just three yards per attempt on those and recorded a lowly 14.6 passer rating. These long-developing throws were often forced into tight coverage with a majority of these being ones you'd want back. As a result of his longing time-to-throw, Jones wasn't able to stay inside the pocket in a few cases and the result of those plays was not good. Jones had six dropbacks outside the pocket, and on those he was sacked once, had a turnover-worthy play on one and the other four were incomplete passes.
Overall, Jones had 16 attempts into a tight window and found very little success. He did indeed have a beautiful tight-window pass to Golden Tate that resulted in a 64-yard touchdown. However, he had more bad than good on these throws. Along with having a poor 44.3 grade on these attempts, Jones had an adjusted completion percentage of just 46.7% and a passer rating of 47.9.
One thing we learned from this game (but already knew) is how the Giants need to use more play-action passing in their offense. New York only passed out of play-action on 21.2% of their passes, but Jones had a 70.3 passing grade on those dropbacks. On non-play action plays, Jones' passing grade was an abysmal 39.5, with just a 52.2% adjusted completion percentage, 3.4 yards per attempt and a passer rating of 22.7. Oh, and over two-thirds of his passes were inaccurate. It's early in the young rookie's NFL career, but this won't fly with the New York faithful too much longer.
Pats' secondary continuing to shine
The real heroes of this Pats' team so far in 2019 lie in the secondary. Coming into Week 6, New England's coverage was by far the best in PFF grade at 92.6 with the second being at 86.8 AND they have the first and second-ranked cornerbacks in Jonathan Jones and Jason McCourty after five weeks of play.
Last night, Stephon Gilmore was the star of the show with an elite 92.5 coverage grade and allowing just two catches on his eight targets in coverage. Gilmore also tacked on an impressive four forced incompletions and one interception and one dropped interception. Jonathan Jones also added a couple of forced incompletions on his seven targets in coverage and J.C. Jackson forced one on his two targets in coverage. This trio of Gilmore, Jones and Jackson came in clutch on third and fourth down, with the three combining for six targets in coverage and forcing an incompletion on every single one of those.
Perhaps the most impressive of this Patriots coverage unit was shutting down the Giants' intermediate and deep passing attack. When Daniel Jones threw 10-plus yards downfield, New England's coverage grade was at an astounding 89.3. On the 10 such throws Jones made, the Pats' defense allowed -1.8 EPA per pass while forcing a contested target on 70% of those and collecting seven combined pass breakups and interceptions.
TB12 needs Gronk more than ever
Last night, we saw a vastly different offense than we are accustomed to seeing from the Patriots. Offensive coordinator Josh McDaniels and Tom Brady relied heavily on their short passing attack. Brady's 14 passing attempts at or behind the line of scrimmage were the second-most we have ever seen from him in a game, and over 51% of his total passes were less than three yards downfield. As a result, we saw a lot of their running backs in the receiving game and it's clear the Pats' offense was far more successful on a per play basis when targeting running backs over any other position last night.
Eight of Brady's 14 attempts to a running back resulted in a first down, while only nine of his 27 attempts to other positions resulted in one. The difference in New England's expected points added per pass play was fairly large between running back targets and other positional targets with RB targets producing 0.54 EPA per pass while targets to other positions produced 0.11 EPA per pass. Along with that, New England used play-action significantly to try and open up their downfield passing. In fact, they used it the second-most in Brady's career since PFF began tracking play action in 2012. However, there was a certain player missing from this offense that takes their downfield passing to another level: Rob Gronkowski.
After last night's game, just 6.1% of Brady's total targets in 2019 have gone to a tight end, which is on pace to be his career low. Gronk was Brady's number one option on intermediate and deep passes. Gronk has been the recipient of 445 targets of 10-plus yards from Brady in his career. That total is more than any other receiver of Brady's by 140 since 2006 and he made the most of every target as his PFF grade on those was the best in the NFL. Gronk wasn't the only one in the QB-receiver relationship to thrive either, as Brady's passer rating to Gronk on those targets was 131.4 and his completion percentage was at 59.8%, which is also 8% higher than his completion percentage on those same throws to any receiver on their active roster.
Jakobi Meyers is going to carve out a well-deserved role
The undrafted free agent from North Carolina State, Jakobi Meyers, saw an uptick in action last night in primetime. Meyers caught every pass thrown his way, granted it was only four targets, but his tight separation receiving ability he showed was something we all needed and wanted to see.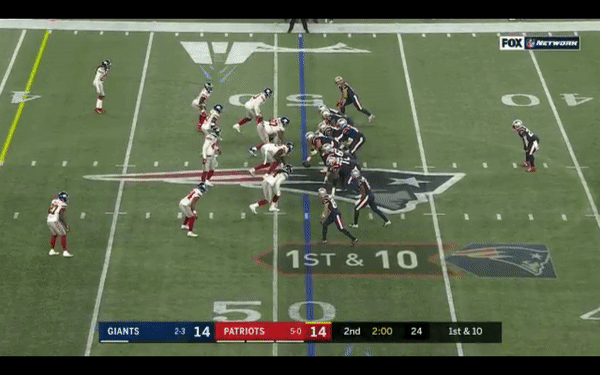 Three of his four targets were in tight separation, and those resulted in a 90.8 receiving grade, one contested catch and two explosive plays. While in college, Meyers was one of the nation's best receivers when he had a step or more of separation with a 92.2 receiving grade but wasn't even close to the same when in tight separation situations with a 64.4 receiving grade. Even in the preseason, those results still held with an 80.0 receiving grade with separation and 69.1 grade without. If Meyers can continue to progress this skill, he can very well become a feature receiver in this New England offense.